Cleaning you Can Count on
Cleaning solutions for the toughest conditions
The construction industry and trade face the toughest working conditions every day – as well as high cost, pressure and little time. Cleaning must also adapt to these challenges. For this reason, Kärcher has developed solutions to help you save time and manpower – highly robust products that will optimise cleaning results with their high level of performance. Kärcher machines and accessories last longer, are tougher and offer many well-thought-out, detailed solutions to make your work quicker and easier.

---
---
Remove sticky dirt easily.
When dirt just won't come off, a bit of pressure helps. With Kärcher hot- and cold-water high-pressure cleaners, you can remove even the most stubborn layers of any kind of dirt – such as dust, paint or even concrete. With up to 350 bar at your fingertips, you can clean building fronts, the ground and machinery quickly and effectively. The whole process can be carried out conveniently and, in some cases, without any cleaning agents at all. Various nozzle attachments ensure flexible use and diverse application, which, paired with extreme durability and robustness, make Kärcher machines an investment that will pay off for many years.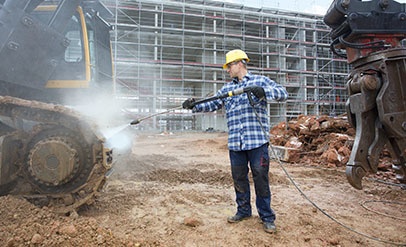 ---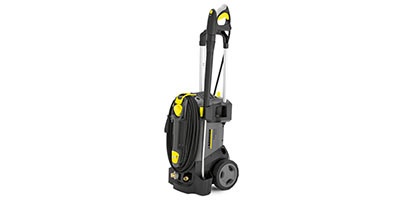 Highly mobile for use anywhere. With high pressure and high delivery rates, you can remove even the toughest dirt quickly, thoroughly and economically.
---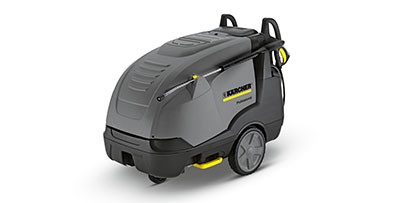 Thoroughly convincing: with high temperatures, you will clean even more economically – high performance that is normally only possible with stationary machines.
---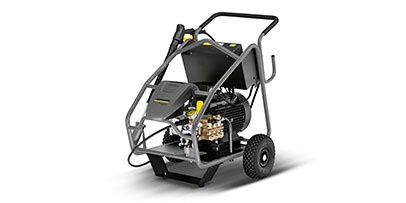 Stand-alone units built for lifting by cranes, with robust tubular frames and sturdy pneumatic tyres. Even without electricity, a combustion motor delivers the highest power.
---
Tangible results with loose dirt.
Kärcher wet and dry vacuums are precisely the right tool for removing loose residue and particles. From compact, lightweight models to multi-motor high-capacity machines, these products can be used to suck up anything: from fine dust to coarse dirt, from liquids to lubricants. With extreme suction power and capacities of up to 100 litres, any job can be completed quickly. Thanks to drain hoses installed as standard, liquid in the reservoir is easily drained. And with features like the Tact automatic filter clean system, these machines are ready for any challenge the building site can throw at them.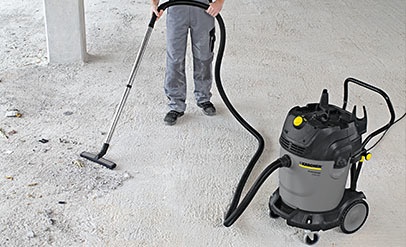 ---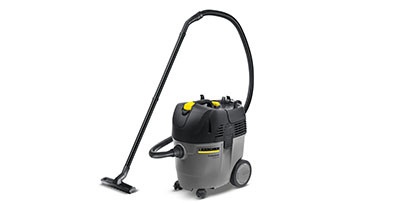 Maximum mobility with the best suction power. Includes clever details such as integrated plug connector, carrying handle, toolbox mount and much more.
---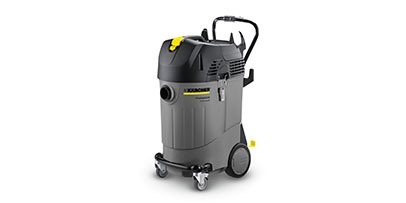 High performance and stable design. Automatic filter cleaning, complete inventory of accessories and high mobility round off the package.
---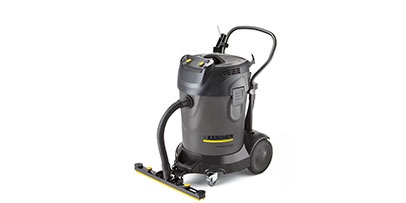 Ideal for long working intervals without breaks: Kärcher suction devices with the Power Filter Clean System for constantly high suction power.
---
Little effort at high volume.
Whether inside or out, high-productivity Kärcher sweepers are well-suited for the optimum cleaning of construction sites, factory premises or warehouses, from final construction site clean-up to quick interim sweep-ups. From compact machines for manual use to high-volume ride-on machines, Kärcher offers everything you need for easy, ergonomic and efficient floor cleaning. Thanks to their ease of operation and low-maintenance technology, the machines are quickly ready to use and can easily remove large piles of dirt.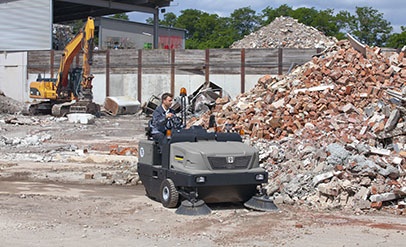 ---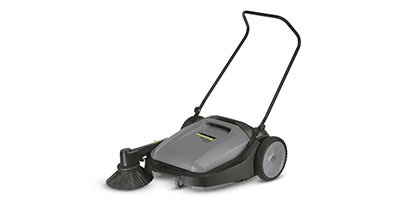 Quicker and more economical in small areas than a broom. Effortlessly sweeps up all types of dirt, even in the tightest corners.
---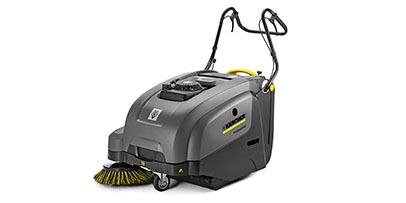 Ideal for midsize areas. These suction power sweepers save time and energy, clean all areas easily and efficiently, and even suck up large particles.
---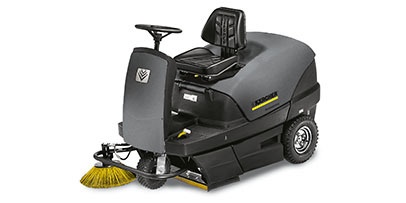 Fully hydraulic, high-performance, robust and easy to operate. Ride-on sweepers with integrated operating systems that are suitable for even the toughest demands.
---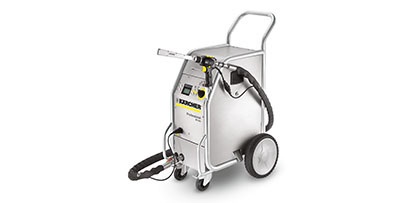 Ice blasters remove tough dirt in an innovative manner. Without damaging surfaces, without corrosion problems and without contaminated waste water.
---