Scrubber drier
B 90 R Adv Bp
The battery powered ride-on scrubber dryer B 90 R Adv Bp impresses with FACT, a compact design, high level of flexibility, increased tank volume and variable working widths (55-75 cm).
Always have full control: The ride-on scrubber dryer B 90 R Adv Bp is equipped with Flexible Application Control Technology (FACT) for the demand-oriented adjustment of the brush speed.The operating hours and fresh water fill level are also shown clearly on the display. The machine of the new brush head generation allows the use of roller or disc brush heads with different working widths (55-75 cm). For maximum flexibility.The brush is driven by a star carrier. With a turning circle of only 1.6 m, the machine is very flexible and offers superb manoeuvrability. The machine also has an increased tank volume and is very easy to fill with fresh water.Thanks to the compact dimensions, the machine can be easily loaded and transported, e.g., in lifts.Openings at the battery compartment guarantee adequate ventilation, also during longer operating times.An additional flat pleated filter protects the turbine against corrosion.In short: the manoeuvrable and flexible alternative to every large walk-behind machine!
Features and benefits
Highly manoeuvrable
Thanks to its very short and narrow construction style, the machine is very agile and easy to manoeuver despite large water volumes. The 90° steering system allows you to turn on the spot. A low centre of gravity ensures excellent road adherence.
Easy operation
Additionally, the roller brushes ensure that water and therefore also cleaning agent are saved. The basic functions are easily controlled using the EASY switch. Operating hours can be viewed on the display.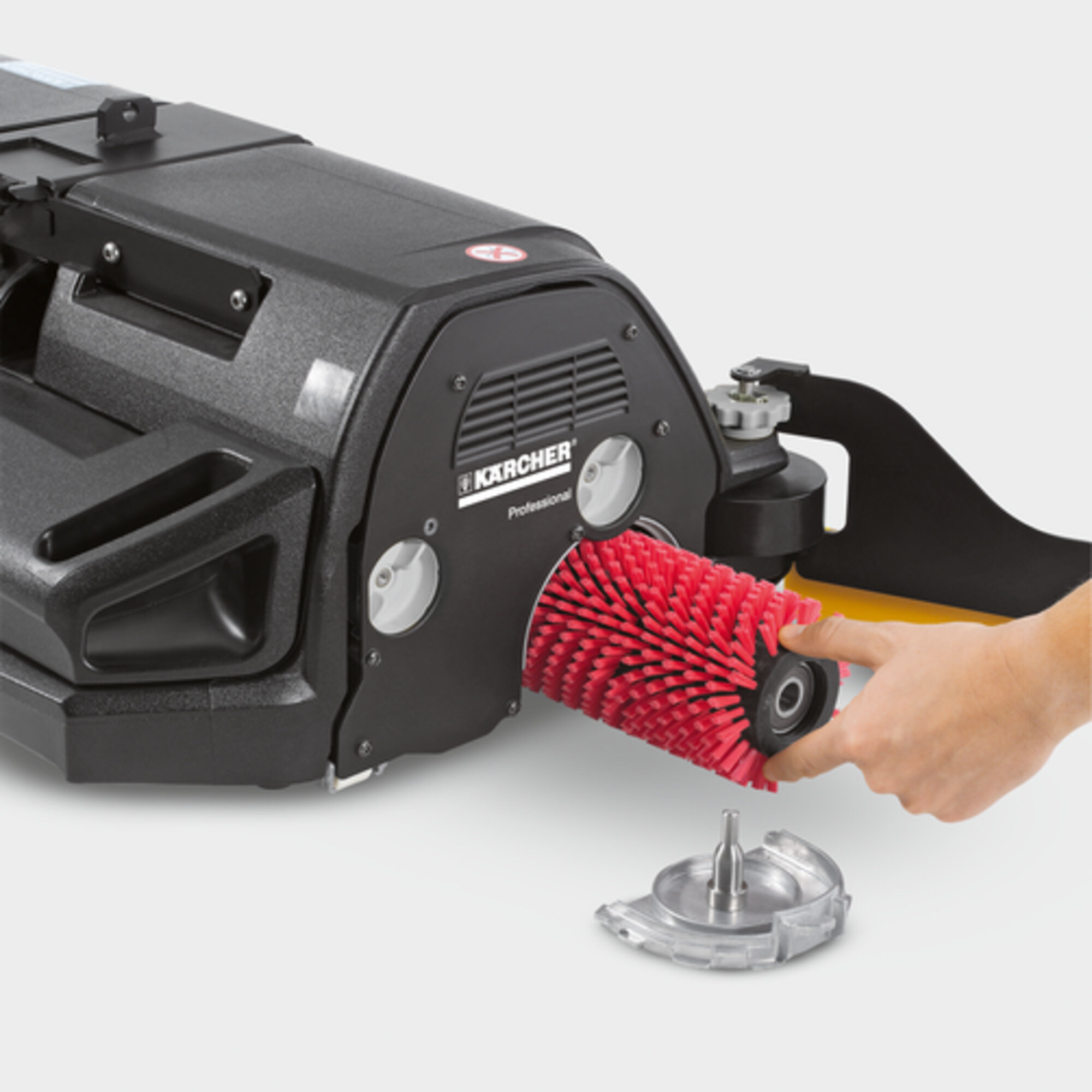 Quick replacement
If required, the brush head can be replaced quickly with no need for tools. The rollers on the R head can be changed in next to no time. The brushes or pad drive boards on the D head are discarded using the foot pedal.
Long running time
Large compartment for a large battery capacity. Maintenance-free gel batteries in the pack variants.
Two-level turbo power saves energy in the WHISPER setting.
Specifications
Technical data
| | |
| --- | --- |
| Working width of brushes (mm) | 550 - 750 |
| Working width, vacuuming (mm) | 850 - 940 |
| Tank of fresh/dirty water (l) | 90 / 90 |
| Theoretical area performance (m²/h) | 4500 |
| Practical area performance (m²/h) | 3375 |
| Brush contact pressure (g/cm²/kg) | 20 - 315 / 28 - 35 |
| Battery (V) | 24 |
| Battery runtime (h) | max. 4 |
| Traction motor (W) | 600 |
| Dimensions (L x W x H) (mm) | 1450 x 800 x 1200 |
Equipment
Powerful traction drive
Automatic water stop
Tin
2-tank system