High-pressure washer
HDS 1000 Be
Independent of an external power supply: the heated HDS 1000 Be high-pressure cleaner with Honda petrol engine and electro start. Designed for demanding continuous use and suitable for crane loading.
Powerful, heated HDS 1000 Be high-pressure cleaner for tough, continuous use wherever there is no power connection available. The robust Honda petrol engine with convenient electric start and automatic speed reduction during work breaks ensures maximum independence, and the sturdy frame which protects the components is designed for crane and forklift loading. All components are made from high-quality materials. The high-pressure pump, for example, is equipped with a brass cylinder head, stainless steel valves and chrome-nickel-coated stainless steel pistons. Pioneering new developments like the EASY!Force high-pressure gun and EASY!Lock quick-release fasteners are included as standard. While the EASY!Force high-pressure gun makes use of the recoil force of the high-pressure jet to reduce the holding force to zero, the EASY!Lock quick-release fasteners enable handling that is five times faster than with conventional screw connections, without losing any robustness or longevity. The integrated pressure and water flow regulation via Servo Control directly on the high-pressure gun allows optimal adjustment to different cleaning tasks.
Features and benefits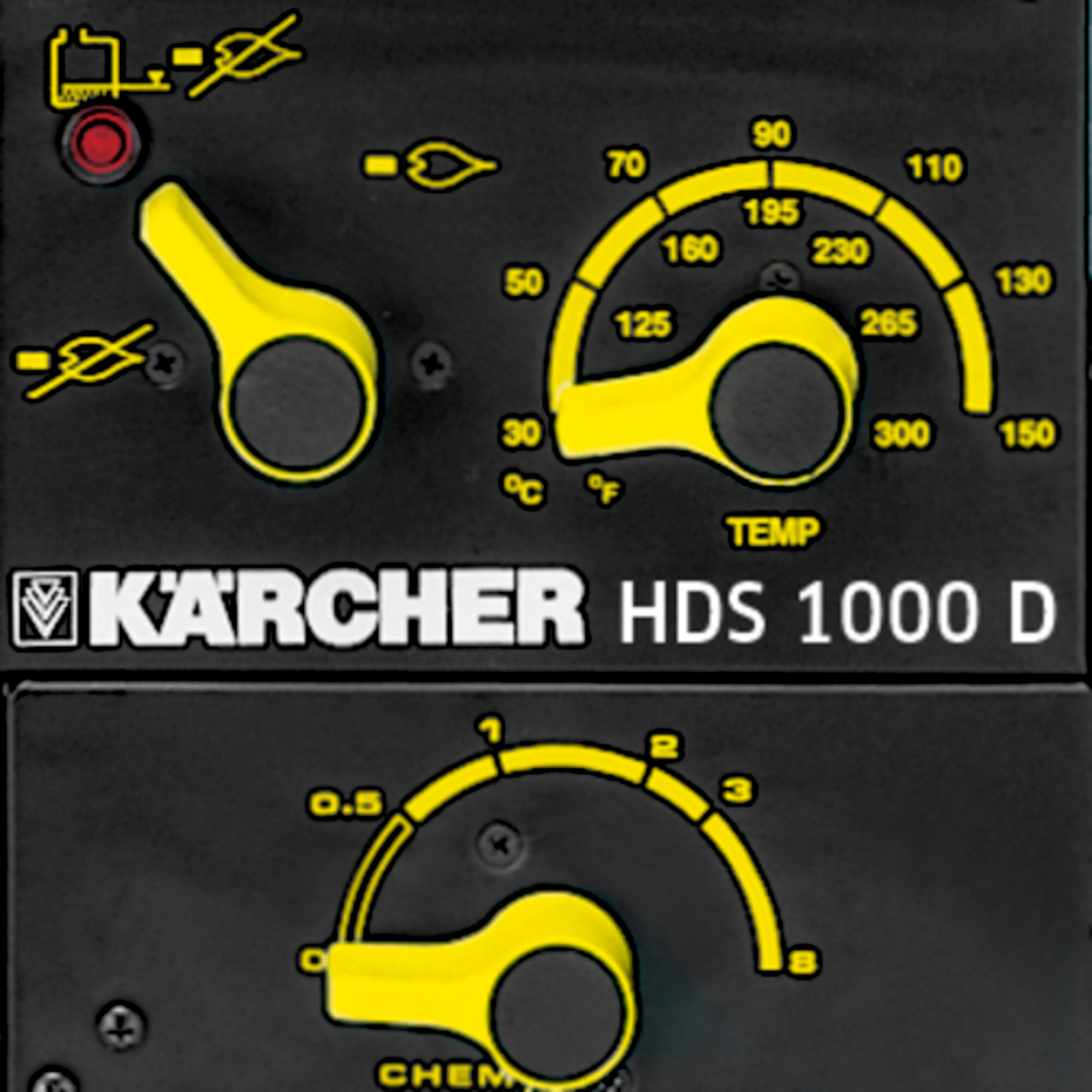 Optimum ease of use
Automatic burner cut-out in case of water shortage and overheating. The ergonomically designed spray gun reduces holding and pulling force.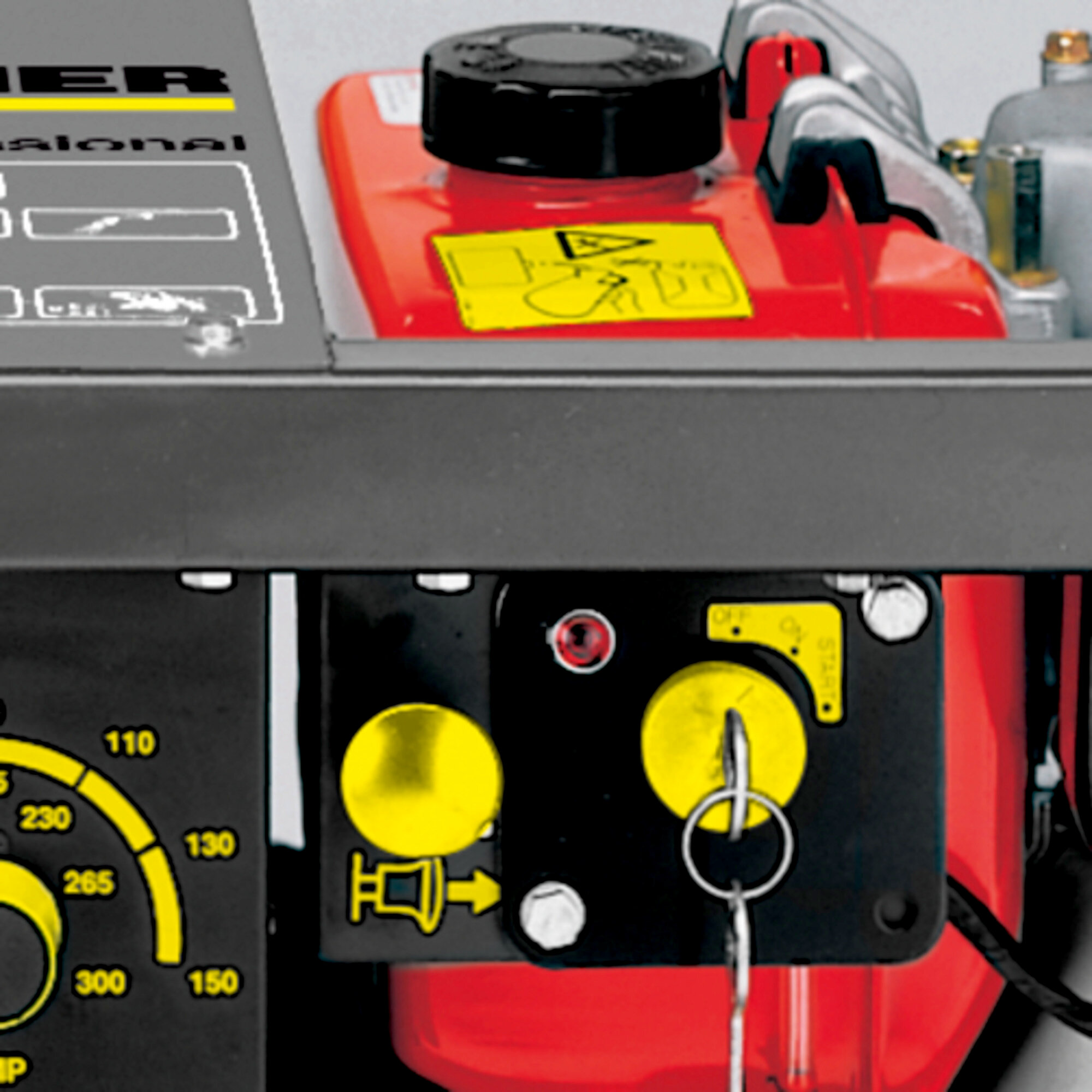 Maximum performance
High-output burner with upright heating coil and detonation-free continuous ignition. For removing stubborn encrustations. Two integrated diesel and petrol tanks allow long run times.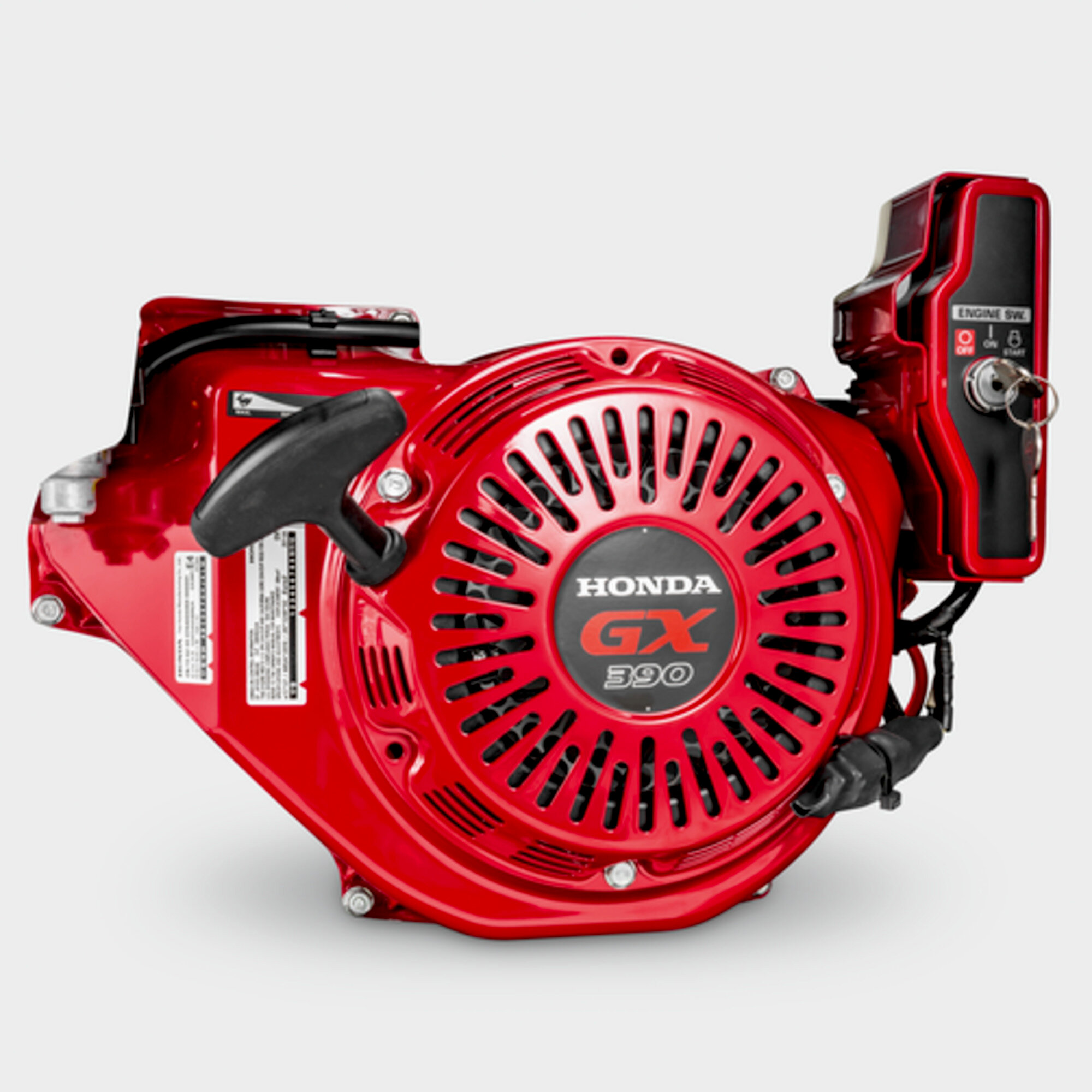 Powerful petrol engine
Complies with the requirements of exhaust emissions standard EU STAGE V. Electro start for effortless starting.
User-friendly operation
The speed is automatically reduced in standby mode. This protects the engine and saves energy.
Crane loading possible thanks to the sturdy tubular steel frame.
Specifications
Technical data
| | |
| --- | --- |
| Flow rate (l/h) | 450 - 900 |
| Working pressure (bar/MPa) | 40 - 210 / 4 - 21 |
| Temperature (for supply 12 °C) (°C) | min. 80 - max. 98 |
| Consumption of heating oil or gas at full load (kg/h) | 5.6 |
| Fuel tank (l) | 34 |
| Fuels | Petrol / Diesel |
| Drive type | Petrol |
| Motor manufacturer | Honda |
| Motor type | GX 390 |
| Number of simultaneous users | 1 |
| Portability | Stationary |
| Weight (with accessories) (kg) | 175.7 |
| Weight incl. packaging (kg) | 181.5 |
| Dimensions (L x W x H) (mm) | 1100 x 750 x 785 |
Equipment
Spray gun:

EASY!Force

Advanced
Cage protective frame
Electro start
Power nozzle
Servo control
Sturdy tubular steel frame for crane loading