Scrubber dryers are an efficient investment
Investing in a floor cleaning machine needs to be worthwhile – and a Kärcher scrubber dryer delivers just that. How? Compared to manual cleaning, scrubber dryers reduce work and material costs yet increase cleaning quality at the same time.

The cost-effective cleaning solution for any application
Compared to manual floor cleaning, scrubber dryers are quicker, more cost-effective and more thorough when it comes to cleaning all types of floors. A scrubber dryer saves you time and cleaning agents, and this protects employees as well as your purse. The machines are also easy to use and low-maintenance. We have the right design for each application, each one ideally suited to the type and size of your floor and your requirements. Whether it's a small business, pub or restaurant, a large supermarket or shopping centre, or a very large surface in an airport or production hall, scrubber dryers are the most efficient cleaning solution for all floors, whether it's 30 or 30,000 m² in size.
So which scrubber dryer is the right one for you?
Our floor cleaning machines are available in different sizes and come with many configuration options for a wide range of applications – our specially developed accessories help you do more than just clean. Further special cleaning solutions and simpler scrubbers complete our range. Here you will not only find all the information on the individual categories, but also the scrubber dryer that is the right one for you in our product range.
Features of the Kärcher ride-on scrubber dryer B 110 R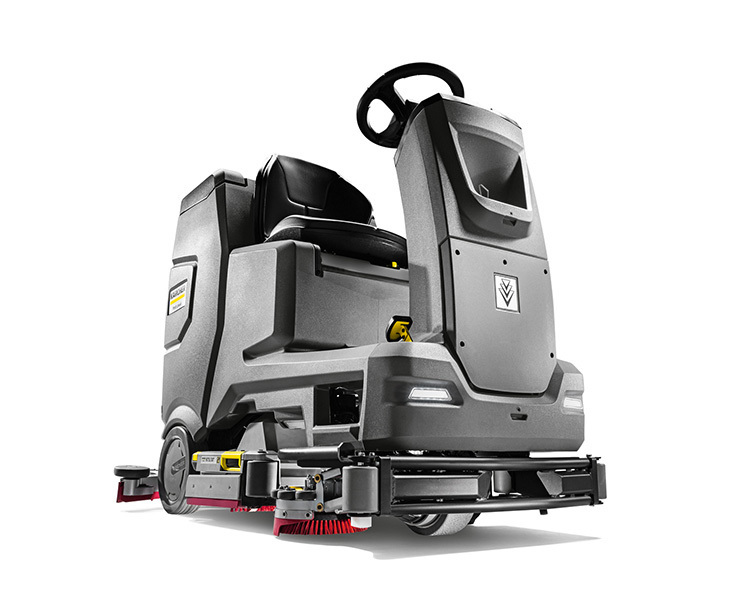 How exactly do scrubber dryers work?
All modern scrubber dryers with a roller or disc brush head essentially work in the same way. The cleaning solution is mixed either in the fresh water tank when cleaning agents are added to it or, in the case of automatic dosing systems, just in front of the brush head itself. The rotation and contact pressure of the brush work together to remove dirt. Thanks to the turbine's suction power, the dirty water is then absorbed by the squeegee and collected in the dirty water tank. Scrubbers on the other hand do not have a turbine or a squeegee. This is why loosened dirt is collected by, for example, Kärcher's wet and dry vacuum cleaners afterwards.
But not all scrubber dryers are the same
Scrubber dryers are like cars – they all work the same, yet not every model is suited to each area of application. Yet thanks to different designs, sizes, brush head systems and drive technologies, it is very easy to find a machine that exactly matches your individual requirements. You know how large your surfaces are and whether they are filled with objects or not. You know the structure of your floors and their degree of soiling. And we have the right floor cleaning machine for what you need. Promise.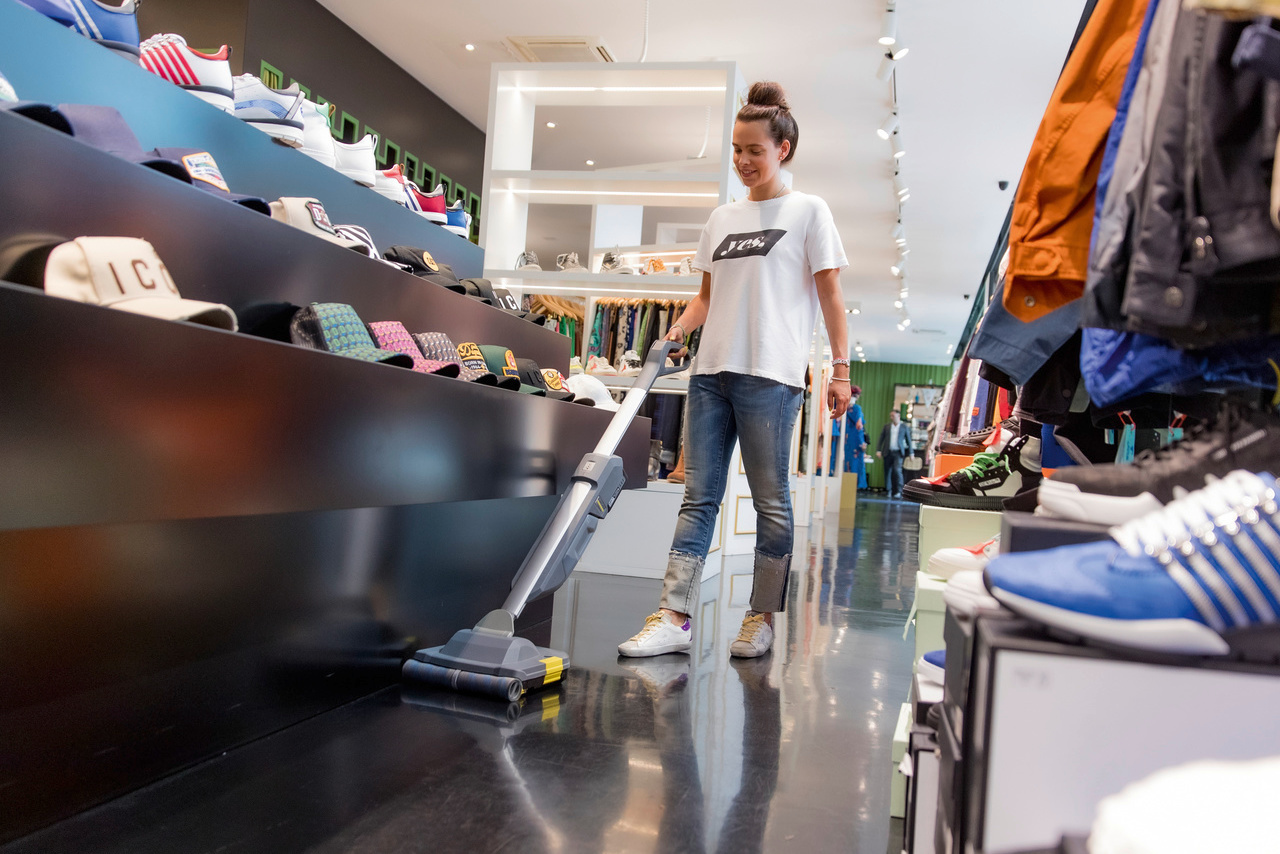 MEET OUR NEW BR 30/1 C BP CORDLESS SCRUBBER DRIER
Clean floors with half the work
Our Kärcher BR 30/1 C Bp reliably cleans hard floors thanks to its 2-in-1 system. It picks up coarse dirt and hair and, in the same step, wipes the floor using two rollers – this means that pre-vacuuming is a thing of the past.
The Kärcher BR 30/1 C Bp is a commercial cordless floor cleaner for hygienically cleaning floor surfaces up to 200 square metres. You can use this device to effortlessly pick up coarse dirt and hair, wipe the floor and, in doing so, shorten the drying time.
Fast, hygienic maintenance cleaning and floor disinfection in small areas. The BR 30/1 C Bp Pack compact cordless scrubber drier with microfibre roller technology from Kärcher is suitable for all floor types.
Which scrubber dryer for which floor?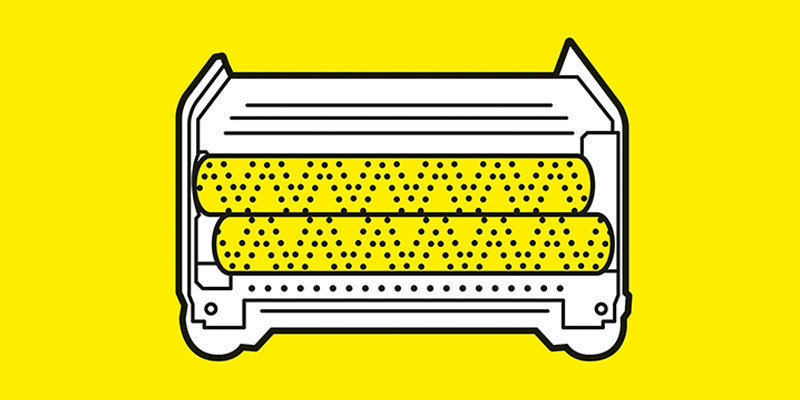 A scrubber dryer with a roller brush head is especially suitable for extensive deep cleaning of structured and heavily soiled floors thanks to its high brush speeds and a higher contact pressure per cm². This brush head technology also offers substantial advantages when dealing with coarse dirt as the contra-rotating rollers absorb the particles, which are then fed back to the coarse dirt container. This means that pre-sweeping as a previous work step is no longer needed.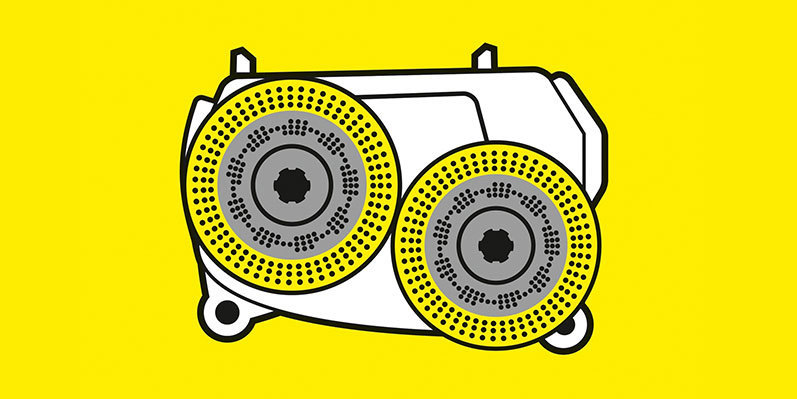 Scrubber dryers with disc brush heads are generally used for maintenance cleaning and light soiling. These floor cleaning machines are especially popular for smooth floors and noise-sensitive areas, such as in hospitals or the hotel and gastronomy sector.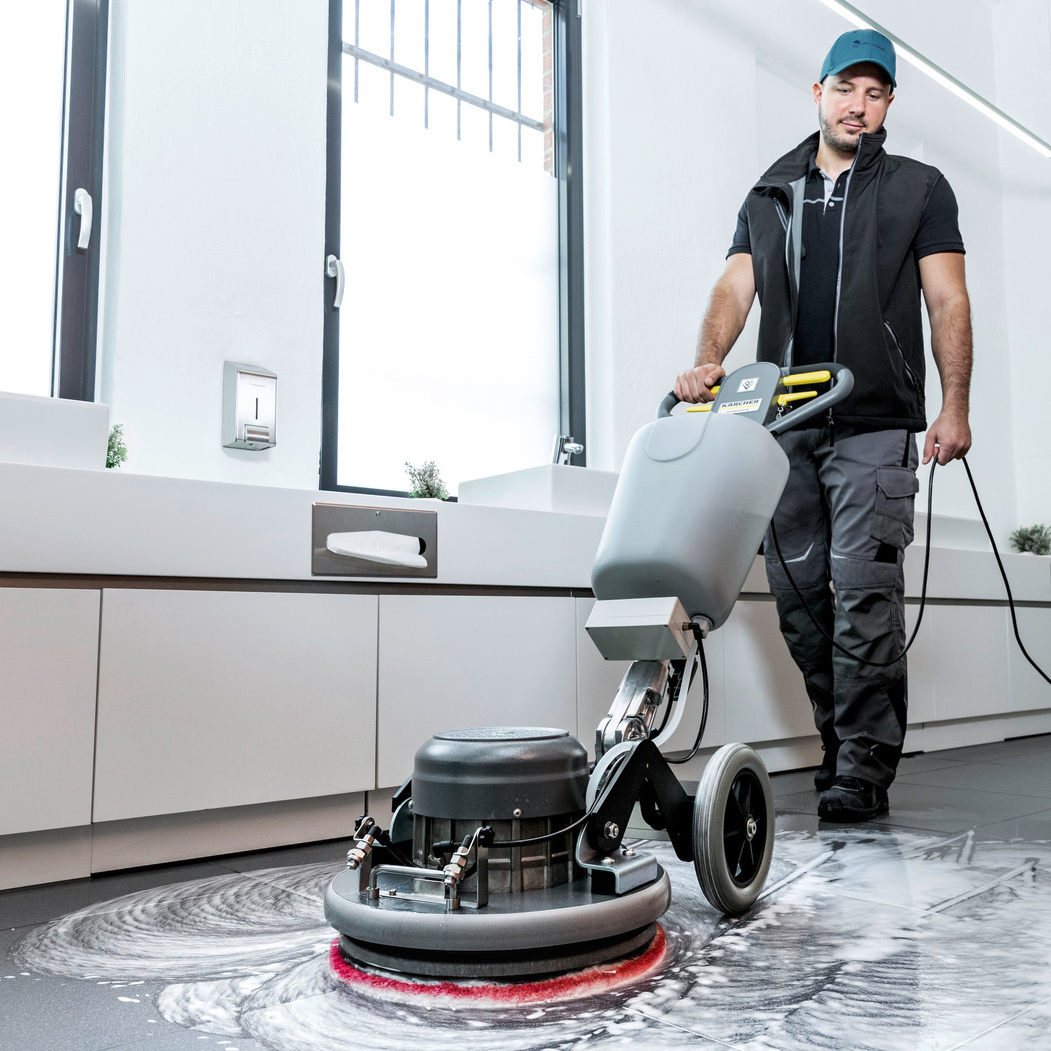 Which energy source for which scrubber dryer?
Depending on size and model, Kärcher's scrubber dryers are mains-operated, battery-powered or engine-driven. Here too the following applies: the application plays a key role in deciding what the most sensible drive technology is for you.
Available in the compact classes and in walk-behind scrubber dryers only, mains-powered (i.e. corded) machines are affordable and ideal for cleaning smaller indoor areas outside of business hours.
Battery-powered scrubber dryers offer maximum flexibility and prevent tripping hazards. Great and small: Kärcher offers battery-powered versions in every design.
We recommend our environmentally friendly combustion engine versions (diesel or LPG) for large outdoor or well-ventilated indoor areas. Combustion engine floor cleaning machines by Kärcher are only available in the ride-on scrubber dryer design.
Scrubber dryers with or without integrated traction drive?
Comfort, weight and user-friendliness are crucial factors in deciding whether the machine should be equipped with or without integrated traction drive. A lighter scrubber dryer with a tank volume of up to approx. 50 litres can easily be operated without traction drive. We recommend integrated traction drive on larger models as it is not possible to operate a machine of that size using your own body weight for longer periods of time without tiring.
Floor cleaning machines without traction motors use the rotation of the brushes to move the machine forwards. The amount of effort required by the operator to do so is kept to a minimum.
The active and adjustable traction motor on a floor cleaning machine with traction drive, on the other hand, moves the machine forwards, making very long periods of operation possible without tiring.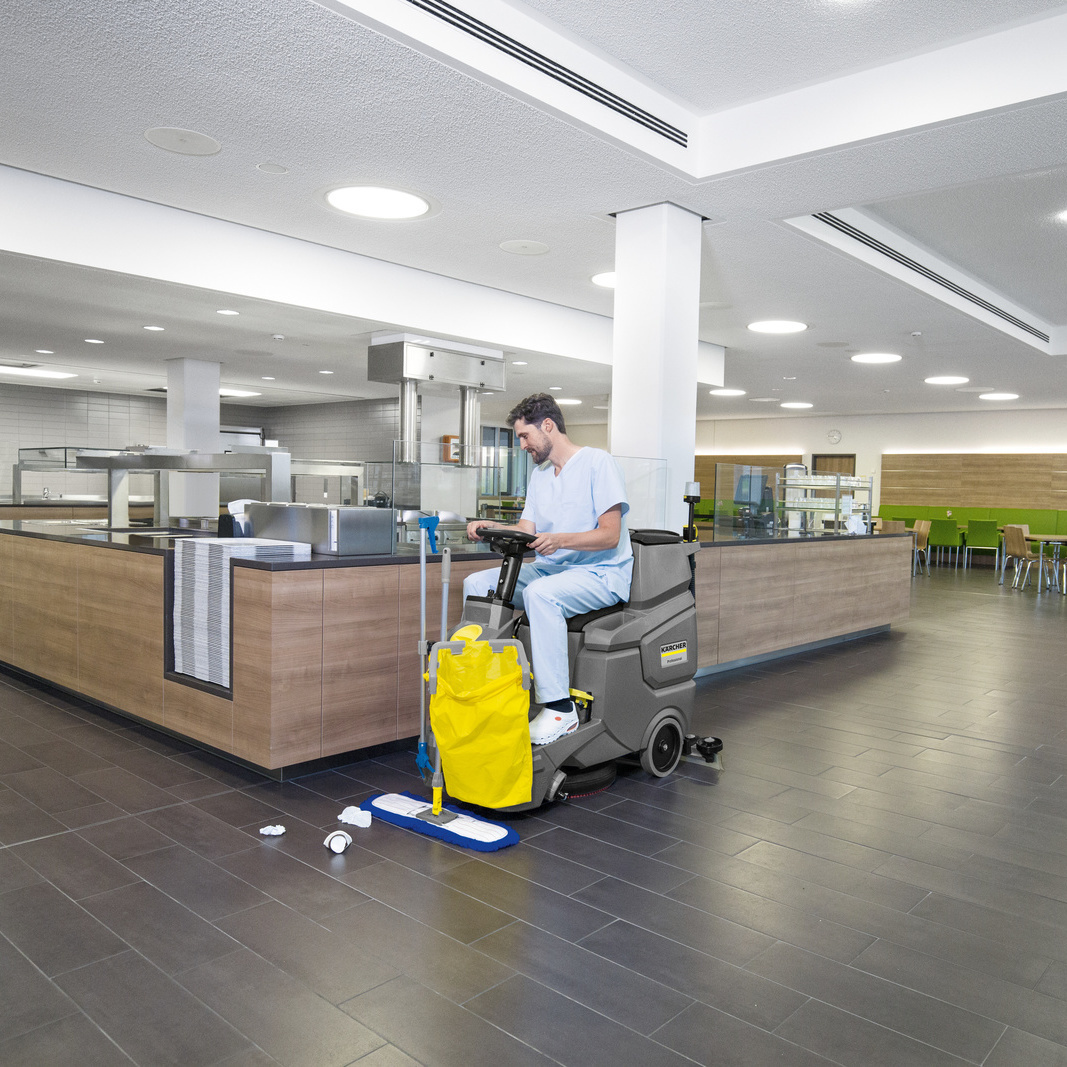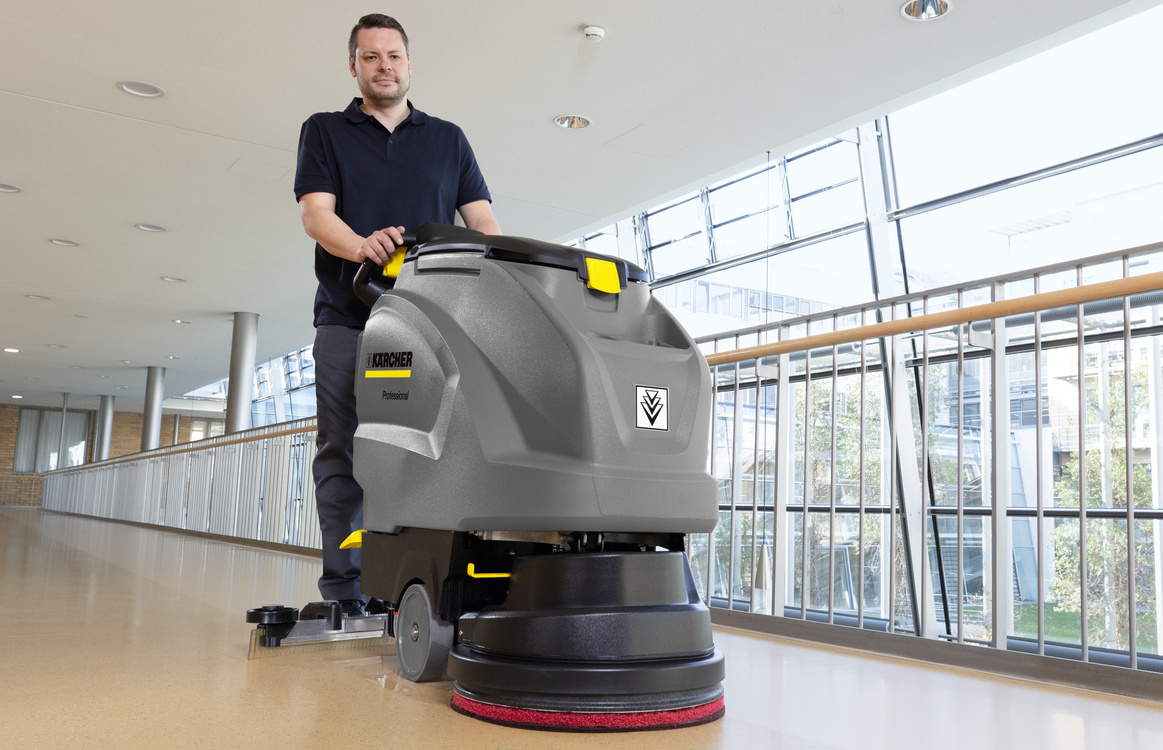 Scrubber dryers tailored to you
A Kärcher floor cleaning machine can also be used for special applications, such as crystallisation or coating removal, if equipped with the right accessories. As well as making sure that the availability of all wear parts is a given, we also offer an extensive range of pads, disc and roller brushes, suction lips, squeegees, batteries and battery chargers, equipping your machine for your exact cleaning requirements. Various attachment kits, such as our Home Base Kit, for easily transporting manual cleaning tools are also available. So you receive a scrubber dryer that is tailored to your exact needs.
The right cleaning agent for your scrubber dryer
Regardless of floor type, floor cleaning machine or level of dirt, Kärcher offers a breadth of cleaning agents developed to meet your various requirements perfectly. Not only economical in use and highly effective against every type of dirt, but also environmentally friendly and gentle enough to meet the latest standards in research, of course.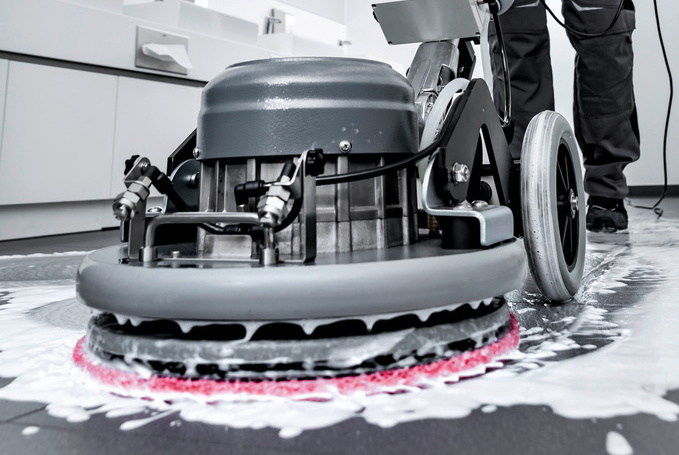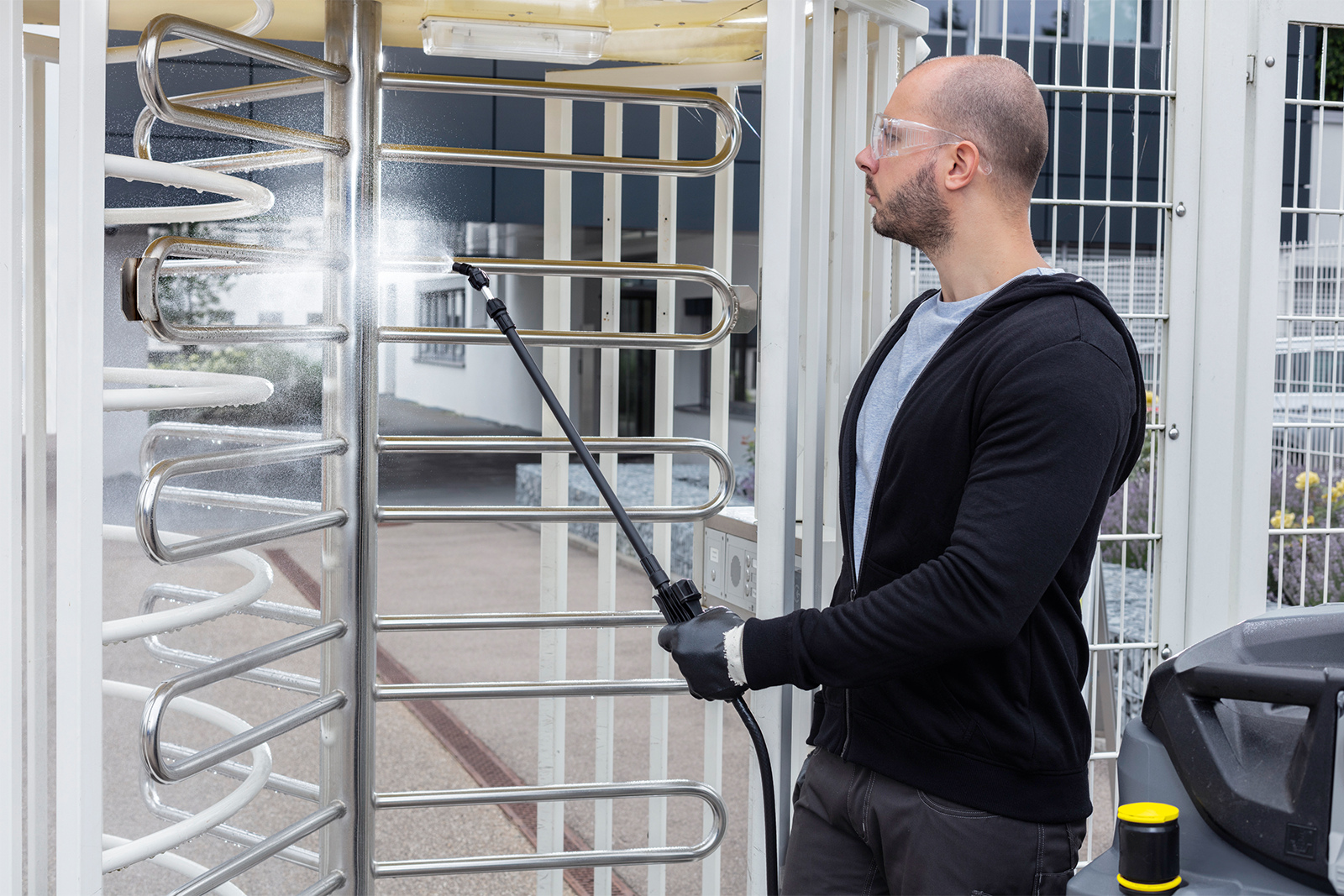 Efficient germ reduction for increased hygiene requirements
Our attachment kit for scrubber dryers for disinfecting surfaces using a spray helps you achieve a whole new cleaning level with little money and material. Dispensing suitable disinfectant via the spray lance or hand nozzle can effectively reduce the number of germs on floors, walls and furniture. Observing applicable guidelines, it is possible to achieve professional spray disinfection using suitable disinfectant. The accessories are suitable for use in train stations, airports, offices and commercial buildings, retirement and care facilities, nurseries, schools, swimming pools and sports facilities. Retrofitting is currently possible for both the B 150 R and B 200 R scrubber dryers.
Efficiency of the future – Sweeping and scrubbing in one work step
Our scrubbers and vacuum sweepers clean confined spaces as well as large areas more efficiently.
Save time and costs
Clean large areas quickly and thoroughly
Effective against dirt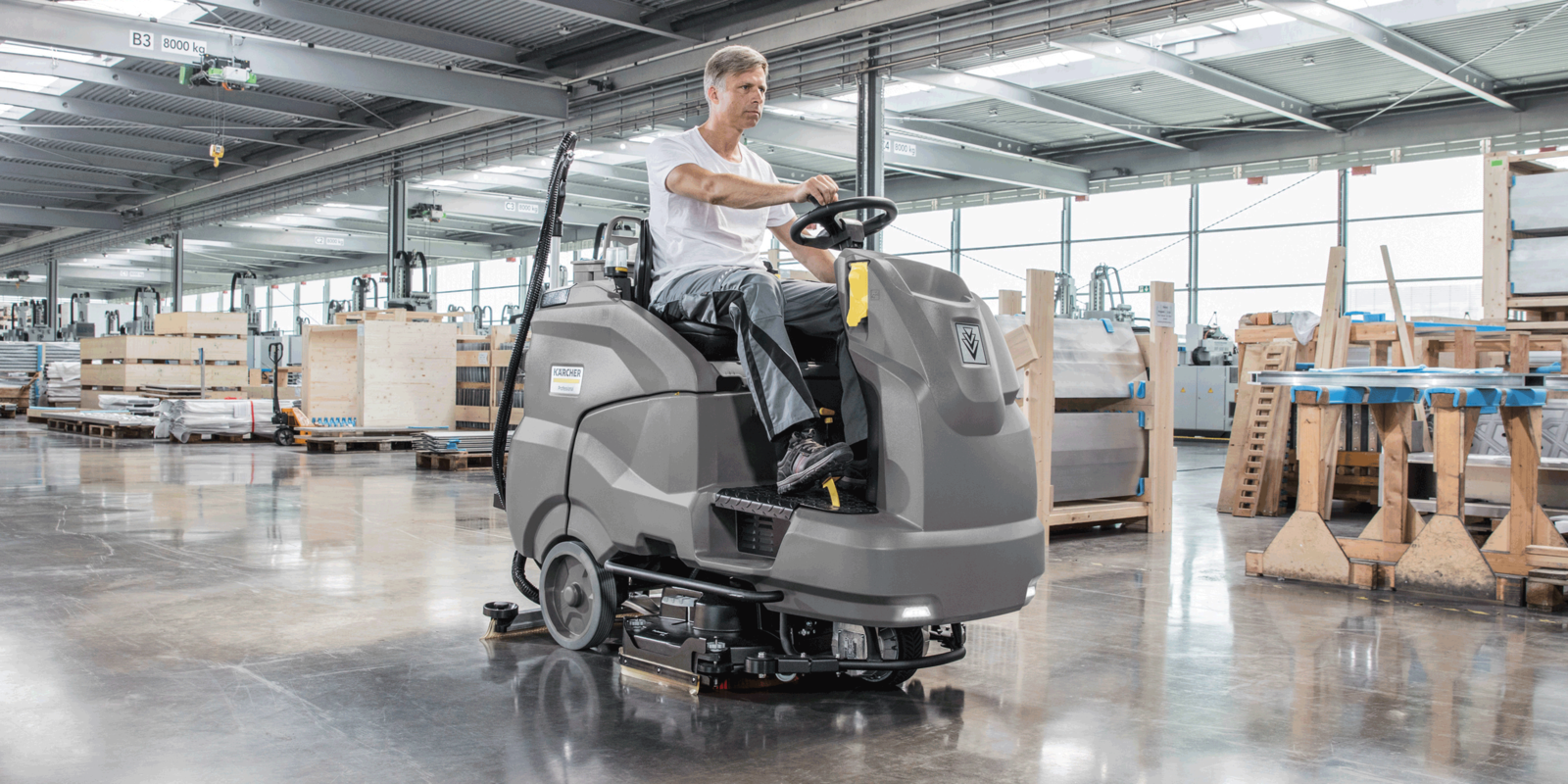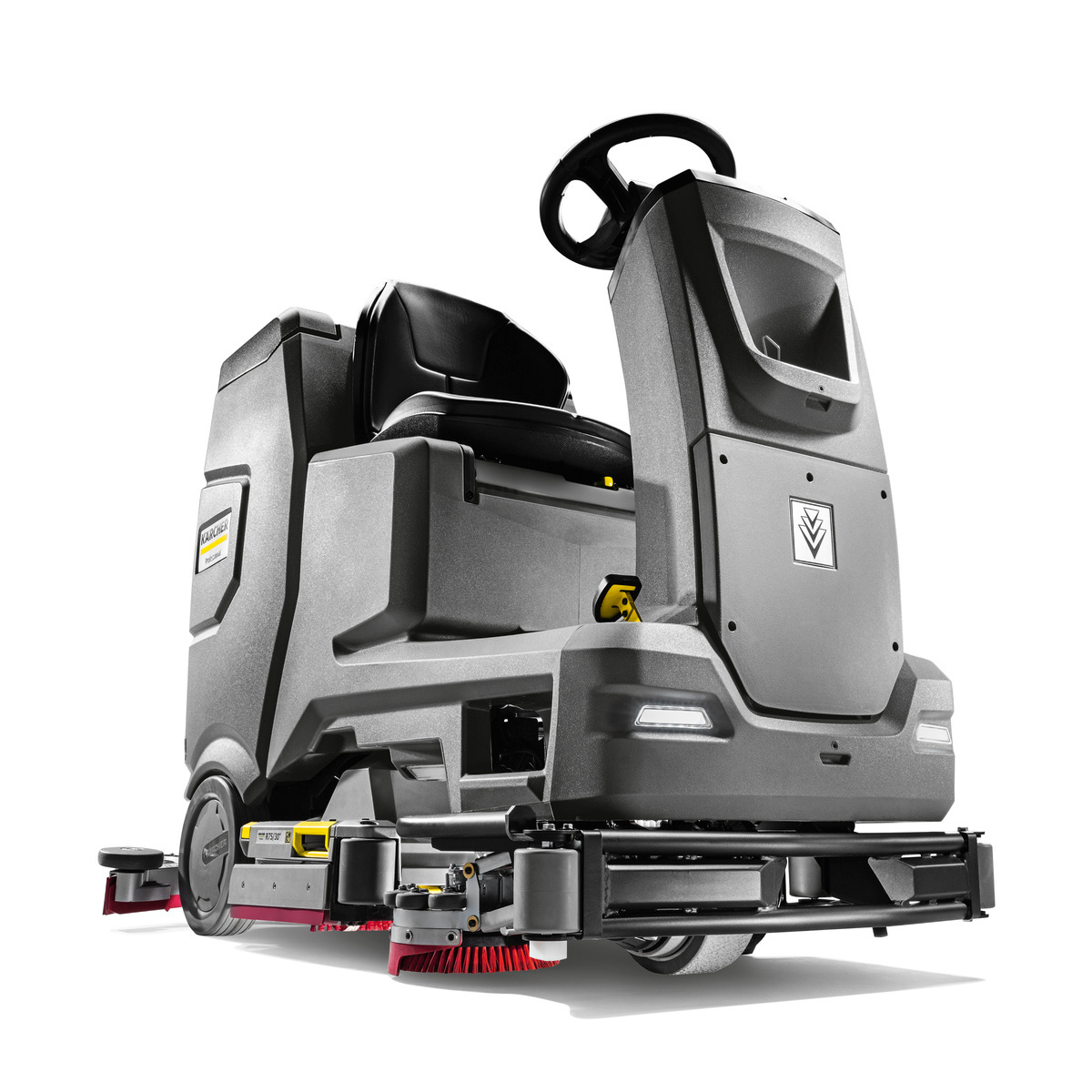 Now even better
Efficient, long-lasting and economical – the new B 110 R ride-on scrubber dryer now makes cleaning large areas, such as in supermarkets, airports and warehouses, even easier. Thanks to its updated components it now offers an even better cleaning result for maximum convenience.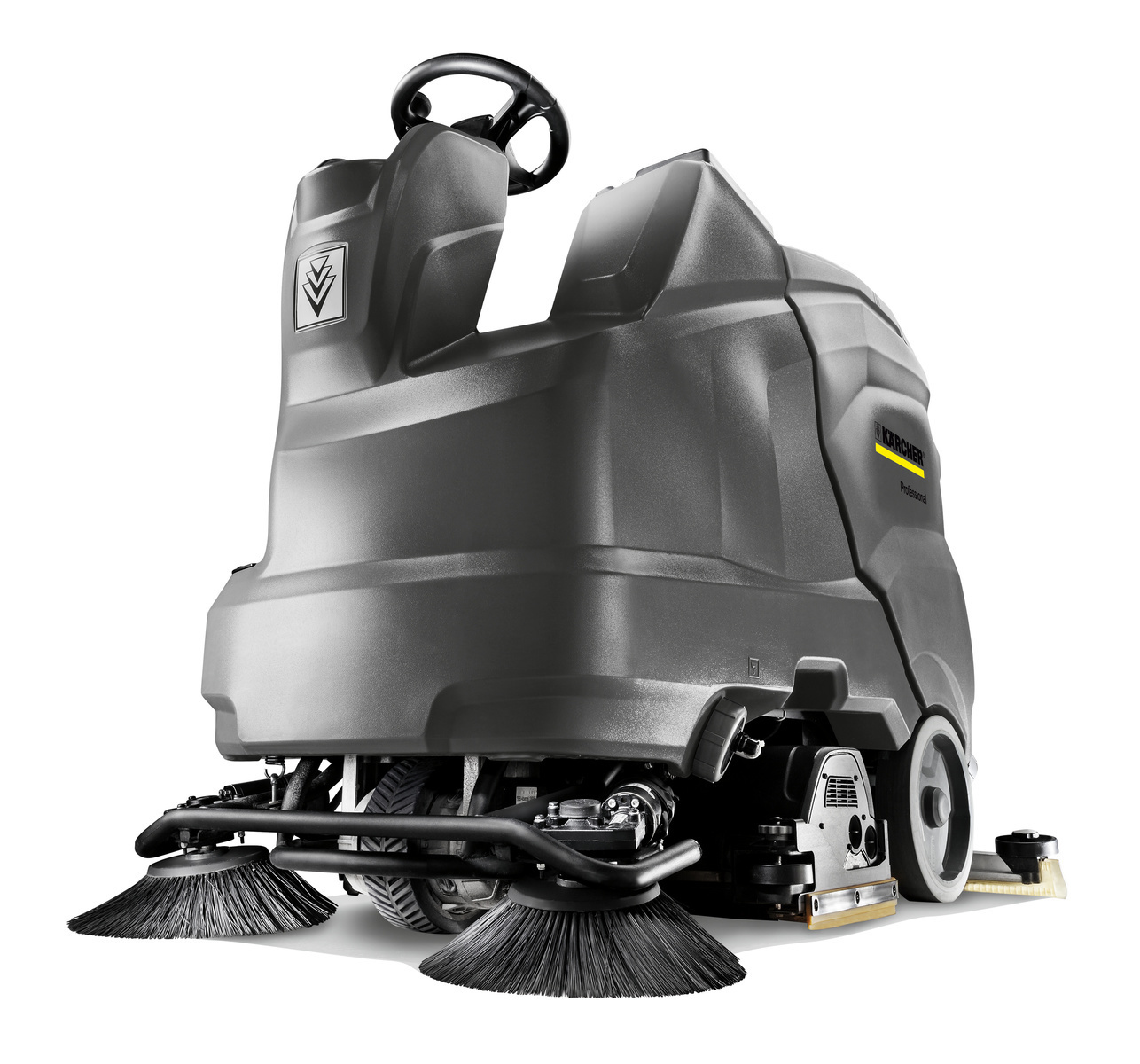 Brilliant outlook
Compact, manoeuvrable, convenient: our ride-on scrubber dryers can easily clean large areas starting from 1500 m² as found in warehouses, for example, car parks or shopping centres. The high seating position ensures a good overview of the areas to be cleaned at all times. However, should things ever get tight, the small turning circle ensures incredible manoeuvrability. Thanks to the clearly laid-out control panel, the machines are intuitive to operate – so just take a seat and off you go.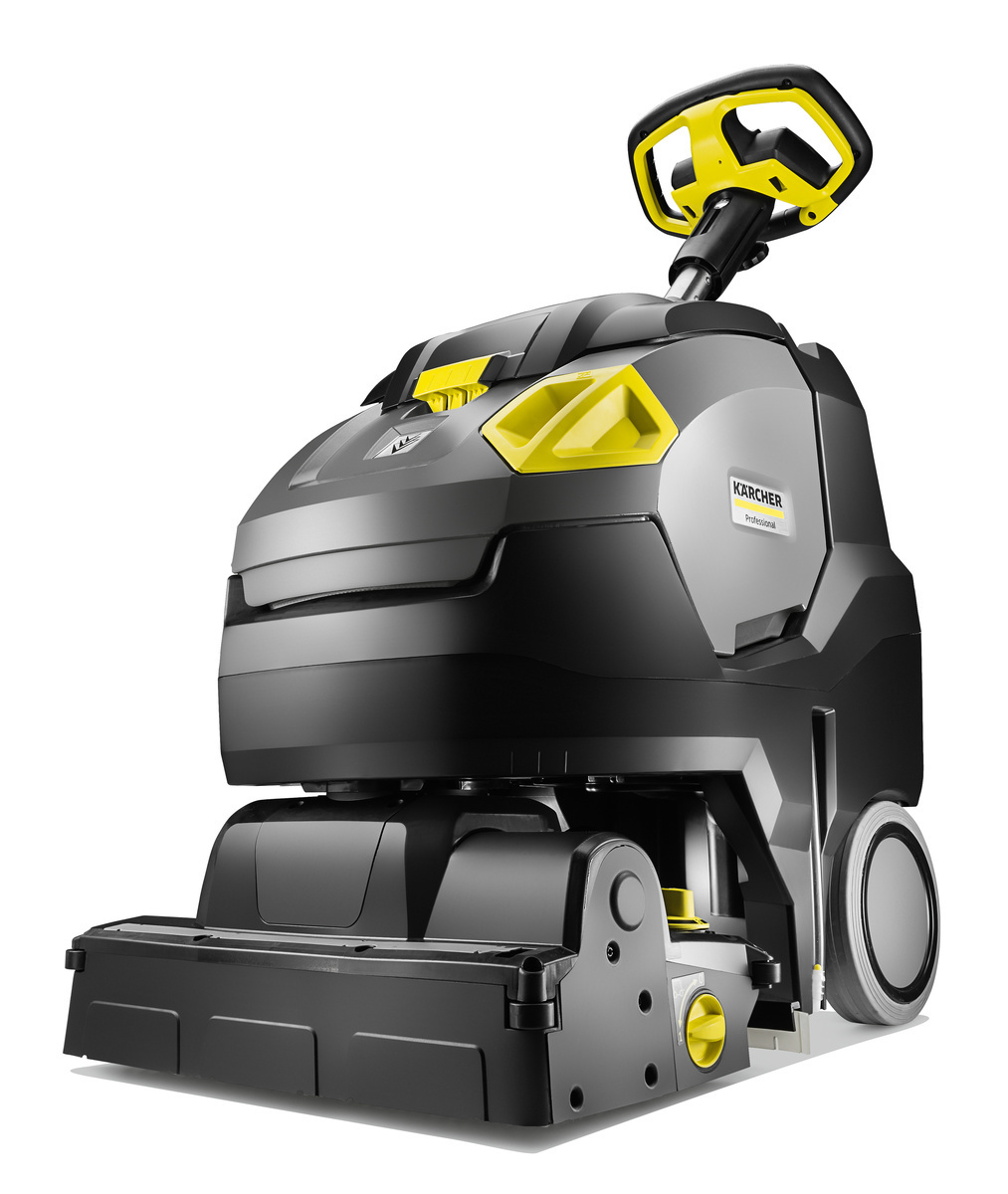 Quick and flexible in no time at all
Obstacles and areas filled with objects are no longer a problem when cleaning: The compact scrubber dryers clean small to medium-sized areas, such as in restaurants, kitchens, shops and hotels, in an instant. Their manoeuvrability makes them easy to drive – even narrow passages can now be cleaned easily. The different models achieve optimal results on a wide variety of surfaces and bring back the shine to all floor coverings. Thanks to their suction lip technology, floors are not just clean, but also dry and can be walked on immediately afterwards.
Advice, service and sales
Store locator: professional scrubbers and scrubber dryers are available at all Kärcher specialist retailers.
Contact Kärcher: use our contact form or call us directly on +49 (0) 7195 903 3839.
Professional newsletter: subscribe to our professional newsletter now if you would like to receive information from Kärcher in the future about new products and promotions.