Water dispenser
Drinking water in food quality Kärcher water dispensers feature a certified, automatic hygiene system and innovative filter system. The perfect, price-conscious and healthy drinking water service for your customers and their staff.
Pure water: the path to success and good health.
How often do you get the chance to leave people refreshed? And at the same time, save up to 90% on expenses and actively advertise your product or message? The new, configurable WPD 100, WPD 200 and WPD 600 water dispensers from Kärcher allow you to offer your employees, customers and visitors natural-tasting water of the highest quality. The innovative configuration concept gives all of our customers the chance to design their WPD water dispenser whichever way they want. You can configure the following features: type of water, cooling power, filtration and hygiene concept, colour, stand-alone or desktop unit, and electronics package.
With its fully-configurable WPD model, Kärcher has redefined the modern water dispenser. The basic variant is fitted with buttons which users can label themselves, whilst the advanced version is kitted out with a colour display.
Perfect shape and functionality
An attractive design and easy-clean materials are just one facet of the new configurable WPD water dispenser. The front panel can also be adapted to suit your own corporate design or be used as free advertising space.


One touch: six wishes
The standard WPD model delivers still water, either chilled or at room temperature. If desired, you can also opt for medium or classic carbonated water or hot and extra-hot water. The WPD's special aerator, located in its outlet valve, creates a powerful and smooth flow of water without any spray.


Hot water at the touch of a button
The WPD can produce fresh hot water at the touch of a button. The unit only produces as much hot water as is needed. This innovative principle substantially reduces energy usage.


Endless enjoyment
A direct mains water connection allows the WPD to deliver an unlimited amount of water. The unit can fill drinking cups/glasses up to 300 mm in height.


No mess, no fuss
The drip tray is equipped with overflow protection. Alternatively, the drip tray can be attached to a container located in the dispenser's base or directly linked up to the drainage system, thus putting an end to having to regularly empty the tray by hand.


Cups at the ready
The cup dispenser in the unit's base means a clean cup is always to hand. Best used with Kärcher's compatible plastic and hot drink cups.


Table-top or standing?
Every WPD table-top model can be transformed into a stand-alone unit by attaching a base. The base offers sufficient space to store a large CO2 bottle (10 kg), a can for drainage or, on the WPD 600 model, an additional cooler.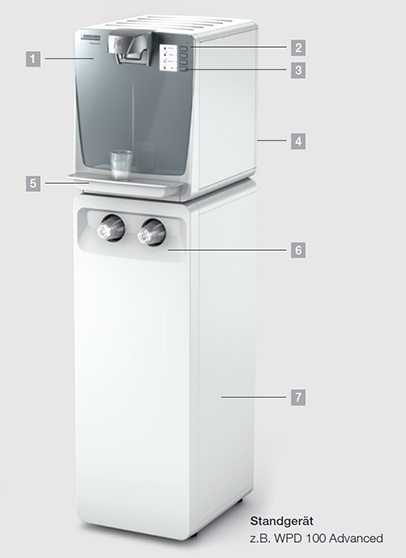 Your WPD. As unique as you.
Never before have you had so much freedom when configuring your water dispenser. The new configurable WPD water dispenser meets the latest customer requirements. Start enjoying water exactly the way you want it.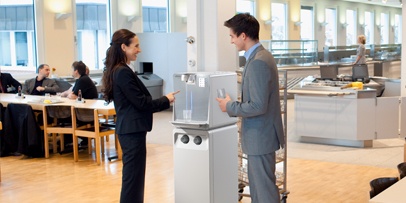 Needs-based cooling
Three different cooling classes to choose from: WPD 100 for up to 50 people, WPD 200 for up to 100 people and WPD 600 for more than 100 people.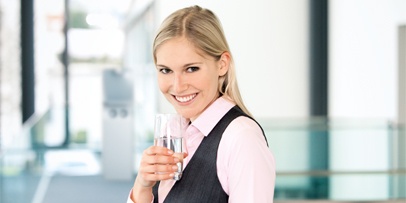 Effective filter combinations
Compile your filter package in line with your personal requirements: choose from the Active-Pure filter, Hy-Protect filter, Hy-Pure filter or UV protect.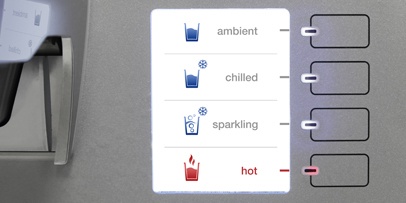 A variety of types of water
Depending on the electronics package, the machine can provide six different types of water: room temperature, chilled, chilled with medium or classic CO2, hot and extra hot.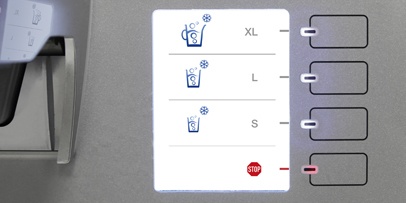 Precise water dispensing
The water can be dispensed in precise steps: choose from S for small, L for medium-sized and XL for large containers.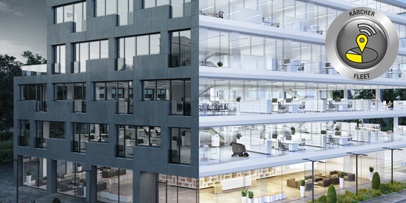 Quick diagnosis
Kärcher Fleet Services has set up M2M communication (Machine-to-Machine) to enable direct communication between the WPD and your PC/smartphone. This enables you to react quickly to problems and helps to avoid additional servicing work.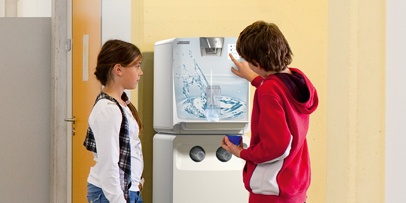 Individual front design
The glass panel can be customised with the customer's choice of design (e.g. company's CI colours) or can be used as a free advertising panel.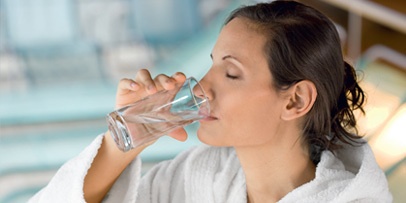 Pure water enjoyment
Water is vital to our lives and performs a range of different functions within the human body. Water is calorie-free and encourages fat burning: it's the perfect elixir that helps you on your way to good health. Drinking pure water on a regular basis has been shown to improve health, concentration, performance and well-being.
Water is essential
The human body is approximately 60% water. Water provides our cells with essential nutrients, vitamins, salts and minerals, and removes metabolic waste products. A dehydration level of just 2% is enough to see a noticeable drop in physical and mental performance, and could also cause problems such as headaches, tiredness and lapses in concentration.
Listen to your body
According to the World Health Organisation, each person needs to drink two to three litres of water per day in order to remain active and healthy. Those who consistently turn to other drinks, such as juices, lemonade or coffee, for hydration consume an excessive amount of acids, sugars, caffeine and several other ingredients. Pure water, on the other hand, is calorie-free and encourages fat burning. And a Kärcher water dispenser delivers water that tastes simply wonderful.
Recharge your batteries – directly from the WPD
The WPD water dispensers from Kärcher allow you to enjoy this healthy refreshment quickly and easily; the machine is connected to the mains, delivering water simply at the touch of a button. All minerals contained in the mains water supply are retained.
The right solution for every need.
Simple connection. Takes up little space. Low operating and energy costs. No storage needed: no empty bottles. The WPD 100, 200 and 600 water dispensers from Kärcher allow employees, customers and visitors alike to enjoy all the benefits of top quality water simply and at little cost.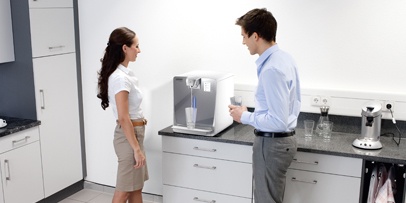 Businesses and offices
Fresh water, fresh ideas – to constantly deliver top performance in the workplace.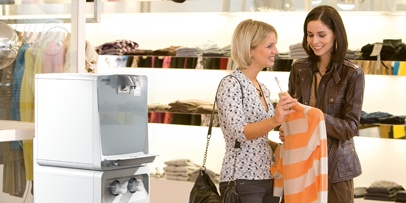 Retail
A WPD machine will offer customers a small oasis of refreshment, and turn any shop floor into a place of relaxation.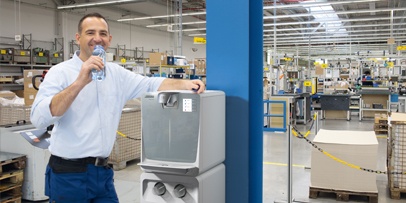 Trade and industry
More water, more energy – making your production flow smoothly.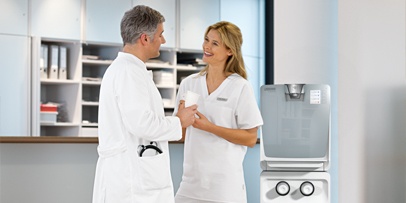 Health sector
This life-giving resource helps improve people's health. And nothing will make a wait feel shorter than a refreshing glass of pure water.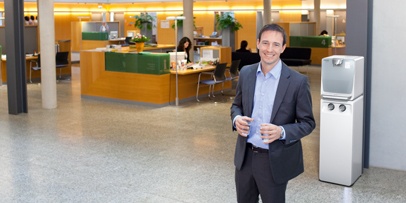 Public services
Fresh water is representative of modern customer services. At schools or in places with a large volume of public traffic, the WPD is perfect for the provision of cold, non-carbonated water.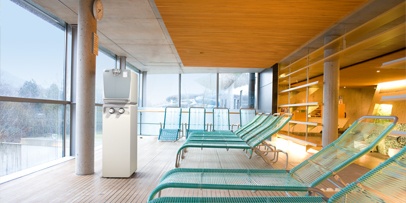 Hospitality industry
Follow the trend: nowadays it is common to provide water in hotel receptions or during meals.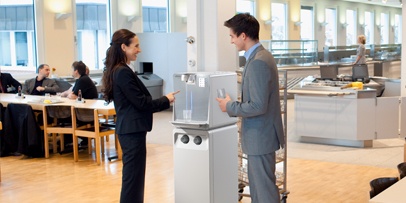 Restaurants and canteens
The WPD 600 will ensure everyone is kept refreshed, even in places where the demand for cold water is high. Perfect for restaurants, canteens and catering areas.
Guilt-free enjoyment.
Bottle recycling systems such as PET bottles or water coolers can cause harm to the environment. Furthermore, water cooling systems are not ideal from a hygienic point of view. The amount of energy required for transport and cleaning and the staff costs for handling and storage are so high that these solutions make little economic sense. The Kärcher WPD water dispenser on the other hand is both energy-efficient and sustainable.
Energy Reduction Mode
The innovative energy reduction mode in the WPD 100, 200 and 600 heats exactly the right amount of water once the button has been activated, ensuring extremely low energy consumption. Cold water is not chilled as much if the system has not been used for a long period of time, saving energy for water storage.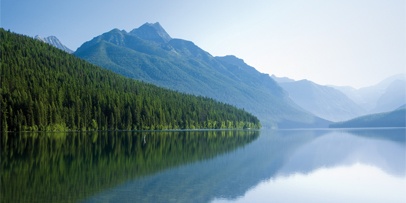 eco!efficiency

- Standby mode

Standby mode enables users to select individual operating times for each Kärcher water dispenser so that the device runs on minimum energy when not in use (< 0.5 watt), for example over the weekend. This satisfies the requirements in the latest ErP directive.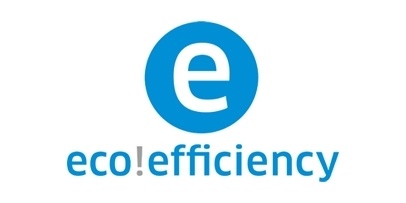 Quality makes the difference
What could be better than quality? Kärcher quality. What makes Kärcher the world's leading brand for cleaning technology? Good ideas, superior selection of materials, precise production processes, uncompromising quality control and modern services. The new, configurable WPD water dispenser: engineered by Kärcher. Made in Germany.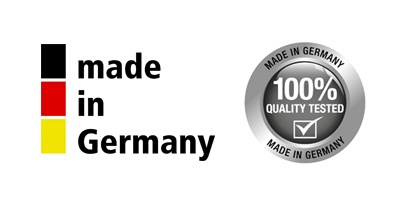 Looking towards the future
The future is on its way, whether we like it or not. Which is why we need to act now to ensure sustainability. Sustainability has been one of Kärcher's corporate objectives for many years: responsible corporate conduct that protects both humans and the environment, based on the pillars of economy, social responsibility and environmental protection.
Environmentally-friendly and no logistics required.
Using Kärcher WPD water dispensers enables companies to reduce their plastic waste as they use neither plastic bottles nor large water cooling bottles. As a result, companies are able to both save energy and reduce CO2 emissions resulting from the transport and cleaning of bottles and refill bottles. This saves a lot of the time and effort normally needed to order, store, transport, collect and return bottles and also prevents goods from "disappearing". At the same, it frees up storage space, allowing it to be put to better use.
Product Carbon Footprint
A study by the University of Darmstadt has shown that Kärcher's WPD* water dispenser uses very little energy for the supply of cooled drinking water: every time we use energy we leave behind a trace of carbon dioxide, a CO2 footprint, which is known as the product carbon footprint (PCF). To provide a further comparison, the WPD's PCF is just a sixth of the size of the PCF for water coolers and less than a tenth of the size of the PCF for bottle vending machines.
* Basis for comparison: Kärcher WPD 100 water dispenser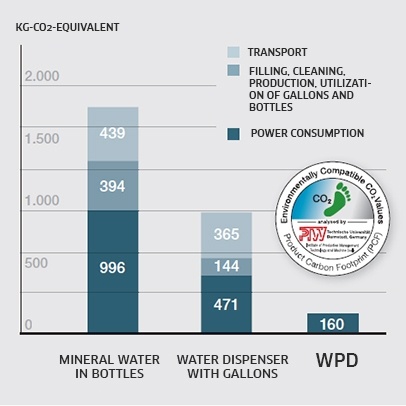 More enjoyment, lower costs.
Compared to other systems, the WPD water dispensers result in much lower overall costs, making them a sensible choice from an economic point of view. A litre of water from the WPD costs around a quarter* of the price of water from bottles and water cooling systems, making it four times cheaper. For companies with 50 employees, this equates to just €0.23 per litre (bottles: €0.96; gallons: €0.80). For 100 employees, the cost is just €0.18 per litre (bottles: €0.95; gallons: €0.78). The more people that use the WPD, the more cost-efficient it becomes. The WPD costs an average of just €4 per employee and month.
* Study by Kärcher Product Management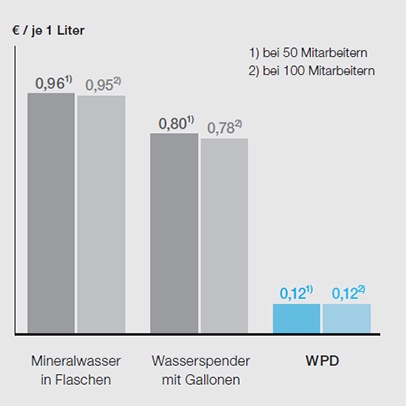 Patented top-class technology.
The WPD water dispenser from Kärcher also impresses with a unique, patented hygiene concept that meets all applicable European standards. Manufactured entirely in Germany, the WPD embodies Kärcher's high quality standards in every respect.
Patented hygiene system
Integrated thermal disinfection is a patented Kärcher system: all water lines, heating and cooling modules, the Hy-Protect filter as well as the water dispensing valve are disinfected at regular intervals using hot water. Compared to conventional systems, this method reduces service costs and protects the environment.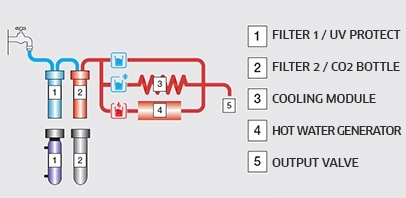 Innovative filter concept
Four different cleaning options are available. The Active-Pure filter, a sintered activated carbon block, ensures a pure taste by removing chlorine, heavy metals and other residues from the line. The Hy-Protect filter delivers perfectly clean water by means of ultrafiltration. Its extremely fine pore-membrane effectively removes bacteria and viruses whilst ensuring the water loses none of its natural minerals. The Hy-Pure filter is a combination of the Active-Pure and the Hy-Protect filters. The UV-Protect lamp uses ultra violet light to destroy bacteria and viruses.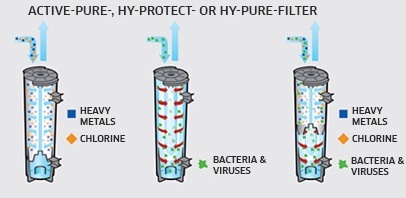 Automatic rinsing
The automatic rinsing function for thermal disinfection can be set to run at any given time, e.g. at night. The process is completely automatic. Once completed, the WPD is instantly ready for operation.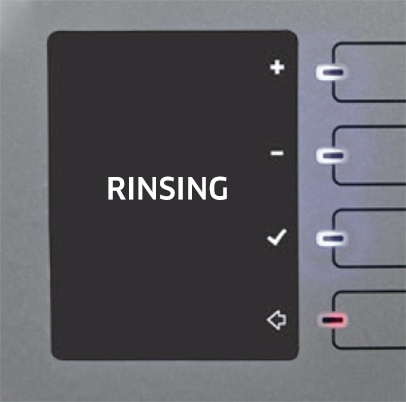 Water dispensing with contact protection
The Kärcher water dispensing valve is designed in such a way as to prevent direct contact by users. This helps to ensure optimal hygiene.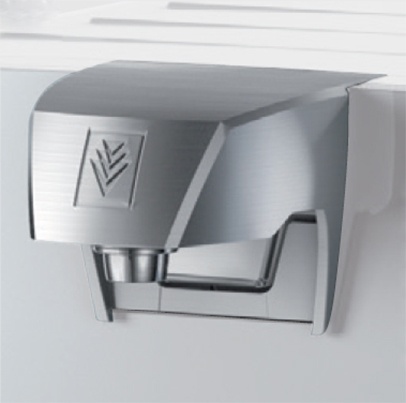 Surface disinfection
The perfect complement to Kärcher's hygiene concept is the disinfectant RM 735.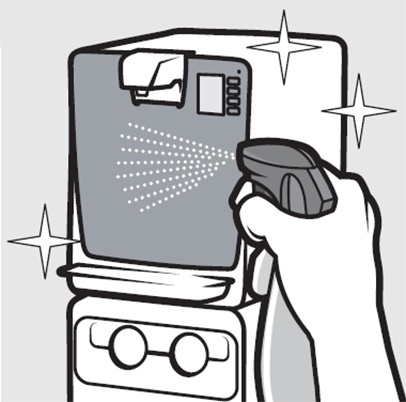 Listen to your body.
People cannot drink all the water they need for the day in one go. On the contrary, we have to drink the right quantity of fluids throughout the day in order to stay healthy, energetic and productive. But how much water do we actually need? There is no straightforward answer to this question, because our needs vary depending on our age, weight, health and level of physical activity. Other external factors, like ambient temperature, also affect our water needs.
Know how much to drink and when with the drinkreminder from Kärcher
Our day-to-day lives are often dictated by stress. Between appointments, phone calls, meetings and rushing around, it's not always easy to remember to drink enough water.
That's why Kärcher has developed the drinkreminder: not only does it calculate your personal water requirement, it also spreads out the total amount of water throughout the whole day, giving you a reminder at exactly the right time.
This is how it works:
simply download the drinkreminder and enter your personal details. All you have to do is allow the program to run during the day and this will gradually get you into healthy rehydration habits.
Desktop version
Enter the data onto your computer and start the program without any further installation.
Mobile version
Click on the download link.
Save the file compressed in a zip file onto your PC.
Then extract the file using a zip program.
This SWF file must now be transferred to your mobile phone. This can be done via a cable or Bluetooth, depending on the type of connection available. Save the file in the recognised folder for applications or files, or onto the memory card. More information on this can be found in the user guide for your mobile phone.
The flash application will be able to detect automatically whether your phone supports flash applications. If the program has been found by the file browser in the menu, it can be started with a simple click. Find out here which Flash-compatible phones are supported.