Why Kärcher? Good reasons for a career in our company.
As a responsible and trusted family-owned company, Kärcher is one of the most attractive employers in the industry. More than 11,000 employees in 60 countries currently contribute to our success. And there are good reasons why so many people choose a career with us.
Working together as partners
Mutual respect and appreciation create a collegial atmosphere at Kärcher. We foster a leadership style based on partnership and open communication. This unique culture is the basis of your career and our worldwide success.
Individual freedom and autonomy
We challenge and support your independent thinking and actions. At Kärcher, everyone can contribute his or her individual strengths to the success of the company. Initiative combined with eager curiosity can be allowed to flourish.
Combine career and family
Through numerous initiatives, we help you to achieve an even better work-life balance. We even have awards to prove it:
In 2013, Kärcher received the ARBEIT PLUS ("WORK PLUS") employers award for socially sustainable company policy and pioneering employment models. Kärcher has also held the "audit berufundfamilie" ("career and family") certificate since December 2013. The certificate awards companies that are particularly committed to developing family-friendly strategies in the workplace.
Responsible in business
As a family-owned company, we accept our responsibility. With consideration for people, society and the environment, we conduct our business with respect and sustainability in mind. Both our products and our production meet the highest requirements. That's why we, as a responsible employer, support your professional development.
Sites. Where you can find us.
Kärcher Limited Kenya
The Address
7th Floor, Workstyle
P. O. Box 40111-00100,
Muthangari Drive, Westlands, Nairobi
Phone: +254 700 085 927
Email: info@ke.kaercher.com
Sites worldwide
With over 11,000 employees in 100 companies, every day we are working in 60 countries to consolidate our market position. Our cleaning machines are manufactured in Germany, Italy, Romania, China, Brazil, Mexico and the USA.
With over 50,000 customer service points, Kärcher provides comprehensive support to its customers all over the world.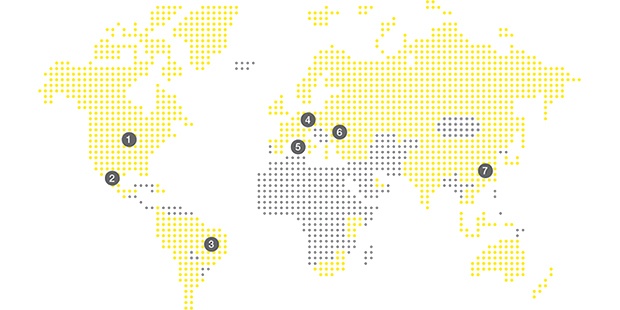 Production and logistics sites
USA:
3 production sites
3 logistics centres
Mexico:
1 production site
Brazil:
1 production site
Germany:
8 production sites
1 logistics centre
Italy:
4 production sites
Romania:
1 production site
China:
1 production site
Discover what we can offer. Develop your skills with us.
An entrepreneurial, performance-oriented culture that inspires, challenges and nurtures our employees is essential to our company's success. That's why we invest a great deal in qualifying, training and supporting our employees and managers.
Continued development guaranteed. Make the most of the opportunities that await you.
As a leading global innovator, we are always one step ahead. This is also true when it comes to the qualification, support and development of our employees. Moreover, we offer a full spectrum of training and further education opportunities which will allow you to expand your knowledge and expertise and strengthen your individual skills.
Our employees spend an average of 3.8 days in training every year. In addition to technical, methodological and social skills training, we offer seminars in health management as well as numerous language courses. We also encourage lifelong learning through the Kärcher Scholarship. Whether you are aiming for a professional qualification, entrance qualification to a university of applied science ("Fachhochschulreife"), technical qualification, a qualification in the skilled trades, a Bachelor's or Master's degree – we support in-service upskilling of our employees both financially and with time.
As part of our "International Management Development Programme" we offer employees in our 60 foreign subsidiaries a wide range of training opportunities. These include orientation weeks for new employees, seminars for both prospective and experienced managers, as well as training in specific areas like "entrepreneurship" and "opportunity management".
Enhancing expertise and leadership skills. Help to shape Kärcher's future.
Do you have leadership potential? At Kärcher, you will be challenged and encouraged according to your individual strengths and talents based on our competence model. We invest in the long-term development of our management team by offering guidance for the specific challenges that await them in future. The result: at Vice President and Head level, at least three quarters of all managerial positions nationally are filled by internal candidates.
As a global, family-owned company, we are also committed to an open corporate culture and value-based management. Our "International Management Development Programme" incorporates these values.
Employee benefits: discover what we can offer.
Our employees are our most valuable asset: they contribute to our company's success by working with the utmost commitment every day. But top-class performance is only possible when your professional and personal circumstances are conducive to this, which is why we support our employees with a wide range of attractive benefits, both day-to-day and at every stage of life. Discover what we can offer:
Career and family
The compatibility of work and family is extremely important to us. We help our employees, for example, by providing financial assistance in the form of maternity and marriage benefits or with individual arrangements for childcare and care of relatives.
Work-Life-Cycle
We offer a high level of freedom and flexibility in your personal and professional life, for instance, with flexible working hours or the option to work from home, allowing you to strike the perfect balance between work and family.
Health
The health of our employees is crucial for long-term performance and well-being. We take extensive measures to maintain and improve the health of every individual, not just by offering healthy food in the canteen, but with information events, courses and seminars covering specific themes.
Sport and leisure
An active lifestyle not only keeps you fit, it also increases your happiness and commitment. That's why we offer our employees a wide range of activities, from sports activities in the Winnenden sports club to our photo club for photography enthusiasts and musical opportunities with the Irene Kärcher Choir and the Kärcher Singers.
Pension
We offer attractive options to build up your pension and increase the value of your assets so that you can look to the future feeling happy and secure. Our workplace pensions, for instance, ideally complement your statutory pension insurance. We also offer our employees the option to take out direct insurance.
Mobility
We are making our employees mobile: whether it is by subsidising travel costs for public transport (the train station in Winnenden is just 350 metres away) or with low-priced vehicle leasing initiatives. This way all of our employees are guaranteed a smooth ride. You are also sure to find a parking space for your vehicle in our employee car parks. And of course, as a bicycle-friendly company, we also have modern bicycle parking facilities.
Further education and training
Lifelong learning is essential for achieving top performance. We will support your career – from trainee to manager – with a wealth of further education and training programmes. These include special training events, the Kärcher scholarship and a wide range of programmes for young talent as well as leadership development.
Appreciation
At Kärcher, every employee counts. We support you from day one and throughout every stage of your career, and reward your service and loyalty at anniversaries with financial contributions and special leave. We also hold regular events for our retired employees.
Top performance
At Kärcher, performance is rewarded. Our employees contribute to the company's success. Kärcher ideas management rewards suggestions that contribute to improving our competitiveness.
Job security
Our aim is to expand Kärcher over the long term. For many years we have guaranteed to preserve our German sites and prevent redundancies.
Employee commitment
As a family-owned company, commitment to society and social responsibility are very important to us. We support our employees in their activities, whether it is with sports gear for runners in the Bühlerzell winter race or sponsorship for the endangered yellow-bellied toad.
Tradition
Fantastic annual events, like the Christmas carol concert and Kärcher family days, are part of the Kärcher tradition, bringing our employees together and strengthening our sense of identity.