Professional cleaning and care agents
Clean quickly and more effectively with lower energy consumption and less waste water pollution from mineral oil residues: there are numerous benefits to using Kärcher's professional cleaning and care agents.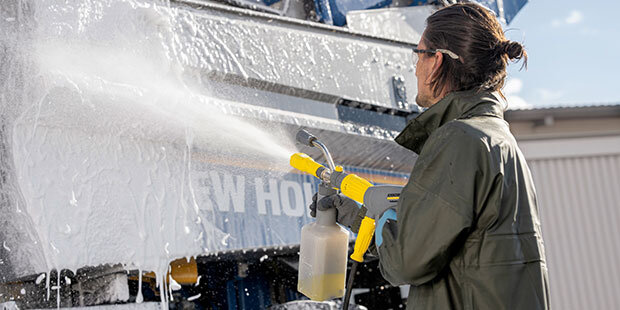 Fast, efficient, thorough and resource-saving: high-pressure cleaning, in combination with perfectly coordinated cleaning agents, is also impressive in the case of very demanding cleaning tasks.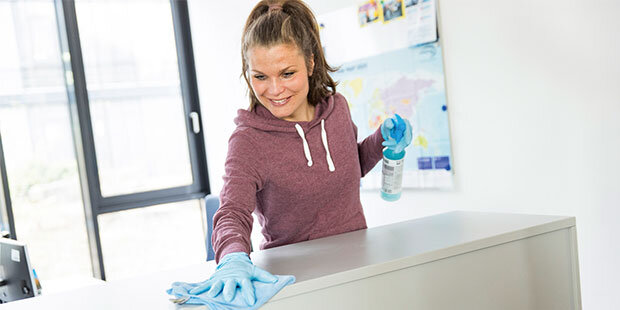 The environment-friendly products for manual cleaning ensure maximum and fast cleaning power, but which is still gentle on surfaces, for all typical dirt.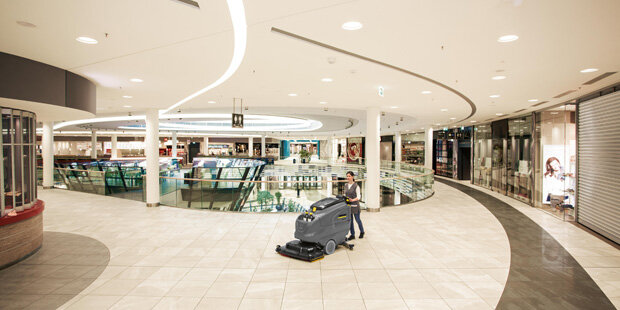 Thanks to their great effectiveness, Kärcher FloorPro cleaning agents ensure effortless and time-saving floor cleaning. At the same time, cleaning machines and surfaces are optimally protected.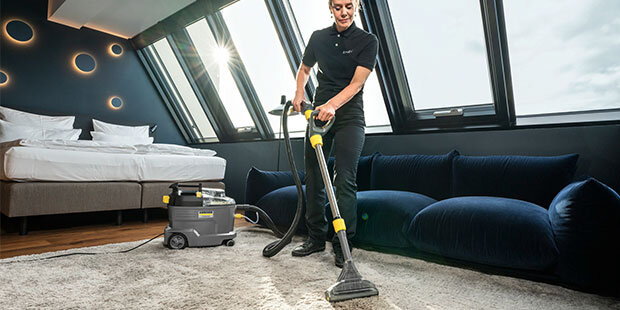 The CarpetPro line with innovative iCapsol technology is ideal for the gentle and effective cleaning of textile surfaces, reduces drying times and prevents recontamination.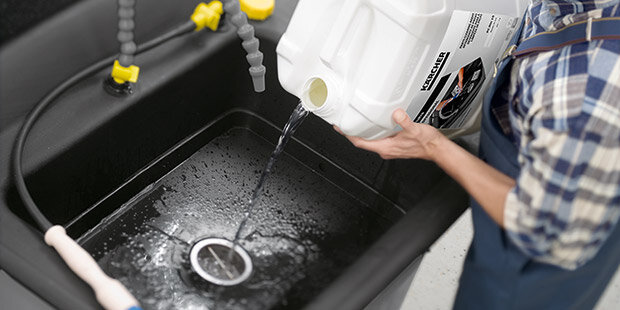 Highly effective parts cleaner, specially developed for extreme demands in industry for cleaning power, surface protection and elimination of residues before coating or final assembly.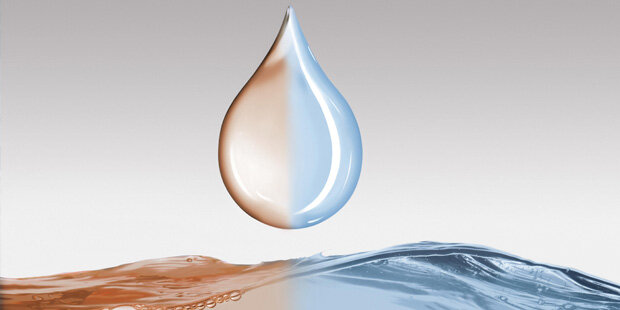 For fault-free operation of the systems and good conditioning results, we offer tried and tested treatment chemicals – optimised for each special use and type of system.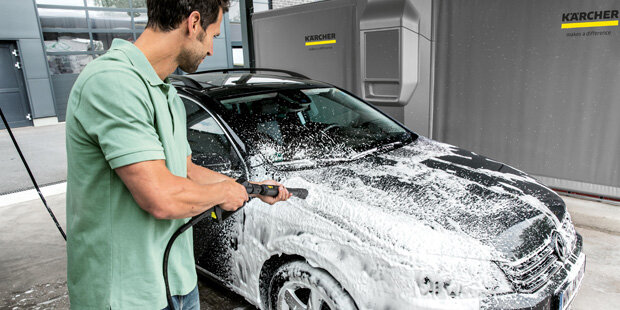 Economical, precisely coordinated and thorough, even with difficult vehicle contours: our VehiclePro products are impressive in combination with our Pine Active fragrance concept and ensure optimum results.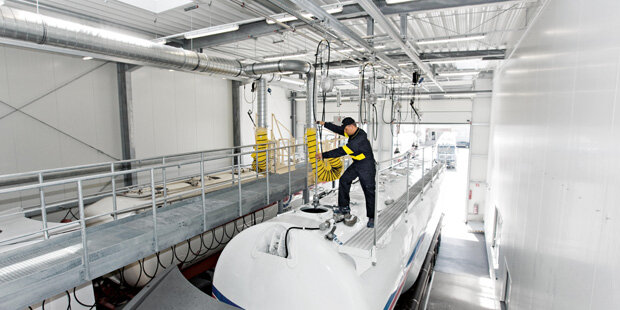 With solutions individually adjusted to our customers' requirements and optimum performance, our TankPro series is impressive for the cleaning of tank and container systems.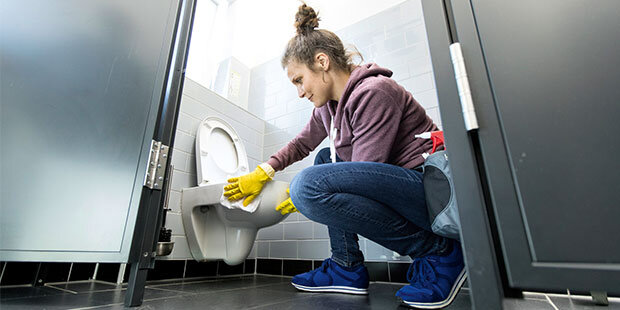 Efficient cleaning agents for sanitary surfaces and toilets. For the reliable removal of dirt, limescale and grease residues in maintenance and deep cleaning.
Safety data sheets
You can find safety instructions for using chemicals here:
One cleaning machine. One cleaning agent. One manufacturer: Kärcher.
Cleaning professionals know what really matters when it comes to cleaning: excellent performance and care combined with the protection of people, the machine and the environment. And naturally the safety of the operator.
Two other essential factors are time and productivity. To combine these advantages efficiently, you require a perfectly balanced system of cleaning machine, cleaning agents and accessories. The Kärcher system. Including professional service. From the global market leader.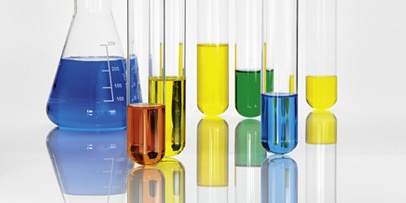 Ten good reasons for using Kärcher cleaning agents.
If one good reason can allow you to make a decision, then ten good reasons must simply
mean that there is no decision to be made.
Highly efficient and economical product formulas
Only the best raw materials are used for Kärcher cleaning agents. This makes it possible to use the products in very low and cost-saving doses.
Patented, easily-separable formulas
Many Kärcher products are made using easily-separable formulas that lead to a quick separation of the aqueous and oleaginous phases in the oil separator and thus support compliance with legal regulations.

Material-compatible formulas with corrosion protection components and other special additives
Kärcher cleaning agents are specially formulated for use in Kärcher cleaning appliances. These formulations help to remove the most stubborn dirt while also being gentle on the machine. Numerous cleaning agents contain special ingredients for cleaning and protecting the machine.

High-pressure and thermally stable up to 150°C
Kärcher high-pressure cleaning agents are specially formulated for use in high-pressure cleaners.

 Continuous improvement by Kärcher's development department
Kärcher detergents are developed on an ongoing basis to improve cleaning performance, shorten contact times and provide formulas that are even more eco-friendly.

Taking responsibility for the environment, people and machine
Kärcher consistently avoids the use of unnecessary solvents, heavy metals and other environmentally harmful and health-endangering substances. For the best possible protection of the operator, machine and environment.

Environmentally friendly thanks to reduced packaging
Kärcher detergents are highly concentrated and therefore require less packing material. This conserves natural resources and facilitates packing material disposal.

Developed to meet the highest demands
Numerous Kärcher cleaning agents are of food-grade quality and can be used in all areas of food production as applicable. 

Best performance with a fresh scent
Numerous Kärcher cleaning agents contain fragrances such as lemon oil to combat unpleasant odours, and leave surfaces looking clean and fresh.

 The complete system from one single source
The Kärcher system is based on expertise that benefits the operator: one manufacturer for machines, detergents and accessories. One contact partner for assistance and advice. 
Research, development and production, hand in hand.
Kärcher cleaning agents and care agents are just as versatile and efficient as the machines in which they are used – as they have been developed specifically for Kärcher cleaning machines. This is the only way to maximise the performance of the machine and cleaning agent system. Kärcher recognised this from an early stage and has used this as its focus in its own Research and Development. It is the basis of our success and the central concept behind our thinking and actions.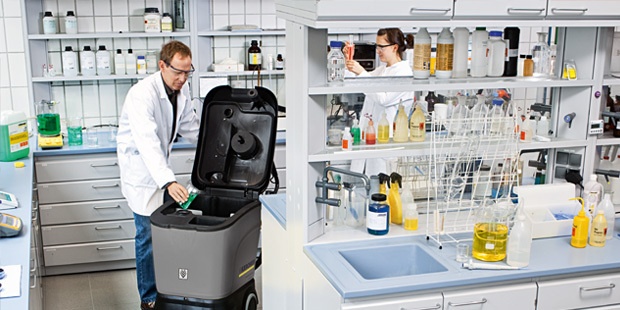 Research and Development is growing in importance, as the challenges and demands placed not only on the machines, but on the overall cleaning system continue to grow. How can performance be maximised while further protecting the environment? How can costs be reduced without having a negative impact on power or quality? Questions for which Kärcher and our team of experts from the most diverse areas of technology and chemistry are searching for the best possible answers. Across market sectors and in close conjunction with suppliers and professional users.
Our experts analyse every type of dirt on all surfaces to ensure that it can be loosened, collected and disposed of in an efficient manner. Everything that we develop is systematic both in a literal sense and in terms of the holistic approach that we take. And every task is carried out by Kärcher. The high performance and efficiency of Kärcher cleaning agents is the result of over 30 years of Research and Development in our own laboratories. As the leading global manufacturer of cleaning machines, we took the first step towards becoming the definitive system provider a long time ago, and our know-how and technologies set the standard today.
As a complete system provider for cleaning solutions, Kärcher not only develops cleaning agent formulations for use in Kärcher cleaning machines, but also produces these cleaning products in-house. Our in-house cleaning agent production ensures that we can provide our customers with products of a consistently high quality and ensures maximum delivery capabilities, while also reducing environmental impact by eliminating all unnecessary transportation.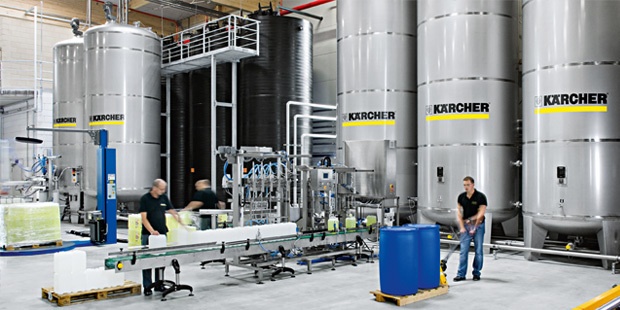 Our concept of a system provider encompasses not only the provision of cleaning machines, but also the development and production of cleaning agents. Thanks to our in-house production and filling systems, we have permanent control over the production of Kärcher cleaning agents, which allows us to ensure that our products meet the quality level that we expect. By using modern mixing and filling systems, we can ensure the continuously outstanding cleaning performance of our products. This also guarantees that our products are available and ready for delivery at all times.
In our highly flexible system, anything from 0.5 l bottles up to 20,000 l tankers can be filled quickly and with maximum efficiency from our 25,000 l mixing vessels. Thanks to the short response times in production, our products are developed at the cutting edge of technology at all times. By using our own ultra-modern systems in production and storing our products at the production site, Kärcher is playing an active role in environmental protection. All unnecessary transport is eliminated and the goods are delivered throughout the world directly from the production site.