Our strongest sweeper yet: Kärcher's vacuum sweeper
Fast brushes, high performance: Kärcher's compact and powerful sweepers and vacuum sweepers ensure cleanliness in no time at all – everywhere and anytime.
One machine, many possibilities
Flexible in use, efficient in practice: Kärcher's sweepers and vacuum sweepers impress across the board. Their flexibility, easy handling and perfect cleaning results make sweeping tasks easier than ever.
What is a vacuum sweeper?
High performance sweeping: vacuum sweepers remove dirt of all kinds from interior and exterior surfaces. How are they different from sweepers? When in use, the vacuum sweeper disperses dust using a roller brush, then vacuums the dust using a suction turbine (fan) and deposits it in a filter system.
Which vacuum sweeper is right for me?
The perfect model for every challenge: from manual sweepers to ride-on industrial vacuum sweepers – Kärcher's sweepers and vacuum sweepers match customer expectations in terms of flexibility and adaptability. Kärcher also offers all relevant drive types for every area of application – petrol, diesel, LPG or electric.
All our models at a glance:
Whether the logistics sector, steel processing, construction industry or cement works: Kärcher industrial sweepers are reliable and efficient. They are designed for the toughest industrial use for large areas and increased dirt volumes. The award-winning filter system ensures a dust-free environment even in extreme cases.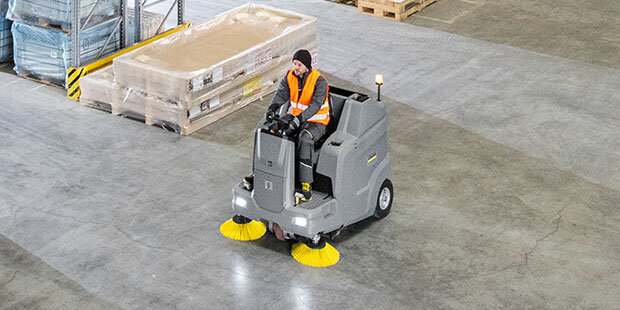 Economical, clean and efficient on medium-sized and large areas: thanks to the wide range of machines, Kärcher sweeper vacuums meet all requirements. Special importance is always attached to the latest, customer-oriented technology as well as easy handling, access and service.
For courtyards, paths, workshops and halls. For caretakers, tradesmen, contract cleaners and industry. Walk-behind sweepers and sweeper vacuums are ergonomic and easy to use. They sweep thoroughly with low dust development - even in corners. Machines with traction drive are ideal from 300 m².
How do vacuum sweepers work?
Different models require different sweeping principles.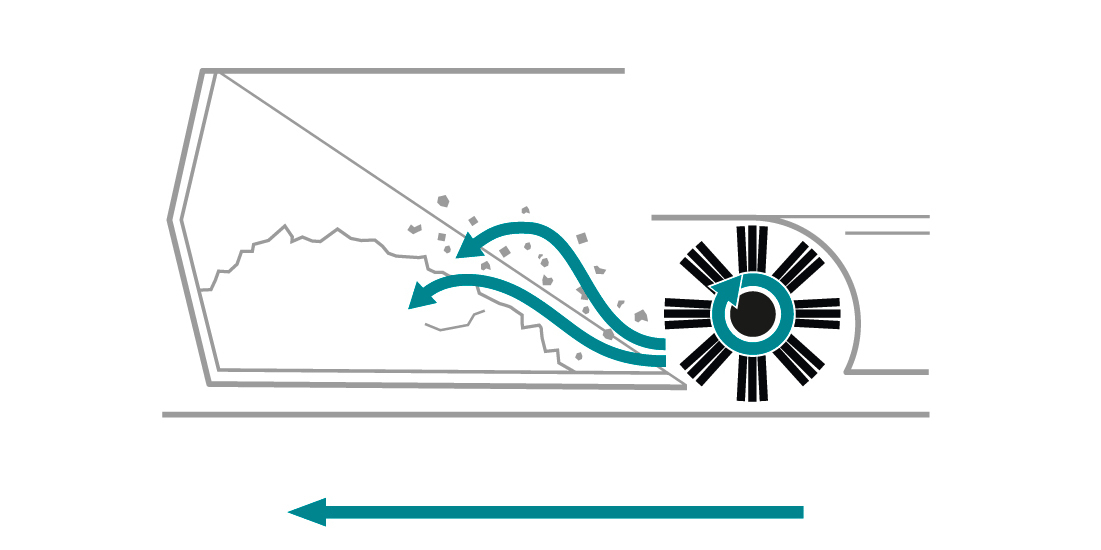 The dustpan principle
The roller brush turns in the opposite direction to the direction of travel. Consequently, dirt is moved to the front of the sweeper and into the waste container (direct dirt pick-up). Kärcher's push sweepers and industrial vacuum sweepers operate in line with this principle.
Advantages:
Low-dust sweeping due to lower brush speeds and a short "sweep path"
Less brush wear
Ideal for expansive and heavy dirt as well as fine dust
The throwing principle
The dirt is collected in the opposite direction to the direction of travel and is moved into the back dirt container via the main roller brush. Kärcher's walk-behind vacuum sweepers and ride-on vacuum sweepers operate in line with this principle.
Advantages:
Container allows up to 100% fill level
Ideal for coarse and light dirt
Collects coarse dirt with ease using a coarse dirt flap
Good overview due to forward seating position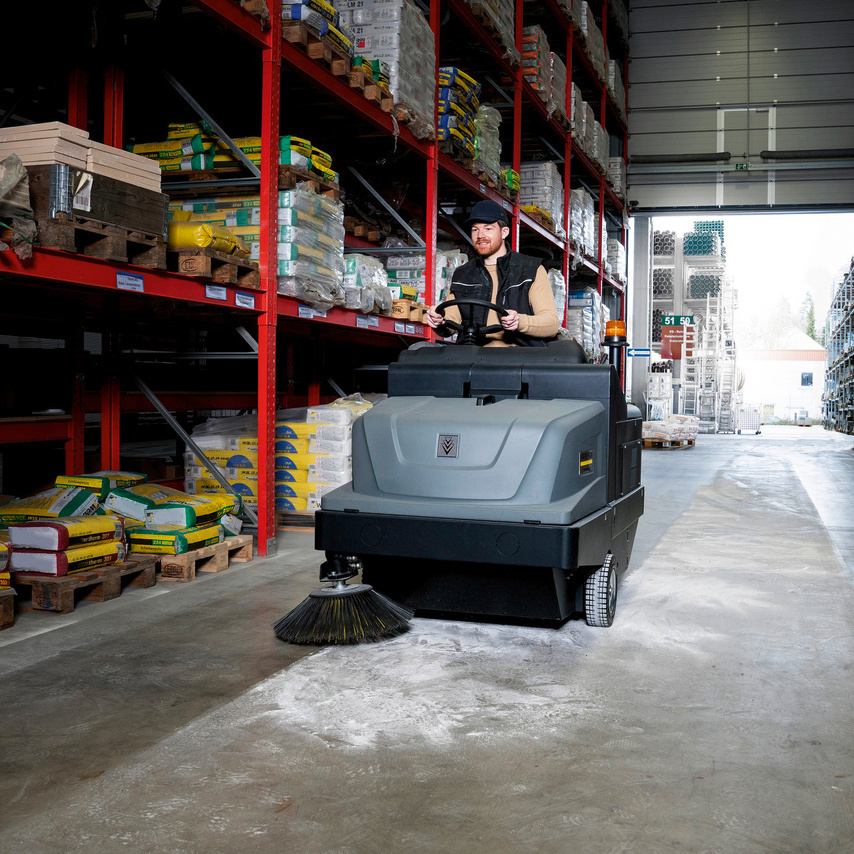 What are the areas of application for vacuum sweepers?
One machine, many areas of application: vacuum sweepers are used for larger interior and exterior surfaces, in particular. Compared to normal brooms, they remove even course and stubborn dirt, dust and waste quickly and effectively – with minimal effort.
Typical areas of application for sweepers/vacuum sweepers include:
Warehouses and logistics facilities
Factories
Car parks and loading ramps
Food and drink industry
Sport and leisure facilities
Steel and metal industry
Electronic industry
Pharmaceutical and chemical industry
Transport and transportation industry
Trade fair and conference centres
On which floors can sweepers and vacuum sweepers be used?
Different floor coverings and types of dirt also place different demands on the vacuum sweeper and relevant system. The standard main sweeper roller is the usual choice and stands out with its flexibility and long lifetime. However, the same roller brush is not suitable for all floor coverings. This is why Kärcher offers various solutions to help you achieve optimal cleaning results.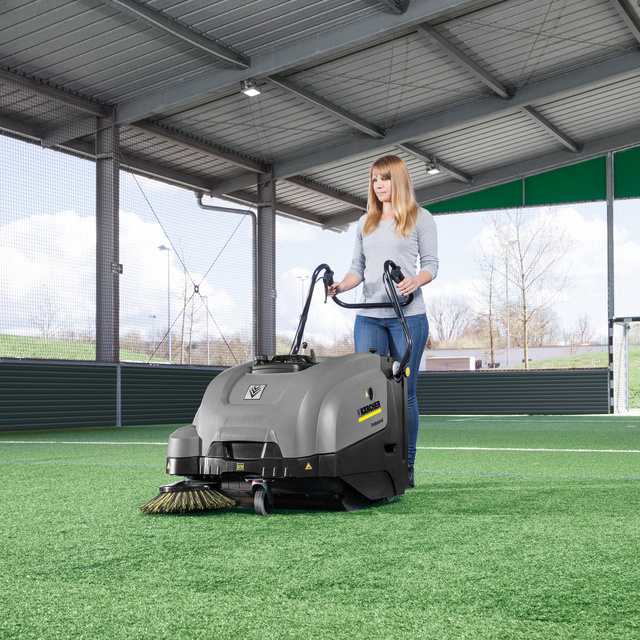 An overview of the various roller brushes:
Standard main sweeper roller
Medium bristle hardness
Used for: normal street dirt, leaves or dusty environments on asphalt, screed or interlocking stones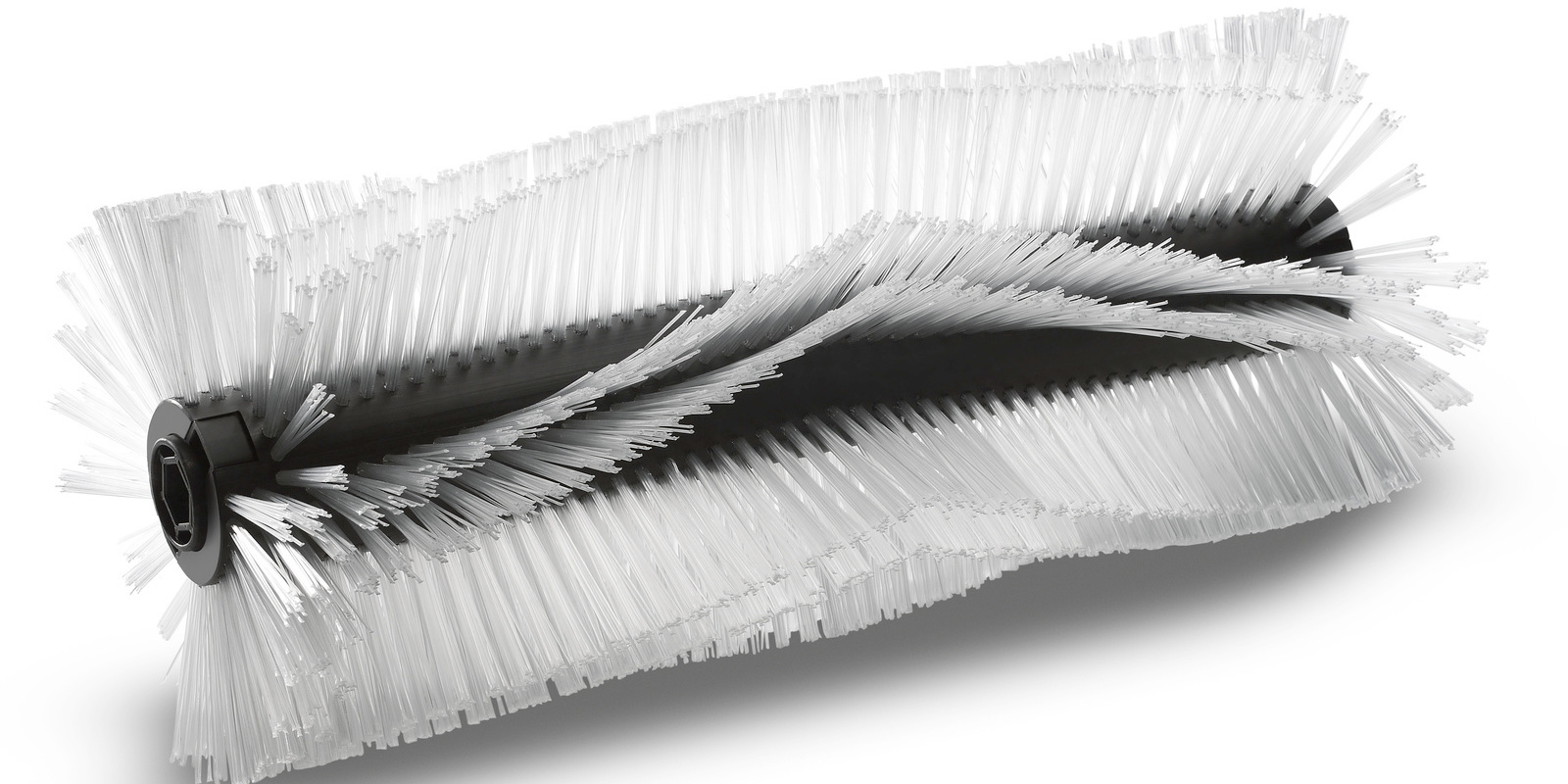 Main sweeper roller, hard
Significantly harder bristles, some of which also have steel inserts
Used for: rough surfaces and stubborn dirt or heavy waste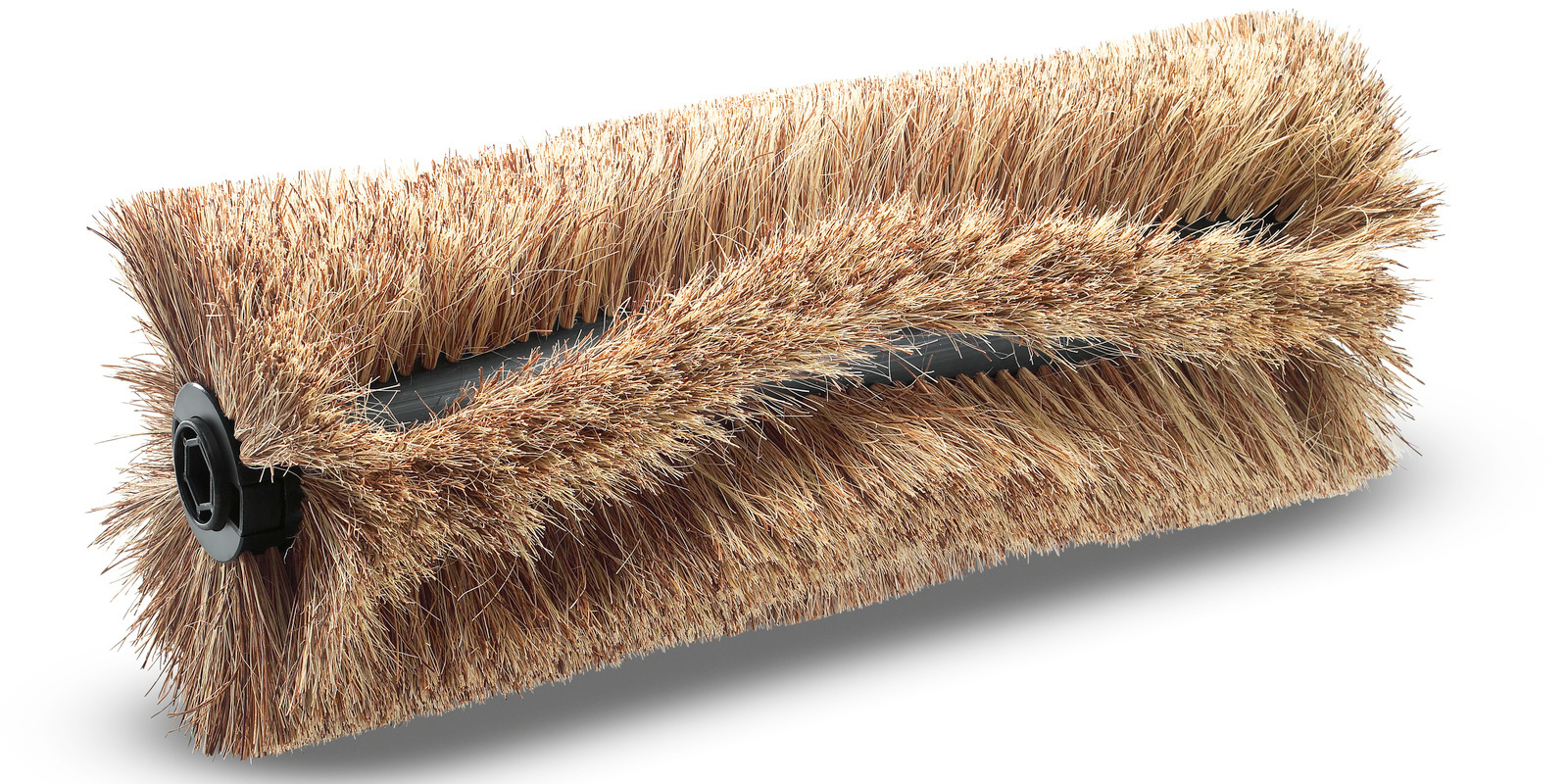 Main sweeper roller, soft
Soft bristles
Used for: removing dirt and fine dust on smooth floors indoors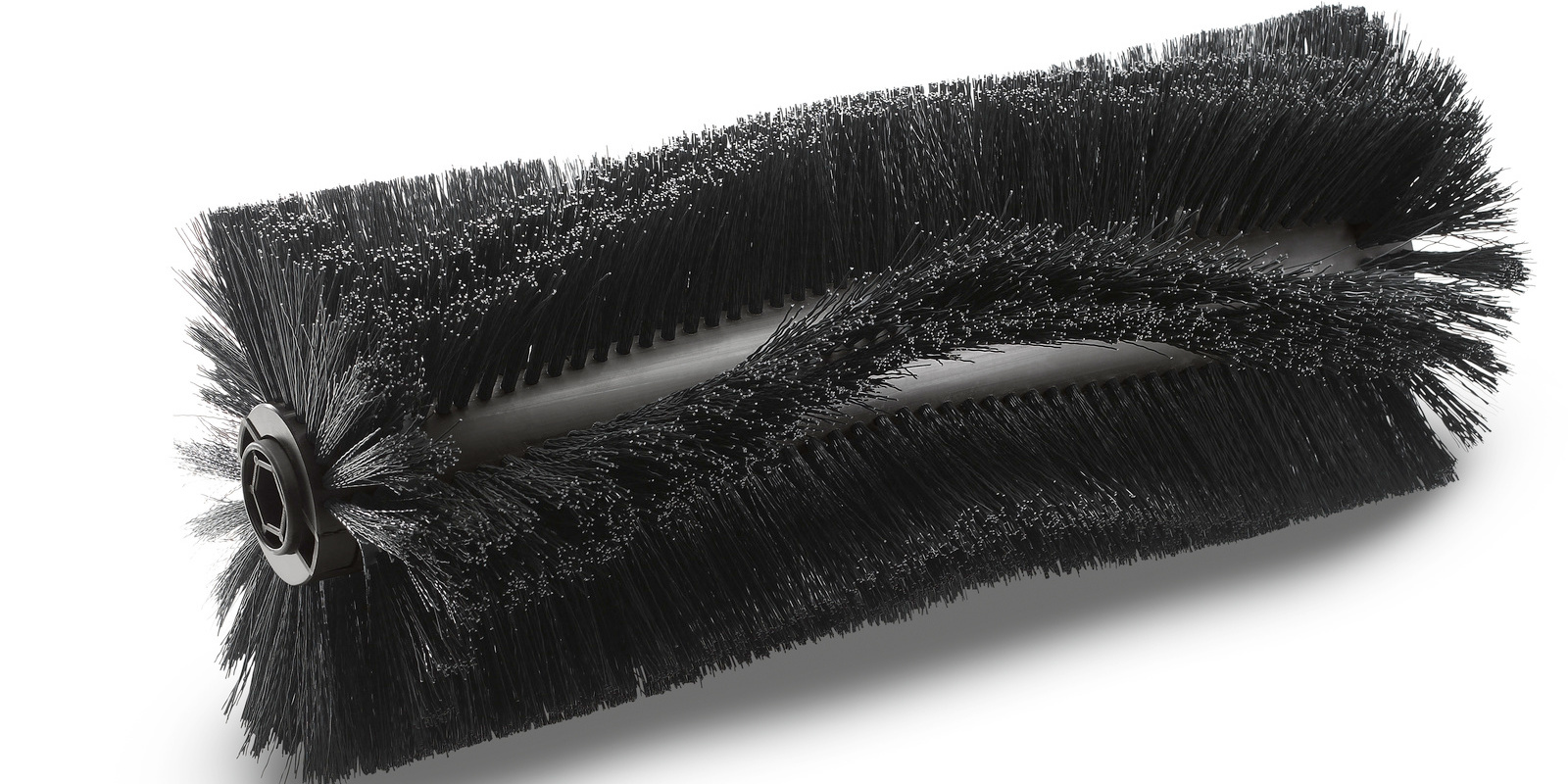 Main sweeper roller, antistatic
Soft bristles
Used for: efficient carpet cleaning at trade fairs or sport facilities and hotels, for example
The following models are recommended for cleaning carpets and artificial turf: KM 75/40 W, KM 85/50 R, KM 90/60 R Adv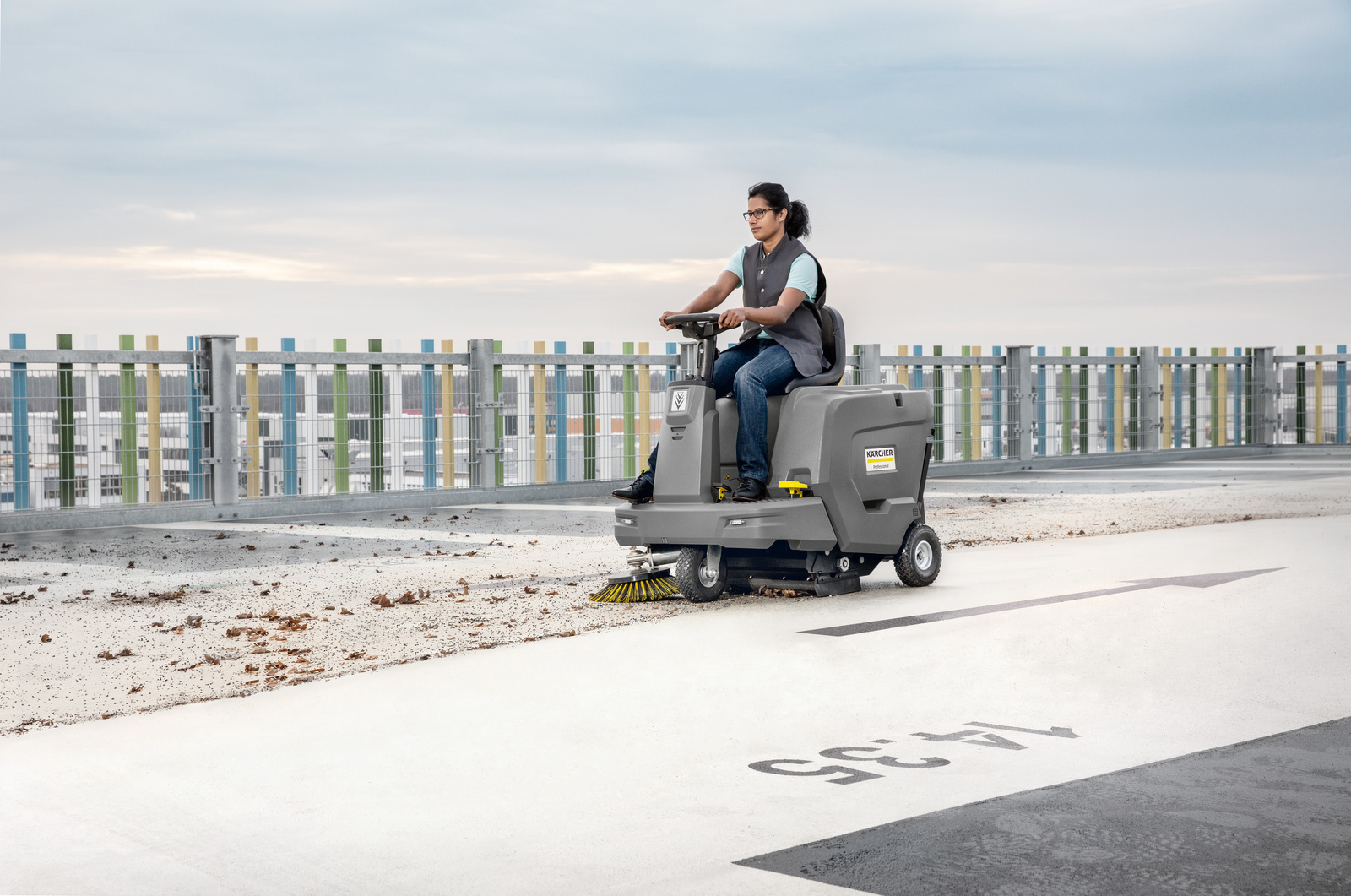 What area performance do vacuum sweepers have?
Vacuum sweeper performance varies and is dependent on model and equipment. An overview of the area cleaning performance (per hour) of the various vacuum sweepers can be seen in the below table. For comparison purposes: a commercially available hand brush's performance lies between 120 and 160 m² (max.).
Vacuum sweeper
Industrial vacuum sweepers
Area cleaning performance (per hour)
7200–28,000 m²
---
Vacuum sweeper
Ride-on vacuum sweepers
Area cleaning performance (per hour)
5100–13,600 m²
---
Vacuum sweeper
Walk-behind vacuum sweeper
Area cleaning performance (per hour)
3375–4725 m²
---
Vacuum sweeper
Push sweepers/vacuum sweepers
Area cleaning performance (per hour)
2800–3680 m²
---
Advice, service and sales
Store locator: commercial-use Kärcher sweepers and vacuum sweepers are available at all Kärcher specialist retailers.
Contact Kärcher: use our contact form or call us directly on +49 (0) 7195 903 3839.
Professional newsletter: subscribe to our professional newsletter now if you would like to receive information from Kärcher in the future about new products and promotions.