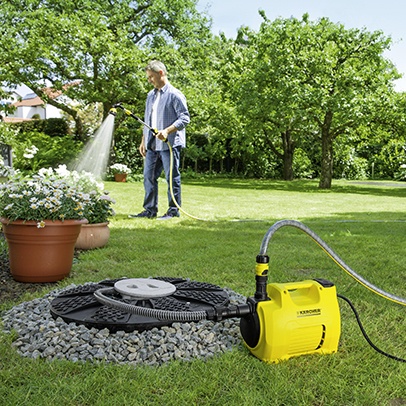 High-power watering pumps
The powerful Kärcher pumps are ideal for garden watering using alternative water sources such as cisterns or water butts. The practical foot switch provides extra comfort.
The Kärcher BP Garden garden pump supplies water conveniently and economically to your garden. BP Home & Garden pumps can also pump economical service water throughout the whole house. The devices switch on automatically - and then off again - when water is required. When connected to a cistern, the electronic booster pumps can supply washing machines or WCs in the house and, because of their constant operating pressure, simultaneously handle the garden watering. The multistage pumps offer maximum power, efficiency and quiet operation, since they require a lower motor rating than conventional jet garden pumps for the same water flow rate. This reduces energy consumption by roughly 30%. In addition, the eco!ogic models are fitted with a 0-watt stand-by function – and are therefore even more economical.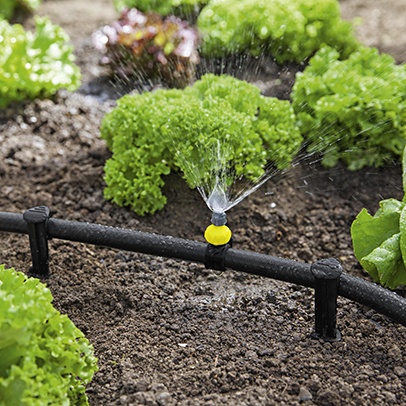 Rain, reinvented by Kärcher
Kärcher's extensive range of watering equipment will bring a smile to the faces of garden lovers everywhere. Pumps and watering products designed to work in perfect unison allow you to work responsibly with your natural resources. This ensures that precious water is used in the most effective and economical way. Innovative technology and precise sensors ensure that your plants are provided with exactly the volume of water that they require to grow. To ensure that you can take maximum pleasure from the natural beauty of your garden, Kärcher provides efficient sprayers, spray guns, sprinklers, hoses, water timers, pumps, hose connection systems and storage systems. Whichever Kärcher product you use, you know you have made the right choice.
Kärcher Rain System®
Hedges, flower beds, bushes or herbs – the new, intelligent watering system from Kärcher uses targeted, humidity-controlled distribution to supply each plant individually with precisely the volume of water it needs. The new Kärcher Rain System® combines the benefits of micro-dripping and conventional watering. The system operates at pressures up to 4 bar and includes a ½" PVC hose with drip and micro spray nozzles. A pressure reducer and filter for protection against excess pressure and dirt particles can also be installed. The Kärcher Rain System™ can be individually adapted to suit any garden and works perfectly together with the SensoTimer to provide a watering control system based on the requirements of the garden.
Suitable devices and accessories