Chemicals industry
A recipe for success: productivity and cleanliness. For removing all kinds of dirt in the chemical industry, reliable and effective cleaning machines are essential. Kärcher cleaning appliances offer the right solution for every application: production sites and systems, tanks, offices and exterior surfaces. As an efficient system provider, Kärcher offers a wide range of cleaning products: cleaning machines, cleaning agents and individual accessories. Easy to use, powerful and designed for the toughest jobs, innovative Kärcher machines handle all cleaning tasks quickly and efficiently.

The perfect choice for exceptional cleaning results.
Robust construction style, easy handling and versatility – these are the characteristics that make Kärcher cleaning appliances stand out. And it is precisely these characteristics that are important in the production process when it comes to cleaning your systems quickly and safely. All of our cleaning solutions have been specially developed to allow production to continue uninterrupted even during the cleaning process. This is why it is important that they react flexibly to different challenges, such as production bottlenecks or spilt liquids.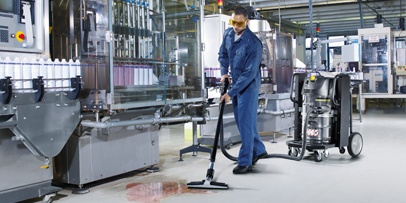 Non-stop cleanliness
Kärcher industrial vacuum cleaners clean in hard-to-reach areas and effortlessly pick up wet and dry dirt. These manoeuvrable and versatile machines feature the latest turbine technologies for constant high suction power.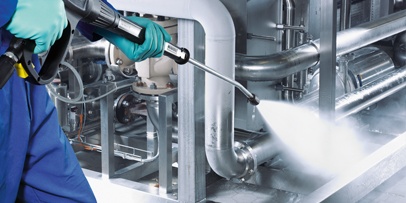 Clean more efficiently with high pressure
Stubborn dirt on production systems is reliably removed with excellent results. Kärcher machines can remove stubborn solids, liquids and adhesive oils.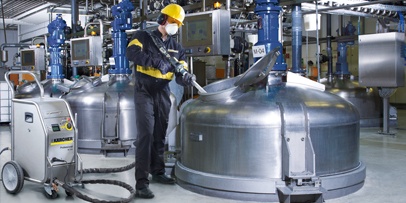 Remove stubborn dirt gently and effectively
Stubborn dirt in production environments such as paint, grease, oil, silicone, rubber or thermoplastic residues require a powerful cleaning action that effectively removes all dirt without damaging the surfaces of production systems. Where water cannot be used, ice blasters are ideal for effectively removing dirt. The dry ice evaporates to carbon dioxide after cleaning without leaving any residues.
Our products for cleaning in the production process
Only a clean system will stand the test of time.
Kärcher offers cleaning machines, cleaning agents and appropriate accessories for all applications: from production halls and factory premises to offices and social rooms. Irrespective of whether wet residues or dry materials need to be vacuumed, production residues removed by scrubbing and vacuuming or large outside areas swept, Kärcher has a wide range of machines to suit all requirements.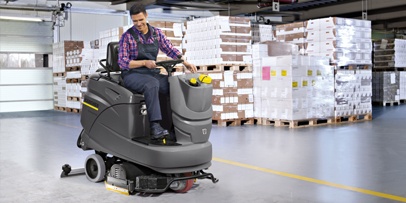 Storage areas scrubbed clean as a whistle
Liquids, granulates or oils on smooth surfaces in production halls or warehouses are effortlessly removed. Scrubber driers combine the advantages of spray extraction and the mechanical power of brushes. This makes them perfect for cleaning large areas cost-effectively.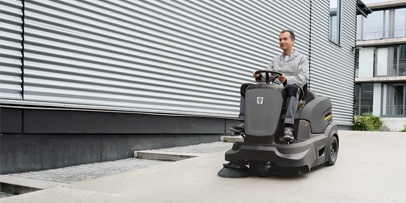 Outdoor areas quickly swept
Hard asphalted areas, rough outdoor surfaces and even steep ramps are thoroughly cleaned. Sweeper vacuums are available for cleaning particularly large outdoor areas up to 6,000 m2.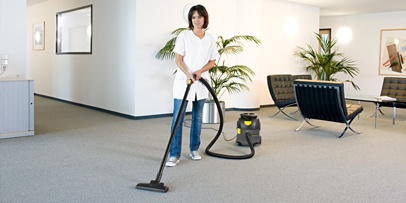 Excellent cleaning results on all surfaces
For daily cleaning: Kärcher vacuum cleaners clean powerfully and thoroughly. Carpets, laminate or PVC floors are reliably cleaned with individually adaptable accessories.
Our products for cleaning production systems
Customised container cleaning solutions.
For more than three decades, Kärcher has enjoyed a reputation as a provider of reliable and efficient system solutions for container cleaning. Intensively tested and optimised systems ensure a fully developed, efficient and energy-saving product. The best thing is that our modular systems can be tailored to suit specific requirements. The components provided are based on your requirements. Kärcher offers an all-inclusive service – from planning and construction to servicing.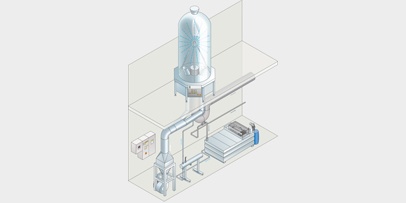 Cleaning process containers
Kärcher offers a professional, cost-effective system for interior cleaning of reactor tanks contaminated with silicon products: cleaning, drying, filter station. The cleaning agent is recirculated and reused.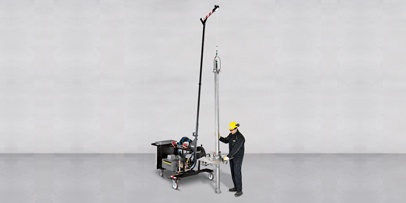 Clean large containers easily
The SHD-R 3000 FLM mobile high-pressure cleaning unit is ideal for cleaning large containers. It features a height- and inclination-adjustable telescopic boom with interior cleaner. Shown is a customised interior cleaning head and boom in a non-standard length.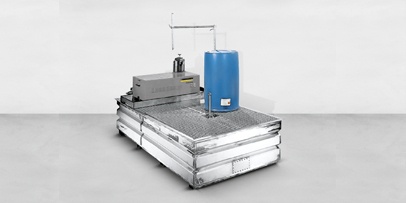 Ideal for lightweight drums
Kärcher drum cleaning stations are ideal for quickly cleaning lightweight containers up to 750 mm in diameter, irrespective of shape. The wash bay with cleaning heads and circulation tank is preassembled and ready to use.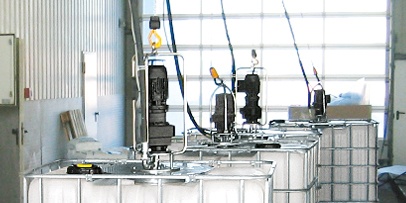 Perfect results for standard sizes
Kärcher offers the perfect cleaning solution for IBC containers of different materials and degrees of soiling. IB containers are thoroughly cleaned at water temperatures up to 90°C.
Our products for cleaning special installations