Que hace que nuestros productos sean sostenibles
Producidos con bajas emisiones, selección de materiales ecológicamente consciente, uso que ahorra energía y agua: los productos para la limpieza y el cuidado deben ser sostenibles de muchas maneras. Por lo tanto, el comportamiento responsable en Kärcher incluye el desarrollo de la máquina y la cadena de producción y suministro hasta la eliminación correcta, por lo que no termina en las puertas de nuestra fábrica.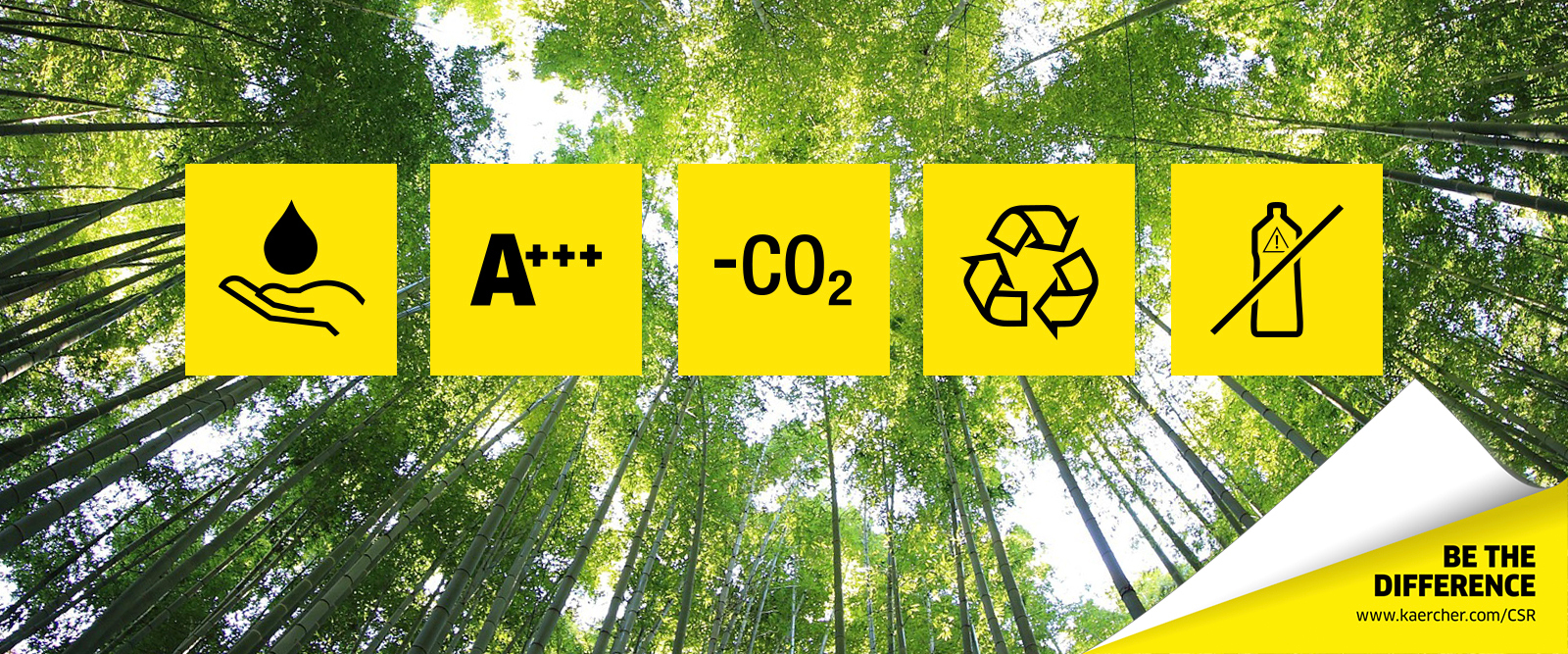 Contribución a la preservación del valor y la durabilidad
Los consumidores ahora hacen preguntas importantes al momento de la compra: ¿Dónde fue fabricado el producto, por quién y en qué condiciones? ¿De qué materiales está hecho? ¿Y se puede reciclar después? ¿Qué tan eficientemente opera la máquina? Nos tomamos muy en serio estas preocupaciones. Kärcher ofrece soluciones de limpieza para el hogar, la industria y las empresas, que consumen agua, electricidad y agentes de limpieza. Pero la tecnología de Kärcher también contribuye significativamente a la preservación del valor y la durabilidad de edificios o máquinas, y ya hay una gran sostenibilidad en esto.
Obtenga más información aquí sobre los aspectos de sostenibilidad de las limpiadoras de alta presión, aspiradoras y compañía.

Ahorrando agua
Manejar el recurso del agua de manera responsable es ahora más importante que nunca. ¿Qué puede aportar nuestra tecnología a esto? Las máquinas de limpieza pueden garantizar que se consuma menos agua de varias formas. Los sistemas de reciclaje en los lavados de autos pórtico, por ejemplo, recolectan hasta el 85 por ciento del agua usada, la procesan y la utilizan para el siguiente proceso de limpieza. Las limpiadoras de alta presión ahorran alrededor del 80 por ciento de agua debido a su alto rendimiento de limpieza en comparación con el trabajo con una manguera de jardín. Las bombas para el jardín hacen que el agua de lluvia se pueda utilizar para regar el área alrededor de la casa. Estos ejemplos dan una impresión:

Using energy efficiently
We are constantly improving the energy efficiency of our products – no matter whether they are corded, supplied by a battery or supplied by a combustion engine. An important development in terms of cleaning machines is the Kärcher eco!efficiency mode, which can also be activated during operation. With it, the machine functions are automatically managed at the best possible efficiency. This reduces the consumption of energy, water and cleaning agent. These examples show how that works in practice:

Reducing emissions
Especially in interior spaces and if users work directly on the machine, it is important to reduce emissions or totally avoid them where possible – including operating noise. So it is particularly important with vacuum cleaners, for instance, that they really capture the drawn-in dust and do not release it from the machine again. In other areas, such as with lawn mowers and electric saws, the switch from machines with a combustion engine to electrically operated machines can ensure that absolutely no more direct emissions are produced. Kärcher counts on efficient filter systems for products or offers emission-free products such as the machines of the battery platforms.

Responsible use of plastic
Since 2012, we have managed to quadruple the amount of recycled plastic in our machines. In material procurement, we watch out for sustainable resources, allowing us to close the circuit and to reuse the recycled plastic in products. We have made it our goal to achieve a recycled plastic content of up to 50 per cent in the Home & Garden high-pressure cleaners by 2025. How sustainable material use already looks today:

Conscious use of cleaning agent
A cleaning agent does not always have to be used for a thorough cleaning. As plenty of dirt can be removed entirely without the use of chemicals, with steam cleaners or hot water high-pressure cleaners, for example. In many areas, however, use of an efficient and application-oriented cleaning agent is essential for the best possible result. Kärcher has been developing products that are good for the environment for more than 30 years. All are biodegradable, consequently reducing waste water pollution. In the development process, a whole range of aspects should be considered to produce a cleaning agent sustainable across the entire life cycle – from raw material selection up to packaging. Since 2012, all Kärcher cleaning agents have been certified with the Sustainable Cleaning Label. The label characterises products which were manufactured in companies that act in a sustainable manner. In addition, a number of the more than 600 different Kärcher cleaning agents fulfil the requirements of international, sustainable environmental certificates.
This might also interest you: