Booster pumps
WATER ON!
Kärcher garden pumps are perfect for watering your garden cheaply. Instead of using drinking water, which is becoming increasingly expensive, the garden pump range BP Garden enables well water, ground water or rain water to be used. To supply water to your home, look no further than our home pump range, BP Home, and our home and garden pumps, BP Home & Garden. They can use reclaimed water for flushing the toilet and supplying the washing machine. Our barrel pump BP Barrel, cistern pump BP Cistern and deep well pump BP Deep Well are ideal for use directly in water.
Please note that different country versions are available for most products: 120 V / 60 Hz or 220-240 V / 50 Hz.



Types of watering pumps
All of our pumps impress thanks to their powerful flow rates with energy-efficient consumption, effective safety precautions and user-friendly operation. Fitted with filters, they are even suitable for dirty water and have dry-running, overvoltage and overheating protection, depending on the application. The home and garden pumps can be switched on and off with a convenient foot switch, while the cistern and deep well pumps are easily switched on and off at standing height.
Home and garden pumps
Whether it's a case of watering the garden or supplying water to the washing machine or toilet – the long-lasting, low-noise and intelligent home and garden pumps in the BP Home & Garden range offer additional convenience as they automatically switch on and off when water is needed. They are also referred to as electronic booster pumps. The multi-stage pumps offer fantastic performance, efficiency and quiet running, depending on what is required. At the same flow rate, they require a lower motor rating than conventional jet pumps – with an energy saving of around 30 per cent. In addition, the constant operating pressure of the pumps ensures reliable garden watering.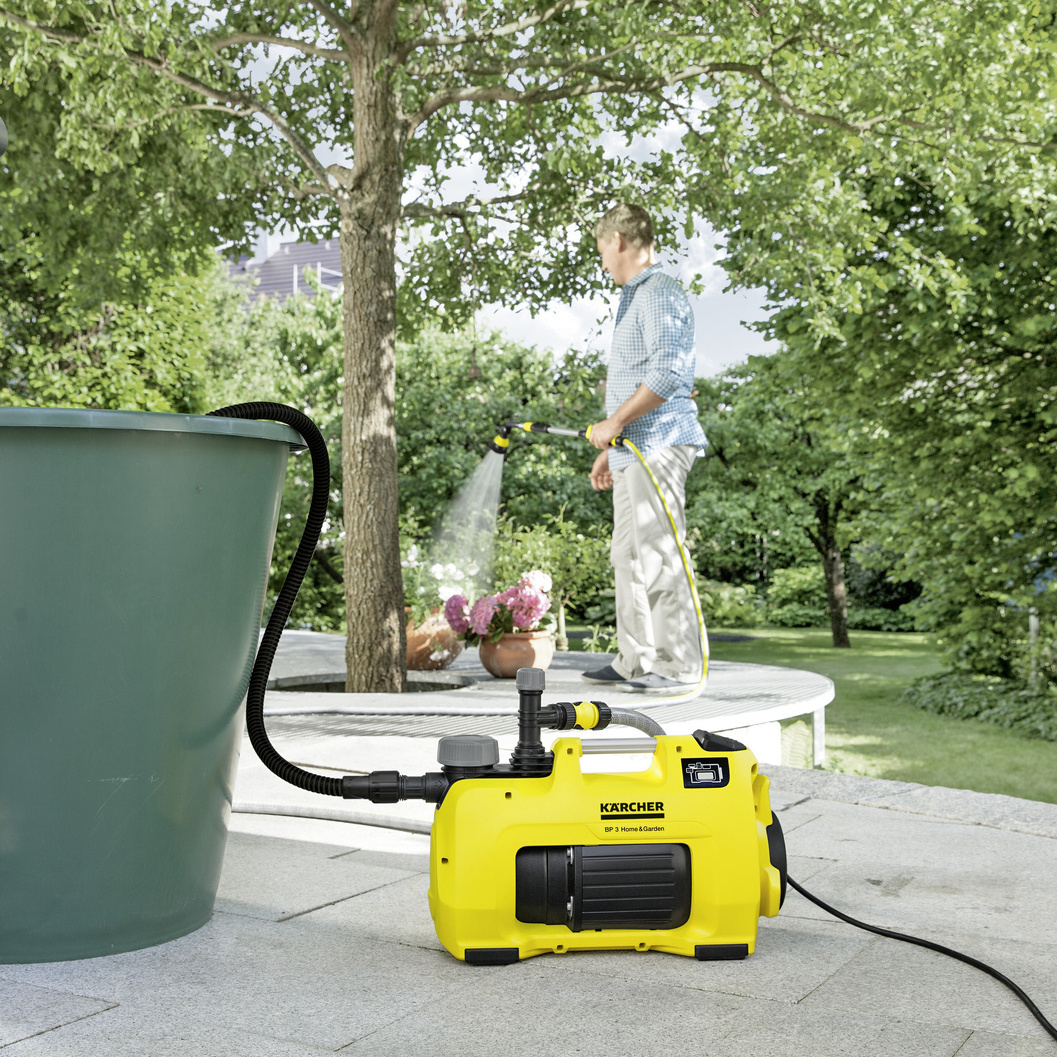 Garden pumps
Kärcher's powerful BP Garden pumps are ideal for conveying water from alternative water sources such as cisterns or water butts. The practical foot switch provides extra convenience. These garden pumps feature outstanding power, allowing sprinklers to be connected in the garden, for example.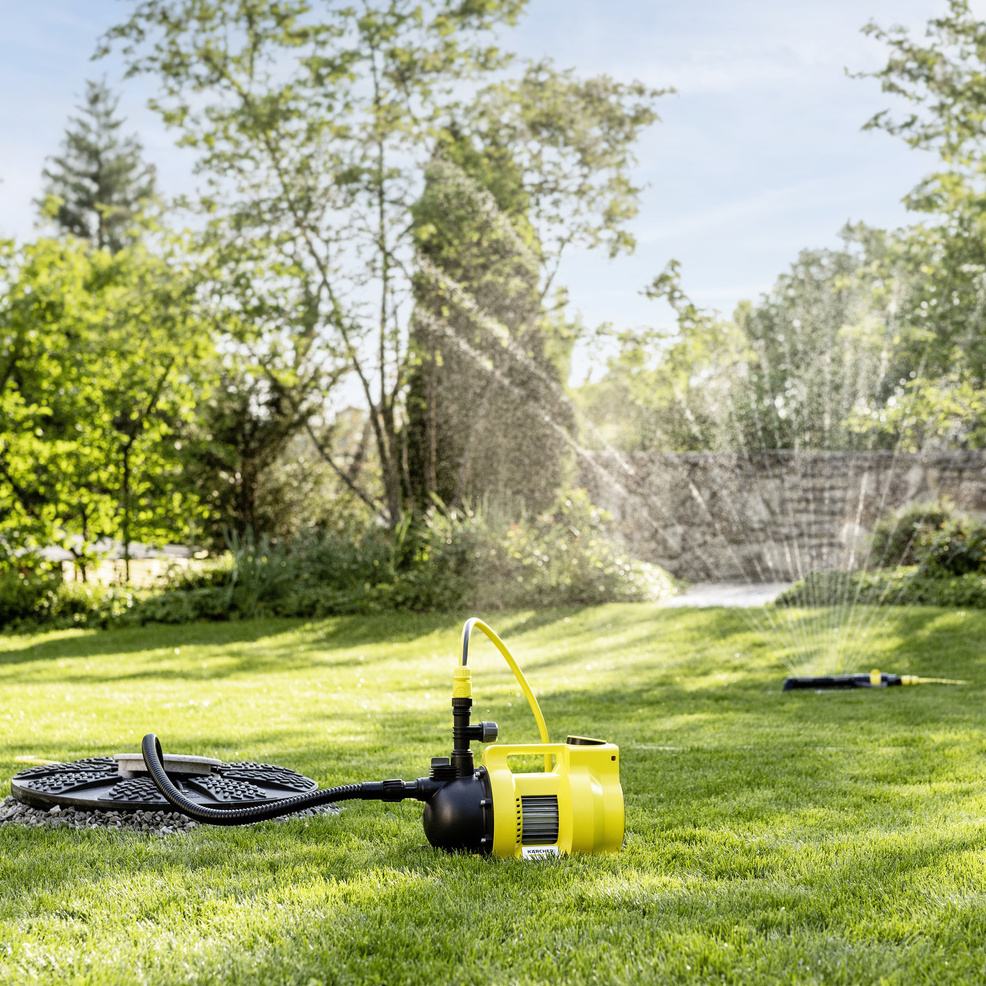 Home pumps
With proven Kärcher quality, our high-performance home pumps in the BP Home series convey water fully automatically from alternative sources such as wells and cisterns, providing low-cost reclaimed water for domestic use in washing machines, for toilet flushing and for other applications. What is extremely practical is the way the home pumps switch on and off automatically as required and have an integrated pressure compensation container.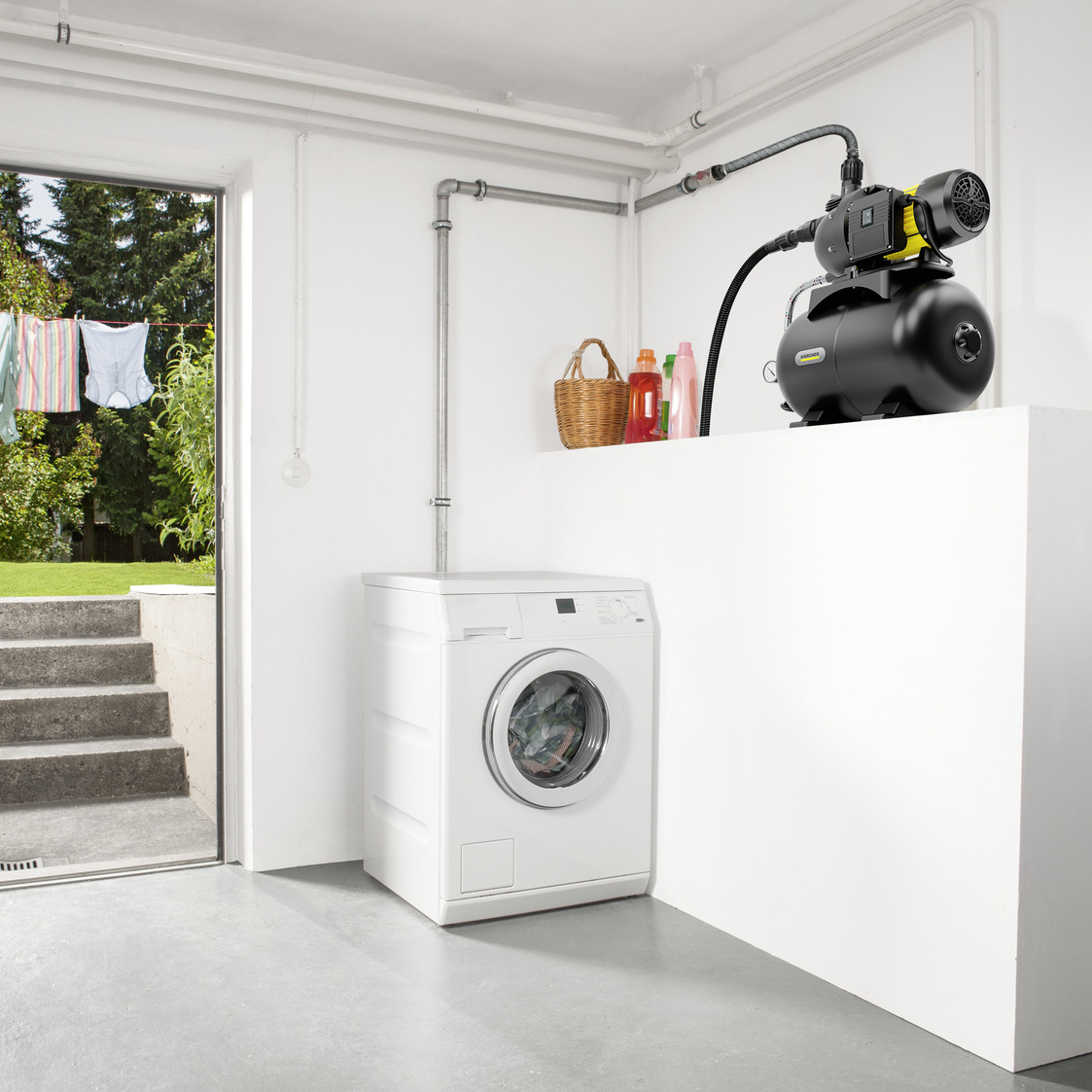 Barrel pumps
Thanks to the BP Barrel water butt pump with an integrated on/off switch on the barrel mounting clamp, gardens can be watered conveniently, efficiently and cost-effectively using rainwater. The advantages are clear: no more lifting heavy watering cans. No more consumption of valuable drinking water. No unnecessarily high water bills. A power outlet is not even required with the battery-operated model.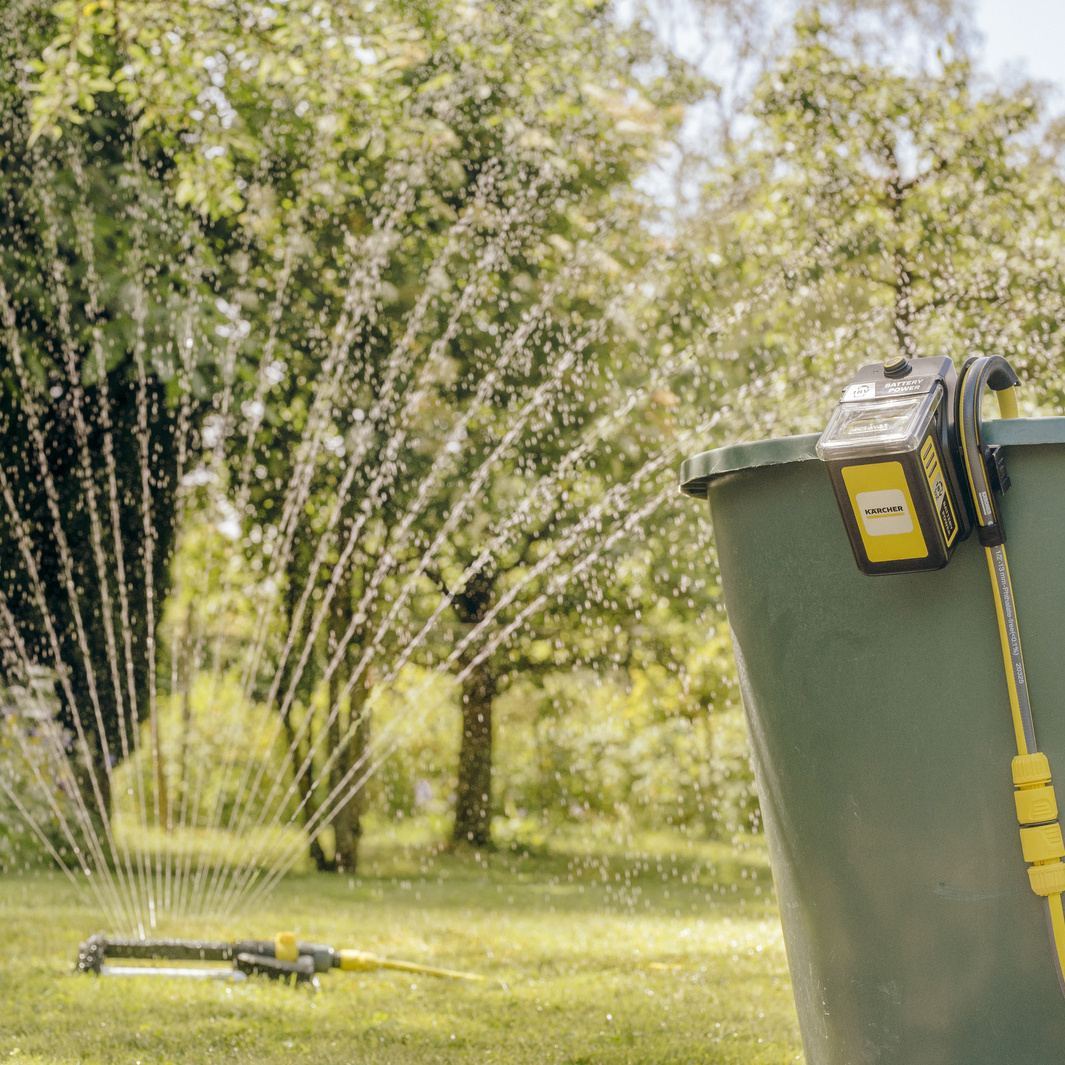 Cistern and deep well pumps
Water sources such as cisterns, deep wells and water tanks can be accessed thanks to the long-lasting stainless steel deep well pumps in the BP Deep Well series. The pumps are installed directly in water and protected by a prefilter. Their compact dimensions and the high working pressure achieved with the help of multi-stage hydraulics make the pumps the ideal solution for narrow, deep wells. Equipped with a pressure switch including overcurrent protection and an extra-long power cable, the pumps can also be used for service water supply in the household.
The BP Cistern pump is designed for use in cisterns, barrels or wide well shafts in the garden. It is mainly used for watering the garden.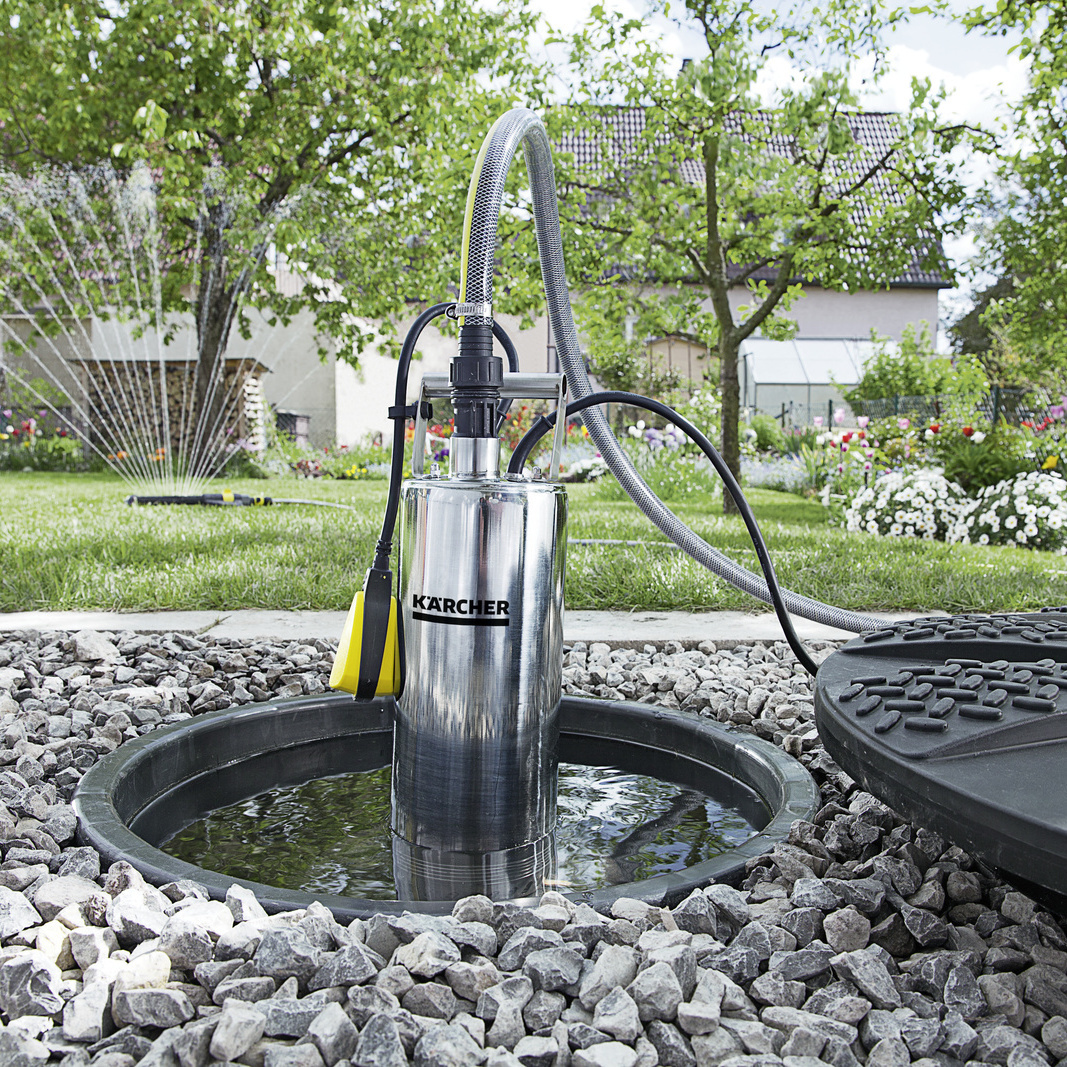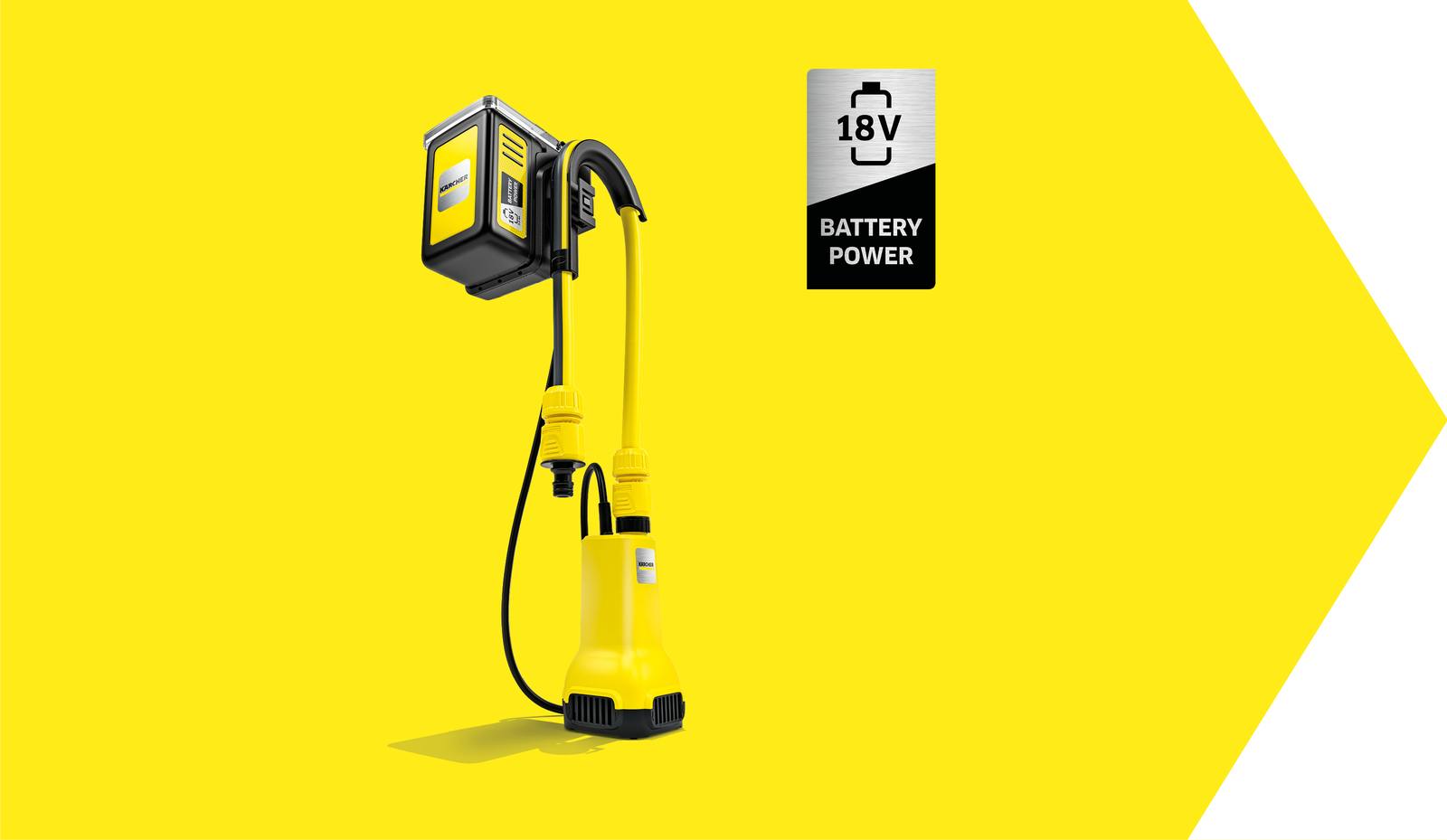 Battery barrel pump
Convenient and economic watering: the flexible battery barrel pump makes it easy to use collected rainwater, and there is no need for a separate water or power supply.
FAQs on booster home and garden pumps
Our booster pumps have a motor rating range of between 400 and 1150 W. But which garden pump should you buy? No matter how many devices you want to connect in your home or garden, Kärcher has the perfect model for every requirement. You can find answers from our Kärcher experts here.
Accessories
No matter whether it is on the suction or pressure side, with the right combination of high-quality accessories from Kärcher, our pumps can be put to use quickly, easily and safely. The radial sealing principle of the PerfectConnect accessories means they can be put together exceptionally easily, and they offer highly reliable sealing in order to ensure trouble-free operation.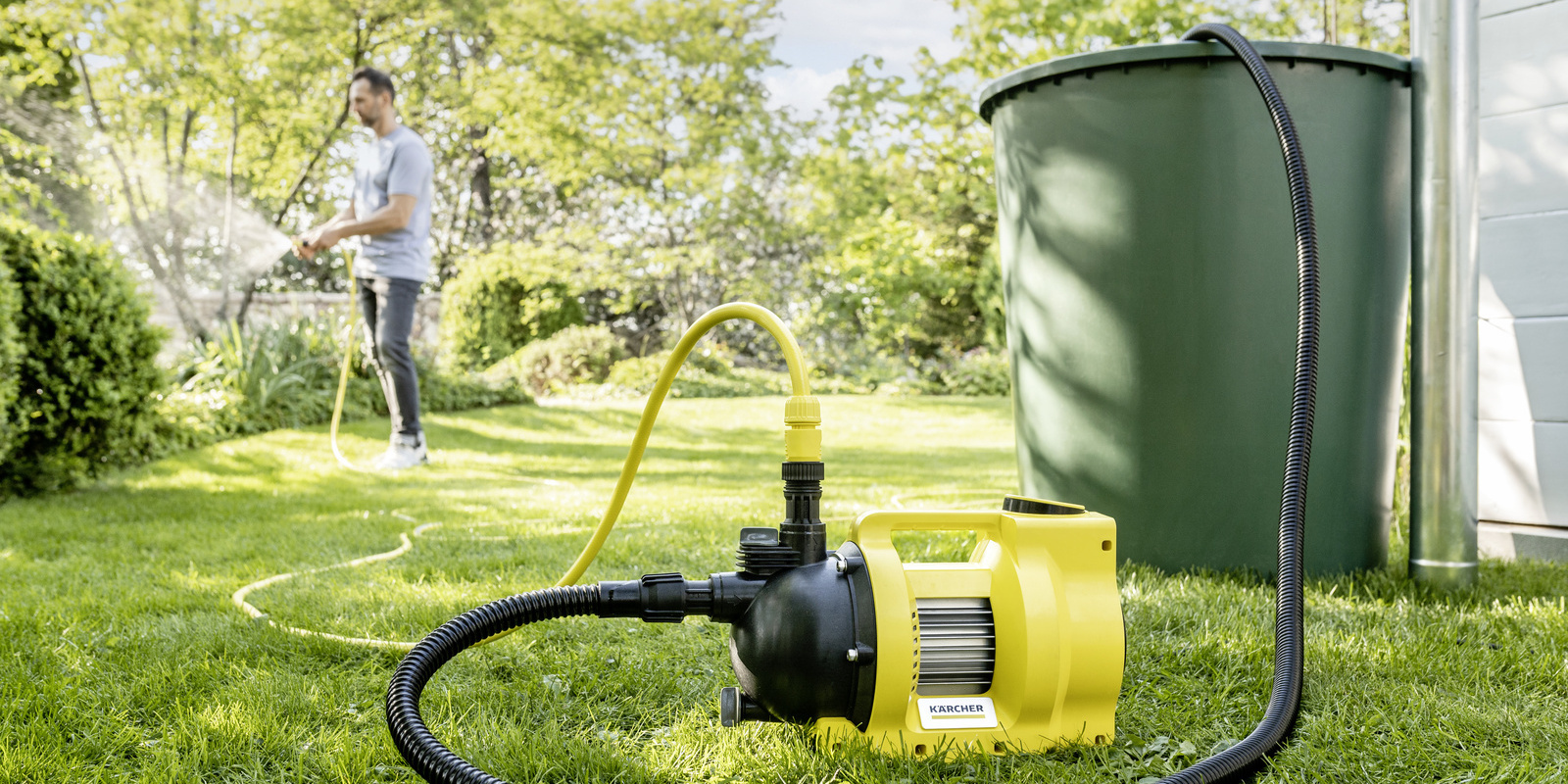 Versatile and safe
BP suction hoses can transport water from anywhere - from PE pipes or straight from "open water sources" such as water butts, for example.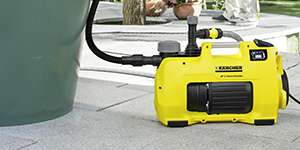 Easy connection
By using Kärcher adapters and connections, you can join hoses and pumps together safely and without problems.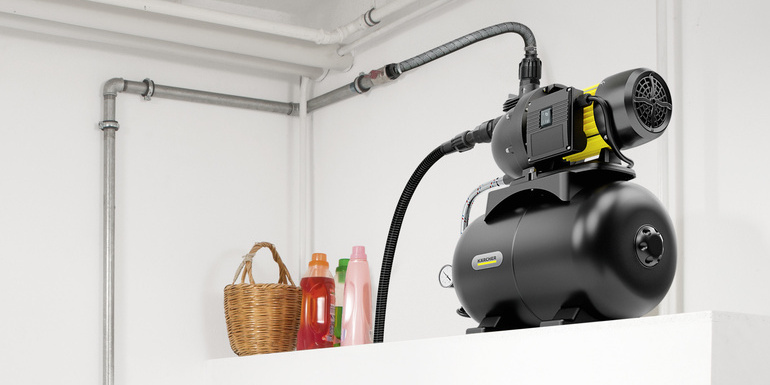 Optimal protection
Filters protect the pumps from dirt and blockages whilst ensuring unhindered performance. Kärcher provides the right filter for every application.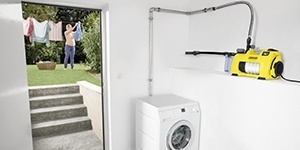 Perfectly equipped
The correct accessories, from dry-run protection through to the electronic pressure switch, ensure convenient and safe operation.
You can find the right accessories for your pump on the product page.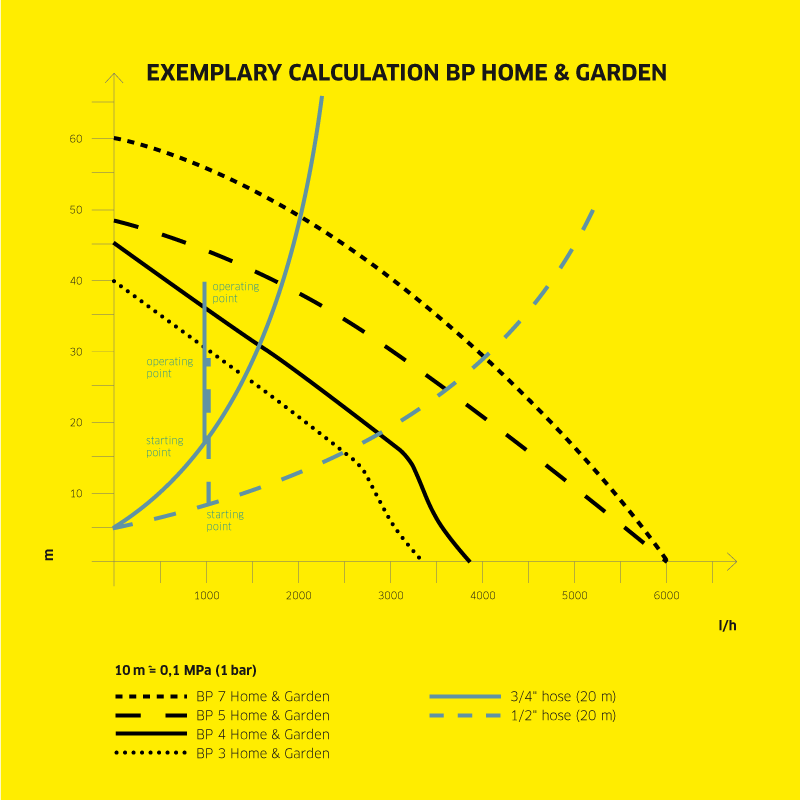 Calculation of pump capacity
How to determine the appropriate pump:
1. Draw the function curve appropriate for the hose used (1/2" or 3/4") in the diagram with the pump performance curves. Start with the desired delivery height for your application (in the sample diagram: 5 m).
2. Define the consumption value for your application (in our example: 1000 l/h at 2 bar). In order to determine the operating point of the application, first define the start point for the consumption value on the function curve of the hose used (see start points in the example).
3. Now convert the operating pressure for your application into the delivery height (1 bar = 10 m). Add the delivery height to your start point and draw in the resulting operating point for your application.
The pump performance curve above the operating point shows you the ideal pump for your application. In our example, the BP 3 Home & Garden is suitable when using of a 3/4" hose and the BP 5 Home & Garden when using of a 1/2" hose. Always select the next biggest pump for more power reserves.
Every consumer/application requires a certain operating point. The following orientation examples can be used for the calculation (data varies depending on delivery height, line/hose cross-section):
Sprinkler: approx. 1000 l/h at 2 bar (20 m delivery height)
Nozzle: approx. 750 l/h at 2 bar (20 m delivery height)
Toilet flush: approx. 400 l/h at min. pressure of 0.5 bar (ideally 1 bar [10 m delivery height])
Washing machine: approx. 800 l/h at min. pressure of 0.5 bar (ideally 1 bar [10 m delivery height])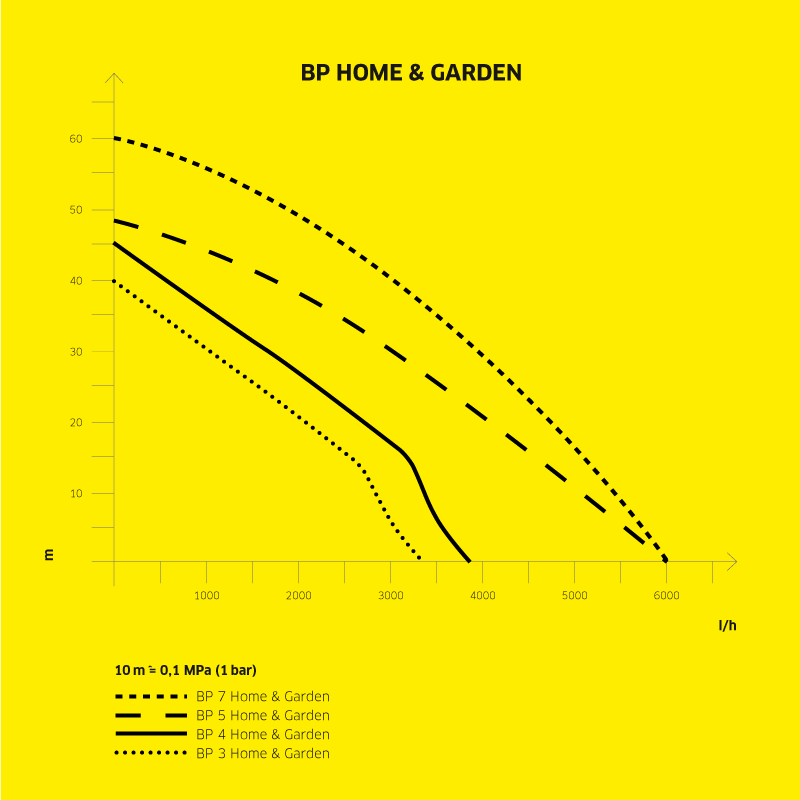 BP Home & Garden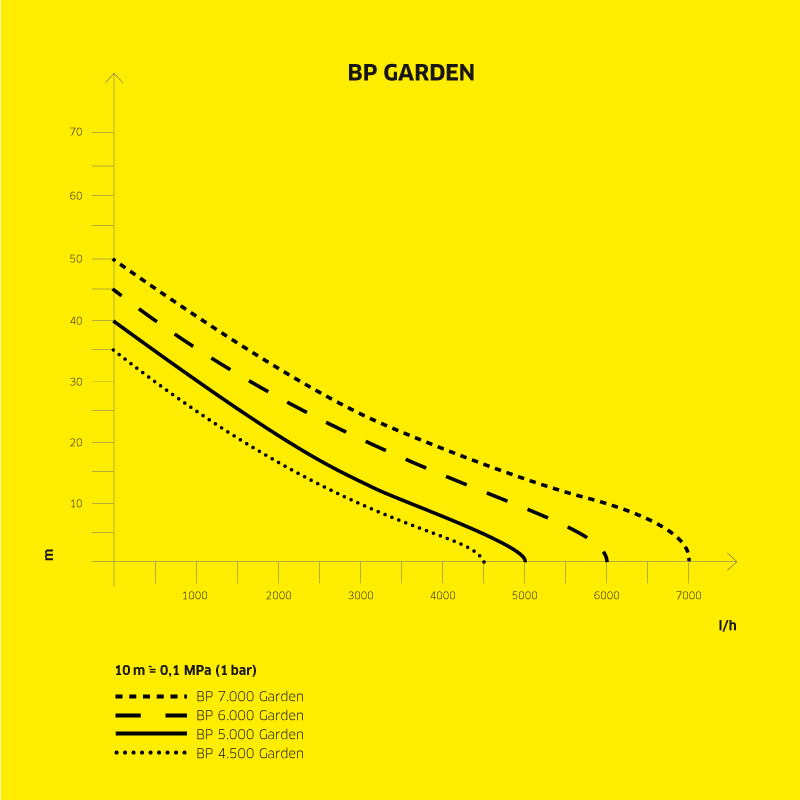 BP Garden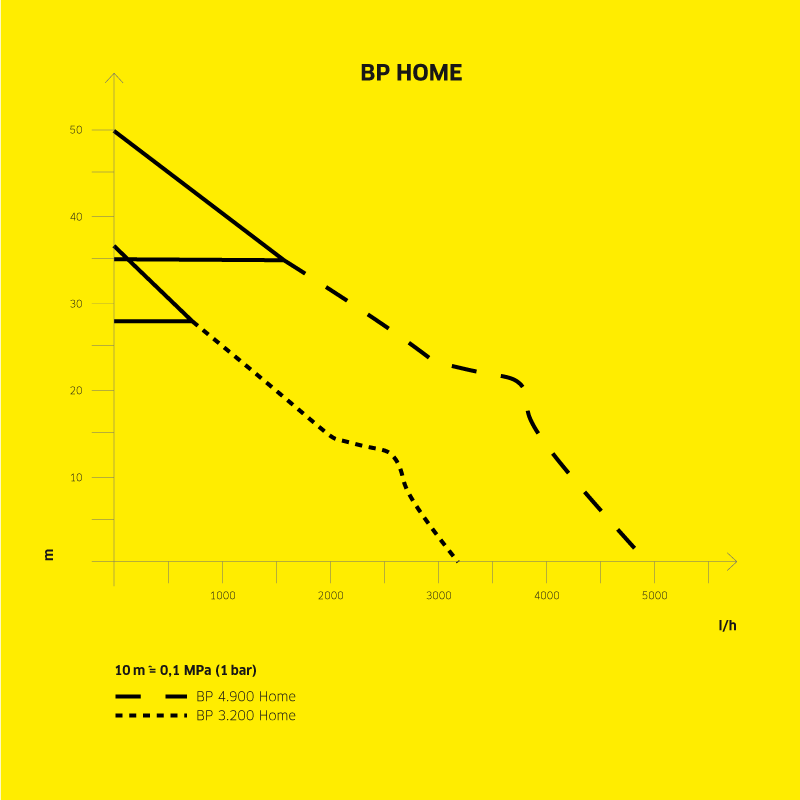 BP Home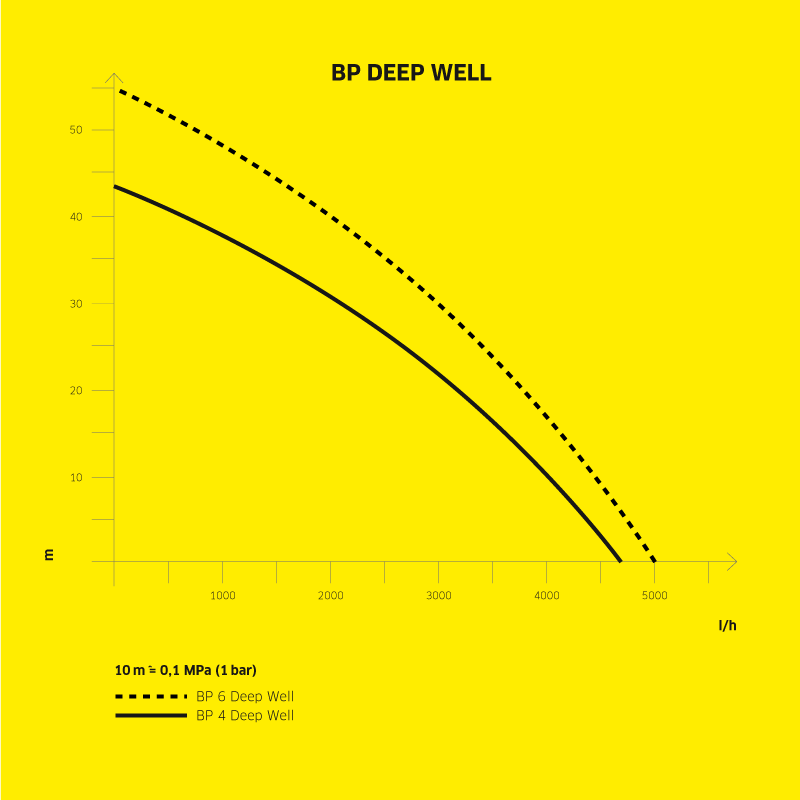 BP Deep Well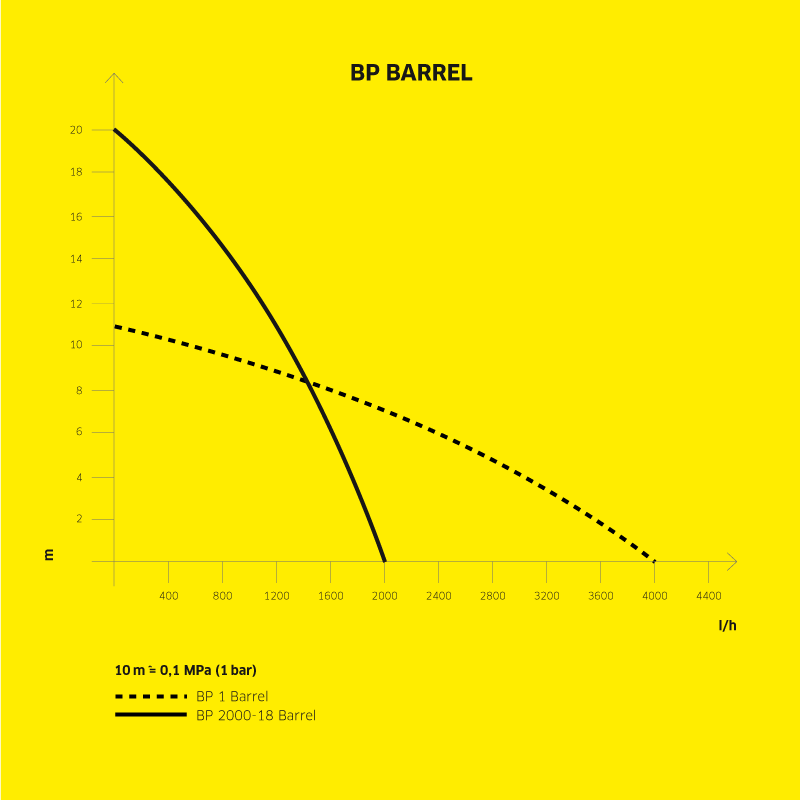 BP Barrel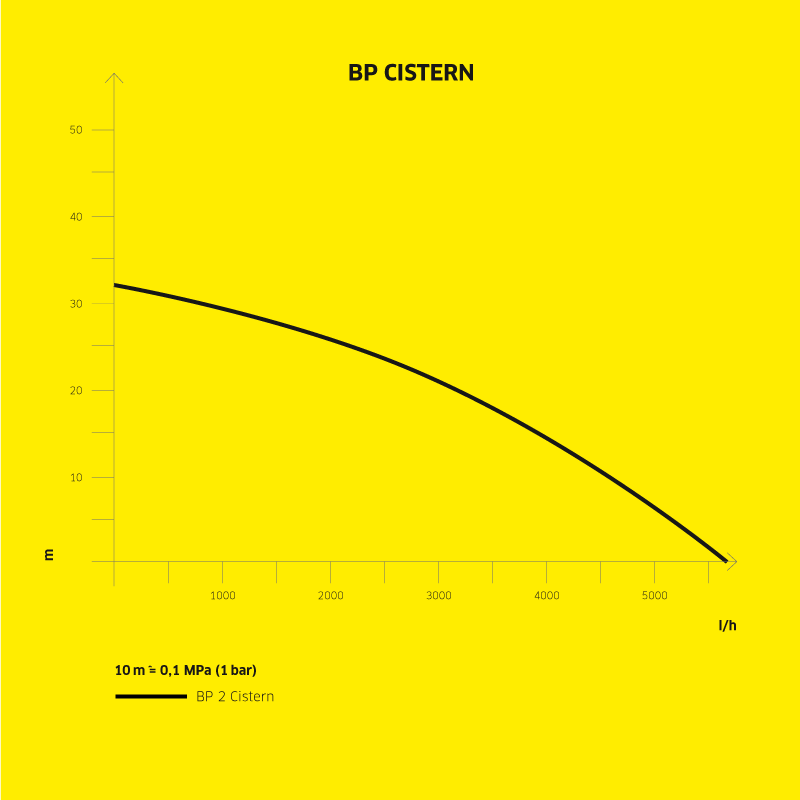 BP Cistern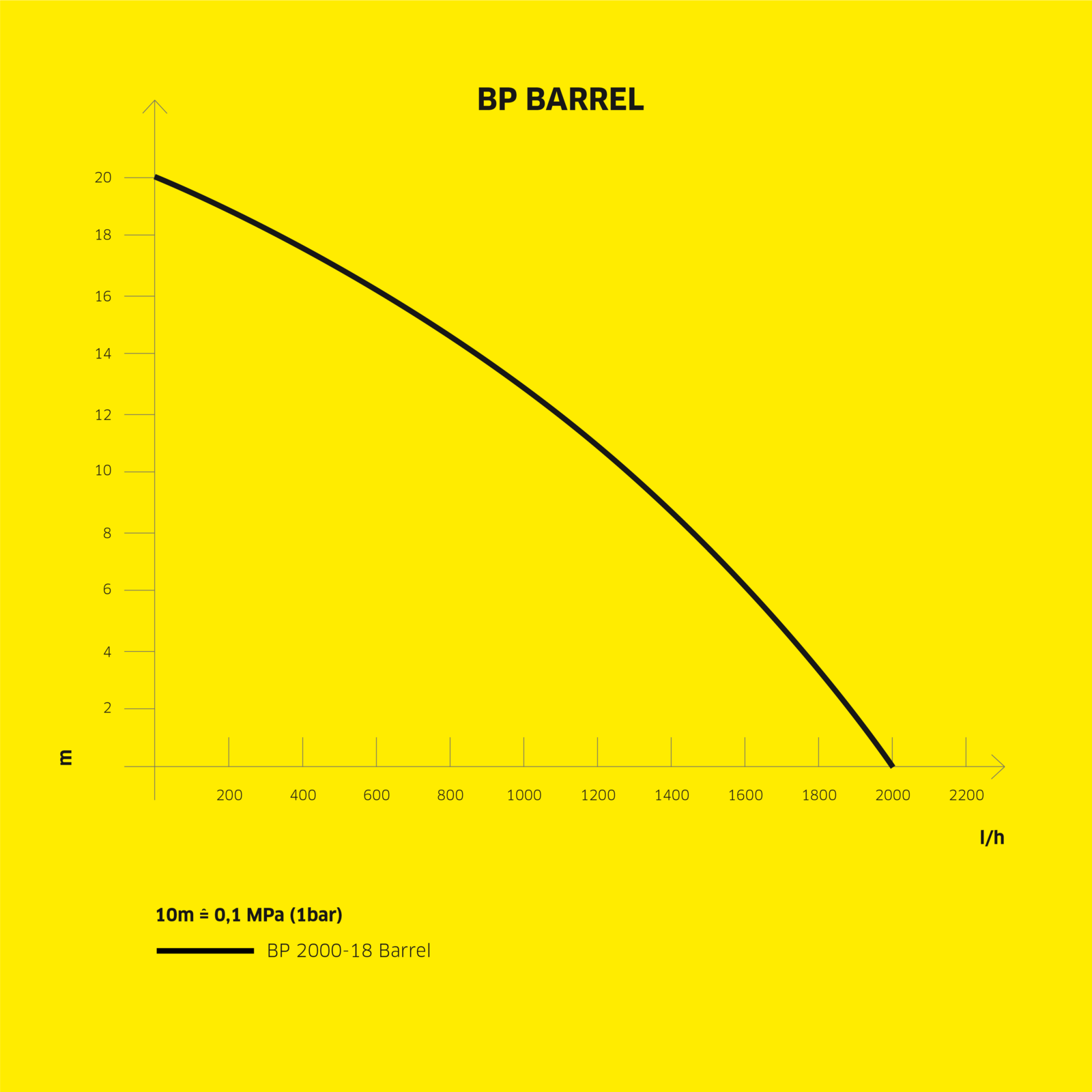 BP Battery
Extended warranty
You can extend the warranty for your BP Garden, BP Home, BP Home & Garden and SP Dirt, SP Dual and SP Flat to 5 years here!