Patio Cleaner
Thanks to its rotating roller brushes and integrated water distribution, the patio cleaner from Kärcher removes dirt carefully yet thoroughly from patios, no matter whether they are made from wood, WPC or smooth stone tiles. Please note that different country versions are available for most products: 120 V / 60 Hz or 220-240 V / 50 Hz.

Your wingman for patio cleaning.
Let's put an end to energy-sapping scrubbing: thanks to the patio cleaner, you'll never again have to manually clean wooden floors in outside areas. You can also clean remote sites in next to no time and without the need for a power connection: for the cordless patio cleaner, you do not need a separate power source, and you can enjoy maximum flexibility and freedom of movement. Rotating roller brushes and water clean evenly, removing even stubborn and ingrained dirt from the wood. The water volume can be adjusted easily, meaning you only use as much water as you actually need. Dirt is loosened and washed away in a single step. In combination with the compatible roller brushes, the patio cleaner also cleans dirt off stone tiles in outside areas optimally and effortlessly.
SET THE SCENE FOR SUMMER, SKIP THE DRAMA.
You no longer need a power outlet and pesky extension cable to thoroughly clean your patio or balcony while protecting the floor. The new PCL 3-18 patio cleaner can clean up to 20 square metres of wood, WPC or stone tiles with a single battery charge. And you can choose for yourself how much water you use, helping you easily transform even a pig sty into the Chelsea Flower Show, all while conserving resources.
Thorough and even cleaning
Innovative, reverse-rotating roller brushes ensure thorough and even cleaning of wooden patios.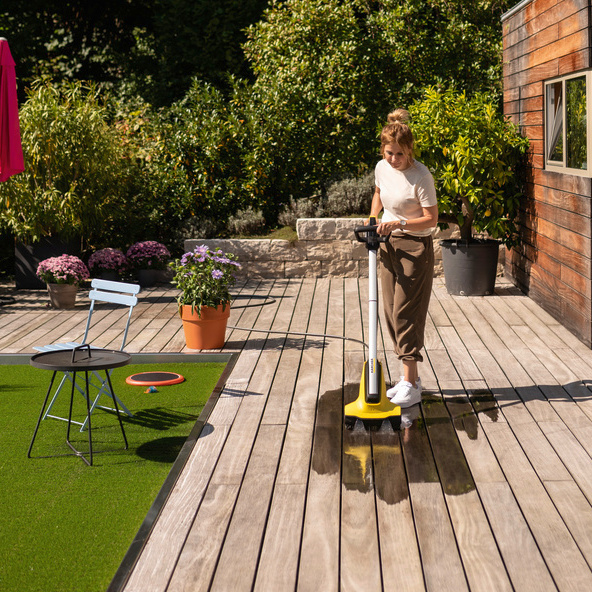 2-in-1 function
The two integrated water nozzles loosen and rinse away the dirt in one step.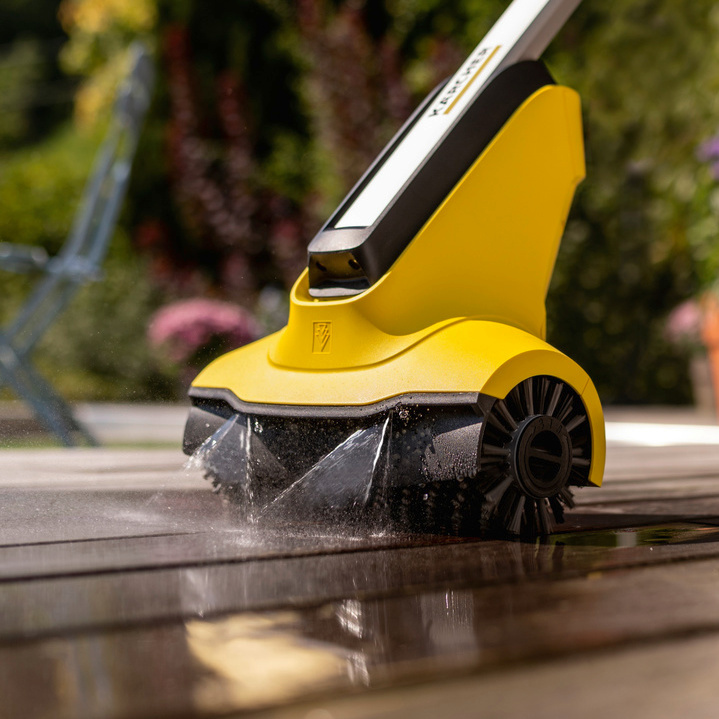 No need for a power supply
The patio cleaner is available with the 18 V Kärcher Battery Power
exchangeable battery for more flexible use without the need for a power supply, or as a corded device for cleaning larger areas.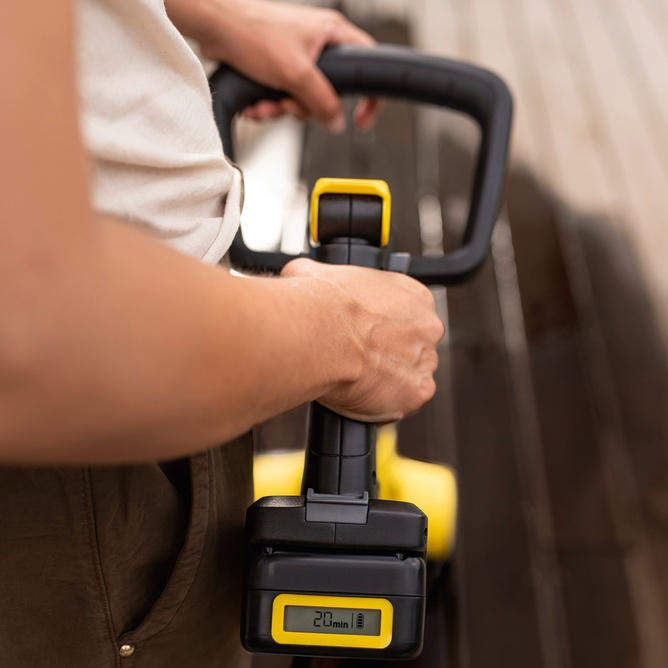 Can be used on a variety of different outdoor surfaces
Thanks to the option of tool-free changes, the wood brushes included in the scope of supply can be replaced with brushes for cleaning smooth stone tiles in no time at all.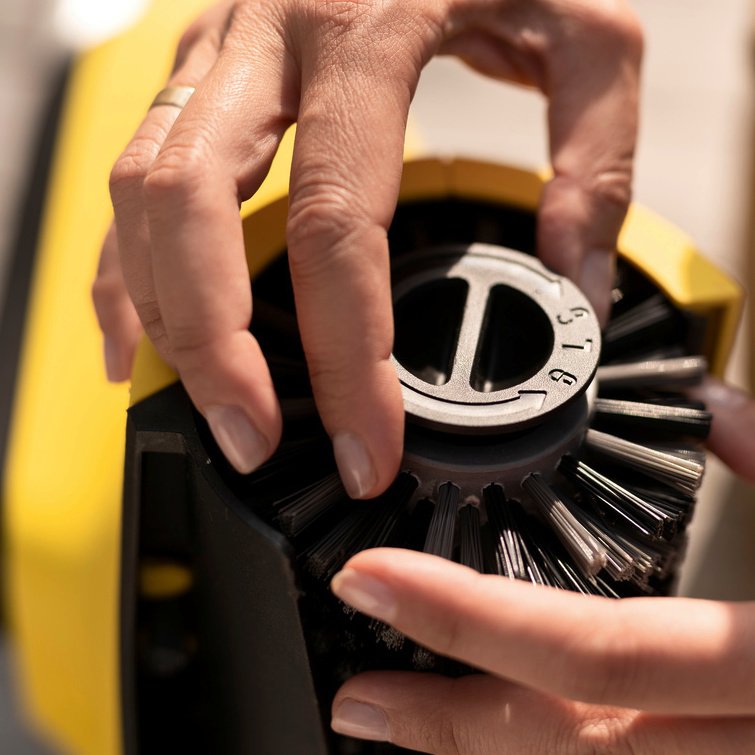 Highlights
Spring after spring: the patio is in desperate need of general cleaning. Sun, rain, snow and ice have left their traces, and organic growth, moss and other dirt are spoiling the surface. Luckily the broom, scrubber and bucket can stay just where they are: in the cupboard. Cleaning is now not only considerably faster, but also much more thorough and easy: with the patio cleaner from Kärcher.
Kärcher Battery Power battery platform
The PCL 3-18 cordless weed remover is a product based on the 18 V Kärcher Battery Power battery platform. Discover the entire product range and see which other products are compatible with your 18 V Battery Power battery.