High-pressure cleaners
Unbeatable versatility – high-pressure cleaning with Kärcher Kärcher invented the high-pressure cleaner in 1950 and has been refining the principle of high-pressure cleaning ever since. Greater cleaning performance with less consumption. Longer service life with shorter cleaning times. As a world market leader, Kärcher offers a range of products that leaves nothing to be desired in terms of technical refinement and versatility – operating with heated or unheated water, powered by electric motors or internal combustion engines, mobile or stationary. Find out about the different areas of use here.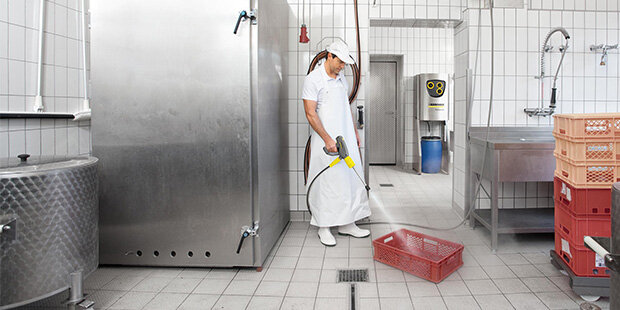 Kärcher stationary high-pressure cleaners are suitable wherever it is necessary to clean and disinfect several areas in a space-saving manner.
The new system solution for facade, glass, solar and floor cleaning
Our new system solution consisting of brushes, telescopic rods, attachments and adapters now enables the flexible use of different types of cleaning for different cleaning tasks. Whether with low, medium or high pressure or even when vacuuming: the cleaning of facades, glass surfaces, solar panels and floors has never been more flexible and even in hard-to-reach places more convenient and thorough.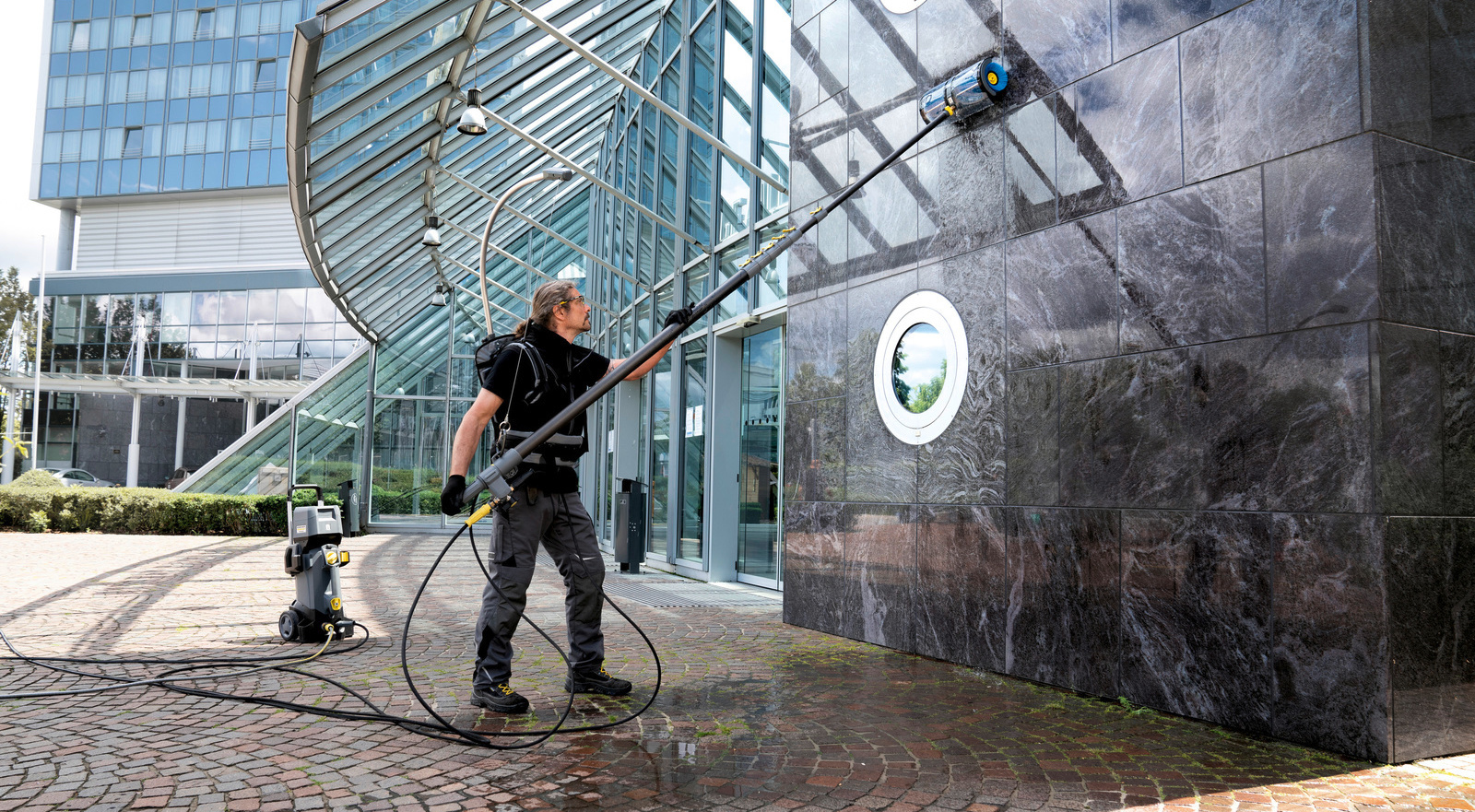 Adaptor finder
EASY!Lock

– How to find the right adapter quickly.

What perfect connections look like. In order to cover the various interfaces, from the highpressure cleaner to the nozzle, as well as forward and backward compatibility, a total of 8 different adaptors are available. This ensures that all existing machines and accessories can continue to be used together with the new machines and accessories with EASY!Lock connections. In our adaptor finder there are all adaptors listed with their respective application. For example, any high-pressure cleaner with M 22 × 1.5 connection can quickly be converted to the new EASY!Lock system with adaptor 2.
The
EASY!Force

trigger gun.

You have the power! Only one thing can come between you and your task: our EASY!Force HD trigger gun. It gives you the power to use high pressure with ease. The revolutionary operating concept of the EASY!Force trigger gun uses the recoil force of the high-pressure jet and reduces the holding force for the trigger to zero. Absolutely zero. Designed for more effortless, ergonomic and stress-free use. Try our EASY!Force trigger gun – you will not want to put it down.