Municipal Equipment
The solution for cleanliness in public areas Our sweepers and municipal implement carriers with 26 to 129 HP (18.9 to 95 kW) provide a sovereign performance for every purpose. And they impress with perfect results, robustness and practically unlimited possibilities for use. In order to exploit the full potential of these implement carriers, special attachments are available. Optimum solutions for the most diverse applications. Specially developed together with renowned attachment manufacturers for Kärcher implement carriers. Leading know-how in technology and application combined for exemplary economy thanks to optimum capacity utilisation of the machines
For professional continuous use on large cars parks, exhibition grounds and industrial areas. Advanced and efficient Kärcher technology ensures reliable results.
Suitable for numerous uses all year round.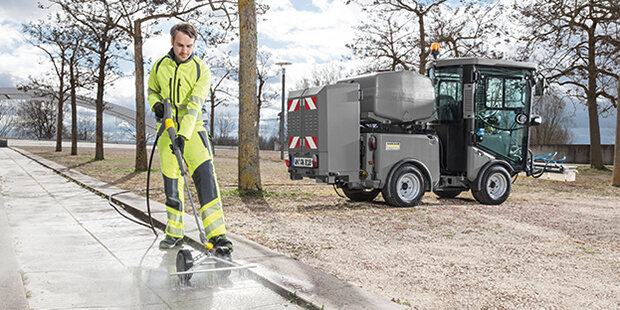 Garden maintenance, winter service, wet cleaning, sweeping or transport: Kärcher offers a wide range of sophisticated and efficient implements for daily municipal use.
Application video grounds maintenance machine (MC 130)

Application video winter service (MC 130)
Application video sweeping (MC 130)
MC 250 - When you want the best!
Development of Kaercher MC 250