Work more economically with battery-powered vacuum cleaners
Cleaning services should be provided as quickly, quietly and effectively as possible. Because night or weekend shifts are rather unpopular among employees and expensive. The staffing level is also often so thin that good results have to be achieved fast. Simple, ergonomic handling is another important topic in order to avoid sick leave. How battery-powered vacuum cleaners can help here – an overview incl. cost-benefit calculation.
Reasons for higher productivity
Work without time-consuming tasks
As long as there were no other solutions, hardly a thought was given to the disadvantages of classic mains-operated cleaning devices. But the time-consuming tasks are actually obvious, e.g. when vacuuming: The power cable must be unwound and wound, the user has to pull the device along and unravel the cord when it gets tangled up around furniture or other objects. Power outlets must be found, and changed when the cable no longer reaches. Depending on the application, battery-powered vacuum cleaners save time and also boost productivity by up to 50 percent. Also the so-called spot cleaning, i.e. the removal of individual, obvious dirt, can be completed significantly quicker with battery-powered vacuum cleaners without any set-up time.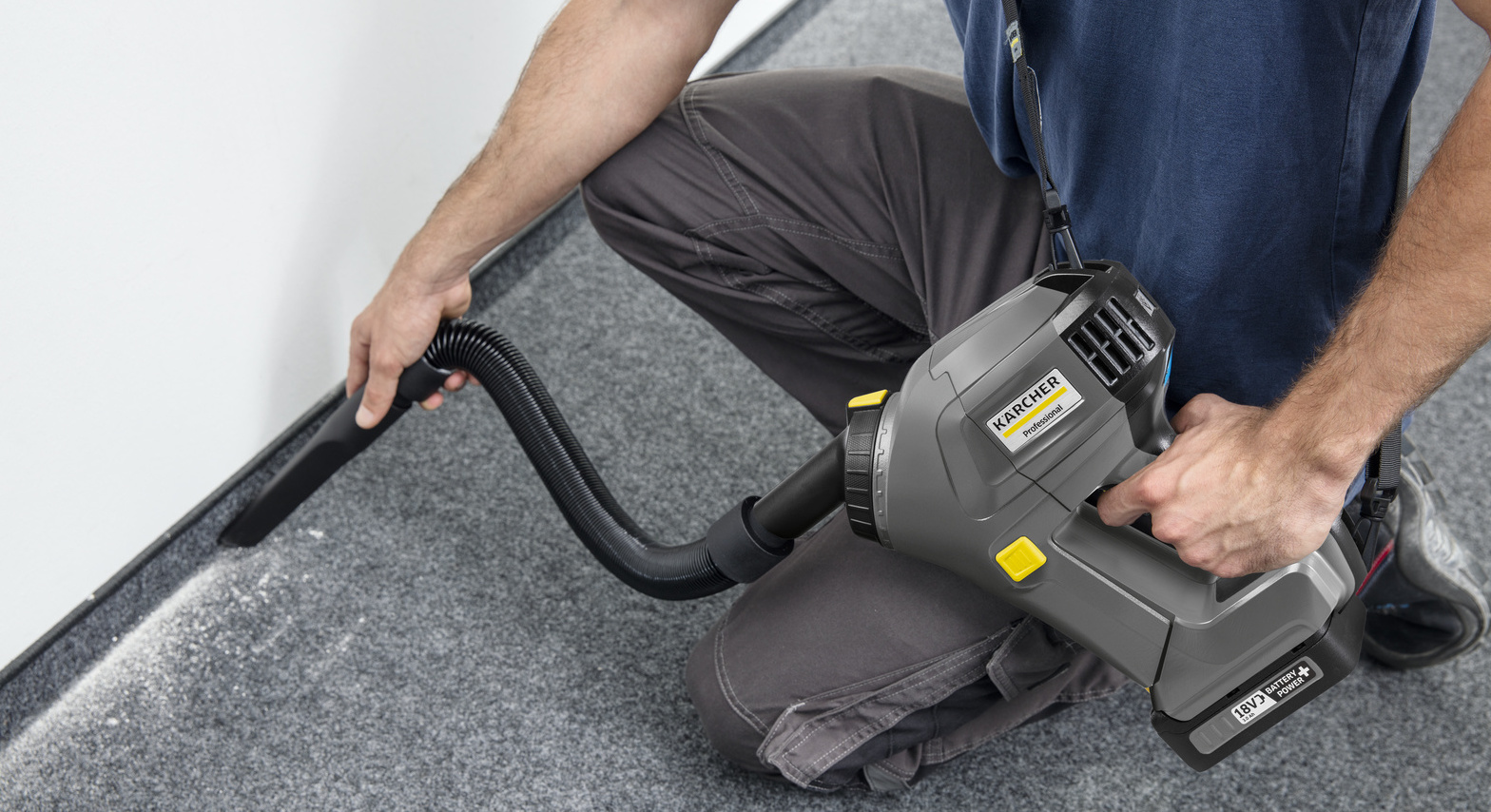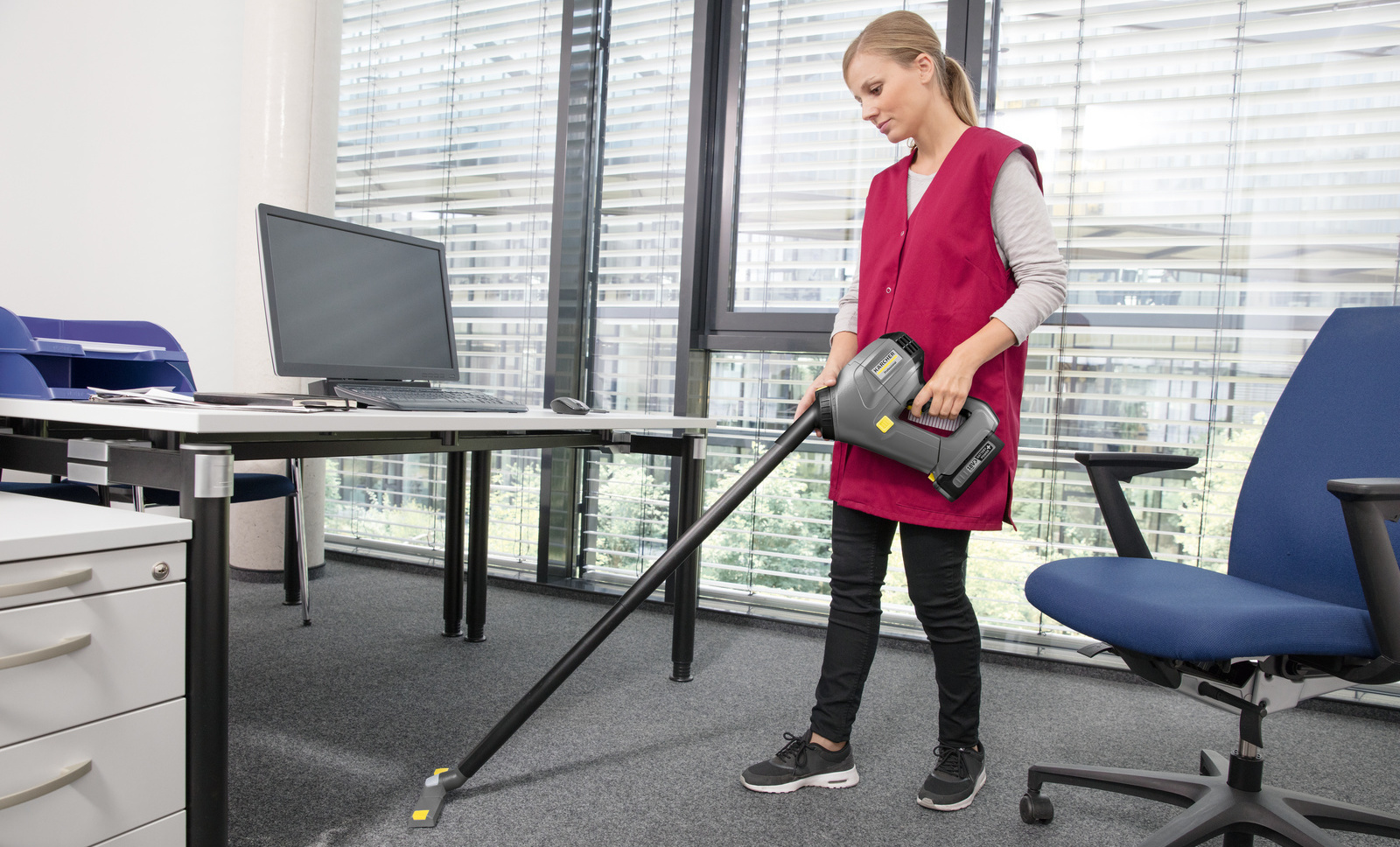 Work without downtimes
Another advantage is in the maintenance and service area because there are no longer any repair costs for defective power cables. They are the main reason for service calls in day-to-day work because they have to be exchanged by an electrician. This problem doesn't exist with battery-powered vacuum cleaners, meaning hardly any downtimes of the devices have to be calculated – another plus for productivity.
Work without tripping hazards
Finally, the area of occupational safety or employee health is not to be neglected. For one thing, there is no more risk from the cable tripping hazard for cleaning staff. Daytime cleaning in areas open to the public is also possible, which cuts out the need for expensive night and weekend shifts. When working with battery-operated vacuum cleaners, users no longer have to constantly stoop as cable handling and plugging and unplugging are now a thing of the past. The devices can also be conveniently switched on and off by a foot switch.
It becomes clear:
The reasons for the higher productivity are manifold and range from the work itself to the device maintenance through to the ergonomics. The fact that the higher costs for battery-powered devices quickly pay off is illustrated for building cleaning, as well as the cleaning of transport vehicles.
From office block to the cinema: Advantages in building cleaning
High savings potential with battery-powered vacuum cleaners
When you first look at entrance areas of administration buildings or hotels, they are generally misplaced. Such areas can be cleaned easier with battery-powered vacuum cleaners as the cable no longer has to be pulled around furniture. When you go from the entrance area to the hallways, the challenge in large buildings especially is the long sections that have to be cleaned.
Take, for example, a 100 metre long hallway and a vacuum cleaner with a 12 metre long power cable. For this section the power outlet must be changed six times. For the worker this means going back to the last power outlet, unplugging, winding up the cable, going to the next power outlet, unwinding the cable – a process that takes roughly 60 seconds. The work time can be reduced by 23 percent from 26 minutes to 20 minutes. The same principle applies in staircases, whereby apart from extra routes the worker is also saved lots of steps. The savings potential is around 35 percent, according to experiences gathered by building service providers, as well as from practical tests.
Battery-powered vacuum cleaners display their full strength in large offices, i.e. on large areas which are obscured with lots of furniture. Flexible working is possible without getting caught at furniture and having to move back over every route around a table again. The international building service provider ISS confirms: "In a test property we were able to save 17 percent on cleaning time, this is a clear argument for battery-powered vacuum cleaners."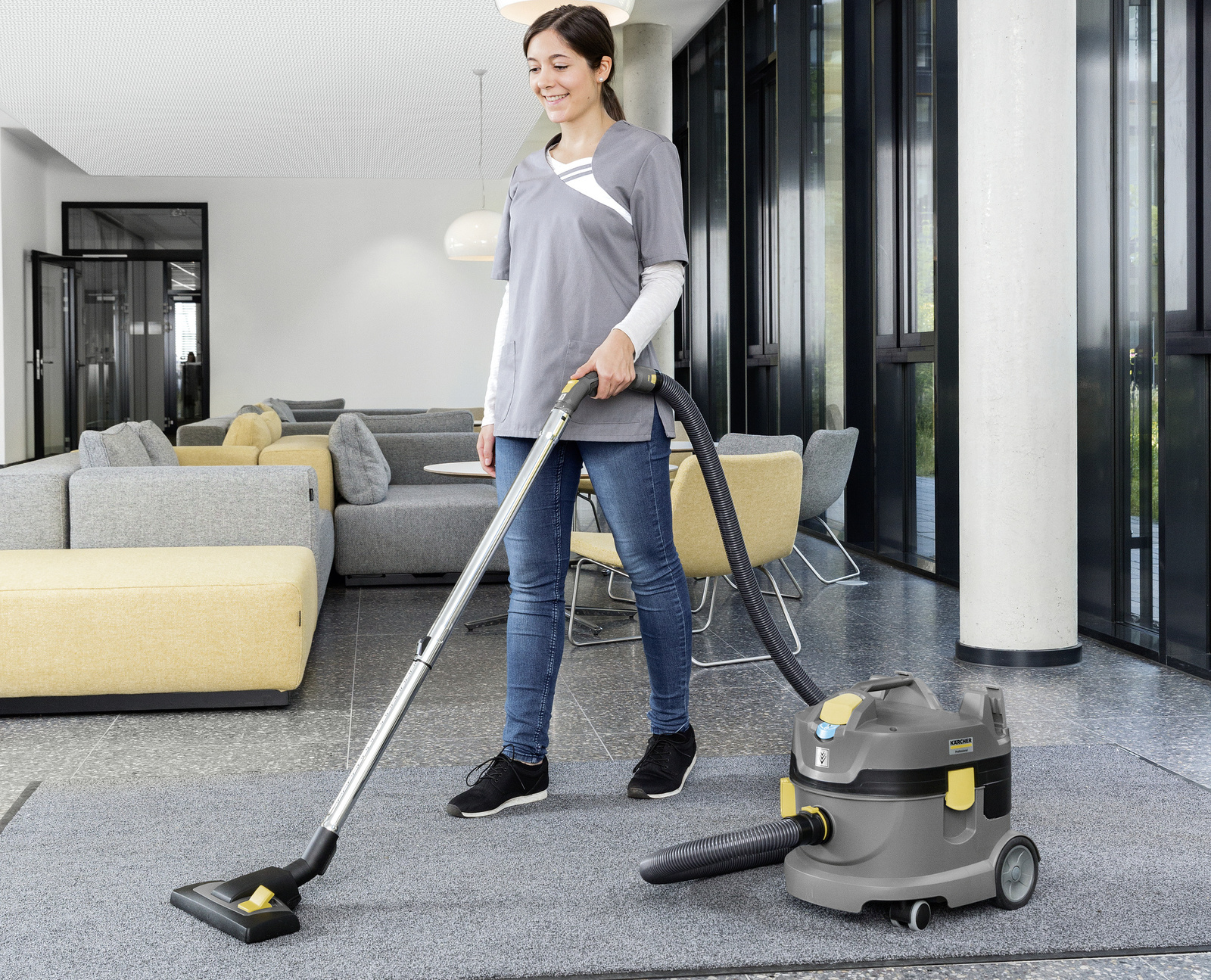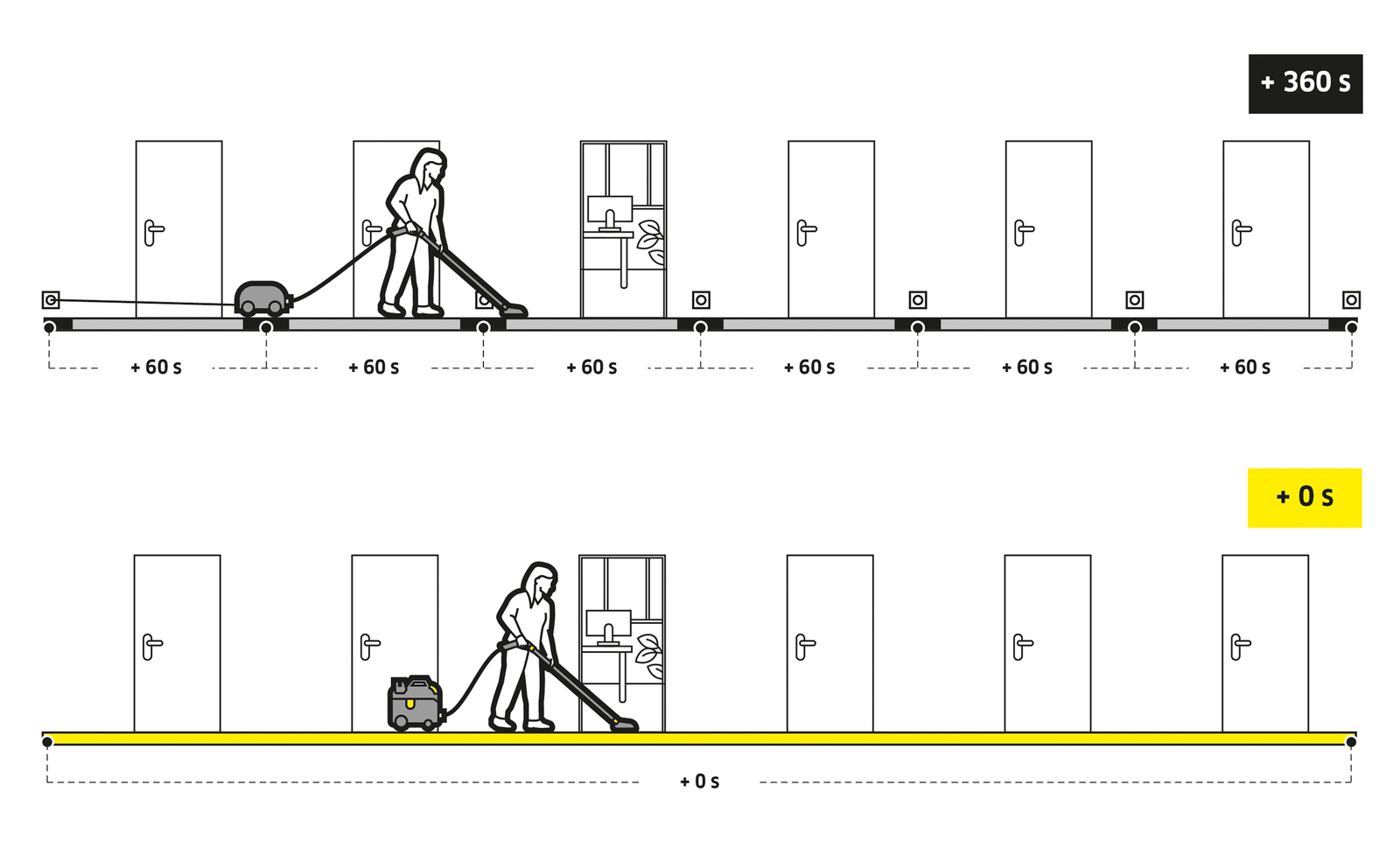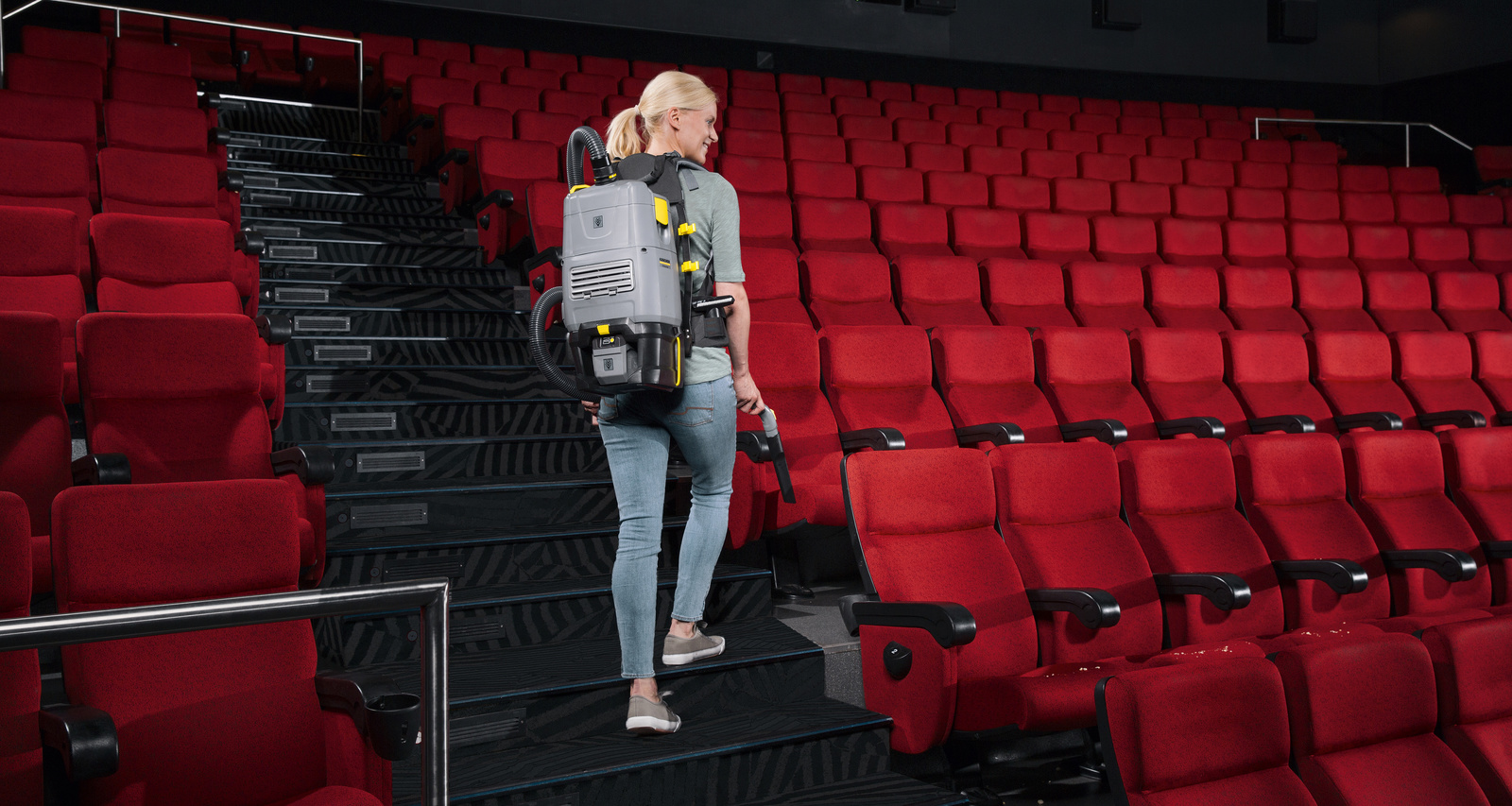 Recalculated: For example, in the cinema
Even higher productivity increases are possible in seated event venues and function rooms, cinemas and theatres, where the principle "half way" between long rows of seats brings between 30 and 40 percent time savings. This can be shown using a sample calculation with reference values from Germany: A mains-operated device costs around 240 euros. Assuming 180 minutes of vacuuming for one working day, then around 50 euros arise in costs for the cleaning with an hourly rate of 17 euros for the cleaning staff. In contrast, with a battery-powered device incl. reserve battery, the purchase prices are a good 1,000 euros. The working time for the vacuuming is reduced by around 40 percent, is at 108 minutes. The costs per day are only around 30 euros. The additional price of around 800 euros for the battery concept pays off in only 42 days with cost savings of 20 euros per day.
Cleaning transport vehicles: Bus, train & airplane
In mobile cleaning battery-powered devices are miles ahead of mains-operated versions. When working in public vehicles no external power source or extension cable is required. In addition, thanks to the compact devices, working is also much easier in confined spaces. A special time-critical field is the cleaning of airplanes. When a plane is approved for cleaning, six employees enter an Airbus 320 at the rear entrance. Four of them prepare the waste in the cab for collection and place the belts on the seats. One employee cleans the kitchen, another the toilets at the rear.
When this work is done, one colleague does the vacuuming with a battery-powered vacuum cleaner, two wipe off the tables, one collects the waste and another cleans the toilets at the front. All this must be completed in a few minutes - even if it is inconvenient, parallel to the work of the catering team or the crew. The cleaning service provider Losch from Stuttgart Airport in Germany confirms: "With battery-powered vacuum cleaners we save around four minutes as the time for carrying, providing and tidying the cable reel is omitted."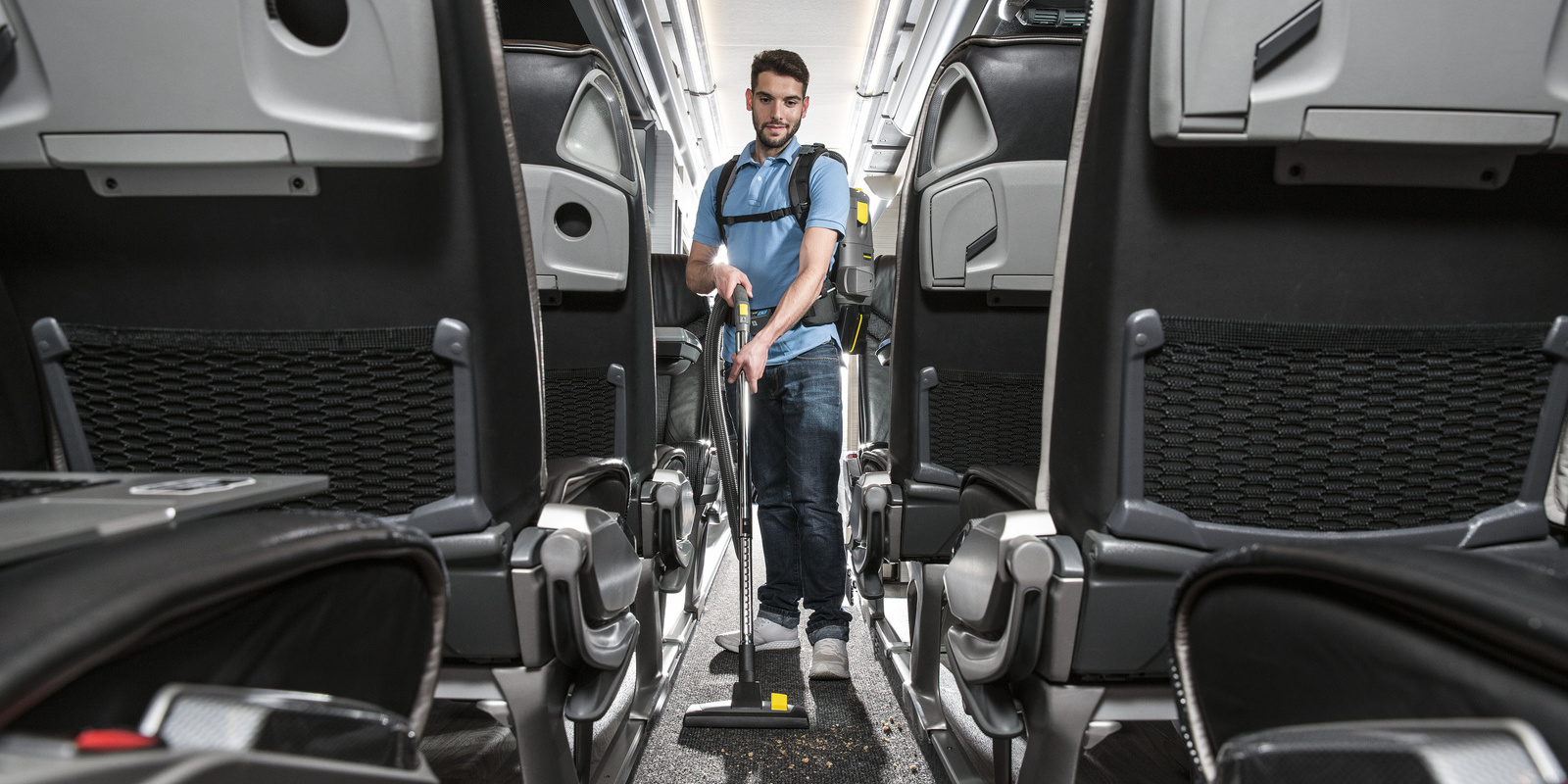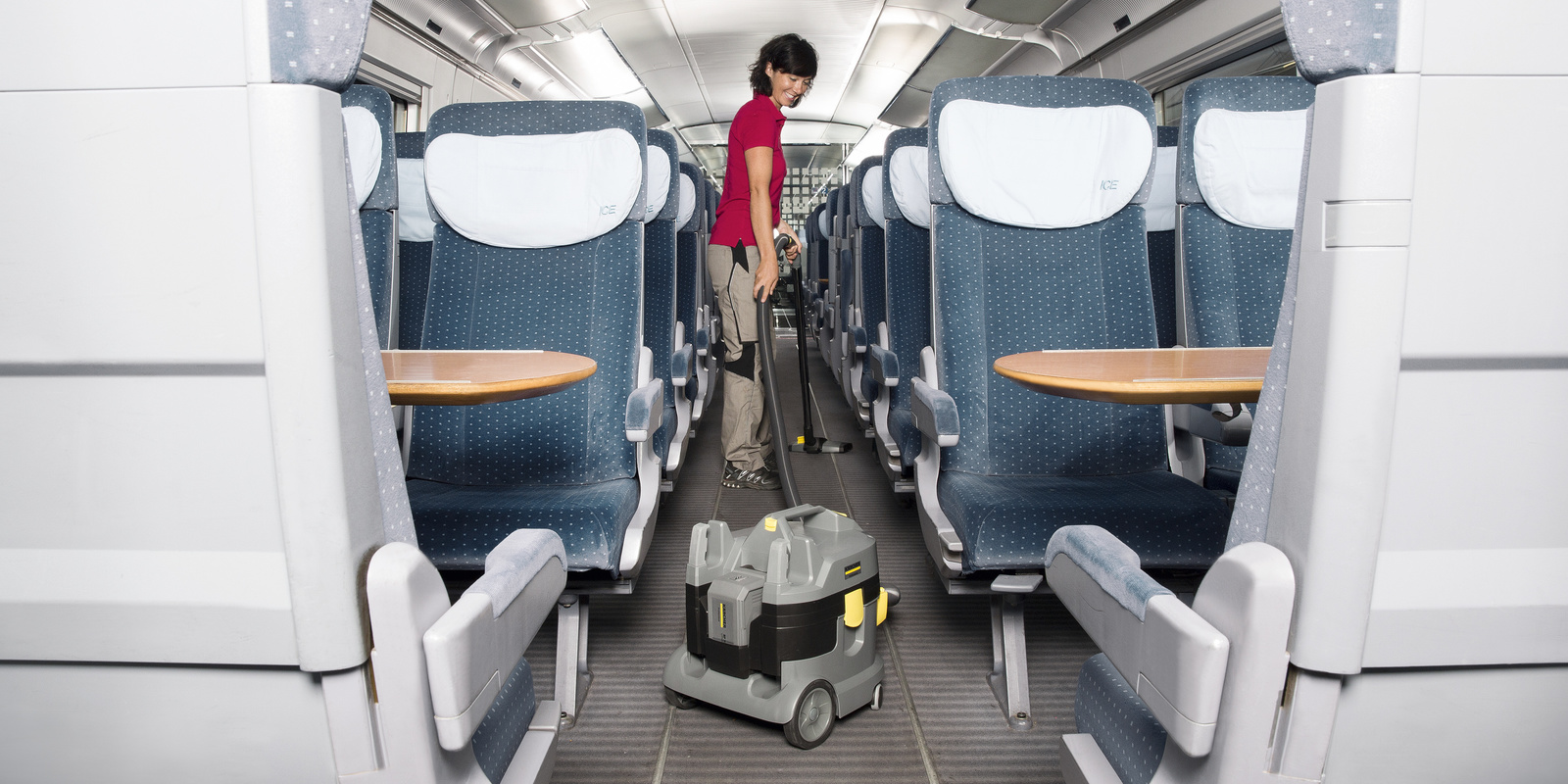 Where is it all going?
Battery-powered devices in themselves are no longer an innovation. But battery-powered devices that consistently focus on the interests of professional users are. Therefore, Kärcher launches a range of devices for professionals for its new battery platform. The company has the future in mind: The platform and the respective products are developed so that, for example, new cell technologies can be placed on the same interface. In the future users will be able to call up even greater power without massive new investments in devices.
You may also be interested in: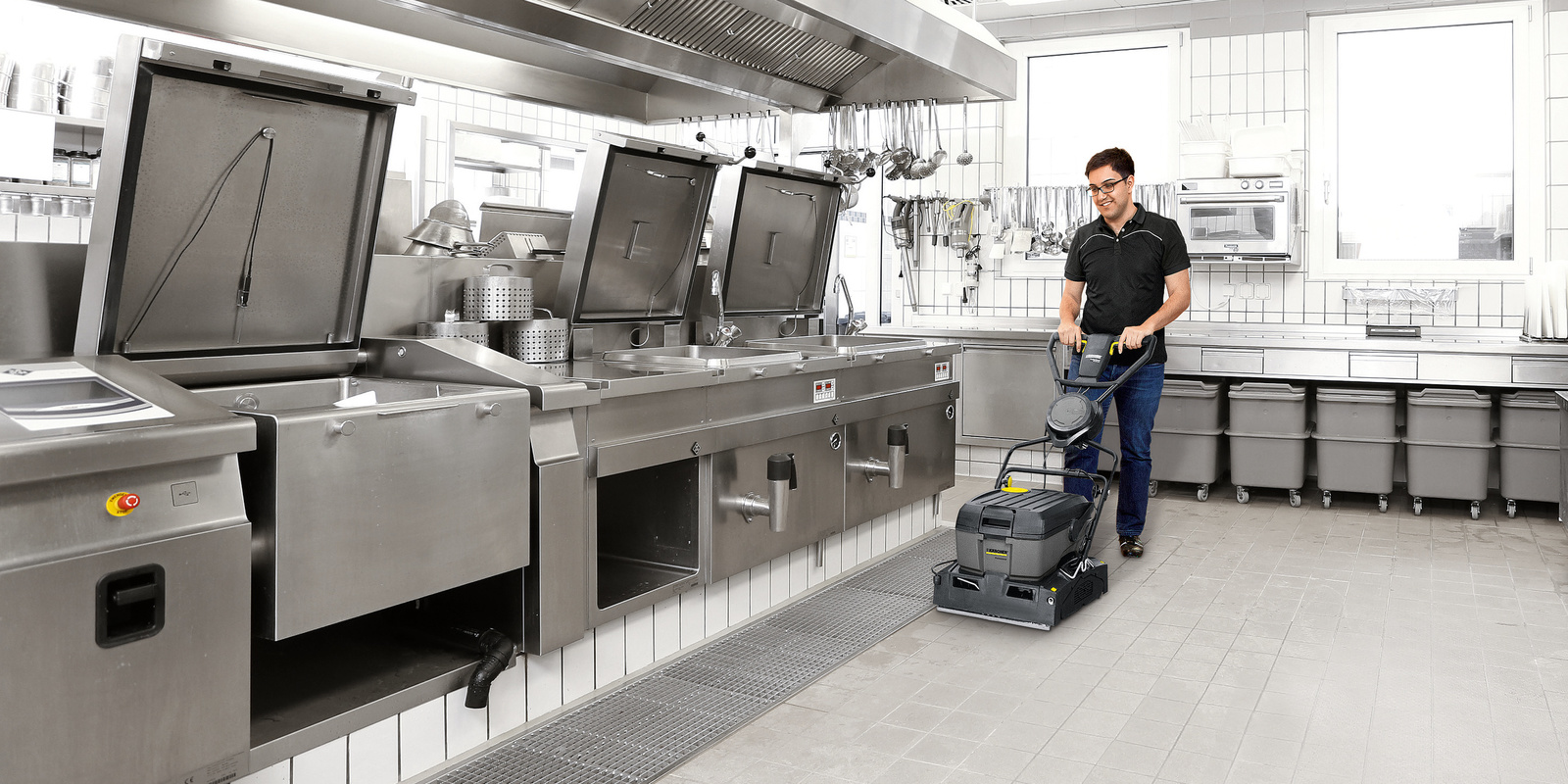 Commercial kitchens: Cleanliness and hygiene for tiles, walls and machines
In commercial kitchens stubborn stains must be systematically removed, in order to eliminate the breeding grounds for viruses and bacteria. With the right equipment, cleaning and disinfection can be done thoroughly and efficiently.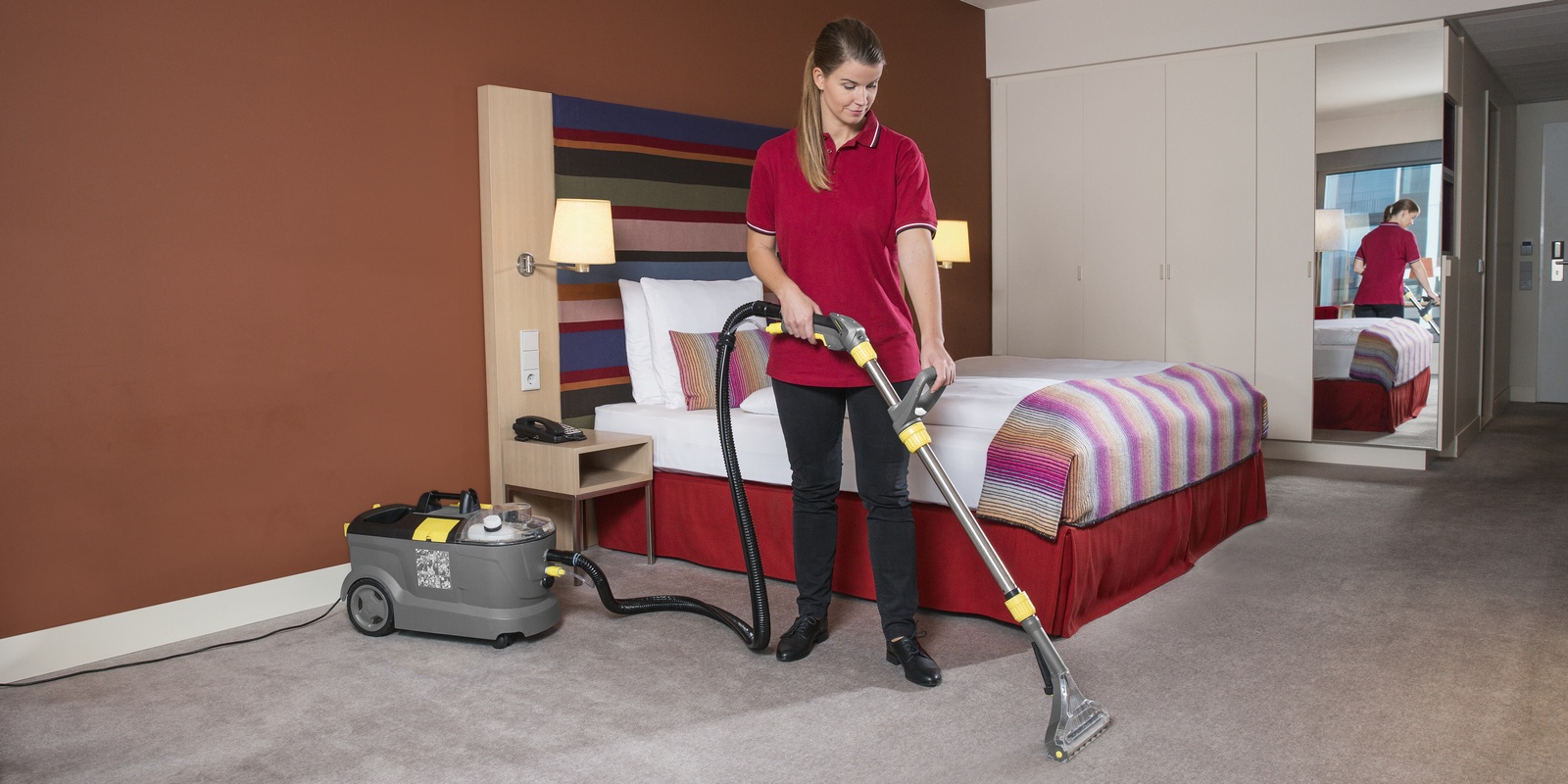 PDIR: Four essential cleaning functions
Efficient and regular cleaning is of vital importance for the hotel industry. The PDIR care cycle ensures a clean appearance for the entire building and reduces time, personnel and material costs required for daily maintenance.