Sustainable. From the outset.
Taking on responsibility – that was an essential part of the corporate culture at Kärcher from the beginning. Alfred Kärcher and his wife were guided by the insight that sustained economic success is only possible by taking social issues into consideration.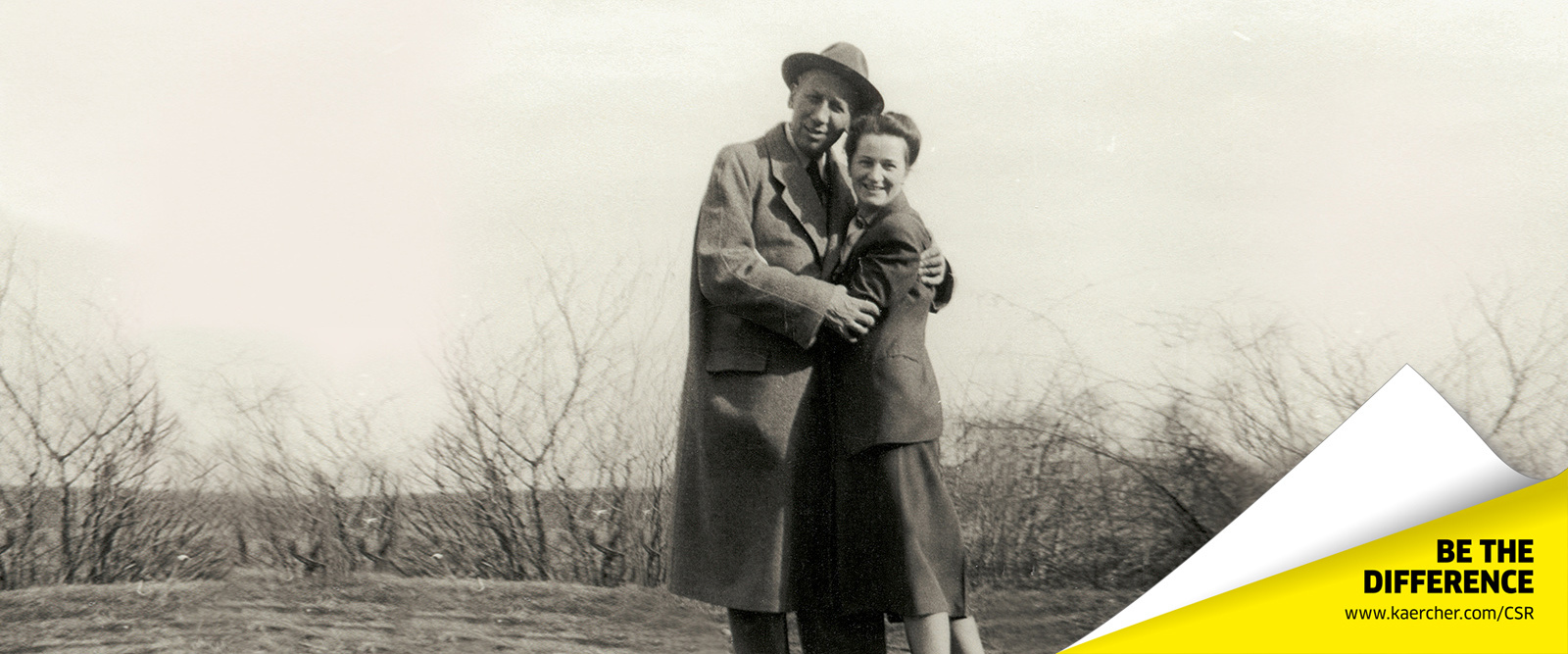 Sustainability in the company history
Thinking and acting with sustainability in mind has a long tradition at Kärcher. For Alfred Kärcher himself, the well-being of his employees and environmental protection were matters that were close to his heart. In 1939, when the incipient company relocated to Winnenden, Alfred Kärcher built his own waste water treatment plant on company premises. In 1940, he founded the Alfred Kärcher foundation for employees in need, which produced toys to give employees' children as Christmas presents from 1943 to 1948. This was followed by many other milestones.
Even today, the concept of sustainability is still deeply embedded in the company. We have set ourself a clear objective for our sustainability management. We want to become the benchmark in the cleaning market in terms of sustainability with the highest customer awareness and customer satisfaction. To realise this vision, the Kärcher Group relies on strategic sustainability targets of several years. The thought behind this is that sustainability must pervade a company in order to achieve an effect.
Three strategic topic areas established
Building on the results of a stakeholder survey, in 2014 the "Sustainability Excellence" sustainability programme was approved. It comprises 14 overarching targets for the entire Group, which are split into six fields of action and are geared towards principles of the "UN Global Compact", which we signed in 2011. Back at the start of 2016, we committed to the "Paris Pledge for Action" and consequently to global climate protection with the aim of limiting global warming to below 2 °C.
With the first sustainability strategy, Corporate Social Responsibility (CSR) once more became significant and was systematically developed. To this end, environmental officers were appointed, for example, at all production and logistics sites, who are also points of contact for sustainability management at their site. Measures are coordinated for the entire Kärcher Group in a CSR steering committee. The most important parts of this are the three strategic topic areas of "Nature, culture, society", "Products and supply chain" and "Employees".
Looking to the future
With the sustainability goals 2025, we have pooled three initiatives for the further improvement of sustainability performance. They are based on the targets of the United Nations for sustainable development and pursue the "Sustainability Excellence" sustainability programme. The three initiatives "Zero Emissions", "Reduce, Reuse, Recycle" and "Social Hero" are an umbrella for various projects and targets.
Company history and current sustainability issues