Industrial Vacuuming / Dedusting Solutions | Kärcher Industrial Vacuuming GmbH
Whether flexible or permanently installed, for small or large quantities, liquid or solid, unproblematic or hazardous suction waste – with Kärcher industrial vacuums and industrial dust extractors, you can handle even the toughest cleaning tasks in seconds.
Our quality claim: Made in Germany
A promise you can rely on
High-quality components, comprehensive expertise, a high degree of added value, and professionally trained staff have ensured that our tried-and-tested products offer outstandingly high quality and durability for decades.
We see ourselves as a partner, by your side as you face any industrial vacuuming challenge. Your experiences and feedback are very valuable to us, since our goals align with yours – we aim to develop innovations and products that help you to achieve your goals more quickly and efficiently.
The conditions are tough, our vacuums are ready
Every sector has unique requirements when it comes to the perfect cleaning solution: Process integration, large-scale processing, hazardous substances, narrow time frames, and much more. This requires both universal and specific machines and systems. From metal processing to the automotive industry, from pharmaceuticals to the food industry, Kärcher is the top choices for industrial vacuums:
Flexibly mobile or stationary installed industrial vacuum systems
Ideal for vacuuming large or small quantities
Complete removal of solids and liquids, as well as large amounts of dust
Safe vacuuming and disposal of hazardous suction waste
Machines designed for long-term, industrial use
New name – the same renowned quality. Ringler becomes Kärcher Industrial Vacuuming GmbH
Ringler GmbH is undergoing a comprehensive rebrand for industrial vacuums. In the future, its entire product portfolio will appear under the Kärcher brand name. Our products will be supplied as standard in the new anthracite corporate colour, unless otherwise requested by the customer. With this initiative, Kärcher is reinforcing the uniform appearance of all products offered by the corporate group, as well as its strategic alignment, which keeps you, the customer, in focus.
The advantages for you: From now on, you will benefit even more from a harmonised product portfolio from an established international brand – Kärcher.
Kärcher Industrial Vacuuming GmbH is also by your side as we navigate the COVID-19 pandemic.
The Kärcher Industrial Vacuuming product service at a glance:
Standard machines are available immediately "off the shelf"
Individual customer solutions can still be produced quickly thanks to our well-stocked stores
The time scale of project quotations remains unchanged thanks to fully available sales and project planning
Spare parts supplies are also guaranteed due to high stock levels 
We look forward to hearing from you on +49 (0) 7195 9030.
Monday to Friday from 07:00 to 20:00 and Saturday from 08:00 to 16:00
To protect our customers, suppliers and staff, we have of course adjusted the hygiene and safety measures in place at our premises. In doing so, we have followed specifications from the WHO and the Robert Koch Institute.
With kind regards,
The Kärcher team
Over 50 years of expertise
With the Kärcher industrial vacuum system, you benefit from over 50 years of experience. We are in close touch with our customers worldwide in order to analyse existing and new tasks and optimally adapt our products to these applications.
YOUR INDUSTRY – OUR VACUUMS. KÄRCHER INDUSTRIAL VACUUM SYSTEMS ARE A HIT IN A WIDE RANGE OF SECTORS AND TARGET GROUPS. DAY IN, DAY OUT.
YOUR DIRT IS OUR PROBLEM. KÄRCHER HAS THE RIGHT RANGE FOR ANY APPLICATION.
The right solution to any problem
Our Kärcher industrial vacuums and industrial dust extractors offer you solutions for every industrial vacuuming task: Whether flexible and mobile or stationary, for vacuuming anything from coarse swarf to the smallest suspended particles, for small or large quantities, for liquids or solids, for unproblematic or hazardous material.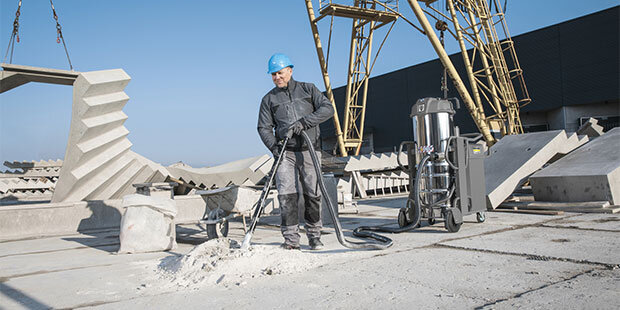 Industrial vacuum cleaners are designed for the stationary or mobile vacuuming of dry and wet swarf, coarse dust and similar suspended particles. Industrial vacuum cleaners work at a high vacuum with a relatively low air flow.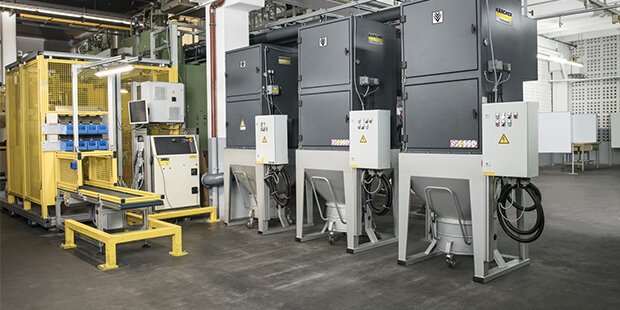 Industrial dedusters are stationary machines that extract suspended particles such as dust and fine swarf from the air. Industrial dedusters work at a low vacuum with a relatively high air flow.
INDUSTRIAL VACUUMS FOR LIQUIDS/SWARF
INDUSTRIAL VACUUMS FOR LARGE QUANTITIES OF ABRASIVE SWARF AND LUBRICANTS
Vacuum cleaners that effortlessly endure several hours daily or continuous operation 24/7 are needed in industry. The spectrum of substances ranges from small to very large quantities of abrasive swarf and coarse particles to discharged media through to liquids such as oil, cooling emulsion and water.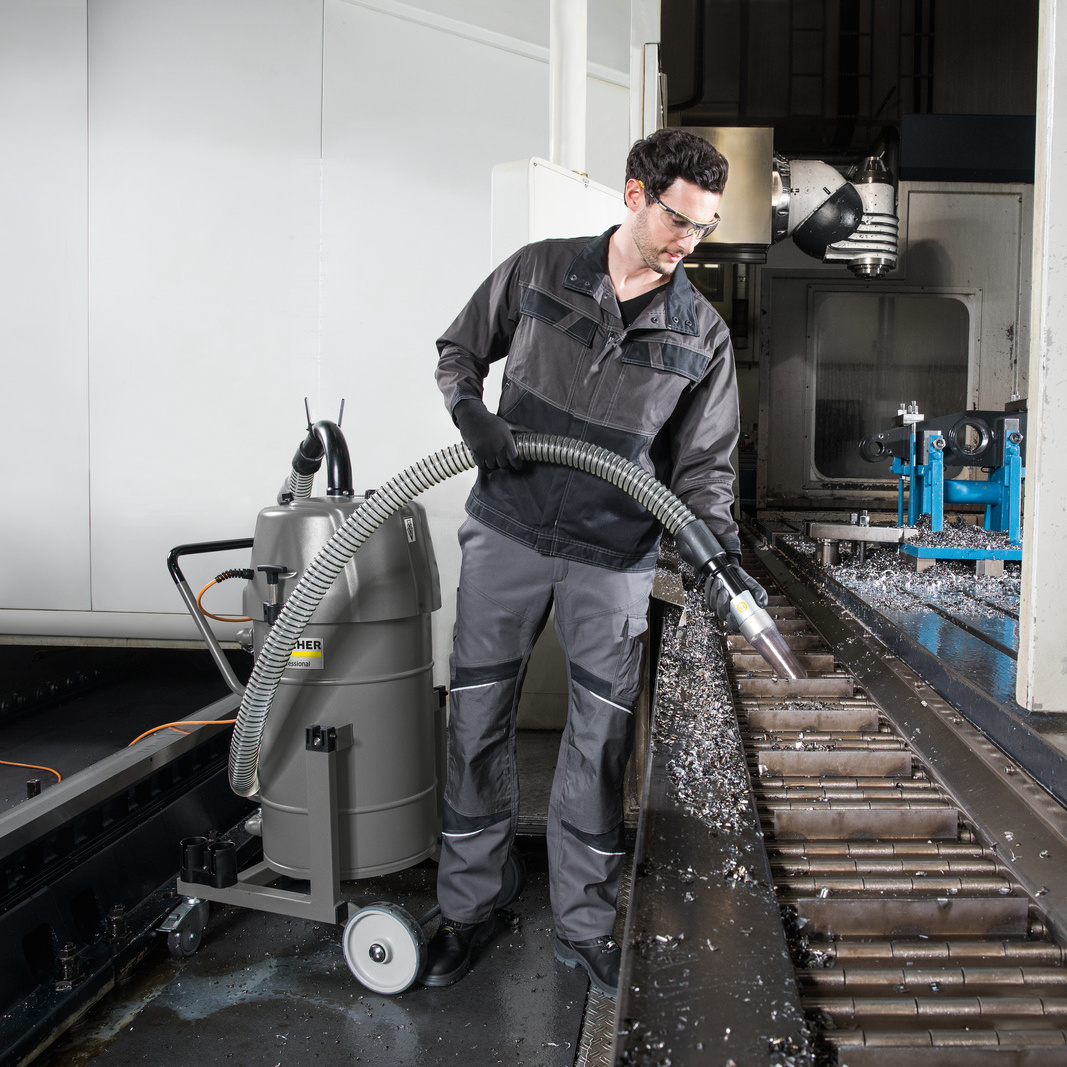 INDUSTRIAL VACUUM CLEANERS FOR SOLIDS/DUSTS
THE VACUUM CLEANERS WITH THE SPECIAL FILTER ENGINEERING
Diverse substances and media have to be vacuumed in the different industries. Discharged media, hazardous dust, fine and coarse swarf, sand, spray agents, all types of fibres, food remnants, organic substances, very light to very heavy materials all place strict requirements on the filter engineering used. In our Kärcher industry system, you will find the optimal filter for every task, regardless of whether it is daily, at hourly intervals or in continuous operation 24/7.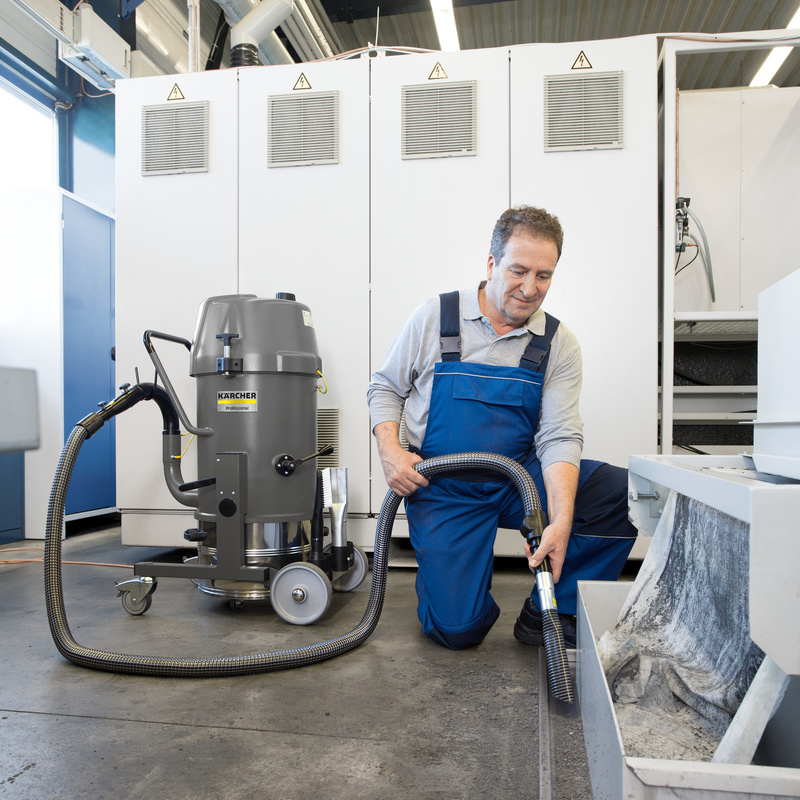 EX INDUSTRIAL VACUUMS
CERTIFIED SAFETY FOR POTENTIALLY EXPLOSIVE ATMOSPHERES
Vacuuming in potentially explosive atmospheres places the highest demands on machine quality. Kärcher industrial Ex vacuums meet these standards and some are certified by TÜV Süd and IBExU.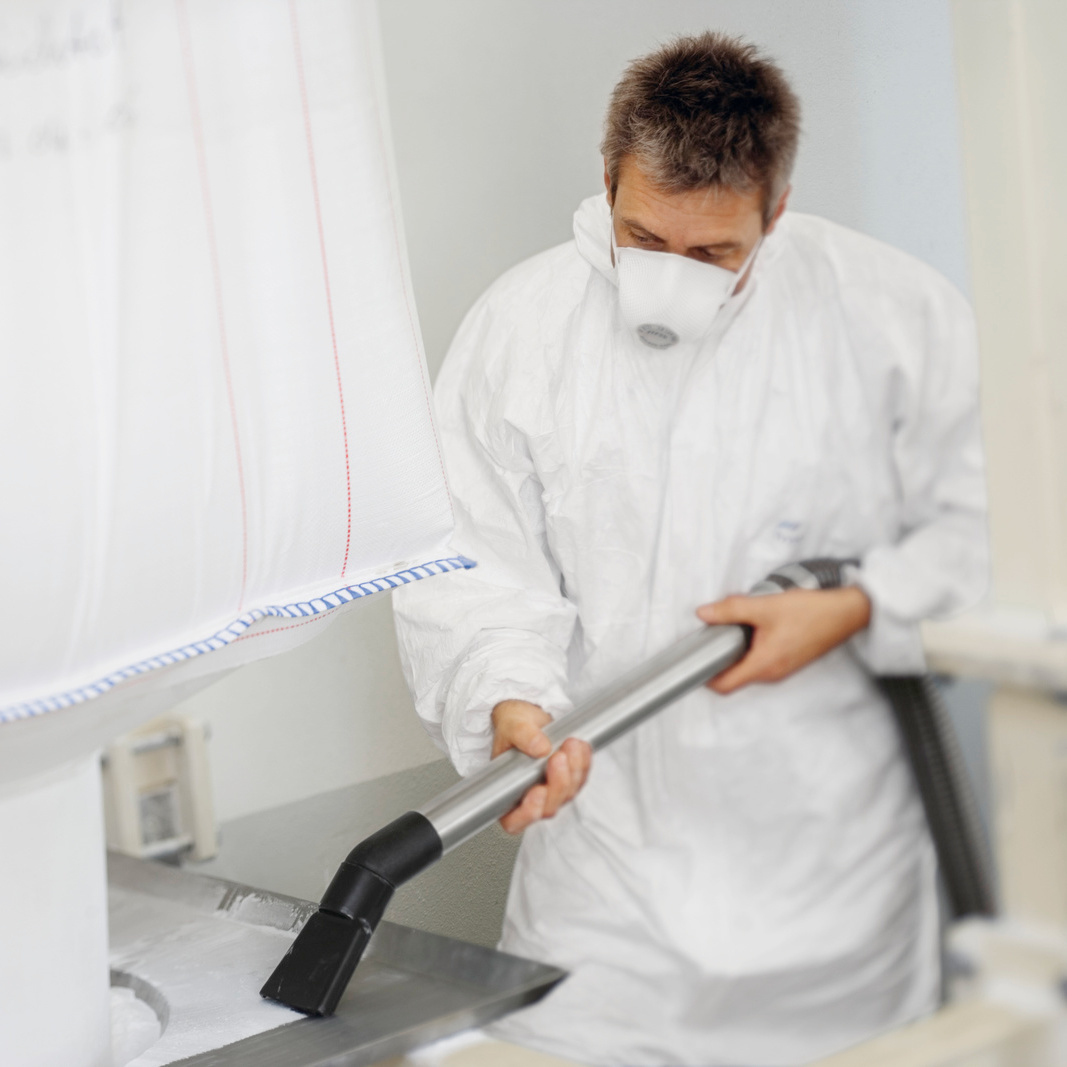 INDUSTRIAL DUST EXTRACTORS
FOR EFFECTIVE COLLECTION OF SUSPENDED PARTICLES
Suspended particles can vary greatly: Fine dust, hazardous dust, fine swarf and all kinds of abrasion. In many industries the continuous vacuuming of process dusts from metals, glass, stone, textile fibres, agricultural products or chemicals directly in the process is essential. Our industrial dust extractors reliably capture suspended particles, even in large quantities, in continuous operation 24/7 directly at connected machining centres or filling plants.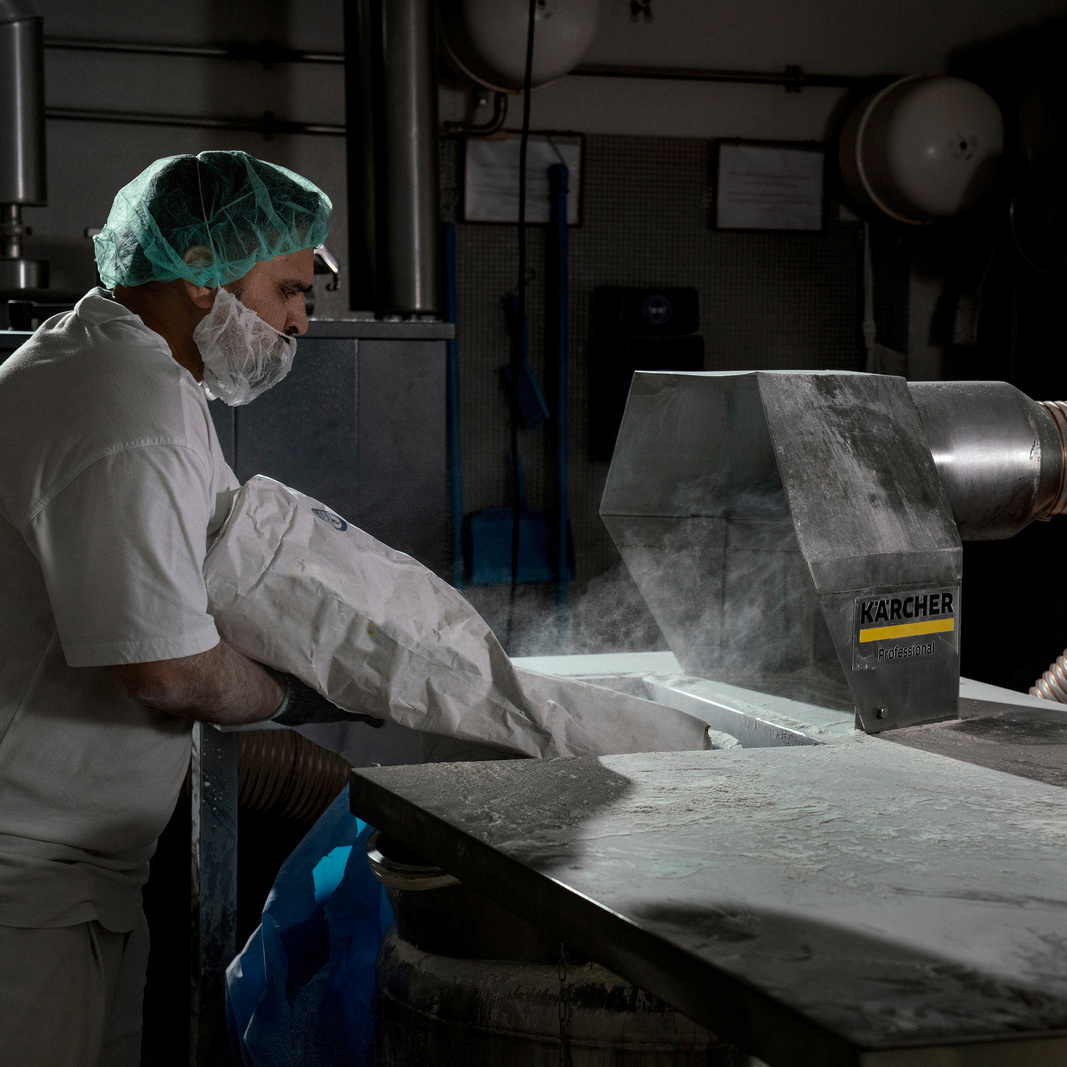 EX INDUSTRIAL DUST EXTRACTORS
FOR EVERYTHING THAT IS SUSPENDED IN AIR AND POTENTIALLY EXPLOSIVE
The continuous suction of suspended, explosive particles directly at the point of origin in the process places extremely high requirements on industrial dust extractors. Our dedusters and Ex dedusters have been proving themselves for many years in continuous stationary use 24/7 in many areas of industry, particularly in metal and wood processing, in the automotive, chemicals and pharmaceuticals industries, food industry, paper manufacture, in the rubber and plastic processing industry, as well as in zone 22.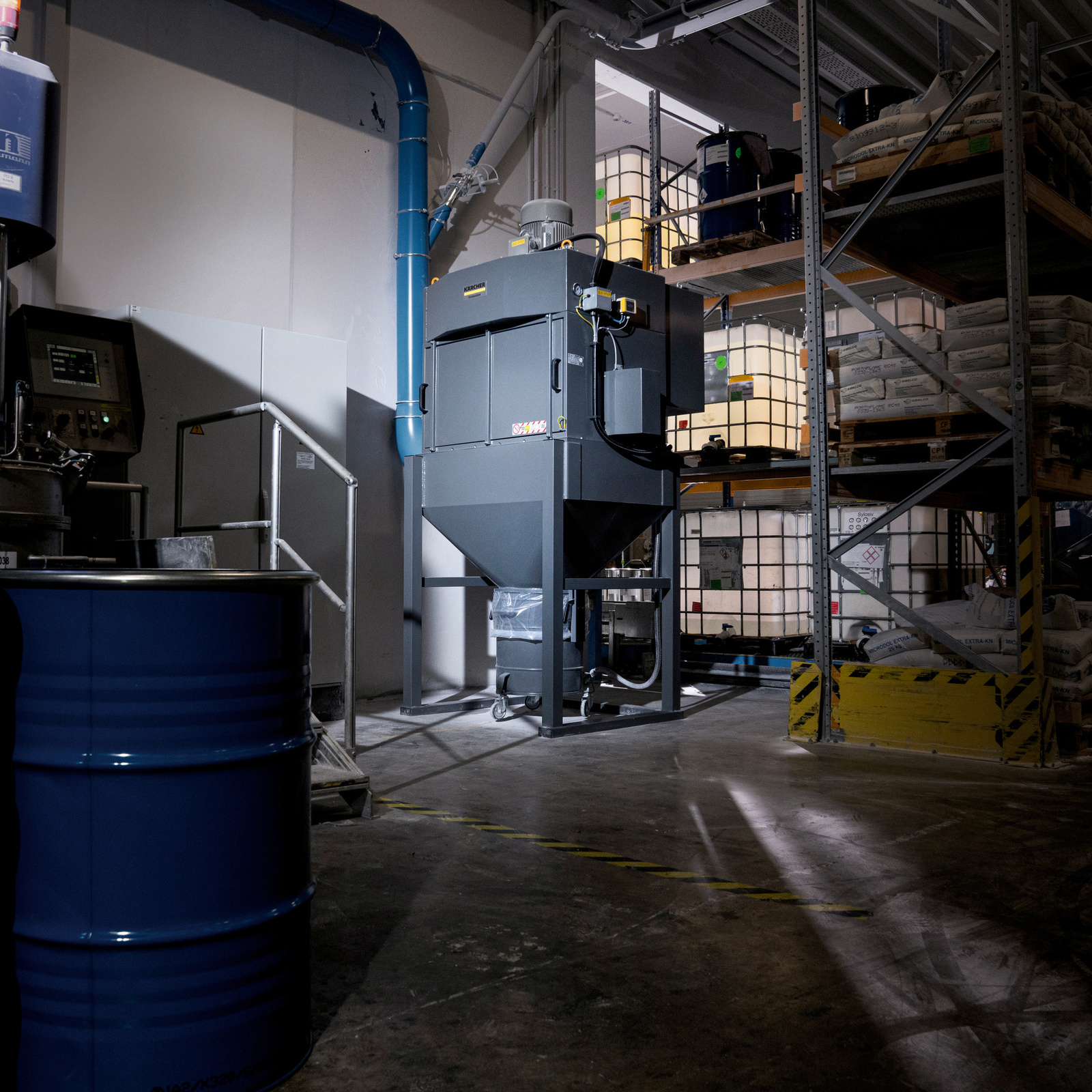 Customer-specific solutions for specific tasks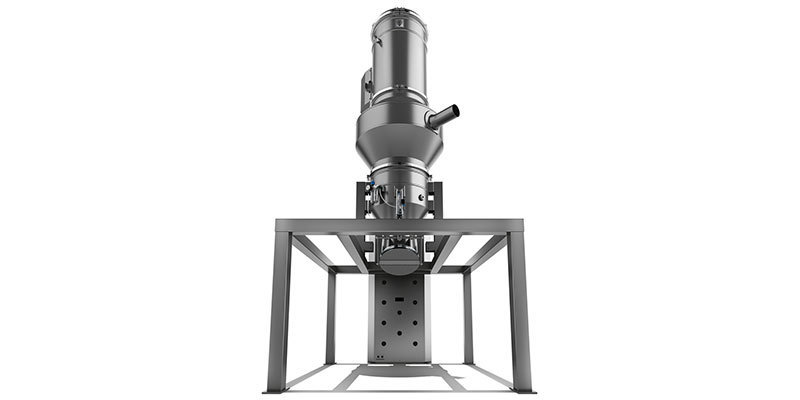 Individual solutions
The requirements of vacuuming systems in industry can be very specific. We plan every system individually to your specific needs. Our services range from the simple mobile solution through to highly complex, specifically adapted and tightly piped vacuuming solutions. With more than 50 years of experience in the development and realisation of industrial vacuum systems, we are your competent partner. As a result, you get efficient complete solutions from a single source.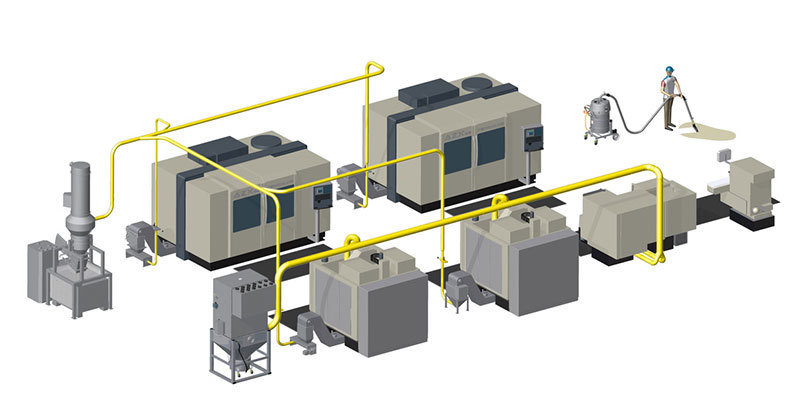 Pipelines – perfectly connected performance.
Our stationary industrial vacuums can be used as single- or multi-user systems with hand-held suction points or directly integrated into the process. To enable this, we can provide you with all the necessary components, from the suction points and accessories to individually configured pipelines.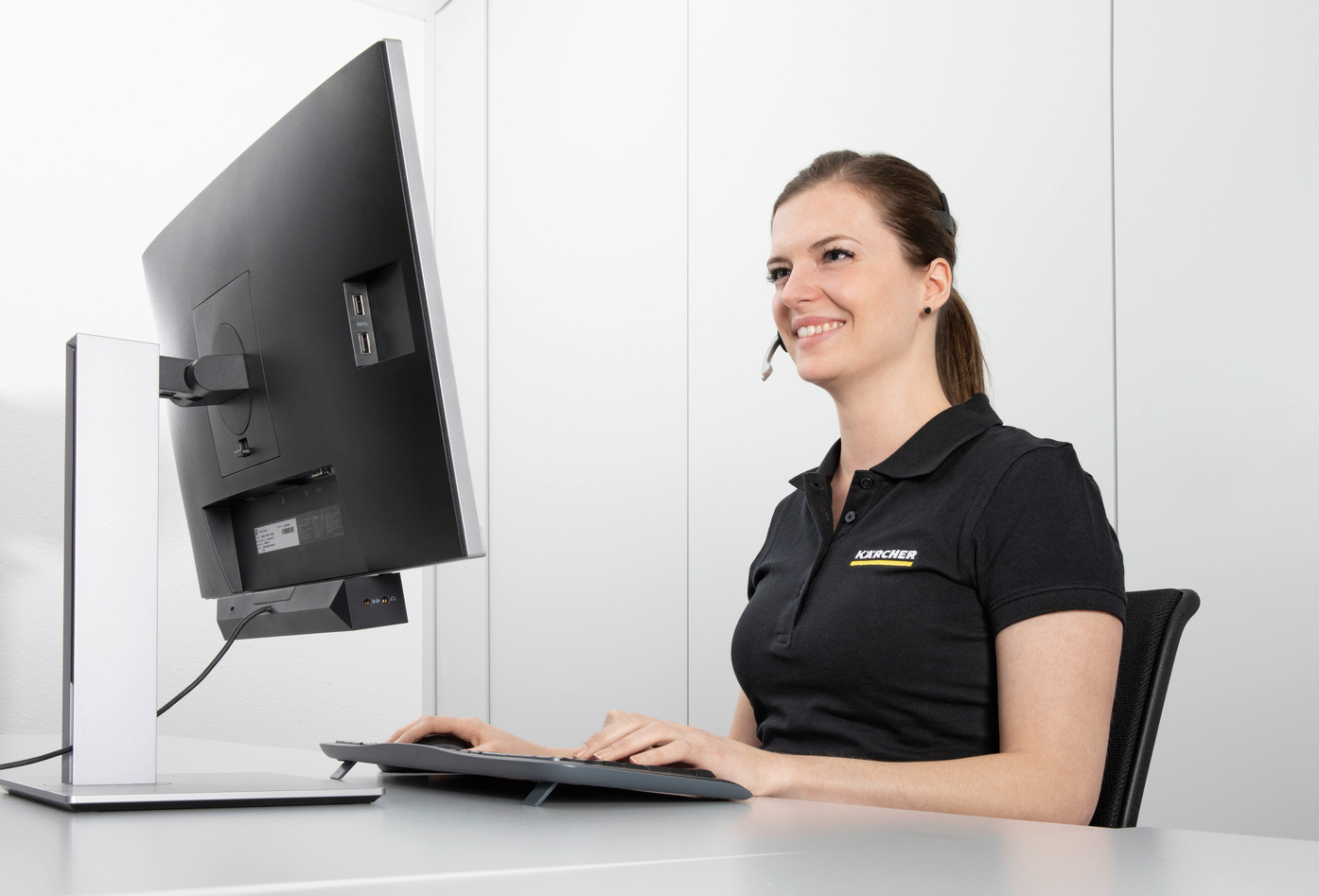 SERVICE
You can rely on us. Our comprehensive service does not stop once you have accepted your system. Learn more about what we can offer and get in touch with us.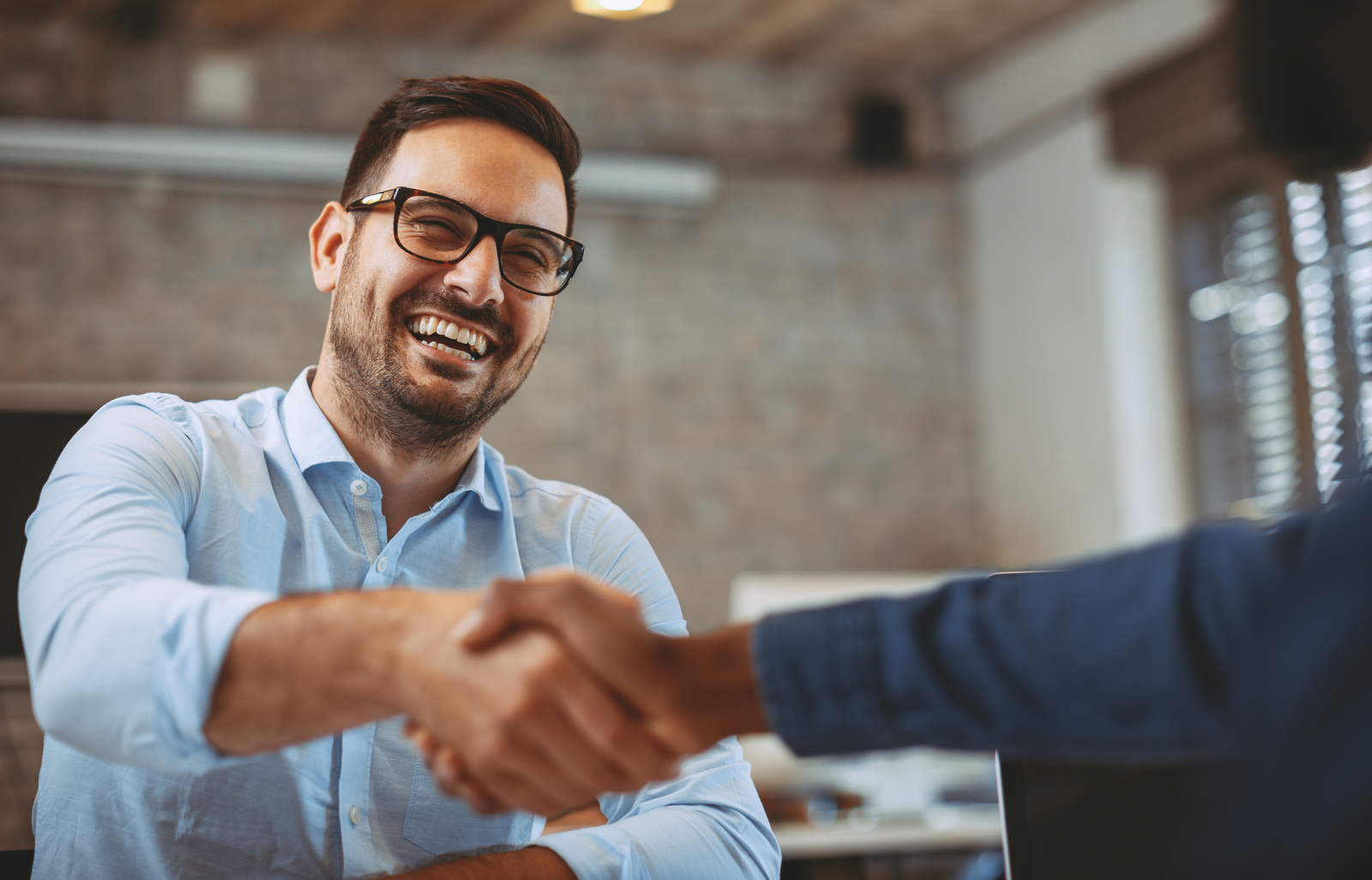 REFERENCES
A track record to be proud of: Our systems are used by a range of well-known businesses around the world. Whether "off the shelf" or tailor-made, we offer each of our customers the perfect on-site solution.
Our DNA
Who we are: The expert in industrial suction solutions.
With over 50 years' experience in the sector, you can rest assured that you're in expert hands with us. Our professional team will work together with you to design the perfect solutions to meet your needs using our extensive product range, as well as providing you with comprehensive expert advice. We are dedicated to helping our customers to create clean, safe working environments using efficient cleaning solutions.
What we offer: High-quality solutions that you can trust. 
With our solutions, consisting of high-quality industrial vacuums with a range of versatile accessories for a range of applications, we make your everyday production significantly easier. Our solutions are complemented by service concepts that ensure your industrial vacuum solution is always ready for use. We are by your side at any time to provide help and advice. That's a promise you can rely on. 
What shapes us: Like two sides of the same coin, we represent the decades of experience amassed by Ringler GmbH and its rebrand as Kärcher Industrial Vacuuming GmbH.
High-quality components, comprehensive expertise, a high degree of added value, and expert staff have ensured that our tried-and-tested solutions offer outstandingly high quality and durability for decades. With our combined experience in development, production, sales, services and application engineering, we help you to create a cleaner, safer, more environmentally friendly production facility.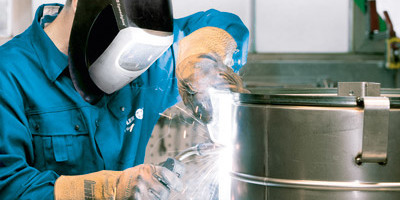 WELDING
Our high degree of added value enables us to react flexibly to your needs.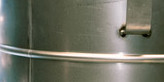 PAINTING
We are more than happy to provide our industrial vacuum systems to your colour specifications.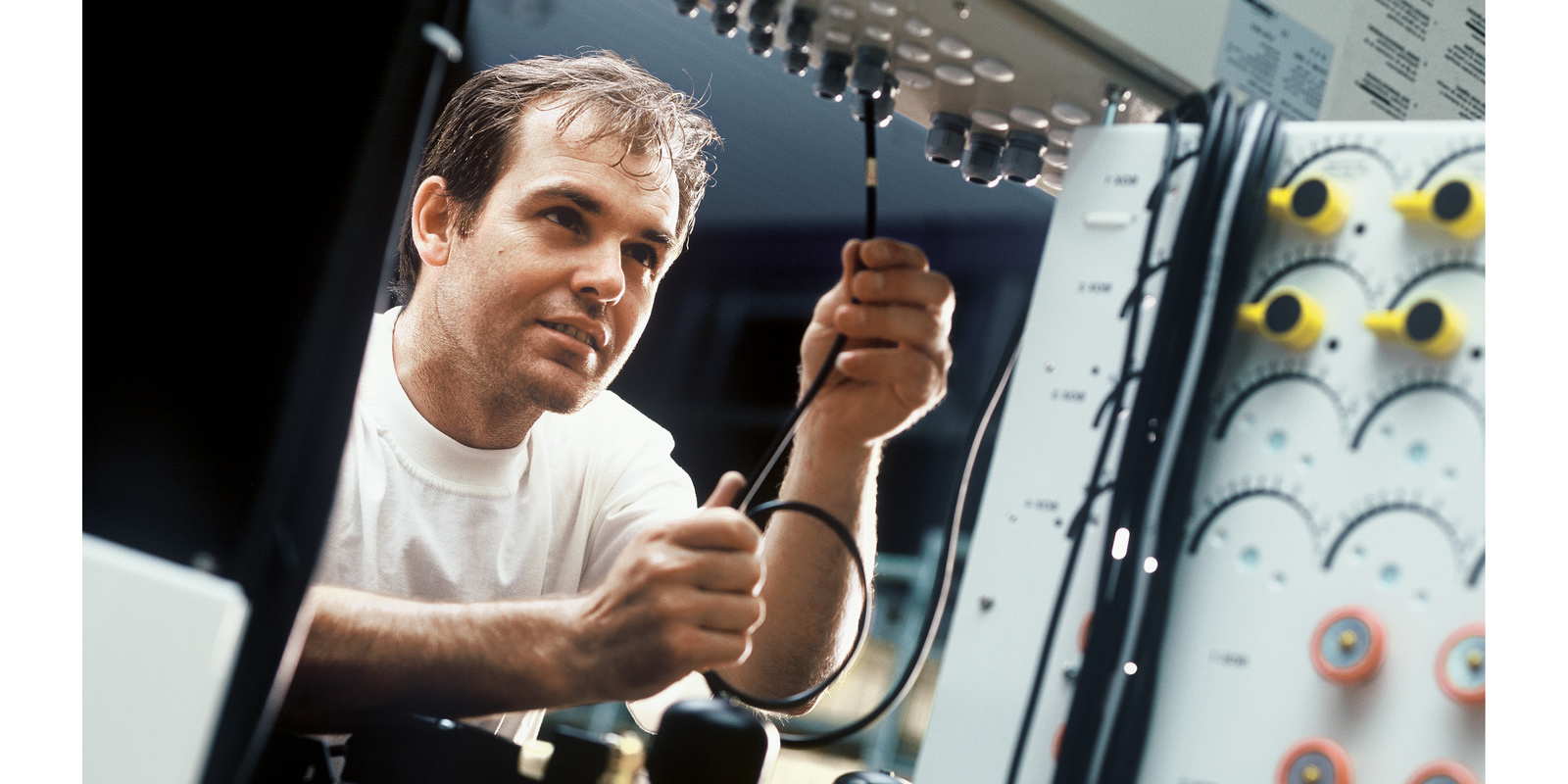 INSTALLATION
Made in Germany – optimally structured work processes ensure the highest quality standards.
Visit us at our trade fairs! We look forward to seeing you!
Due to the ongoing COVID-19 pandemic, we are refraining from attending trade fairs at this time.
Contact us
Quotes and consultation
If you're looking for a solution that perfectly meets your needs – a reliable, robust, efficient all-rounder for professionals – we are here to help with individual advice.
Sales Germany
Alfred Kärcher Vertriebs-GmbH
Friedrich-List-Straße 4
71364 Winnenden Germany
Postfach 800
71361 Winnenden Germany
Tel.  +49 (0) 7195 9030
Fax  +49 (0) 7195 903 2805
Our hotline is manned from Monday to Friday from 07:00 to 20:00 and on Saturday from 08:00 to 16:00.