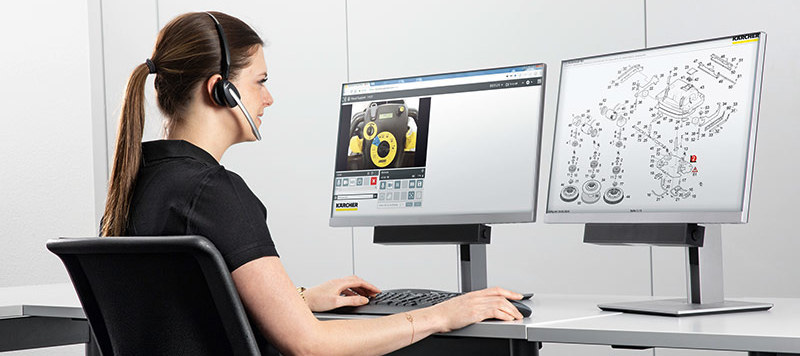 Customer service
You can rely on us. Our comprehensive service does not stop once you have accepted your high-quality Kärcher system.
Our service offers you the following benefits:
• 24/7 service – we are always here for you
• Fast processing of spare parts requests or service queries
• Almost all spare parts immediately available from our stock
• Professional service from expertly trained service technicians
• Improve value retention and increase the lifetime of your Kärcher solution
• Performance of legally required safety inspections
• Non-binding, regular contact
• Free-of-charge cost proposal
• Comprehensive service after a service agreement concludes
We also offer service packages
When a contract is concluded, you can rest assured that our service will continue each year, with no additional work required!
The following service packages are available:
Classic service package:
Our Classic service package is based on the principle of prevention instead of repair. With this package, you can calculate total service costs; in addition, wear parts and spare parts are replaced on-site following consultation with your contact.
Compact service package:
Maintenance and repair are fully calculable thanks to our Compact service package. Service costs and contractually agreed wear parts and spare parts are updated every year by our expert service technicians.
Fleet management
We recently began offering customers our fleet management service (remote maintenance system) on request.

Contact us
If you are interested in any of our services, spare parts or service agreements, which we can tailor specifically to meet your requirements, please contact us:
Sales Germany
Alfred Kärcher Vertriebs-GmbH
Friedrich-List-Straße 4
D-71364 Winnenden
Postfach 800
D-71361 Winnenden
Tel +49 (0) 7195 9030
Fax +49 (0) 7195 903 2805
Our hotline is manned from Monday to Friday from 07:00 to 20:00 and on Saturday from 08:00 to 16:00.