Carpet cleaner
Kärcher Carpet Cleaners ensure freshness and cleanliness. These devices prove their great strength in dealing with dirtied carpeted areas in high-traffic buildings. They can also make stains disappear from textile surfaces on upholstered furniture or car seats thanks to the spray extraction system.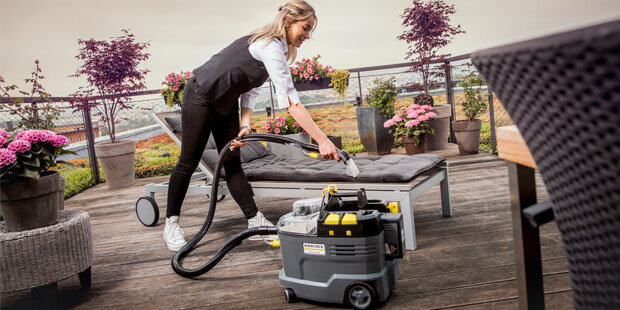 Floor coverings, upholstery, office chairs and passenger seats – the powerful, handy Kärcher spray extraction cleaners clean all textile surfaces and dissolve and remove dirt in a single pass. With powerful suction turbines for unrivalled low residual moisture.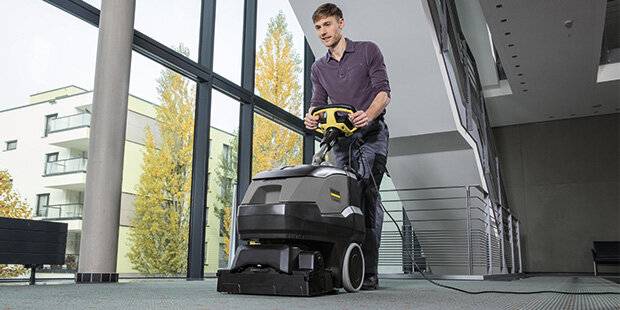 Kärcher carpet cleaning machines economically clean large areas of carpet deep into the pile. They are suitable for conventional spray extraction as well as a new intermediate cleaning process.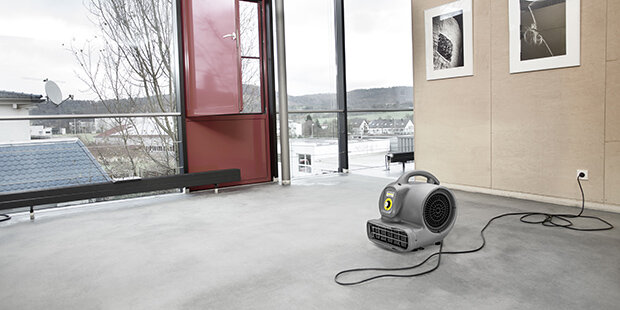 Kärcher air blowers are efficient, powerful, very compact and whisper quiet. They quickly dry water damage or carpets after cleaning. With carrying handle and integrated cord storage.
Carpet Cleaner: Deep fibre cleanliness for carpets and upholstery.
Carpeted floors in public buildings, hotels and restaurants, offices or in retail stores are heavily used due to public traffic every day. Here, our Kärcher Carpet Cleaners have proven their worth for deep cleaning. They work with spray extraction and are also known as wet vacuum cleaners, spray vacuum cleaners or Puzzi. In this process, water is sprayed under pressure into a coating, the dirt is dissolved and immediately vacuumed up again as a dirty solution. Thanks to the unsurpassed suction result and the low residual moisture of the Kärcher Carpet Cleaners, carpeted areas can be walked on again soon. In conjunction with iCapsol technology, this method is also perfect for intermediate cleaning. Upholstery and car seats also become deep fibre clean with Kärcher Carpet Cleaners. With appropriate accessories, they can even be used for tile cleaning.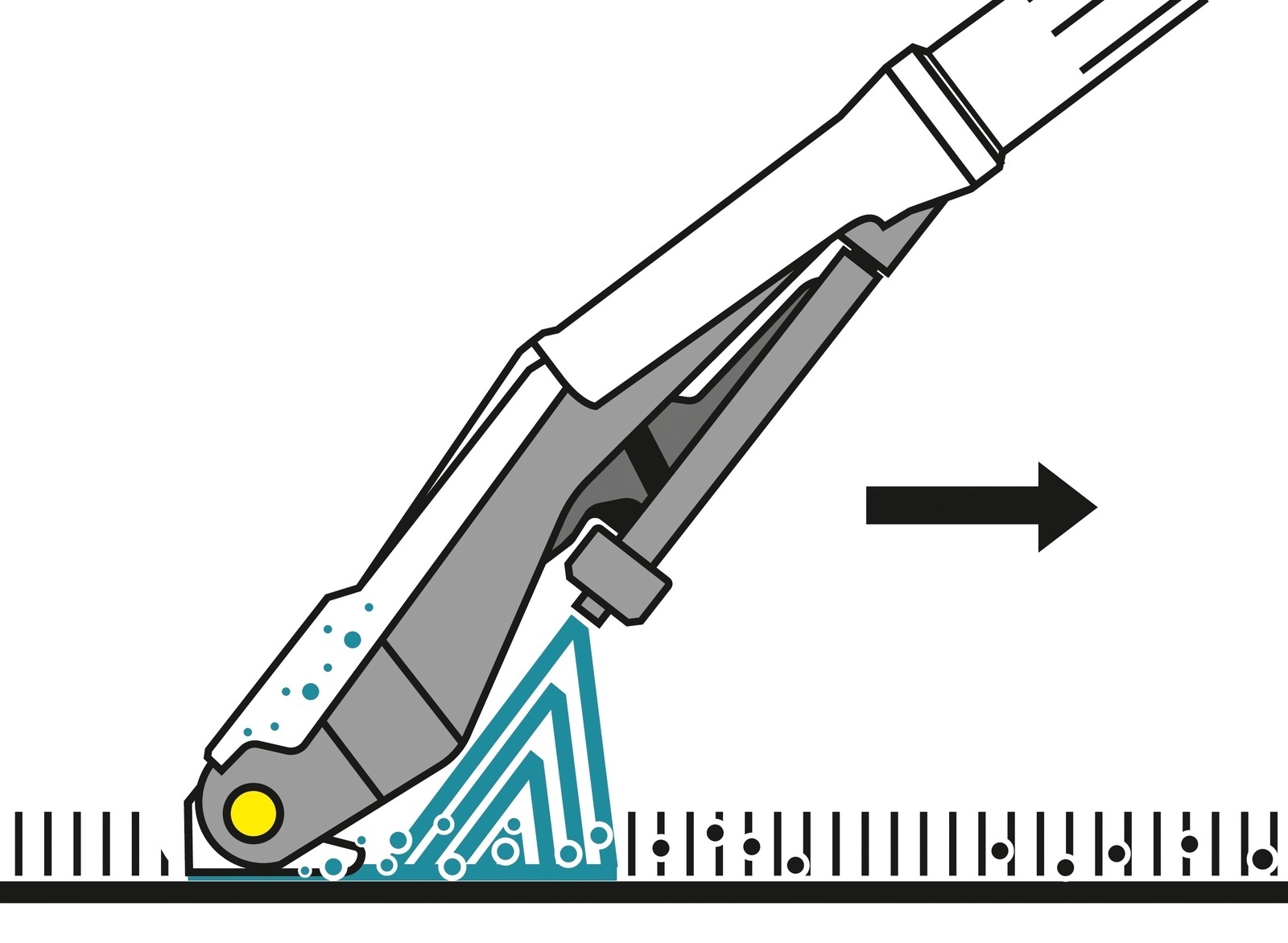 What spray extraction methods does Kärcher offer?
Depending on the degree of soiling, available time, and material, spray extraction devices are used in different methods.
Single-stage cleaning
In the pure, single-stage spray extraction process, the cleaning solution, consisting of water and detergent, is sprayed into the coating under pressure using the spray nozzle of the spray extraction machine. Simultaneously, the dissolved dirt is immediately vacuumed up in the same step with the suction nozzle of the device as a dirty solution. This method is used in both basic and interim carpet cleaning, as well as in the deep cleaning of upholstery.
Two-stage cleaning
In the two-stage process, the cleaning solution is applied section by section in the first step using the spray extraction machine or a pressure sprayer. After allowing it to work, the dirty solution is rinsed out with the spray extraction machine and clear water. This method is particularly suitable for deep cleaning, especially for heavily soiled fitted carpets or upholstery.
Combination methods
Here, the carpet is wet-shampooed with a cleaning agent and a single-disc machine. Afterwards, the treated area is thoroughly rinsed with clear water using the spray extraction method. This cleaning method is not suitable for upholstery.


Which textiles can be treated with Kärcher carpet cleaner?
All textile coverings are suitable, whose substrates, adhesives or fixatives are both colourfast and resistant to moisture and solvents. You should test whether this is the case in an inconspicuous place, e.g. on the underside of a chair or the carpet under a cupboard. However, only decide whether the carpet cleaner is suitable for your project when everything is dry again. You should also check beforehand whether the carpet backing and carrier materials neither shrink nor bleed colour. Absorbent, usually foamed carrier materials lead to longer drying times. Of course, the visible surface must be colourfast and consist of suitable fibre types.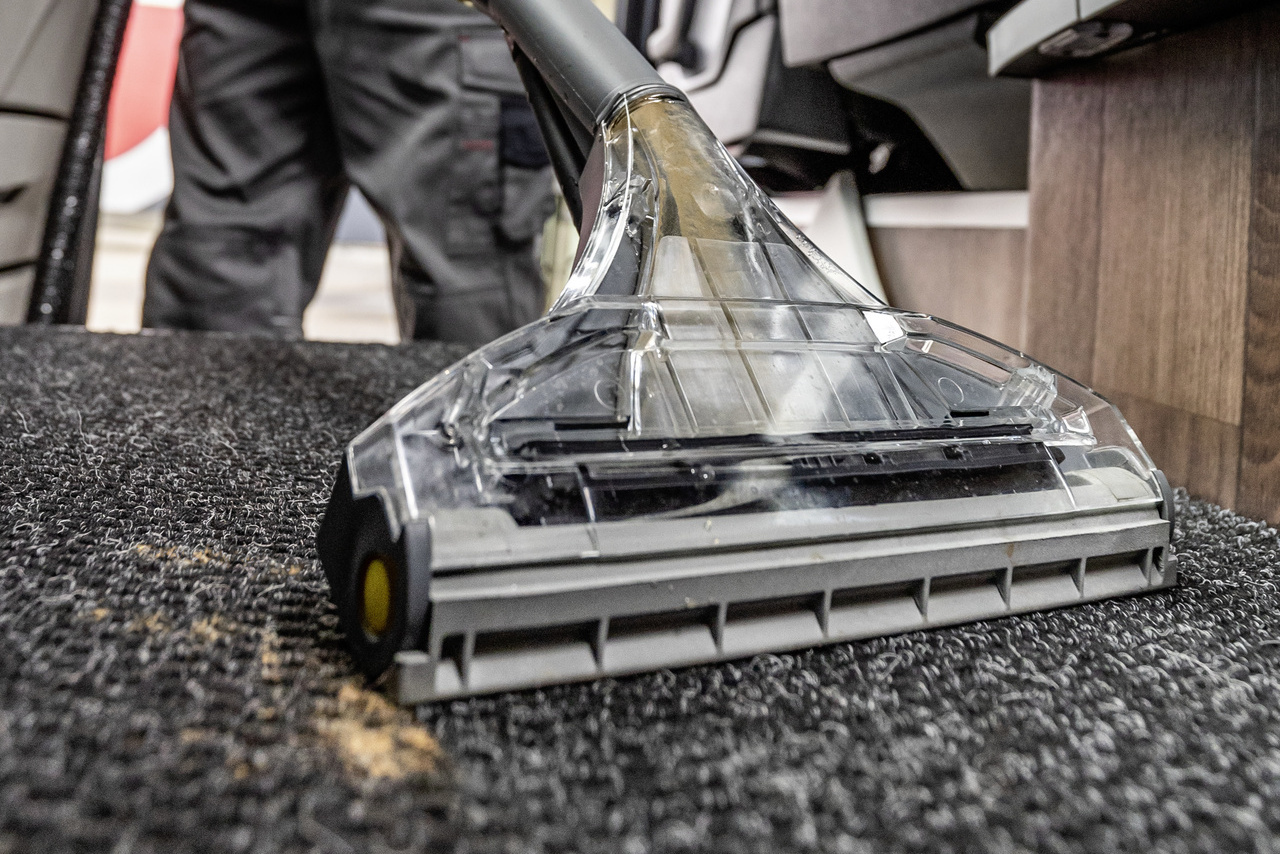 Cleaning agents for cleaning carpets and upholstery
The Kärcher system has all the prerequisites for deep-acting and material-friendly treatment of carpets and upholstery. The cleaning devices work particularly powerfully with the Kärcher liquid detergents specifically designed for them, which have a quick-dry formula suitable for carpeted floors, rugs, upholstery, car seats and other textile surfaces. The result is visible cleanliness and a pleasant room fragrance, short drying times and quick accessibility.
Go to cleaning agents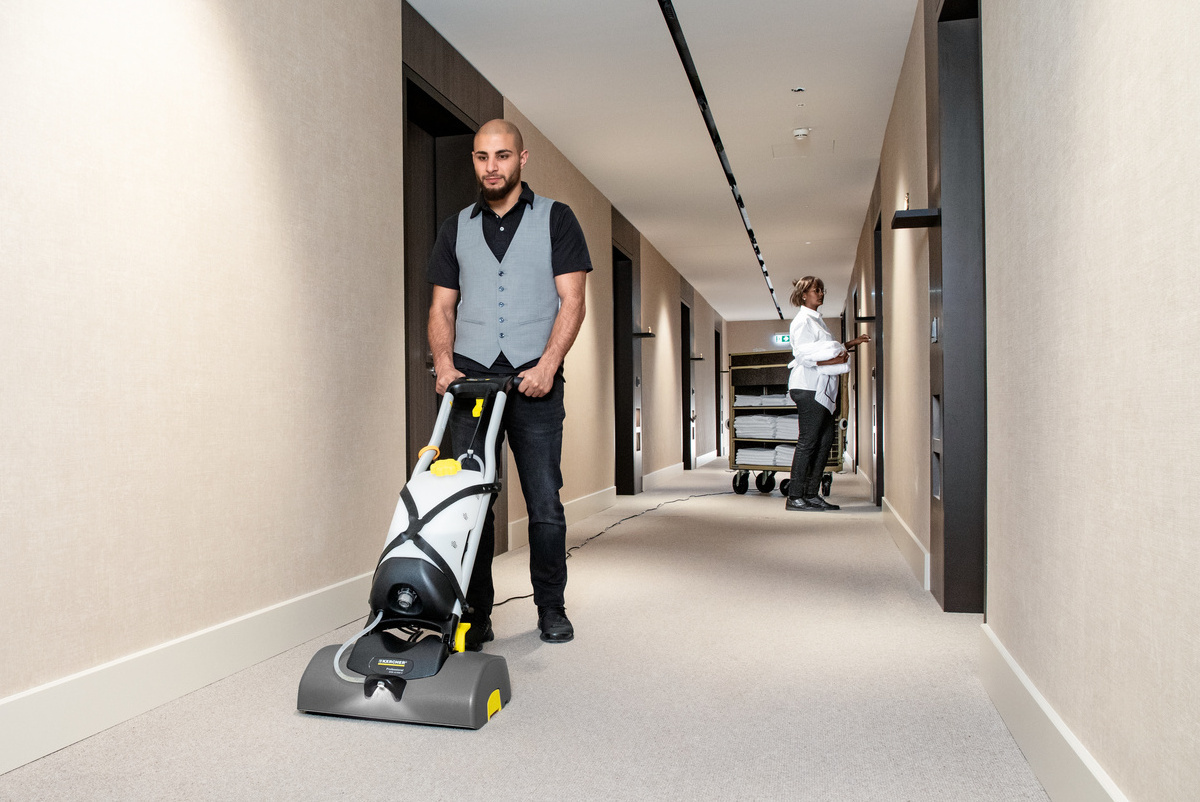 iCapsol-Technologie
Kärcher has developed the iCapsol Encapsulation Technology specifically for uncomplicated and effective intermediate cleaning. It gets to the bottom of the dirt, dissolves it deep within the fabric, encapsulates it, and then thoroughly removes it.
Kärcher Carpet Cleaner - wherever professionals ensure freshness and hygiene.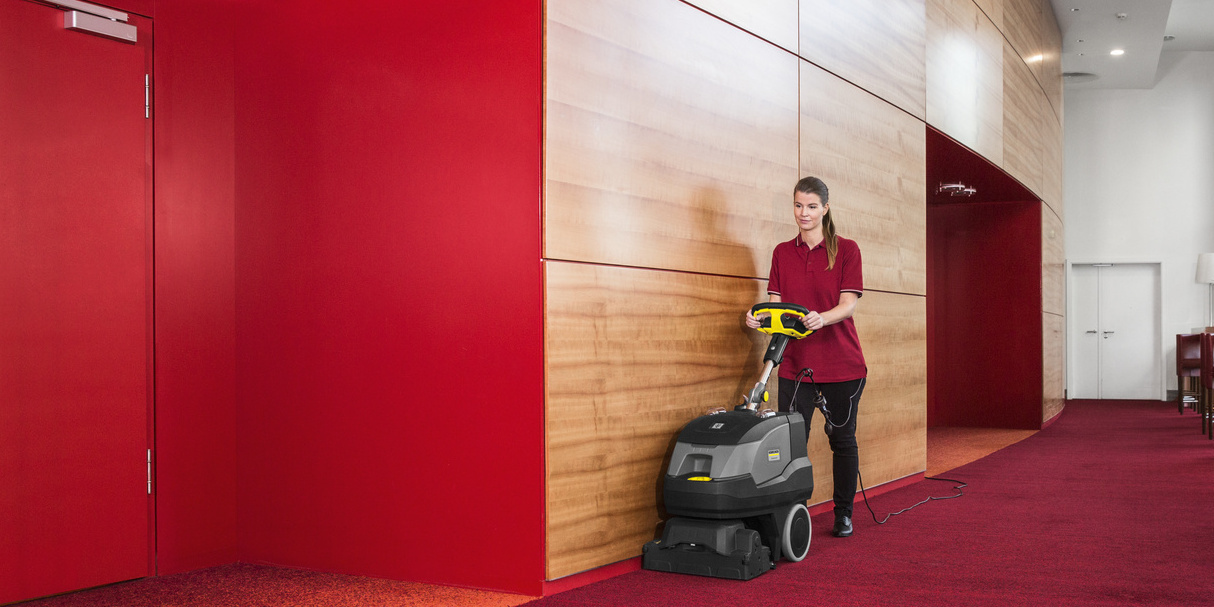 Public buildings
Busy public traffic places high demands on daily cleaning, a clean appearance, and value-preserving maintenance.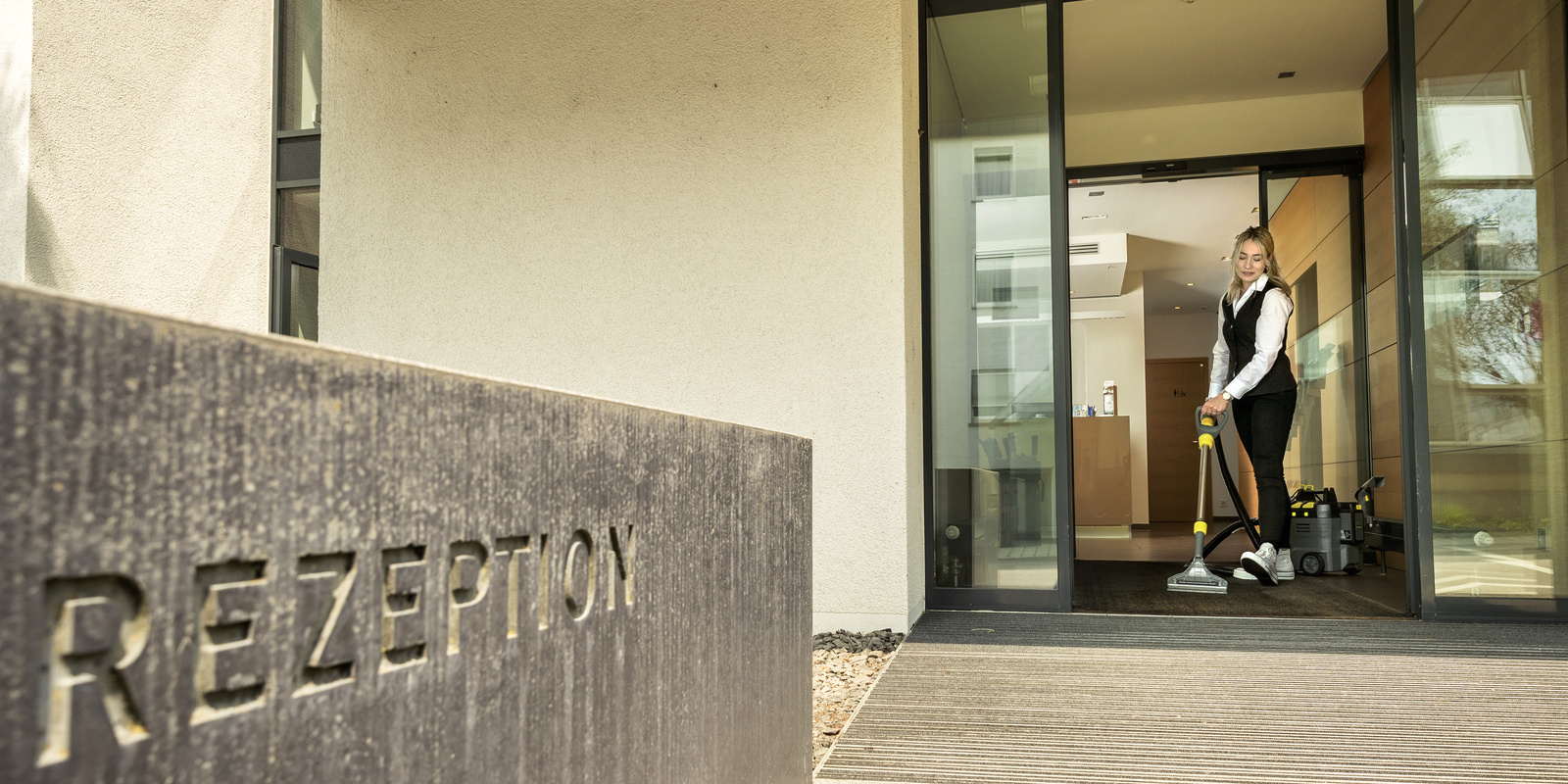 Hotel and gastronomy
Cleanliness and freshness are a mandate of hospitality. With high demands for comfort and economy.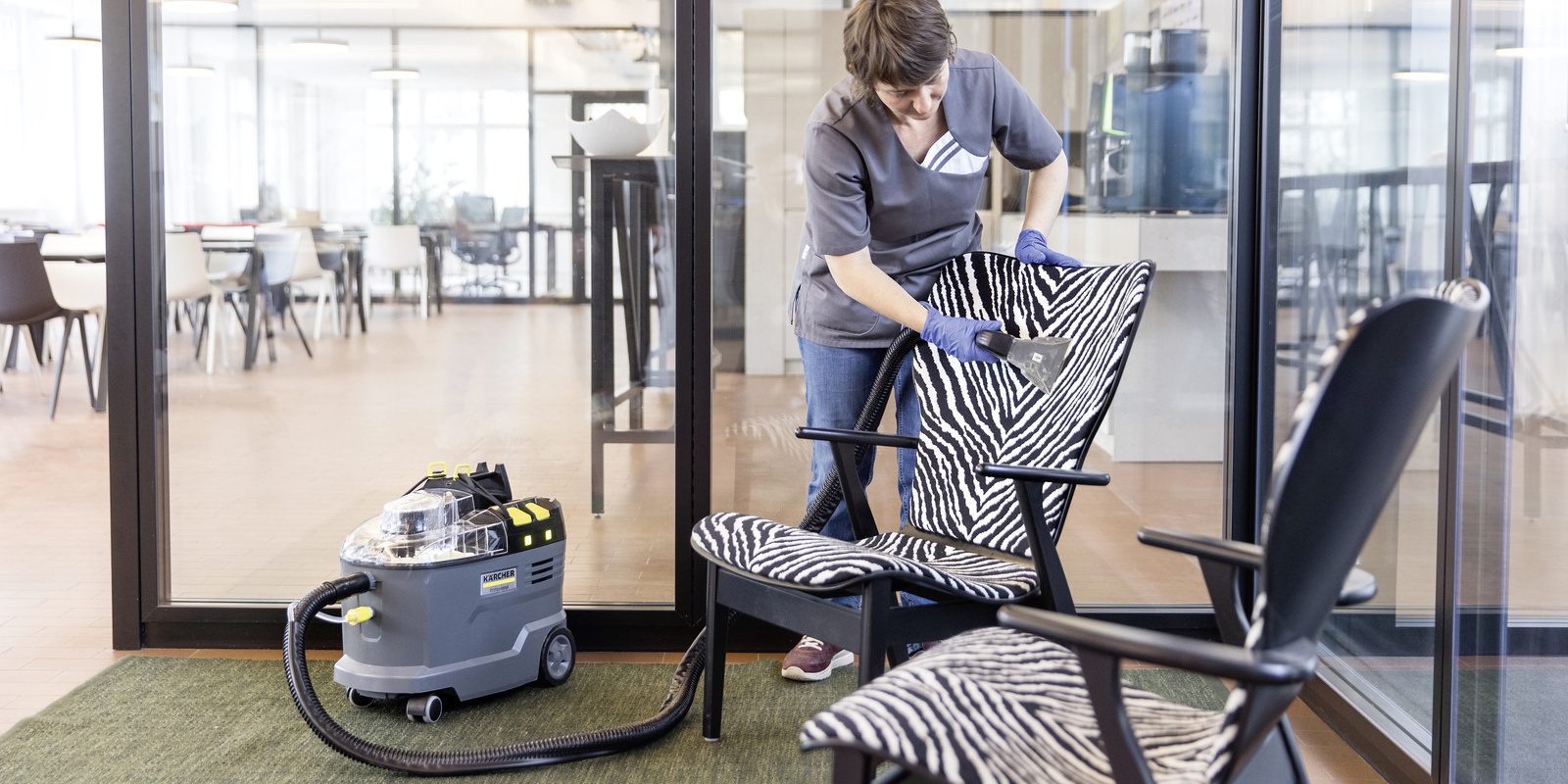 Offices and business premises
The reduction of pathogens and allergens in the workplace protects employees from illness. Deep carpet cleaning contributes to a hygienic working environment.
Unique worldwide: The first battery-powered washing vacuum cleaner
Wirelessly flexible - that's the selling point of the Puzzi 9/1 Bp, the only professional battery-powered spray extraction device on the market. The powerful 36V battery features an LCD battery display and shows remaining runtime, remaining charging time, and battery capacity in real time. The battery is compatible with all devices on the 36V Kärcher Battery Power+ battery platform.
Learn more