Battery barrel pump
Convenient and eco-friendly watering: Use collected rainwater from a water butt, pond, or IBC container with the flexible battery barrel pump – without needing a tap, power outlet or watering can.
No need for a water connection
The cordless barrel pump is self-sufficient: The device does not need a separate water connection, but instead uses rainwater collected in a water barrel water butt or IBC container. This means that you can water your flowers and vegetable beds in allotments, for example, without needing a water connection.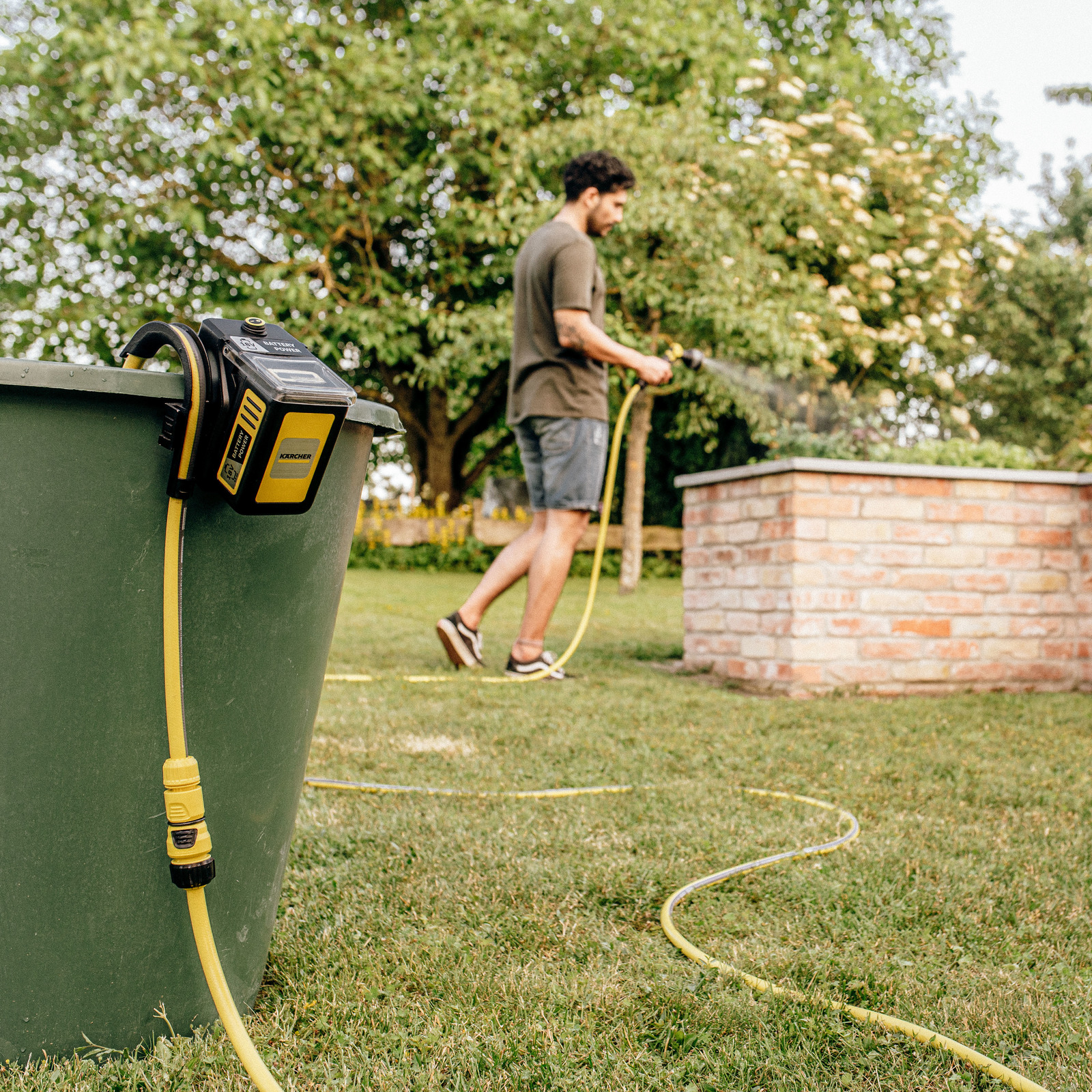 No need for a power supply
Powerful battery instead of a cable: The barrel pump is battery-operated and does not need a power supply. This enables much more flexibility: On corded products, the area of use is limited by the cable length. By contrast, the barrel pump allows cordless watering even in places where there is no power supply.
Convenient
More efficient, more ergonomic, simpler: Compared to a watering can, the rain barrel pump offers significantly more convenience. The switch is level with the edge of the barrel, so there is no need for the user to bend down. Carrying heavy watering cans is also a thing of the past as the water is taken directly from the barrel and can be used for watering via the garden hose and garden sprayers.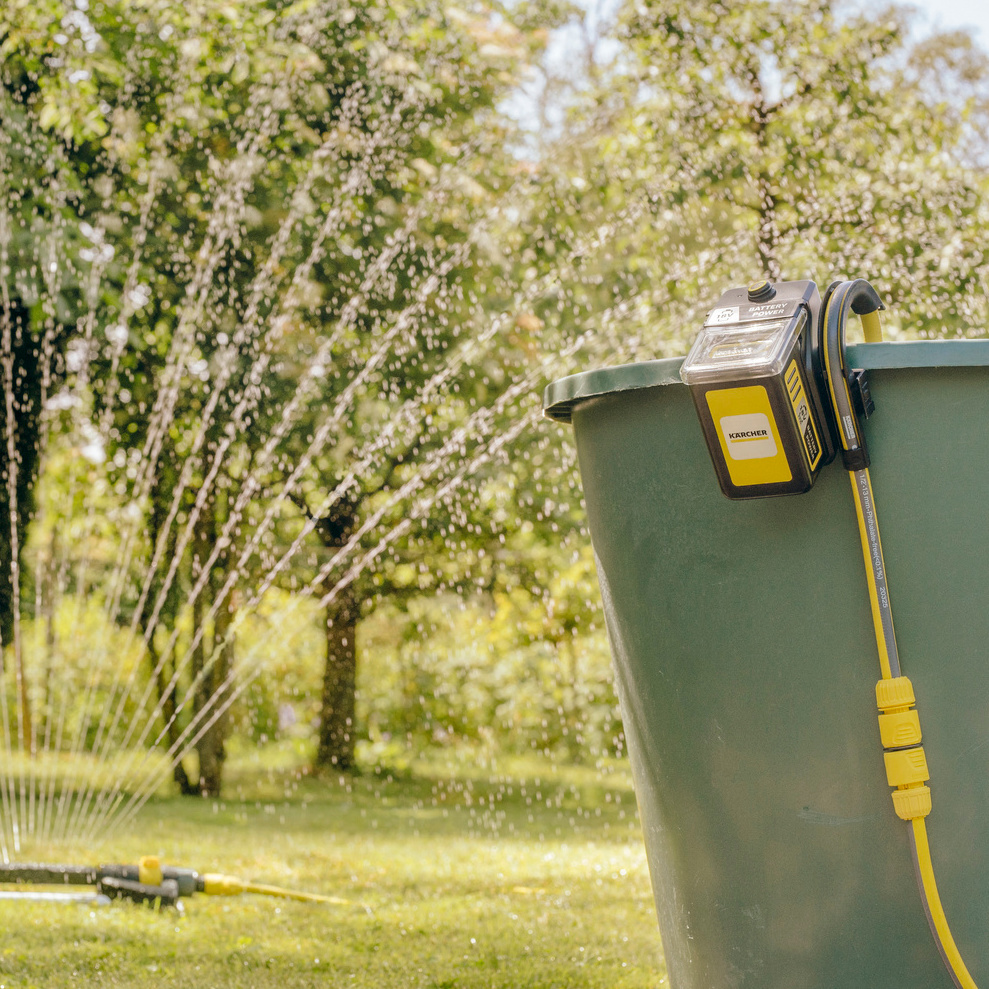 Water-efficient
The barrel pump also fits through narrow openings such as those in an IBC container. This saves time and water as the rainwater collected can be easily reused.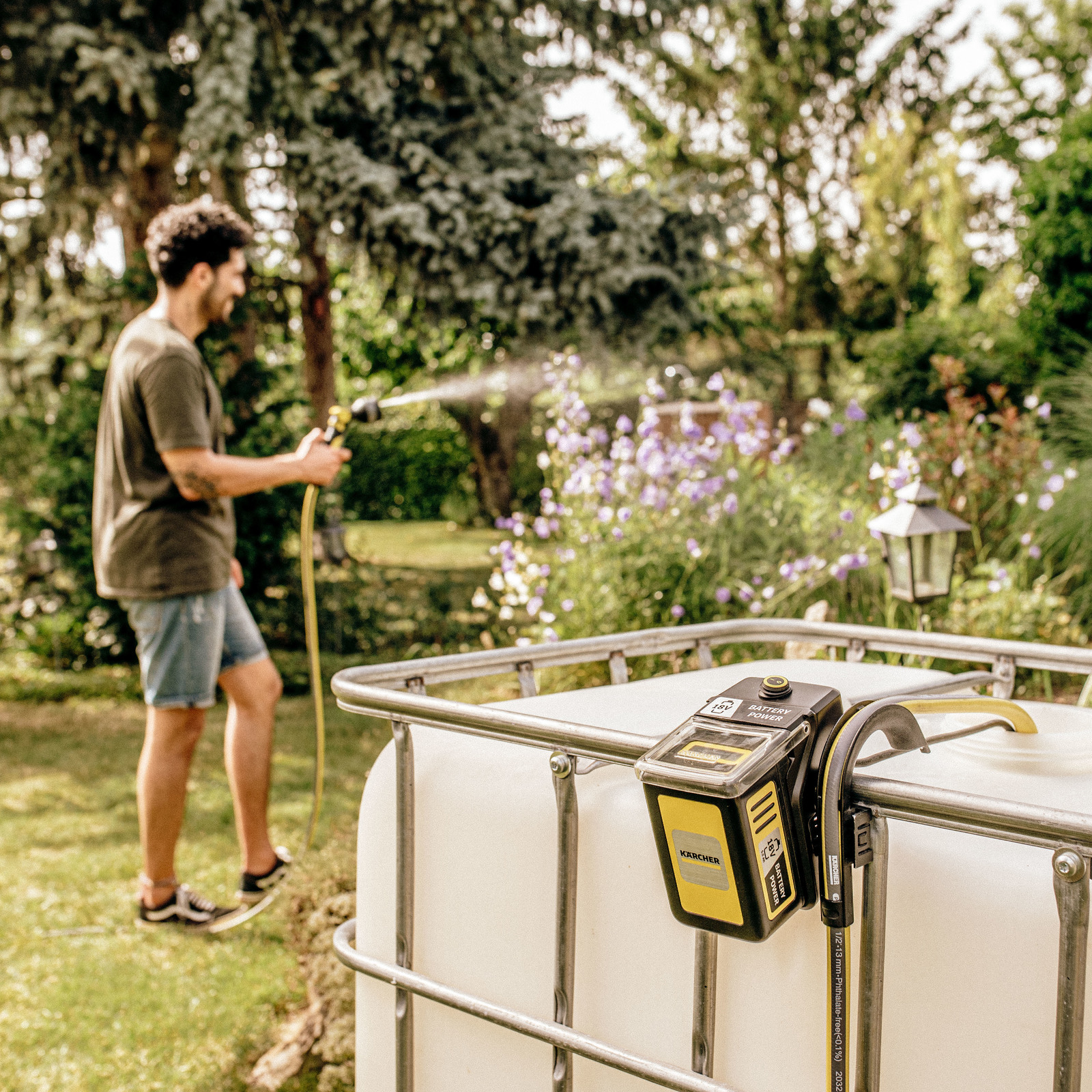 Battery barrel pumps are ideal for efficiently watering vegetable beds and flowers with rainwater from a barrel or IBC container. Possible use:
Rain barrel
Water butt
IBC container
Typical application areas of battery barrel pumps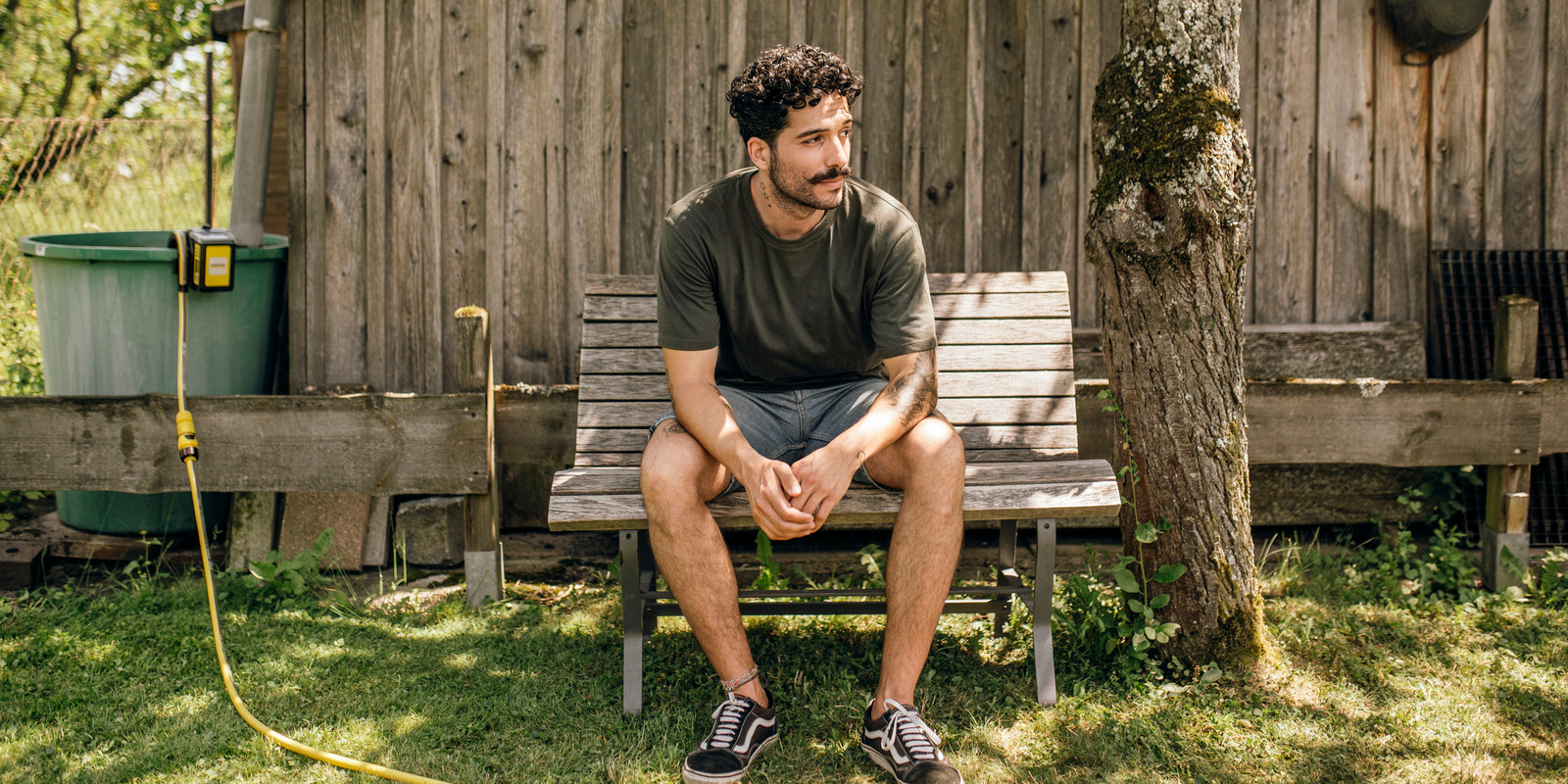 Allotment garden
Older plots in particular often do not have electricity. Those who need to water regularly can make garden watering much easier with a battery-powered rain barrel pump.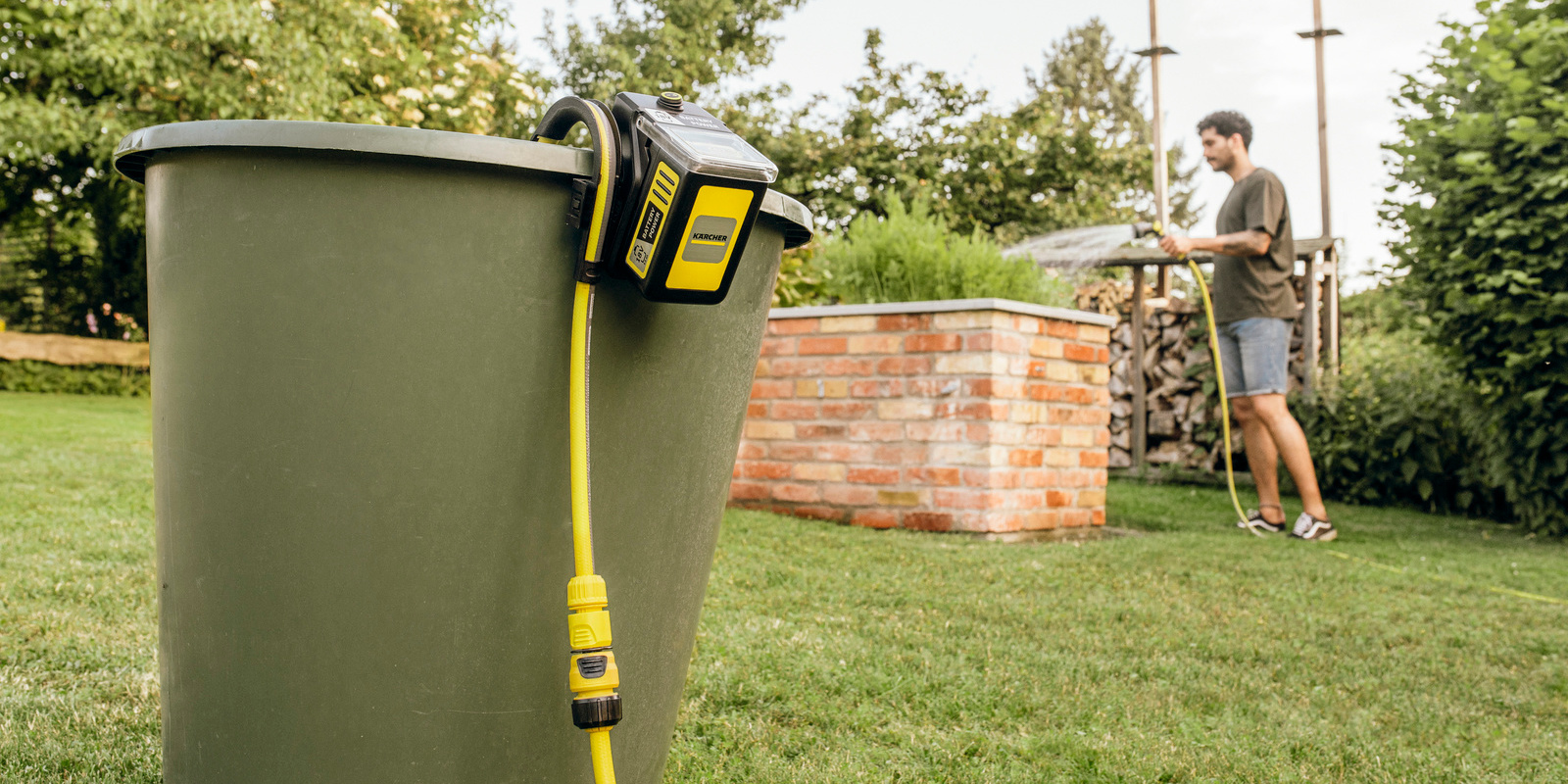 Vegetable and herb garden
To ensure that the vegetable patch and herb spiral next to the terrace or in the garden behind the house thrive, they can be watered in a plant-friendly manner with limescale-free rainwater using a rain barrel pump.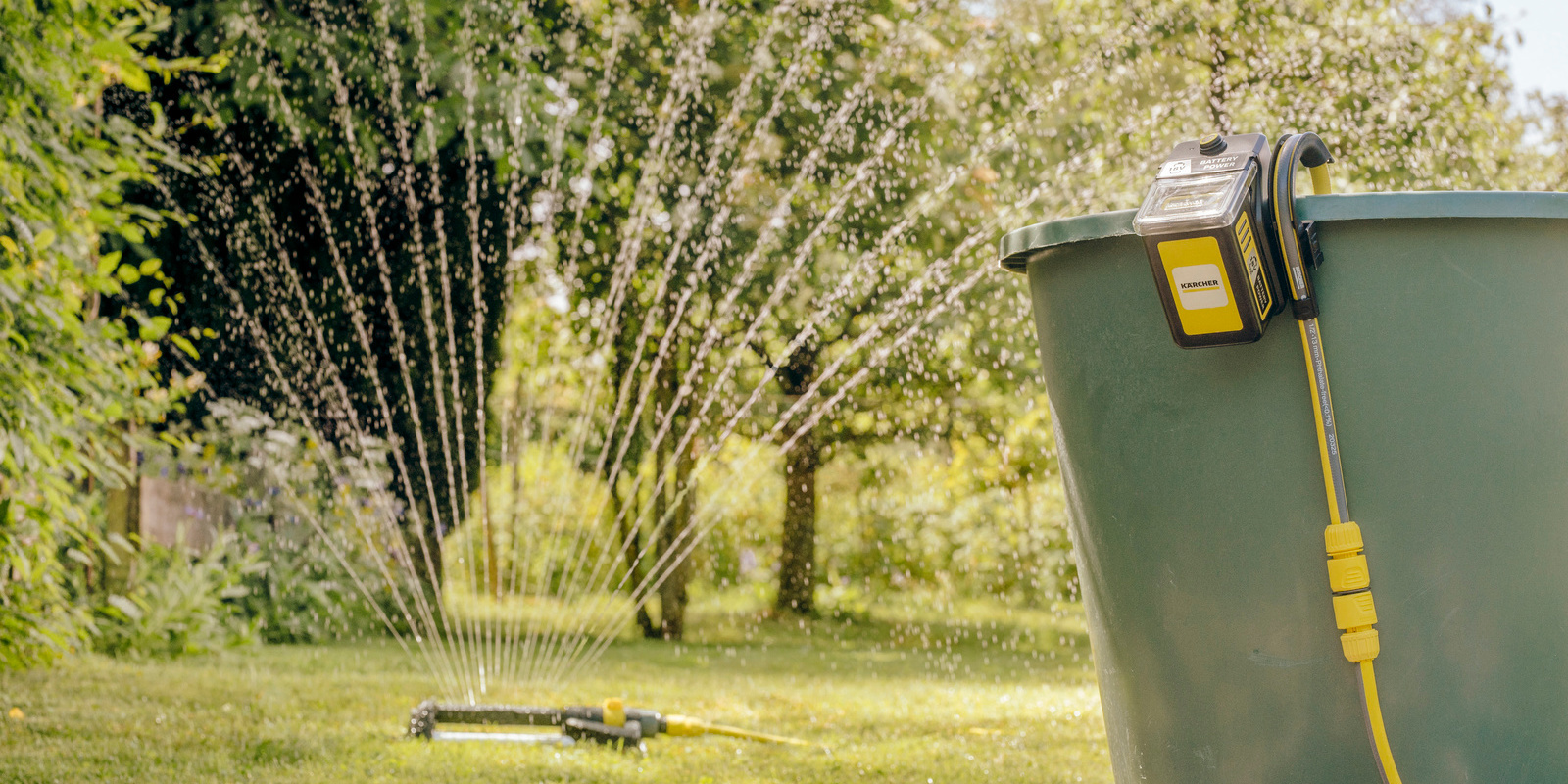 Lawn watering
The cordless barrel pump is also suitable for watering larger areas such as lawns. The water from the rain barrel offers a resource-saving alternative to tap water.
Highlights
For garden owners that are sick of hauling a heavy watering can up and down the garden but don't have a power outlet, the BP 2.000-18 Cordless Barrel Pump was made for you. It can be operated with any Kärcher 18 V Battery Power battery, so you can use alternative water sources wherever you wish, even if there is no power connection available in the garden. This not only saves valuable drinking water, but also saves you from straining your back and wallet – ideal for small gardens, cottage gardens, allotments, and anywhere where there is water and thirsty plants, but no power supply.
Battery barrel pump features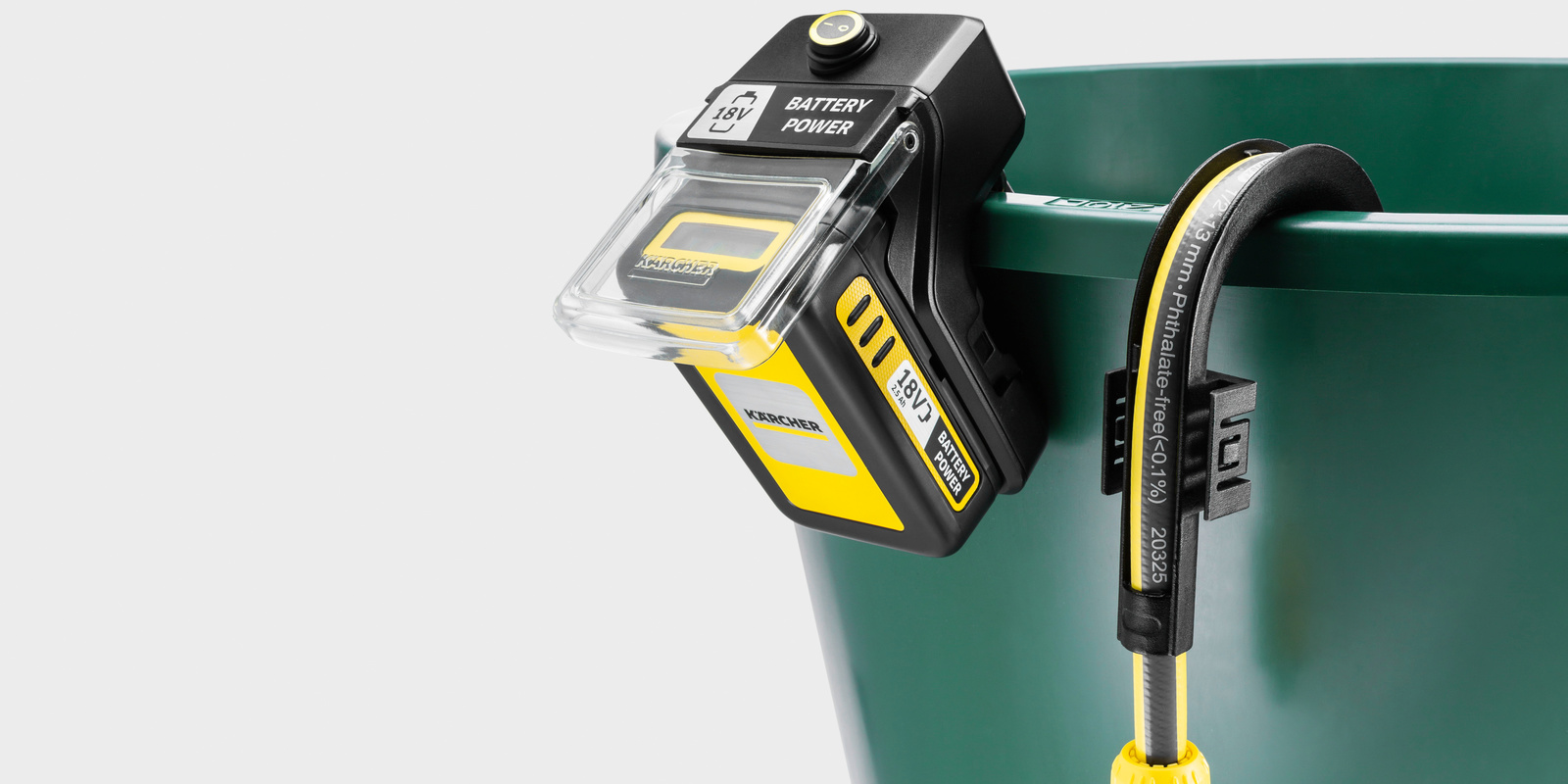 Immediately ready for use
The cordless barrel pump is the convenient alternative to the watering can and is ready to use in just a few steps.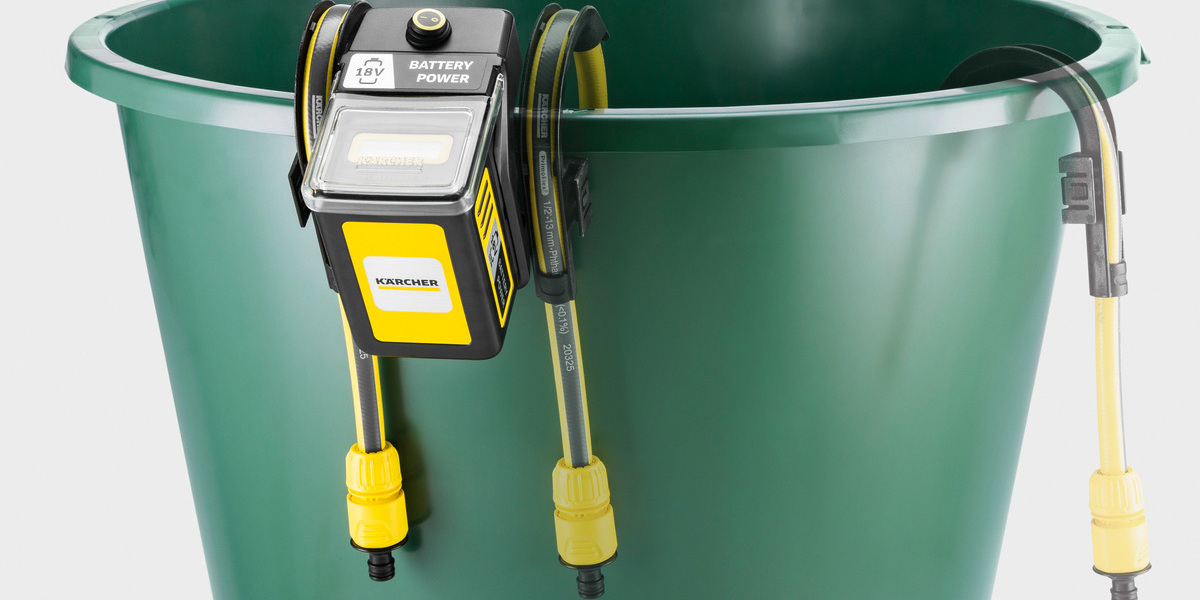 Variable hose position
The hose system can be attached to the water source in three positions.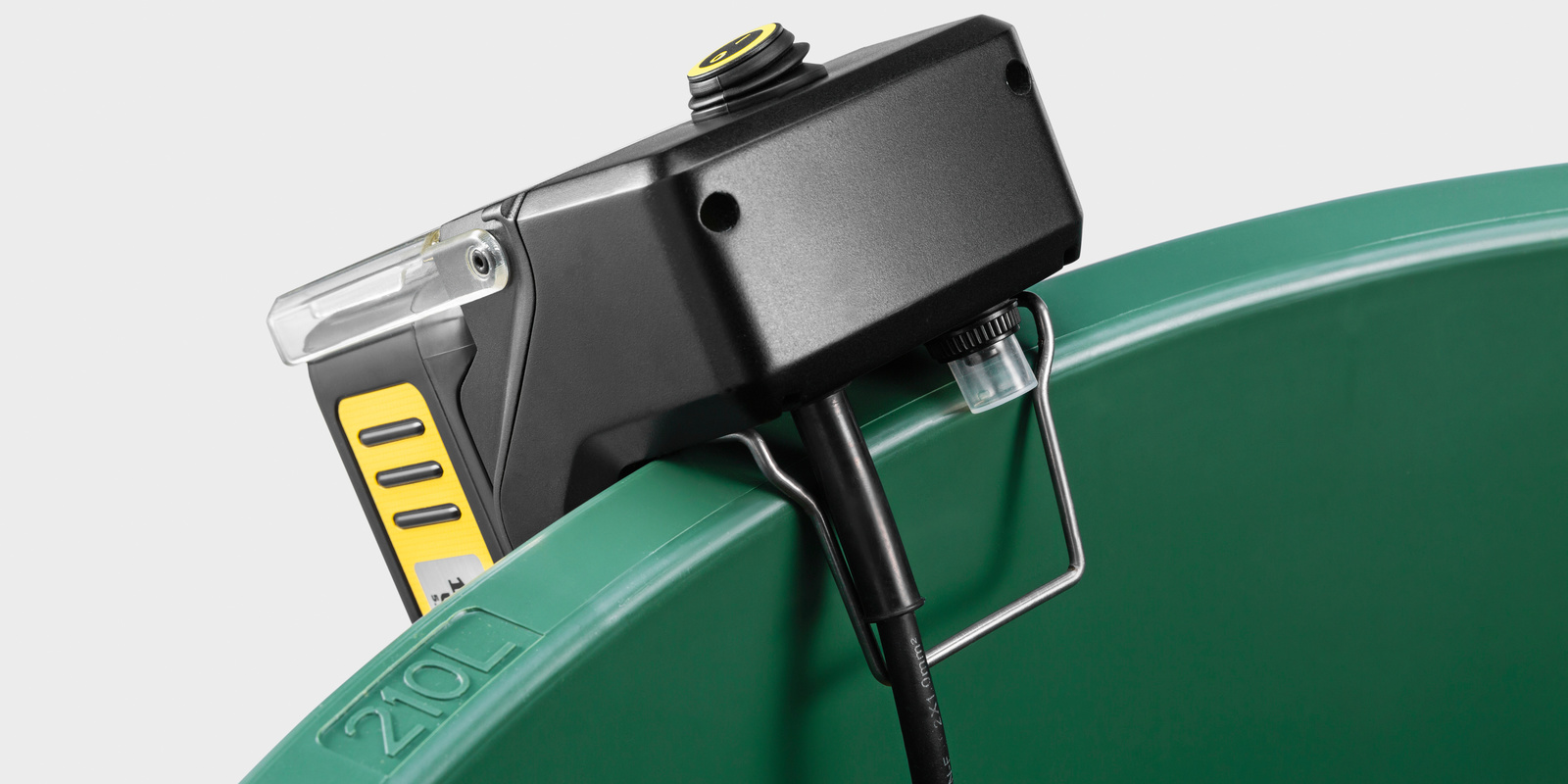 Safety and comfort
The battery unit bracket is placed at the top of the rain barrel so that it cannot come into contact with water. The barrel pump has flexible barrel rim mounting to ensure a secure hold.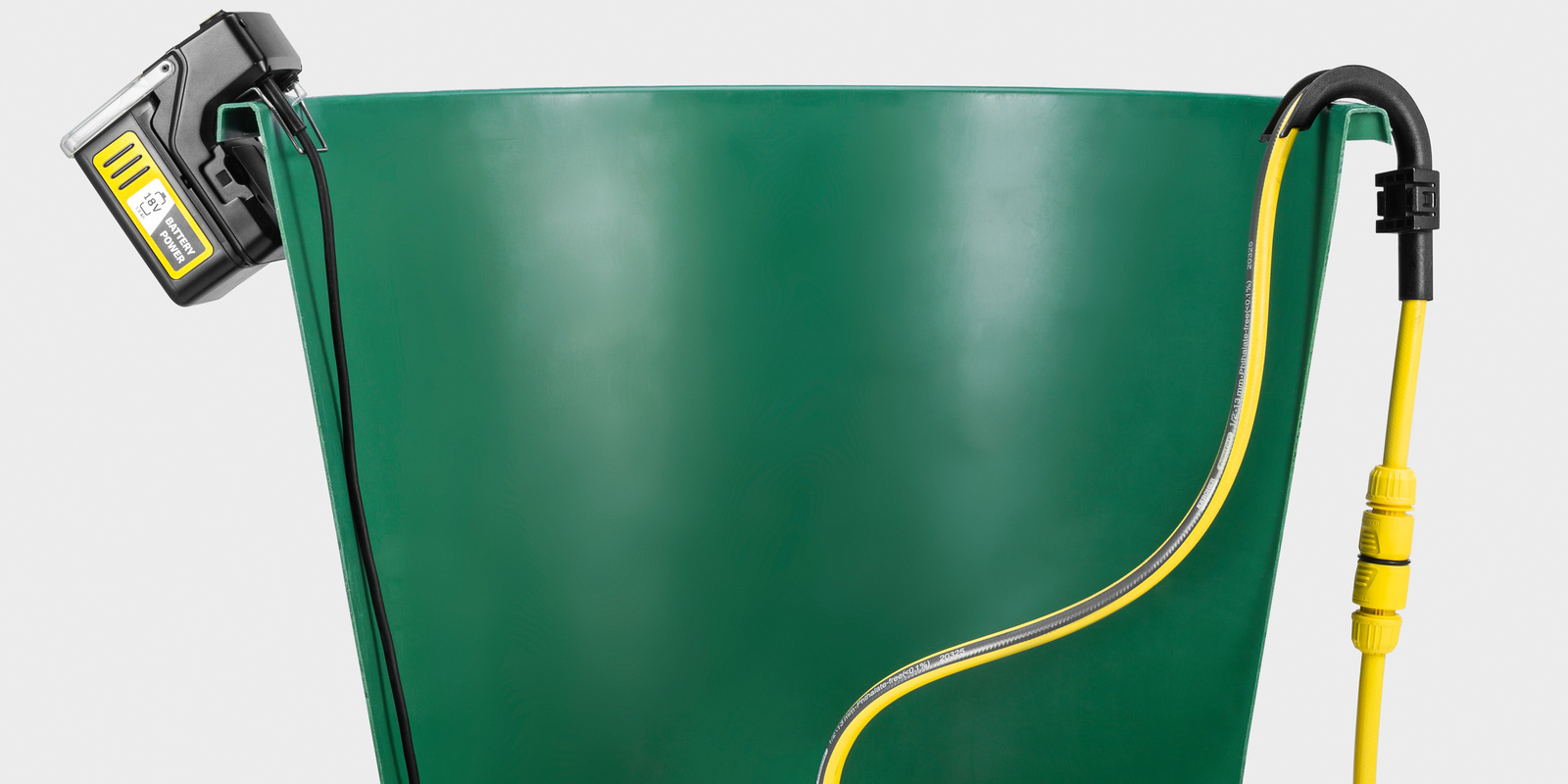 Hose guide
The hose guide on the edge of the barrel ensures that the garden hose is not kinked or damaged by any edges.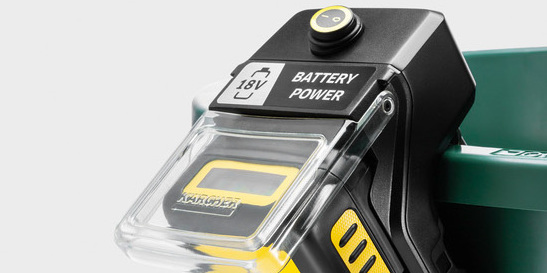 Practical and energy-saving
Thanks to the integrated switch on the barrel rim attachment, the cordless barrel pump can be switched on and off at any time. This saves energy.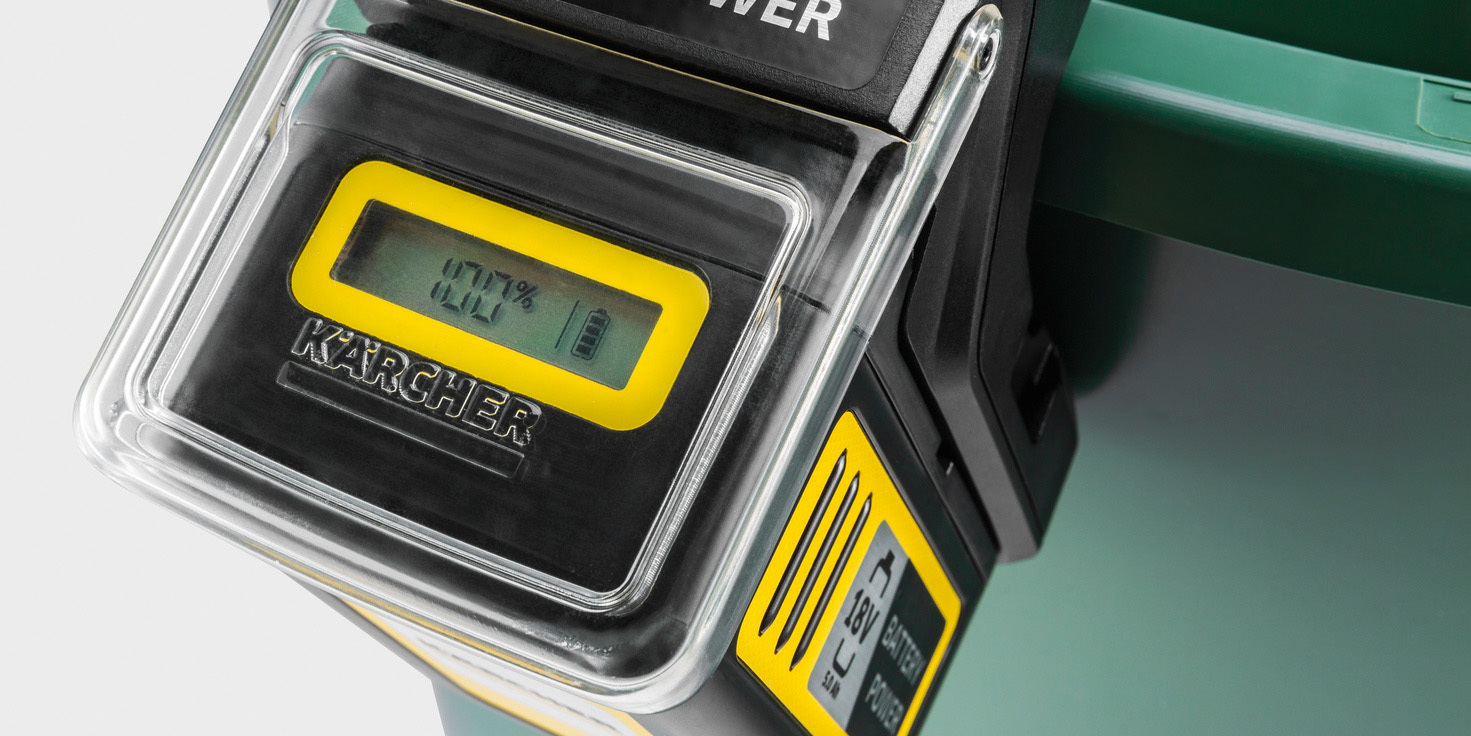 Transparency is important!
The transparent cover over the display means that the battery level can be read at any time.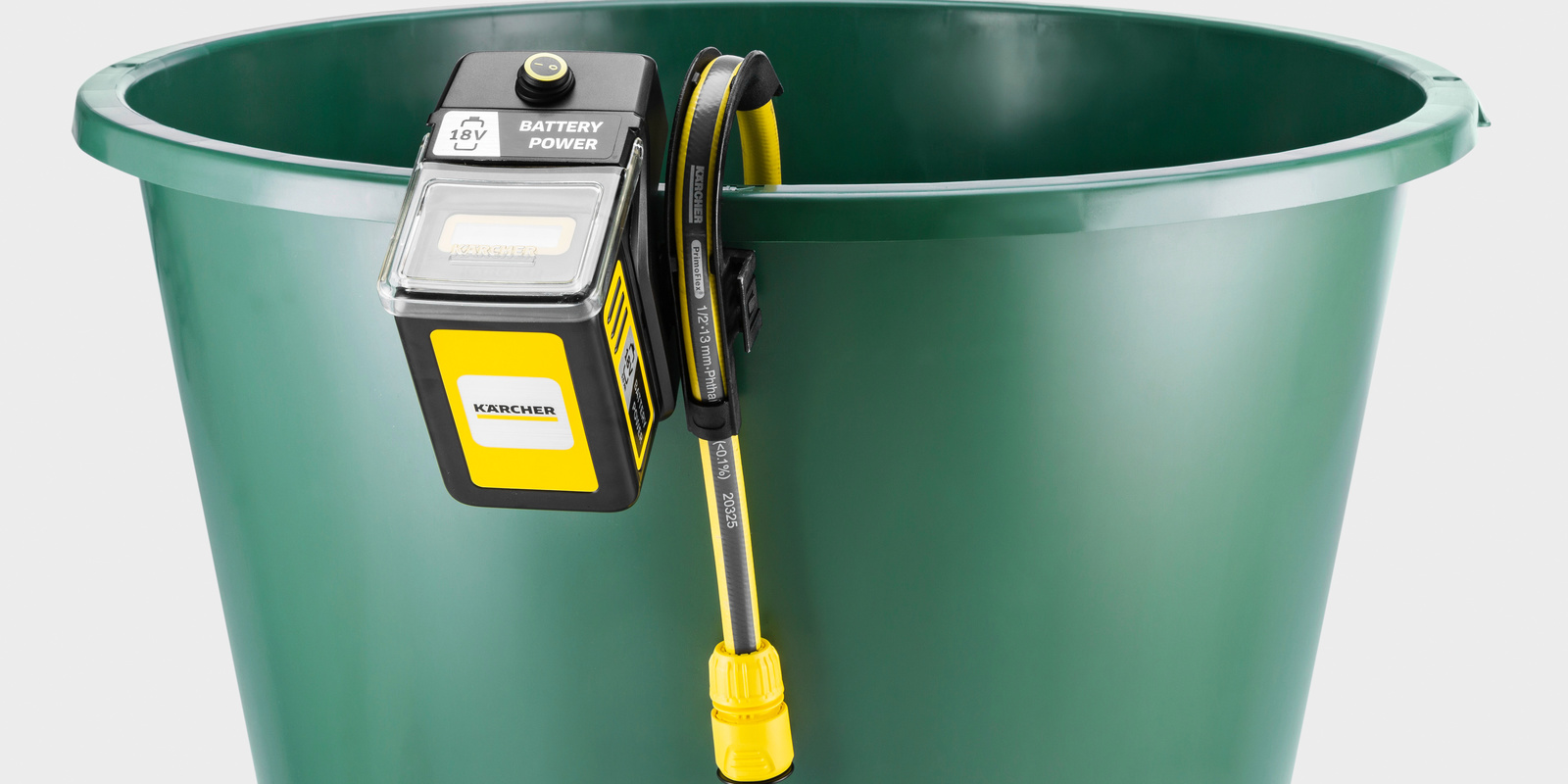 Innovative and convenient
Kärcher cordless barrel pumps are equipped with a hose whose length can be adjustable and a pre-filter.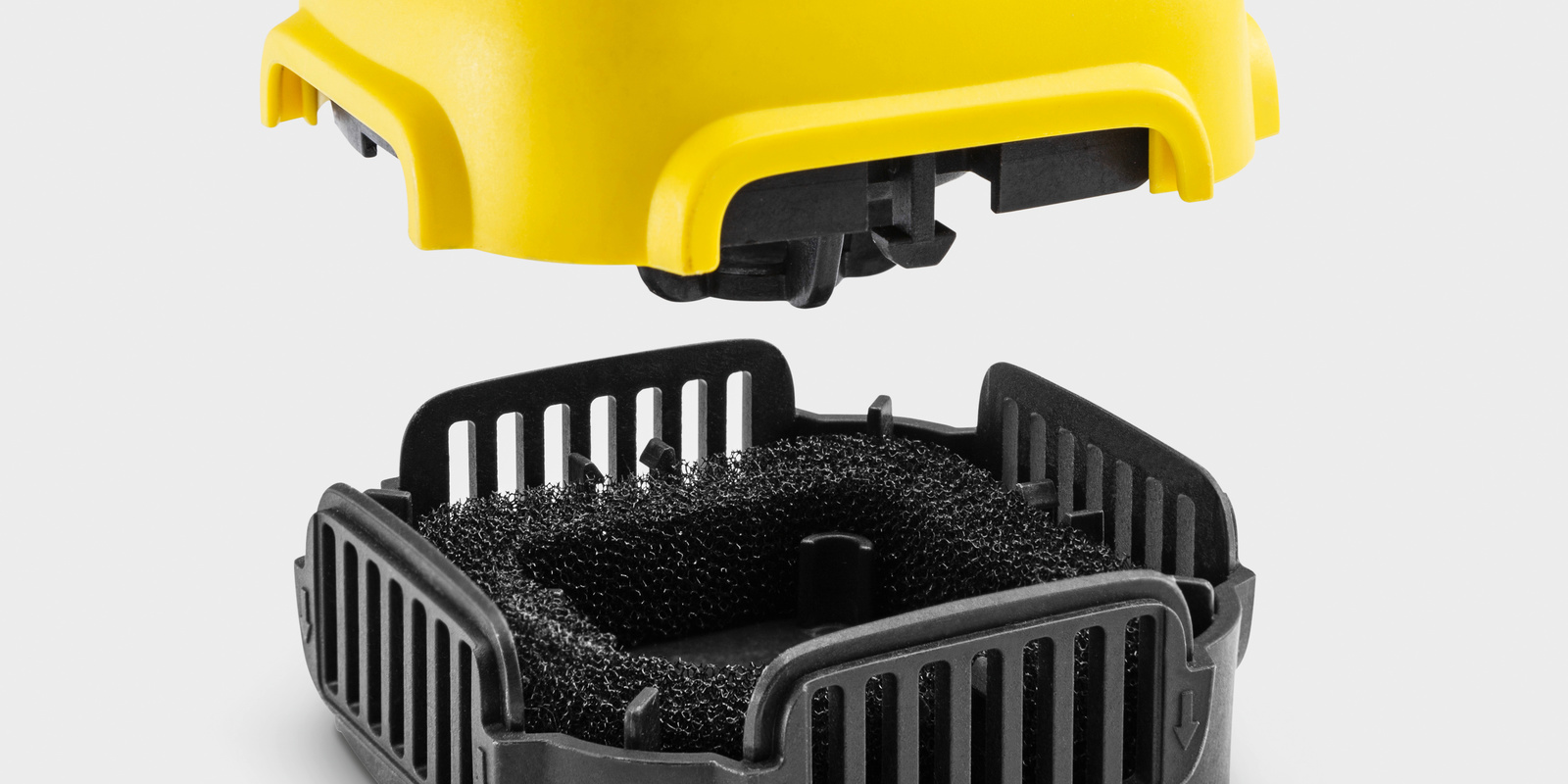 Removable filter system
The pre-filter prevents dirt particles from being sucked in, ensuring trouble-free operation. If the pre-filter gets dirty, it can be cleaned in a few simple steps.
FAQ for the battery barrel pump
Kärcher Battery Power battery platform
The battery barrel pump is a product in the 18 V Kärcher Battery Power battery platform. Discover the entire product range and see which other products are compatible with your 18 V Battery Power battery.