Cleaning the bathtub and shower
Over time, stubborn dirt accumulates on the ceramic, tiles and shower enclosure in the shower and bathtub. This "soap scum", as it is known, is formed from the combination of water containing lime and soap, and often can't be removed with commercially available detergents. But with the right devices and a few tricks, you'll be guaranteed success.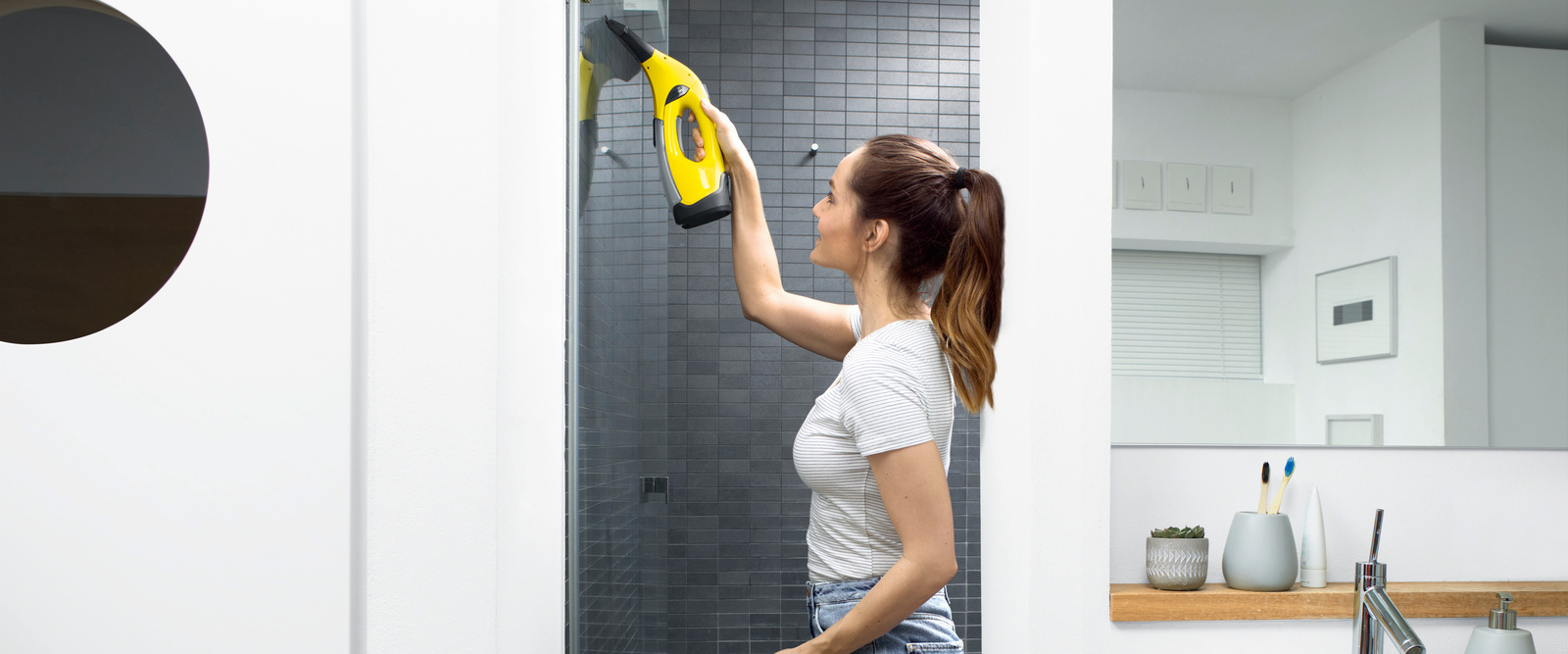 How does soap scum form?
Soap scum forms when fatty acids in conventional soap react with the minerals in hard water. Using care products such as shampoo or shower gel in the bath or shower causes this deposit to build up gradually, forming a greasy, slightly oily-looking coating on tiles, ceramic, glass and plastic surfaces. Water on its own is not enough to get rid of it and, even after cleaning with standard detergents, there is still often a slightly oily layer left on the surface. A special detergent is your best option here. If you'd prefer to avoid that, stubborn dirt can also be tackled with the steam cleaner or household remedies.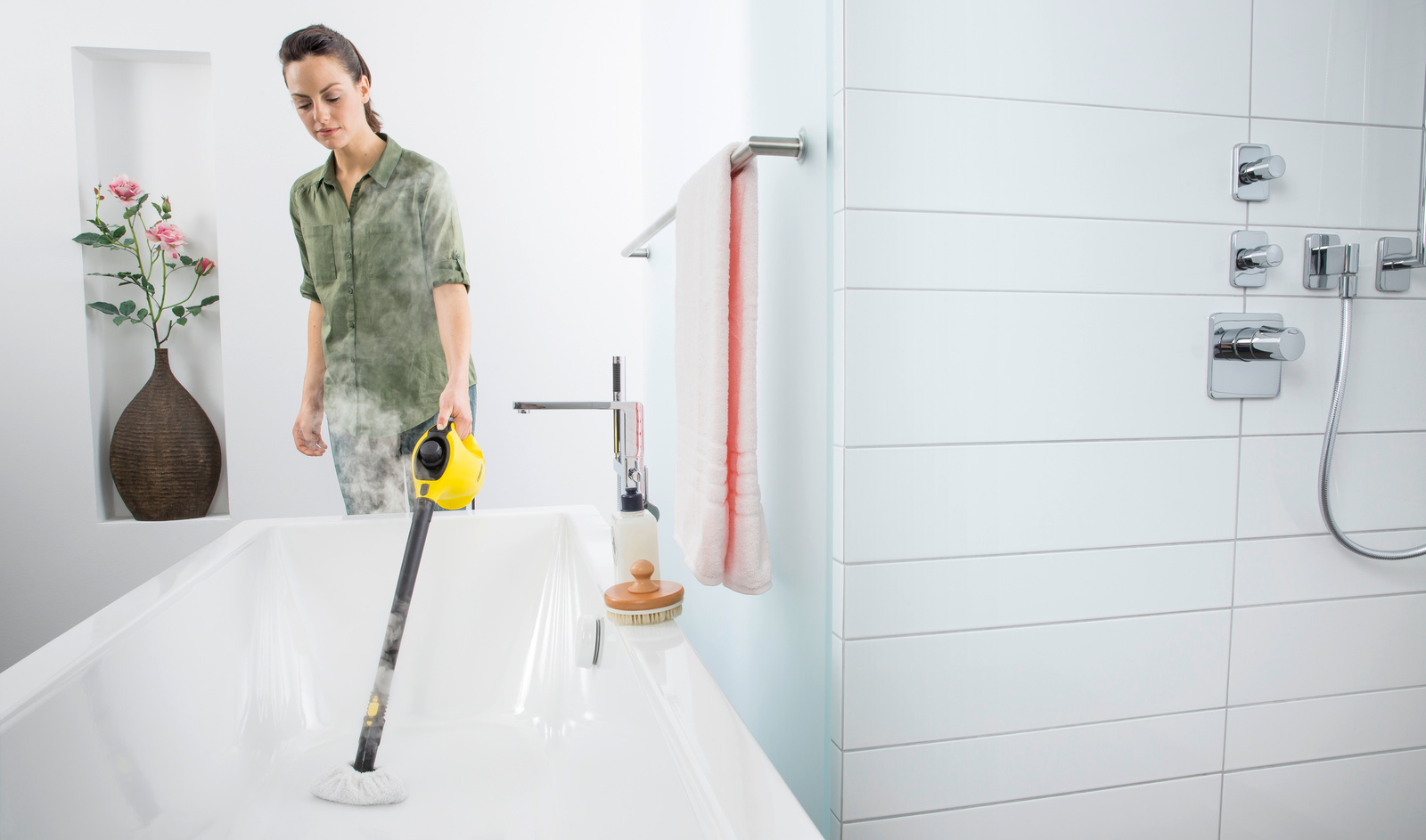 Removing soap scum with a steam cleaner
Soap residue and dirt in the bathtub and shower can be removed in a very gentle way with hot steam. A steam cleaner can also be used on all surfaces, even stone tiles, so the whole shower cubicle or bathtub, including fittings, can be cleaned in a single step.
And this is how it works:
Use the hand nozzle with microfibre cleaning cloth to clean; a microfibre abrasive cover can be used on surfaces that are not delicate.
While releasing steam, rub the hand nozzle over the dirty areas on the tiles, glass surfaces and ceramic. The soap scum is dissolved and absorbed by the microfibre cloth. To deal with larger areas, you can also use the floor nozzle to speed up the process even more.
Clean fittings using a small round brush while releasing steam to remove lime deposits.
The drain can be cleaned with steam too, if necessary.
After cleaning all the surfaces, dry them with a microfibre cloth or Window Vac – and hey presto, everything is clean and sparkling again.
Effective household remedies for cleaning the bathtub and shower
Vinegar and washing-up liquid also prove to be an effective mixture to combat soap residue. Mix both together with some water in a container or spray bottle. Apply a generous amount of the mixture of vinegar and washing-up liquid to the surfaces using a sponge or spray bottle, and leave it to work for a few minutes. Next, scrub vigorously to remove the soap residue, and rinse the surfaces with clean water. Polish glass surfaces with a glass cleaner or remove the deposits by steam cleaning. The coatings of fittings are often sensitive to acids, so don't leave the mixture to work for too long and rinse with sufficient fresh water afterwards. Citric acid can be used as an alternative. Add 3–5 tablespoons to 1 litre of water, then use this to treat the surfaces. The advantage of citric acid is that it is odourless, unlike vinegar. 
Instead of washing-up liquid, you can also use baking powder or bicarbonate of soda. Add enough vinegar to form a paste. Then rub the paste over the dirty areas and leave to work for 10 to 15 minutes. Next, scrub with a sponge until the soap scum dissolves and rinse with clean water.
Caution: Stone tiles are sensitive to acids. Therefore, do not use vinegar or citric acid on them.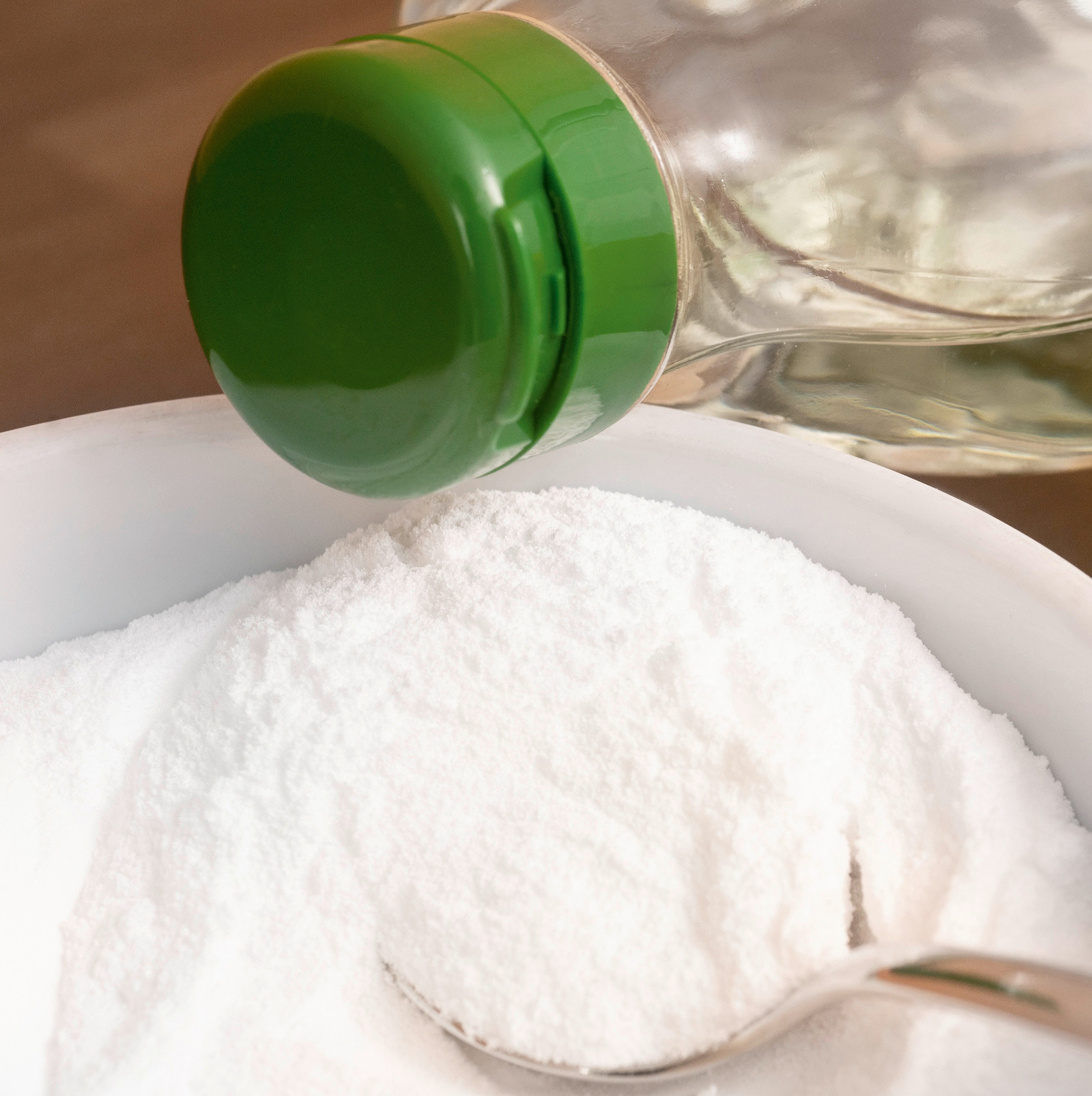 Removing soap scum with detergent
Soap scum can be removed effectively with detergent. However, there are a few things to keep in mind:
To prevent the tile joints from absorbing any cleaning agent, water should be applied to them first by wet wiping.
Excess water is then removed from the tiles to prevent dilution of the detergent concentration. A Window Vac can be used for this, for example.
Apply an alkaline detergent (undiluted) to the surface section by section using a soft, non-scratch sponge or scrubber and leave it to work for 3–5 minutes. Then scrub the surface again. Alternatively, a sanitary cleaner also works against soap scum.
Next, clean with fresh water until all detergent residue has been removed.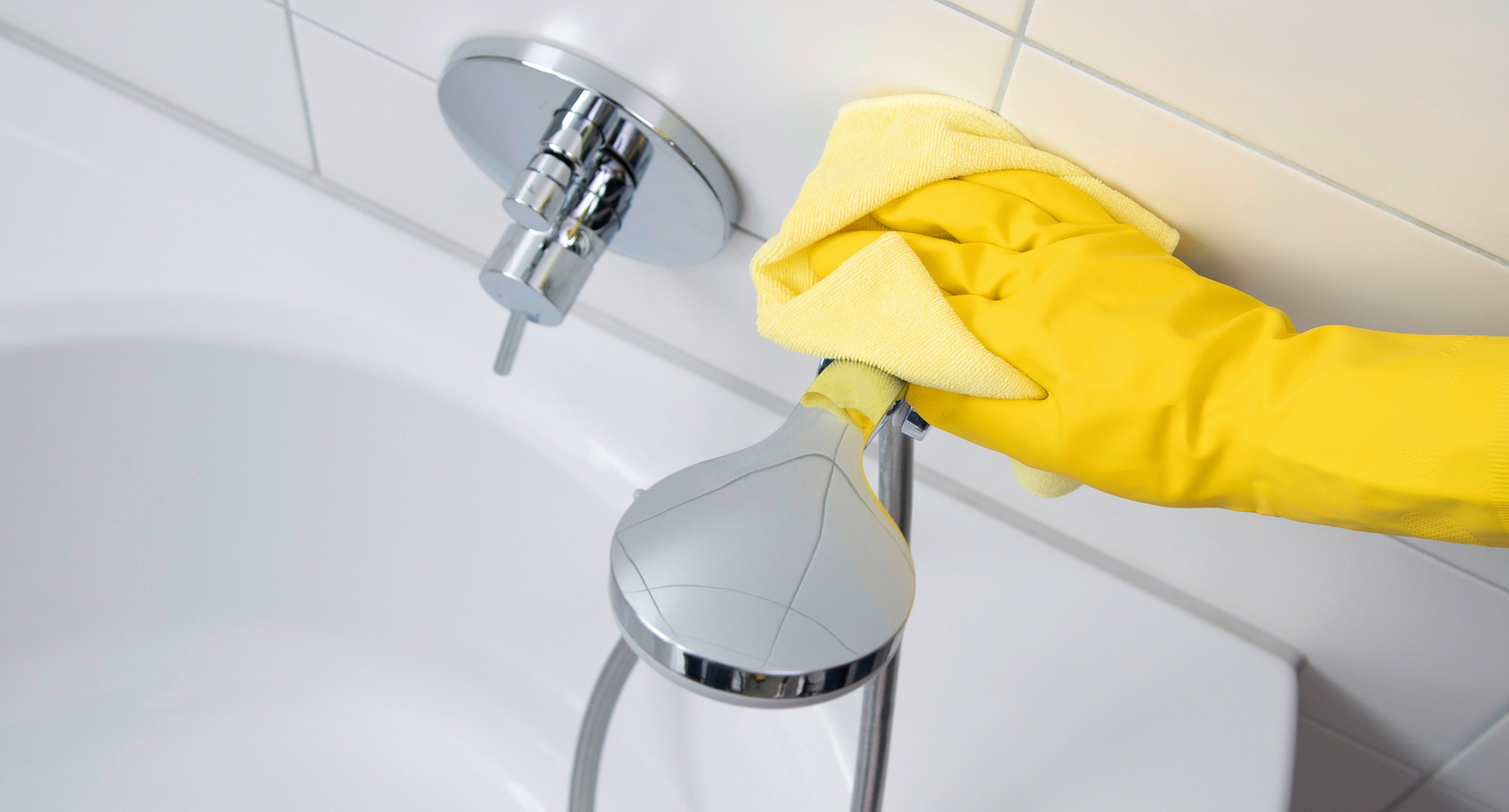 Easy to prevent: Avoiding soap residue and limescale
Removing limescale from the bathroom shouldn't be something you put on the back burner. If you clean regularly and keep a few things in mind, you can avoid having to scrub for hours at a later point. These tips will help you to prevent soap scum building up so quickly in your shower cubicle or bathtub:
Rinse all surfaces with cold water after every shower or bath. This directly removes soap residues.
Always dry the walls of the shower cubicle or bathtub after use with a cloth, a shower squeegee with a rubber lip or a Window Vac, so that residues and lime deposits don't have a chance to form in the first place.
If you have a shower curtain, shake it out and dry it after a shower.
To ensure that there is no limescale on fittings, they should also be dried with a microfibre cloth.
What's more, this also prevents mould in wet rooms.
Electrical support: A cordless wiper
A vibrating cordless wiper can be used not only to clean windows, but also to clean tiles and shower cubicles effortlessly. The detergent in the integrated tank is then applied directly via the wiping cloth, and the vibrations remove dirt from smooth surfaces without the need for tiresome scrubbing. Suitable wiping cloths are available depending on the range of application. Special tile cloths have a mixture of abrasive and absorbent fibres, which are perfect for use in bathrooms.
Suitable products for bathtubs and showers
This might also interest you: