Our path to a sustainable supply chain
Sustainability plays a hugely important role at Kärcher – and not just within our own company. We also value environmentally friendly activities, long-term relationships, strict welfare standards and high levels of transparency throughout our supply chain.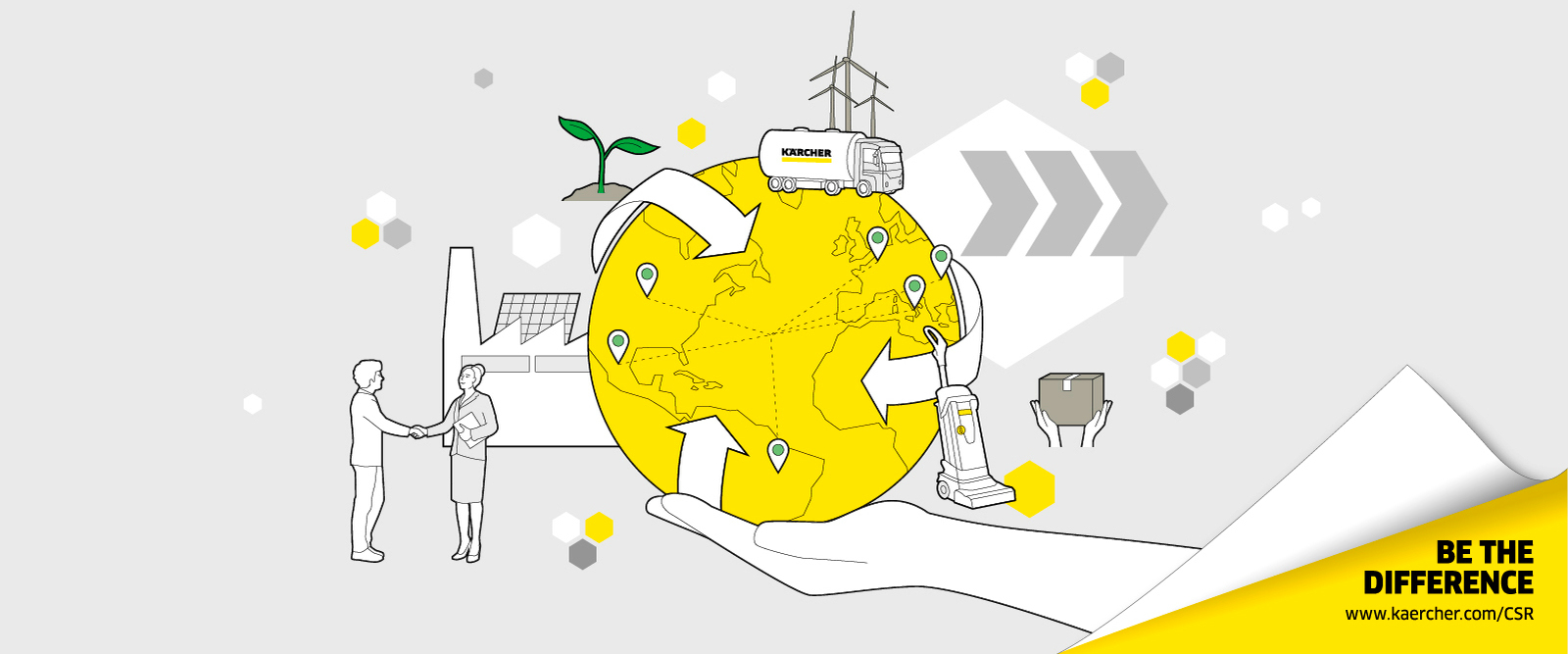 Long-term strategy and targeted measures
As a production company, Kärcher takes responsibility for the environment, people and products right along our supply chain. And it's not just a happy accident. This responsibility is the result of a long-term strategy and many targeted measures. The supply chain is a key area of focus for our sustainability ambitions, as it allows us to have a greater impact beyond our own walls. We are using various opportunities along out supply chain to reduce emissions and efficiently utilise the materials and resources we have. We are also setting standards for working with people and the environment, thanks to our sustainable supplier management strategy, which we constantly and consistently monitor with our Code of Conduct for suppliers.
Below, you'll find out more about the sustainability strategies in place along our supply chain and across the entire product life cycle.

Reducing emissions
Reducing and compensating for emissions which are damaging to our climate, is a key element of the fight against climate change. That's why Kärcher intends to become a climate-neutral company in the near future. Our factories are already ahead of the game. They have been manufacturing in a carbon-neutral way since the start of 2021. Now, we're targeting other business areas too in order to achieve our sustainability targets. We have a great advantage in our supply chain, in that we can choose who we work with. For example, in logistics. Our products will always need to be transported between locations – it's the nature of the beast. But how they get from A to B is something we can influence.
We reduce the miles travelled and thus the emissions produced by relying on regional suppliers for our factories. We also find opportunities to cut emissions when route planning and selecting the type of transport used. For example, many deliveries now forgo temporary storage en route, allowing the products to go directly from A to B. We also specifically select the type of transport that is best suited to each route. Because, for example, we also produce heavy and bulky parts ourselves, rather than procuring them, our vertical manufacture also contributes to fewer emissions from transport, and a more sustainable supply chain overall.

Efficiently using materials and resources
Every decision made during the design and manufacture stages of our products also has an effect on our supply chains. That's why our careful processes begin with R&D, taking care to design products that allow for the responsible use of resources. When choosing our partners, we look specifically for suppliers who deliver non-polluting and sustainable materials that meet our high quality standards. We are also increasing the percentage of recycled materials in our products and we value materials that can also be easily recycled at the end of their usable life. Beyond this, we are reducing our packaging waste, both from transport within the factories as well as end-customer packaging.

Setting and monitoring standards
Is a supply chain sustainable or not? It's hardly a matter of opinion. We set a clear focus on specific criteria which we and our partners regularly measure. First things first – choosing suppliers is important. We use modern software to help us thoroughly check and judge suppliers before we sign contracts with them. When collaborating with a partner, it becomes clear very quickly if we're going to run into problems. What's more, we and our partners are subject to a Code of Conduct which sets out the fundamentals for the treatment of employees and the environment. We also provide information about our working methods and processes to independent testing and certification institutes who can rate our sustainability. We use the information from these institutions to also get a better picture of our partners.
This might also interest you: