Steam vacuum cleaner
steam cleaning, wet and dry vacuuming Kärcher steam vacuum cleaners clean three-fold – even in one pass if required. These all-round machines are ideal for use around the home. Cleaning is simple, convenient, time-saving and without chemicals, the areas of use are varied.
Easy, convenient and time-saving. Steam vacuuming without chemicals.
Kärcher steam vacuum cleaners combine the advantages of steam cleaners with the strengths of dry vacuum cleaners. They can vacuum crumbs, for example, off the floor, wipe the floor damp and then dry, all in one easy procedure. These impressive all-round devices and matching accessories can clean any home easily, conveniently, quickly and without chemicals.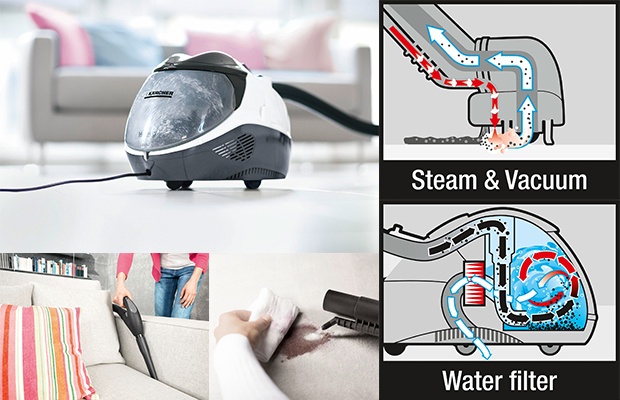 Features
Effective microscopic particles retention thanks to water filter and washable HEPA 12Easy cleaning water filter tank and dust bag free
Simultaneous steam cleaning, sterilizing and vacuuming on various platforms, even water vacuuming on wet surface
Removal of dirts & bacterias by powerful high temperature steam: chemical free
5 steam volume control & safety lock on electrical trigger handle
Individual water filter tank and steam refill tank for non-stop steam cleaning
Floor nozzle, squeegee blades for floor nozzle, steam vacuum hand nozzle, squeegee blade, brush crown attachment, steam vacuum detail nozzle, round brush / extension piece, upholstery nozzle, furniture brush, dosing bottle, cleaning brush, FoamStop, accessory bag included
Application Area:Bathroom: bathtub, tiles, toilet bowls, wash basins, mirrors and windows
Kitchen: faucets, stove, range hoods and vent fans
Furniture: mattresses, cloth furniture, curtains, carpets, floor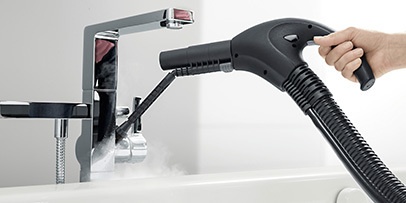 Hygienically clean
When it comes to bathrooms and toilets, just looking clean is not enough. The SV 7 steam vacuum cleaner ensures impeccable cleanliness and hygiene using hot steam.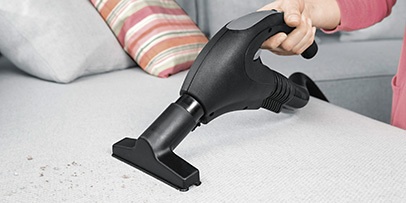 Allergy sufferers can breathe more easily
Vacuuming with a four-stage filter system, but without a dust bag. The dust is bound in the water filter. The HEPA filter removes even respirable particles. The exhaust air is cleaner than the air in the room.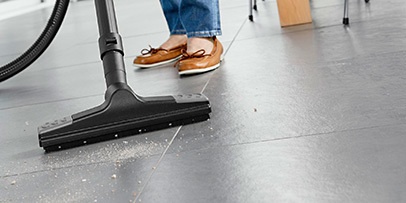 Two in one
Steam and dry vacuuming is possible without changing the filter. The vacuumed water is absorbed by the water filter.