Puzzi

9/1 Bp Pack Adv
The robust cordless Puzzi 9/1 Bp Pack Adv spray extraction cleaner for maximum flexibility in fibre-deep cleaning. With a 36 V Kärcher Battery Power+ battery, fast charger and floor nozzle.
The Puzzi 9/1 Bp Pack Adv cordless spray extraction cleaner is the world's first professional battery powered spray extraction machine on the market, capable of cleaning upholstery, carpets and other textile areas anywhere and at any time, with no reliance on external power sources. Thanks to the powerful 36 V Kärcher Battery Power+ battery supplied as standard, the robust cordless spray extraction cleaner has an unlimited operating radius for cleaning. This is achieved by spraying cleaning solution under pressure deep into the textile fibres, before sucking it back up along with the loosened dirt. A versatile machine for every industry, from the hotel and hospitality sector right through to vehicle interior cleaning: The Puzzi 9/1 Bp Adv boasts exceptional hygienic cleaning results and low-noise operation, making it ideal for public areas. What's more, the ergonomic carrying handle makes it easy to transport and it comes with an extensive range of accessories. The following are included as standard: Kärcher Battery Power+ 36/75, fast charger, upholstery nozzle, spray vacuum hose, floor nozzle, spray extraction tube, 2-in-1 container for filling the fresh water tank and emptying the dirty water, integrated accessory storage and more besides.
Features and benefits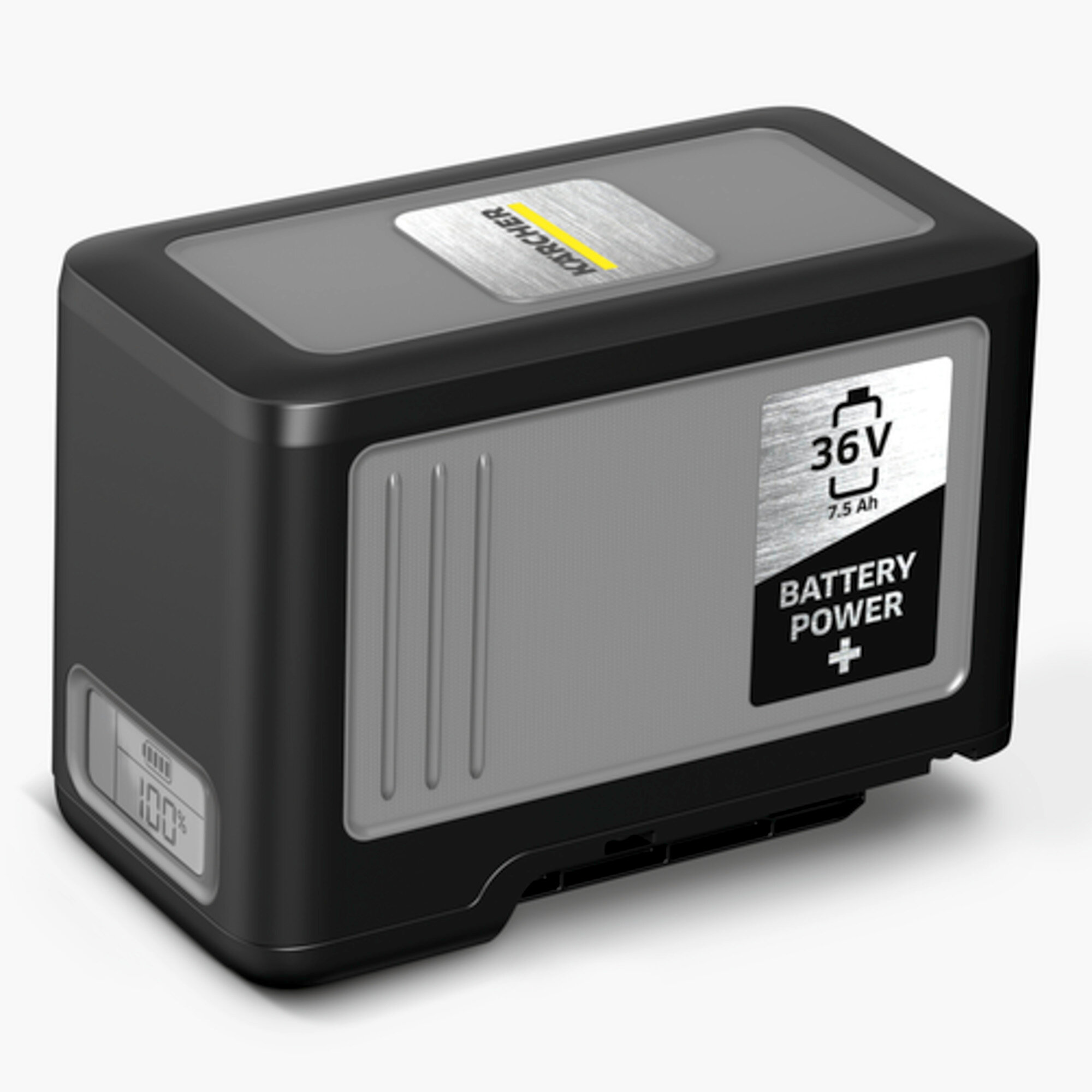 Powerful Kärcher Battery Power+ 36V battery
Cordless freedom of movement. Real Time Technology with LCD battery display: remaining running time, remaining charging time and battery capacity. Compatible with all machines from the 36 V Kärcher Battery Power+ battery platform.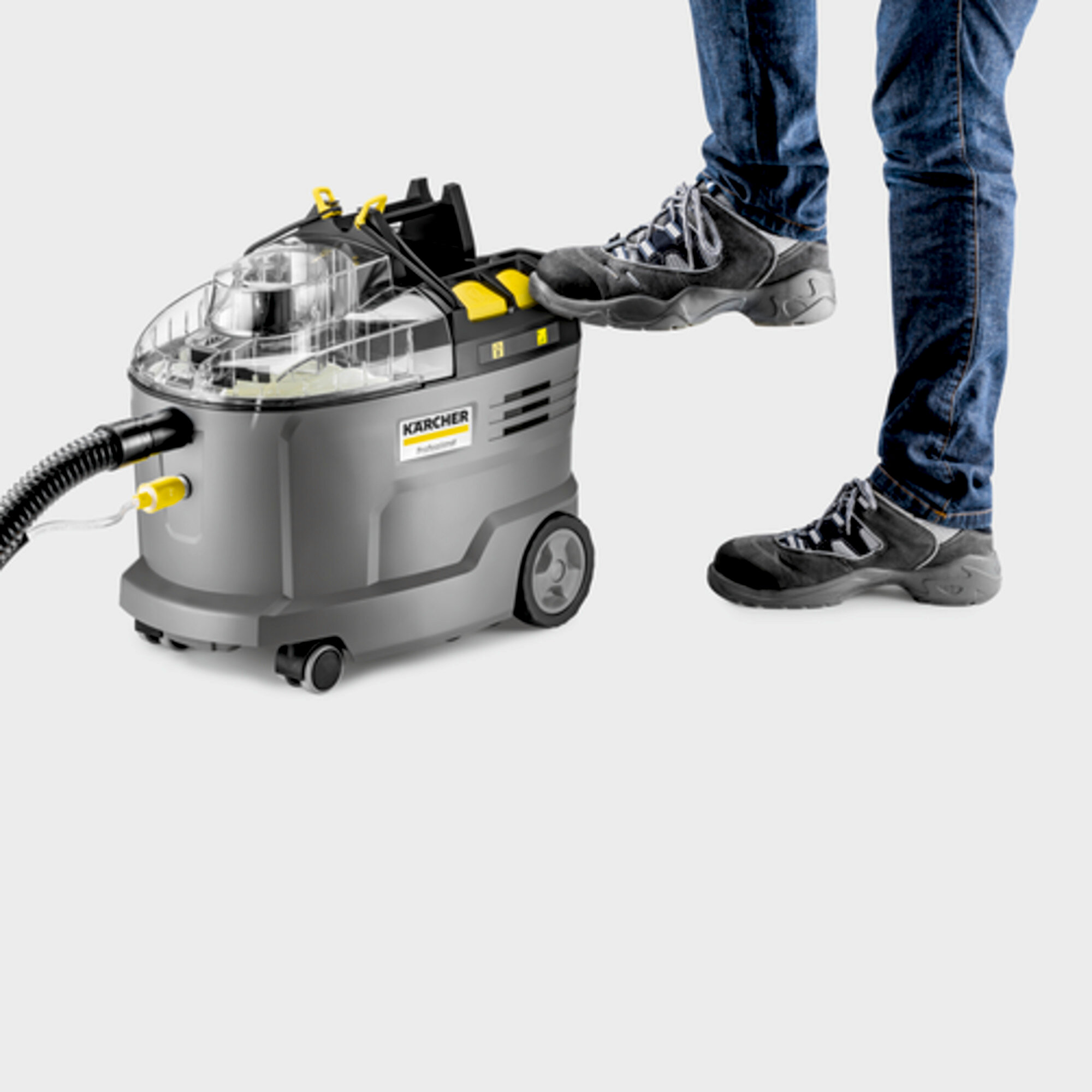 Durable, robust machine design
Long service life ensures high efficiency. Robust and hard-wearing diaphragm pump. Two large buttons operated by hand or foot for convenience.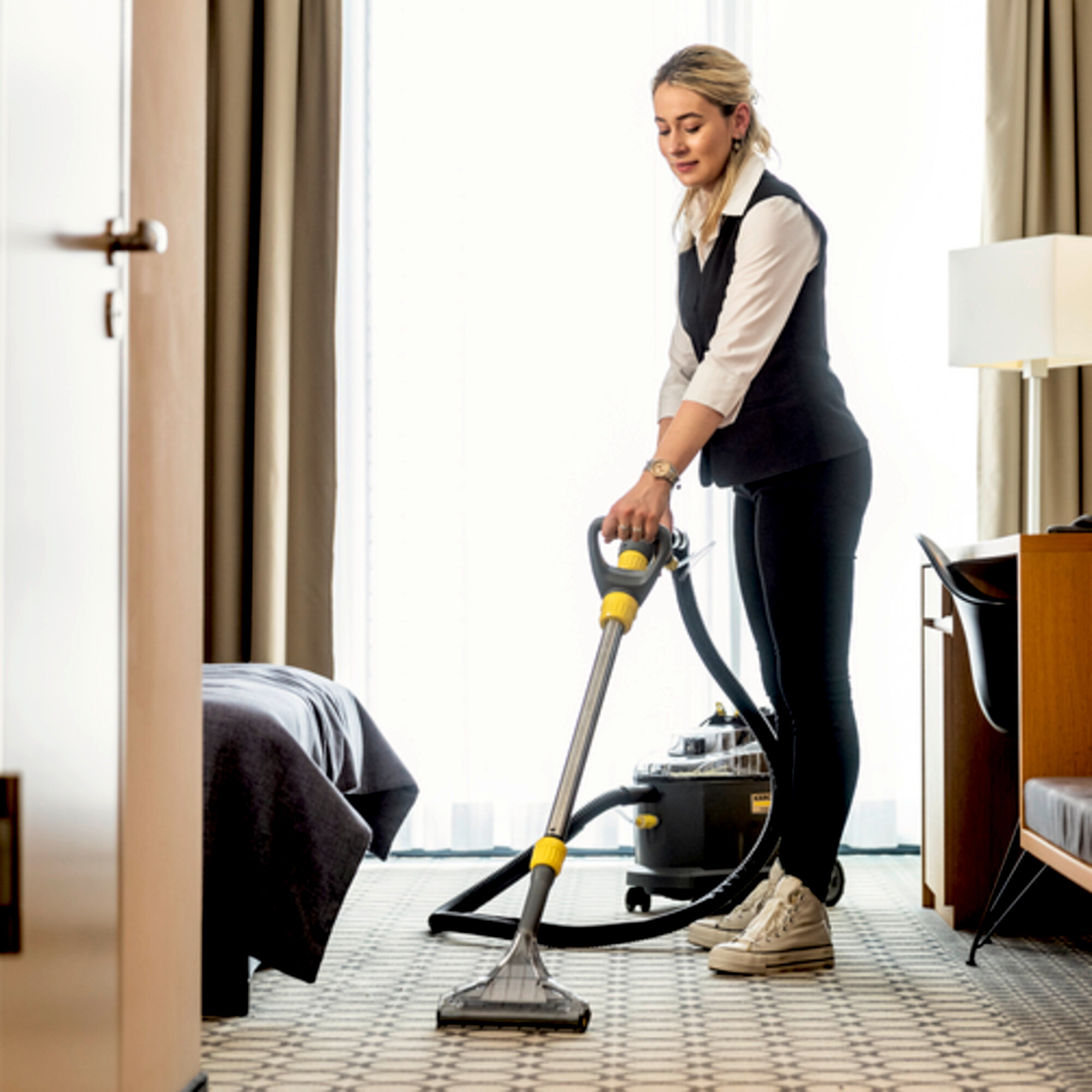 Comprehensive set of carpet cleaning accessories
Flexible suction lip for optimum suction angle and ultimate drying results. 240 mm wide floor nozzle with integrated spray/suction tube. Ergonomic two-handed grip for extra user comfort.
Removable, smart 2-in-1 container
Quick and simple to fill the fresh water tank.
Convenient and simple to remove dirty water.
Quick-start illustration

Puzzi

9/1 Bp for enhanced user safety.
Ergonomic carrying handle
Convenient, one-handed transport.
Conveniently well-balanced machine.
Suction tube holder integrated in carrying handle for secure and convenient transport.
Integrated accessory storage
All of the accessories can be stowed conveniently on the machine and are therefore always close at hand.
Practical, built-in storage compartment for cleaning agent tabs.
Safe storage, even during transport.
Handy upholstery nozzle
Easy yet thorough cleaning of upholstery and upholstered furniture.
Low weight
Effortless, also one-handed transport over ledges and steps.
Designed for long periods of fatigue-free use.
Lightweight entry-level machine.
Low operating noise
Even suitable for cleaning in noise-sensitive areas and at night.
Increases the user comfort.
Very quiet machine for the entry-level segment.
2-in-1 comfort system with integrated spray and suction hose
The cleaning solution is sprayed deep into the fibres under pressure.
Thorough extraction of cleaning solution and ingrained dirt.
Quick drying.
Specifications
Technical data
Battery platform
36 V battery platform
Area performance (m²/h)
12 - 18
Tank of fresh/dirty water (l)
9 / 7
Air flow (l/s)
57
Vacuum (kPa)
15
Spray volume (l/min)
0,5
Spray pressure (MPa)
0,16 - 0,22
Turbine capacity (W)
550
Pump capacity (W)
4
Rated input power (W)
575
Sound pressure level (dB(A))
70
Standard accessory ID
ID 32
Battery type
Removable lithium-ion battery
Voltage (V)
36
Capacity (Ah)
7,5
Number of batteries required (piece(s))
1
Runtime per battery charging (min)
35 (7,5 Ah) / 27 (6,0 Ah)
Battery charging time with fast charger 80%/100% (min)
58 / 81
Charging current (A)
6
Power supply for battery charger (V/

Hz

)
100 - 240 / 50 - 60
Weight without accessories (kg)
7,6
Weight incl. packaging (kg)
17
Dimensions (L x W x H) (mm)
540 x 332 x 460
Equipment
Variant: Battery and charger included
Battery: 36 V / 7.5 Ah Battery Power+ battery (1 piece)
Battery charger: 36 V Battery Power+ quick charger (1 pc.)
Spray/suction hose: 2.5 m
Hose transport lock
Spray/suction tube: 1 piece(s), 700 mm, Metal
Motor protection filters
Fresh water filter
Integrated accessory storage
Storage compartment for cleaning agent tabs
Removable 2-in-1 container for fresh/dirty water
Detergent: RM 760 tabs, 2 Tablets
Spray/suction gun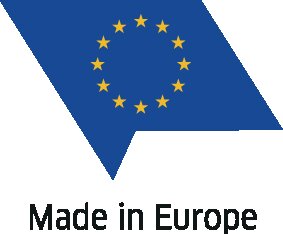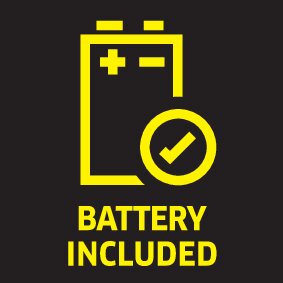 Application areas
For intensive fibre-deep cleaning of upholstery and upholstered furniture
For intermediate cleaning and targeted stain removal on carpets
For cleaning all textile surfaces – including car interiors
For intensive fibre-deep cleaning of upholstered car seats
For targeted fibre-deep cleaning of smaller carpeted areas
Find parts
Find parts & diagrams for your Kärcher cleaning equipment. Select "Find Parts" to begin your search or contact your authorized Kärcher dealer or retailer.