Multi-purpose vacuum cleaners
The Kärcher wet and dry vacuum cleaners are extremely robust and ideally equipped to quickly and thoroughly clean entire areas around the home or outdoors – e.g. in the basement, in the garage or on the patio. Whether it is fine, coarse, wet or dry: Thanks to the ideal equipment, every type of dirt is reliably removed. And the exceptionally high suction power and specially developed nozzles enable even larger dirt particles to be easily picked up.
The most customised devices ever.
Various application possibilities.
Kärcher offers an extensive and useful range of accessories for daily use with its multi-purpose vacs. From the right floor nozzle and the appropriate hose to specialised filter systems, all our components are designed to work together in the best possible way. In this way, Kärcher multi-purpose vacs can meet the specific requirements of the location in which they are being used and ensure outstanding cleanliness in all areas.
The ideal device for every purpose.
Kärcher offers the right solution for every domestic requirement with the new MV range - for both occasional and intensive use. Thanks to a wide range of devices with varying power outputs, container sizes and equipment features, we will have the right device for you. You can rely on Kärcher.
* Compared with Kärcher multi-purpose vacs from 2013
The most innovative ever.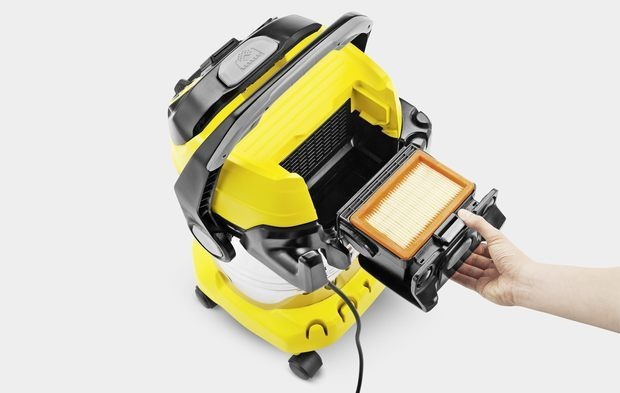 Easier than ever before.
With the patented innovative filter replacement technology, available in the mid-class and top-class ranges of our MV 4 devices, the filter can be removed in seconds. In addition, the flat pleated filter, made popular in our professional cleaner range, is contained in a filter box in the device head - which means extra-quick removal in two easy steps. Just open up the filter cartridge, remove it and empty the filter - all done!
Summary of benefits: quicker and more convenient filter removal, no contact with dirt, no spreading of dust, simple manual filter cleaning.
Consistently high suction power.
Thanks to the integrated filter cleaning function, dirty filters in all the top devices MV 5-6 can be quickly and efficiently cleaned simply by pushing the filter cleaning button. This means that even with difficult home cleaning tasks, consistently high suction power is available (see illustration).
Summary of benefits: no manual cleaning required, no interruptions, no contact with dirt, high suction power.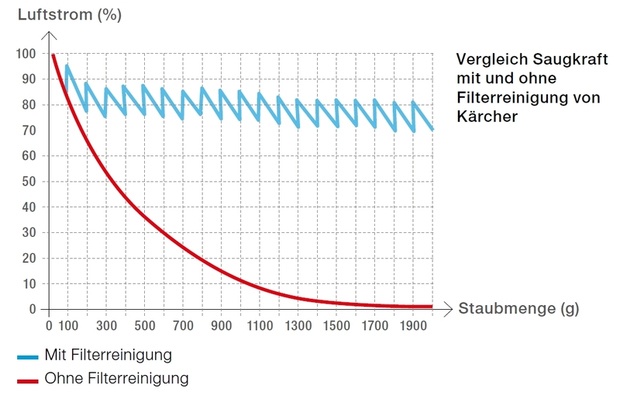 The most convenient ever.
More practical, more efficient.
The new standard accessories have been specially developed for the new Kärcher multi-purpose vacs and, in combination with the devices themselves, open up unimagined cleaning efficiency.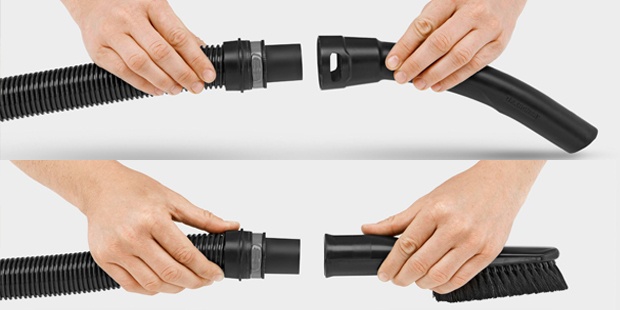 Removable handle
The ergonomically shaped removable handle ensures optimum air flow. It also allows you to maintain a comfortable posture while cleaning, as the accessories can be quickly and conveniently attached directly to the suction hose. In devices of unit class MV 5-6, the special composition of the handle prevents static electricity from building up, ensuring trouble-free vacuuming - even in renovation work.
Overview of benefits: no blockages, simple and convenient vacuuming even in the narrowest spaces, safe protection from static electricity.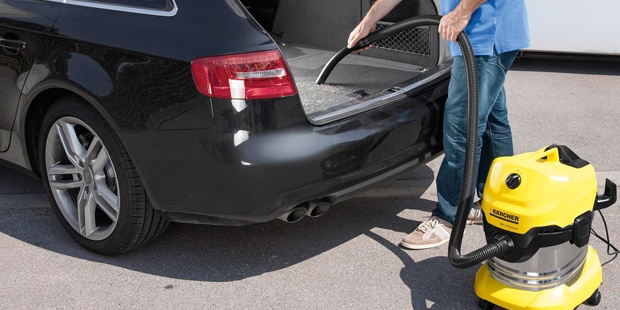 Optimised suction hose
The new suction hoses have a wider diameter and are highly flexible.
Overview of benefits: no blockages, continuous vacuuming without interruption, freedom of movement in use.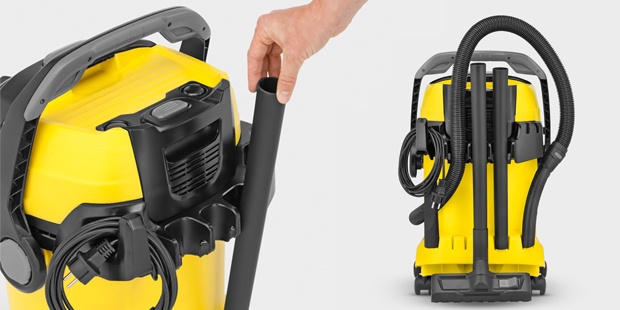 Robust plastic suction pipes
The quality of the new plastic pipes has been improved. They are extremely resilient and durable.

Overview of benefits: higher quality for a longer working life.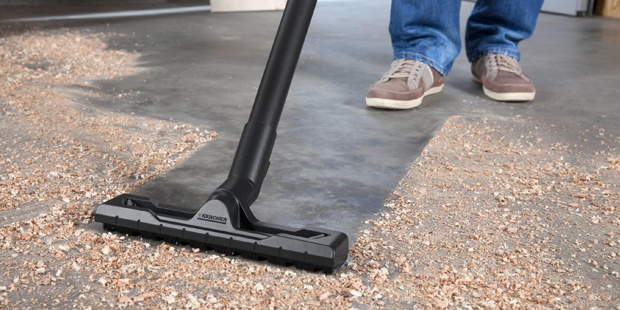 First class floor nozzles
Whether for dry or wet, fine or coarse dirt, the specially developed floor nozzles ensure optimum dirt intake, have ideal glide properties and can be quickly and simply adapted to wet or dry conditions. In the case of the clip floor nozzle, this is achieved by swapping the attachments over, while with the switchable floor nozzle there is a convenient foot switch. The special floor nozzles ensure all-round cleaning satisfaction.

Overview of benefits: rapid and complete dirt removal, ideal for wet and dry dirt, low-effort vacuuming.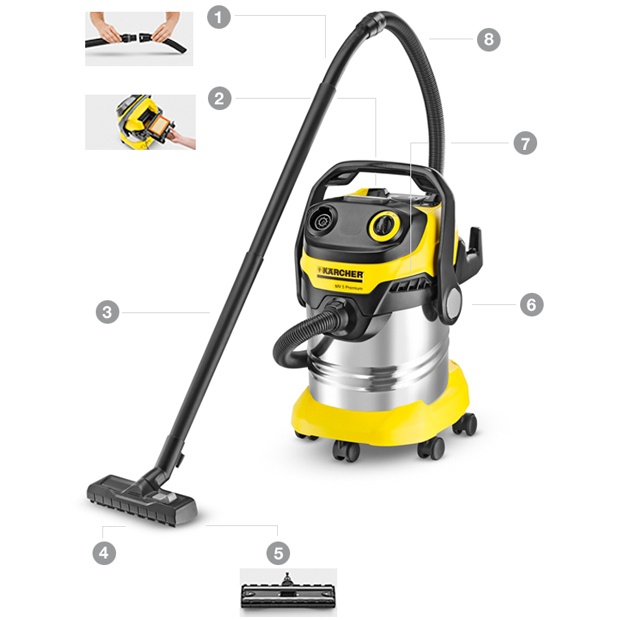 Better constructed and optimised. WD features at a glance.
1 Removable handle
The ergonomic handle can be easily removed from the suction hose in order to attach other accessories such as brushes.
2 Easy filter removal
Patented innovative technology make removing and emptying the filter quick and easy, avoiding any contact with dirt.
3 Extremely durable
Robust, long-lasting plastic hose.
4 Optimal dirt intake
Use the switches to adjust the nozzle to suit your vacuuming needs (dry or wet vacuum cleaning).
5 Low energy consumption
Lateral rollers guaranteeing smooth and effortless movement.
6 Airtight
Better sealing between the container and the vacuum head, together with an improved connection between the hose and the container, ensure that the vacuum is much more airtight. This prevents unwanted air from being drawn into the vacuum cleaner, keeping the power inside the device. The result? Outstanding suction power.
7 More efficient motors
Our vacuum cleaners have been made significantly more efficient thanks to their improved motor design. This means that they provide more powerful suction whilst at the same time consuming less power.
8 Optimal air flow
The highly flexible suction hose comes with a wider opening to avoid blockages while vacuuming. Flow resistance is significantly reduced by the improved hose geometry.