Kärcher
iSolar

. The system solution for solar module cleaning.

Debris from dust, soot and pollen can reduce the output of photovoltaic systems and solar thermal energy modules by up to 20%. The natural power of rain, condensation and wind are nowhere near strong enough to clean the modules effectively. This is why Kärcher is now offering new accessories for high-pressure cleaners which thoroughly clean solar modules: with the iSolar, a system with rotating brushes attached to a telescopic lance, it is possible to economically clean up to 1,500 m² of modules, depending on their design. iSolar has been certified by the DLG (German Agricultural Society).

Clean modules – secure yields
The first DLG-tested cleaning system for photovoltaic systems! Intelligent Kärcher cleaning solutions ensure uncompromisingly clean solar modules – and up to
20% higher yields than with heavily soiled modules.
There are practically no limitations on how iSolar can be used. Wherever solar and photovoltaic systems are installed – agriculture, trade, industry or in the home – iSolar can ensure that the sun's energy is properly harnessed. This is particularly helpful in areas exposed to heavy soiling. In agriculture, the main problems are dust from neighbouring fields and exhaust gas from stables. Kärcher iSolar represents an economical choice for both system operators and cleaning service providers.
Our recommendation for cleaning photovoltaic systems: the HDS 10/20-4 M hot water high-pressure cleaner or HD 10/23-4 S cold water high-pressure cleaner combined with the Kärcher water softening system and iSolar accessories. A disc brush and telescopic lance are required.
Gentle but thorough: the
iSolar

800/400

The iSolar 400 and iSolar 800 brushes are powered by the water stream from the high-pressure cleaner, which also helps to remove the dirt. However, the cleaning effect itself is achieved by the mechanical action of the bristles. The bristles are made of nylon, ensuring scratch-free modular surface cleaning. The iSolar 800/400 are operated at low pressure, eliminating any danger of the modules being damaged. To guarantee an exceptionally long service life, the rotating brushes are fitted with robust ball bearings.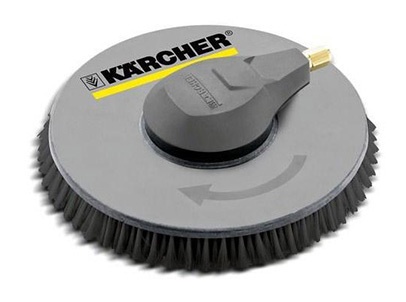 iSolar

400

The iSolar 400 water-driven disc brush features a working width of 400 mm and is especially suited to cleaning smaller to medium-sized photovoltaic systems. Thanks to the low weight and easy handling, even elevated systems can be conveniently cleaned.
Compact entry-level model for smaller areas
Particularly suitable for elevated systems
Water-powered disc brush with ball bearing
Connection M 18 × 1.5; compatible with standard HD/HDS machines
Pre-rinsing of adjacent modules
iSolar

800

The iSolar 800 water-driven brush head with 800 mm working width works with two contra-rotating disc brushes and is used for cleaning photovoltaic systems
. The contra-rotating brushes balance out any
transverse forces, ensuring optimal handling. And the flexible angle joint on the brush head's connection makes work easier. It ensures that the bristles lie flat, allowing uniform cleaning results. The brush head is designed for especially high area performance - ideal for cleaning large systems, for example on rooftops.
Very high cleaning and area performance
Optimal handling with balancing of transverse forces
Contra-rotating disc brushes with ball bearing
Robust brass articulated joint for flexible working angle
Connection M 18 × 1.5; compatible with standard HD/HDS machines
Pre-rinsing of adjacent modules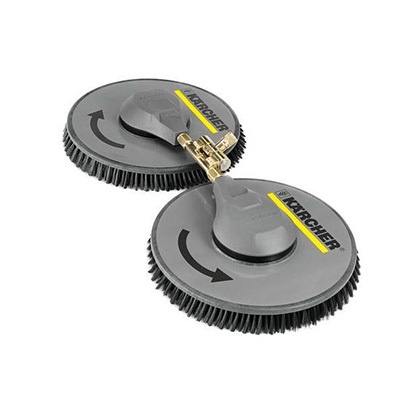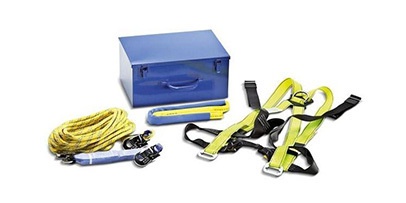 iSolar

fall protection for safe working on the roof.
Certified, standard-compliant safety system
Guided fall arrestor with shock absorber
Robust metal box for storage and transport
includes 12 m guide rope
Stop band for fastening
Safety harness with quick-release fasteners
Limescale and stubborn dirt: safely dissolved.
Hard water can lead to lime residue which can result in a dramatic reduction in the module's performance. The mobile Kärcher water softeners and the Solar Cleaner RM 99 offer reliable protection against lime marks. In the water softener, an ion-exchange resin removes the dissolved limescale from the water and reduces the hardness degree to 0–1 °dH. If cleaning with water alone is not enough, for example when tackling heavy or greasy dirt, the Solar Cleaner RM 99 removes the dirt and binds the dissolved limescale so that no lime marks can appear.
RM 99 Solar Cleaner: effective and gentle
Highly effective for the gentle removal of the most stubborn dirt
Prevents lime residues for
all water hardness levels
Easily biodegradable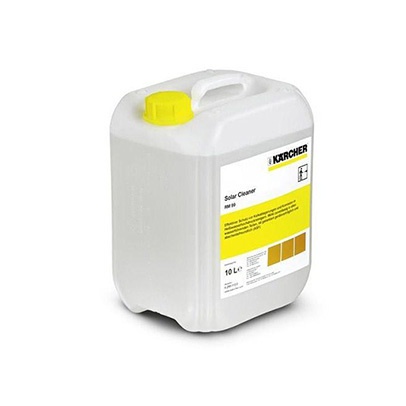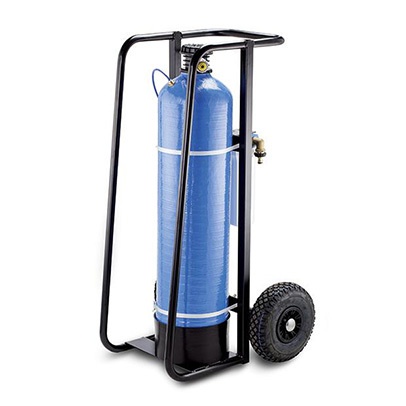 Mobile anti-limescale unit
Hard water can leave behind limescale deposits. Kärcher's WS 50 mobile water softeners, combined with Solar Cleaner RM 99, offer reliable protection against lime residues. Inside the water softener, an ion-exchange resin removes the dissolved limescale from the water and reduces the hardness degree to 0–1 °dH. Dries without leaving residues after cleaning.
Excellent mobility and easy transport
Powder-coated tubular steel frame with large pneumatic-tyred wheels