Retail
A system for success. The application of comprehensive hygiene and cleaning concepts is one of the keys to success in retail. Visible cleanliness and tidiness are valued highly by customers and, whether they know it or not, play an important role when making that final purchase decision. Kärcher offers suitable, efficient and cost-effective cleaning solutions for all work areas and floor coverings: the Kärcher system – a range of perfectly-tailored machines, accessories and cleaning agents. Our system is professionally enhanced by a range of modern services – from leasing/financing, servicing and repair to a comprehensive cleaning management service – thus ensuring appropriate levels of cleanliness and compliance with hygiene standards. Kärcher, the world's market leader for cleaning systems.

Cleanliness and safety: always crucial.
The customer always comes first, and they expect hygiene standards to be high and in all areas, at all times. Cleaning systems for customer areas must therefore have certain characteristics. They have to be discreet and quiet, easy to transport, ergonomically designed and usable even in small spaces. The combined qualities of Kärcher's cleaning machines ensure that every job is easy to complete.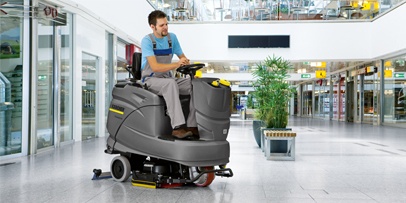 Equipped for the biggest tasks
The B 140 R* ride-on scrubber drier's large capacity makes it ideal for large markets, shopping centres and warehouses. Depending on the area of application, the machine can be equipped with disc brushes (BD 140 R) or roller brushes (BR 140 R) and a working width of 30 to 120 cm. The innovative EASY operating concept guarantees simple manoeuvring everywhere.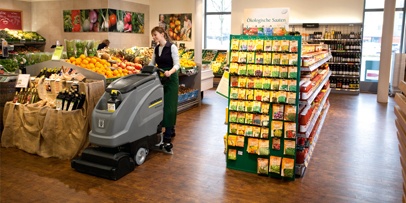 Cleanliness guaranteed
The agile and quiet B 40 C/W* delivers optimal cleaning results, even when floors have to be cleaned during the day.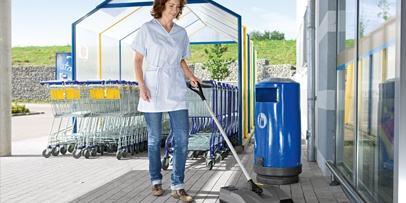 A small sweeping sensation
The innovative KM 35/5 C small sweeper delivers a comfortable and effective clean. Perfect for use in smaller areas, such as entrance halls, or in shopping trolley bays.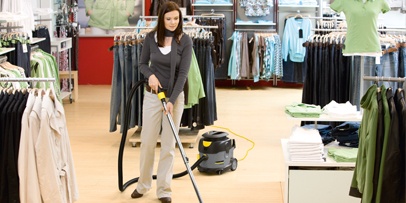 Incredibly powerful
The T 15/1 dry vacuum cleaner is the quietest machine in its class and perfect for vacuuming during opening hours.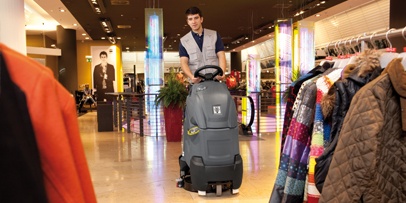 Efficient cleaning with a clear view
The step-on BD 50/40 RS scrubber drier (disc brush) and BR 55/40 RS (roller brush) impress with their simple operation and brilliant viewing angles. The model is easy to mount and dismount, saving time and energy when obstacles need to be moved out of the way.
Hygiene: when nothing but the best will do.
Handling food requires compliance with strict hygiene regulations both in processing areas and in areas which are open to customers. New and stricter standards, such as HACCP, the EU standards ISO and IFS (International Featured Standard), the British BRC Global Standard for Food Safety or the USA's FDA regulations, place increased demands on machines and total solutions. The Kärcher system, which includes machines, accessories and cleaning agents developed and produced in-house, ensures all liquid and dry cleaning applications can be carried out to the highest technological standards.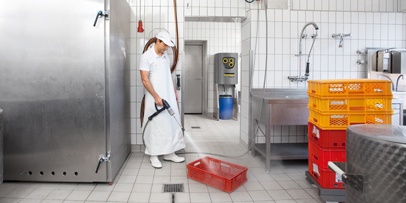 Customised performance
Compact, stationary high-pressure units are perfectly adapted to the specific task. The range of possible equipment features covers every type of cleaning application required in the hygiene-critical food industry.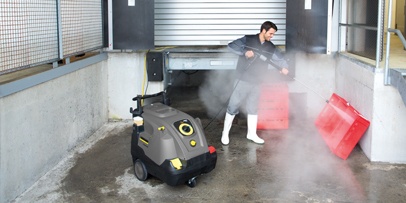 Super clean, super fast
The HDS compact class combines tried-and-tested, robust and durable technology with unrivalled operating costs and simple operation. Tough on dirt, easy on the environment and operator: 20% fuel saving at 60°C in eco!efficiency mode. And the jogger principle allows quick and easy manoeuvring.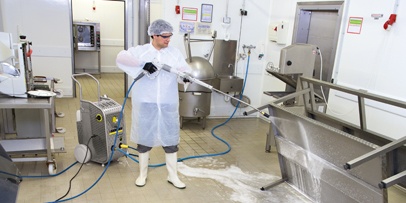 Unheated high-pressure cleaners
With its adjustable pressure setting (from 20 bar), the powerful HD 10/15-4 Cage Food is perfect for use in food preparation areas. The ideal solution for pre-cleaning, disinfection and neutralisation tasks.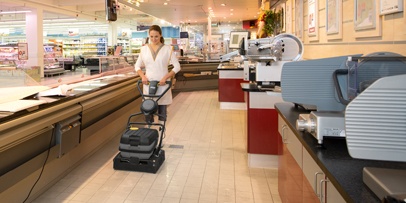 One simple clean
The BR 40/10 C Adv compact scrubber drier is a versatile machine which can be used anywhere where a floor scrubbing application with dirty water extraction is required.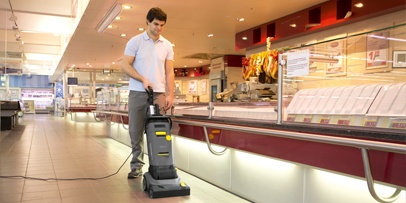 Quick and effective
The BR 30/4 can deliver a thorough yet gentle clean of small departments and obstructed surfaces. Its simultaneous suction of dirty water means that floors are immediately safe for use. Also perfect for intermediate cleaning during business hours.
State of the art.
Modern life has its own unique rhythm. Today shops are open around the clock. Consumers can shop as and when they choose, and they prefer to do it in a friendly setting. That is why shop designers have developed a dynamic layout which is based around the rhythm of the consumer. The modern materials put to use to achieve this pave the way for fabulous design possibilities – however, they present completely new challenges when it comes to cleaning. Kärcher aims to take on this challenge with innovative and efficient cleaning products. The Kärcher system: perfectly tailored machines, accessories and cleaning agents.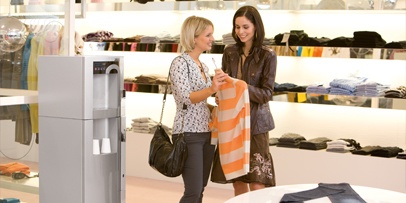 Refreshingly good
Water is life. It helps ensure vitality and good health. Studies have shown that when customers are able to stop and enjoy a refreshing glass of water from the Kärcher water dispenser in a pleasant and relaxed setting, they are given a whole new perspective on their shop. This is a service that more than pays for itself.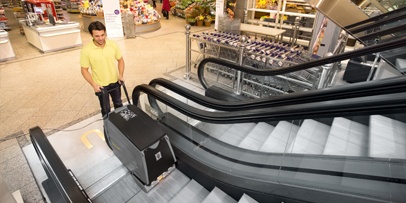 Endlessly good: escalator cleaners
Without special machines, escalators can be extremely difficult to clean. The Kärcher escalator cleaner is a cost-effective and efficient solution. Regular use of the escalator cleaner with Kärcher's specially-designed cleaning agents is guaranteed to leave you with escalators that are clean and safe.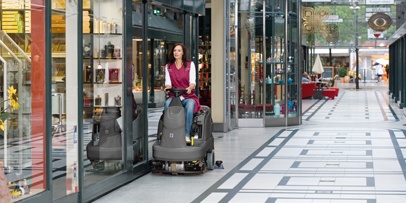 Shopping centres
Ride-on scrubber driers are perfect for cleaning and maintaining public areas in shopping centres. The user-friendly EASY Operation operating concept makes sure you achieve the desired level of cleaning every time.
Guaranteed hygiene in storerooms and beyond.
In the food sector, storage areas are an important part of any comprehensive hygiene concept. Sensitive goods are brought in, packaged, stored and removed from storage, repackaged or unpacked and transported to food departments. Even in these areas, the Kärcher system ensures compliance with strict hygiene specifications and legal regulations. Perfectly-tailored cleaning machines, accessories and cleaning agents deliver a fast, simple and cost-effective clean.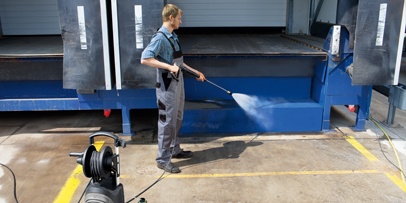 Full load
Arrivals and departures, loading and unloading – loading areas are constantly in use, which leads to a steady accumulation of dirt. The Kärcher high-pressure cleaner will get rid of it in an instant. A high-pressure water jet makes light work of even stubborn residues, getting into the tightest of corners and delivering a fast clean.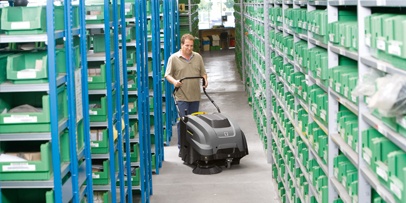 100% clean
The compact KM 75/40 W sweeper delivers a thorough and effective clean of heavily obstructed and hard to access storage areas. The dust suction feature also keeps air dust levels to a minimum. And the EASY Operation operating concept ensures that even inexperienced users will have no trouble operating the machine.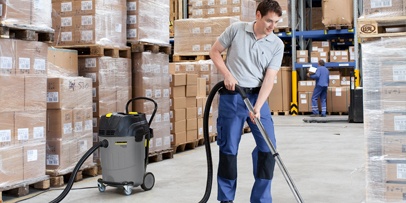 Constant removal of dry and wet dirt
The NT 65/2 AP wet/dry vacuum cleaner has what it takes to deliver long periods of uninterrupted use with constant suction power: two powerful turbines, a patented filter system, semi-automatic filter cleaning and a large container capacity.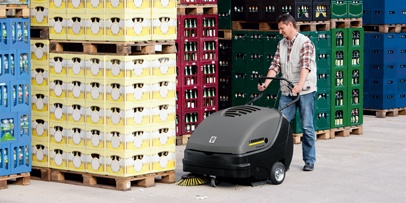 Perfect pallet performance
Clean pathways are a must for the safe transport of pallets. The appearance of dirt can disrupt the entire logistics flow. Kärcher sweepers are perfect for ensuring consistently clean transport routes. Not only are they fast and efficient, they are also easy to use.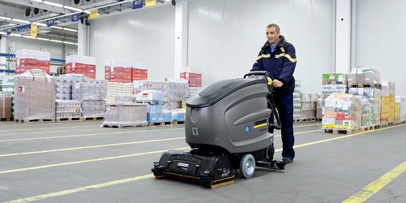 The right way
Compliance with strict hygiene standards requires selection of the right machines and a professional cleaning plan, in order to ensure that bacteria, viruses and fungi do not stand a chance. With this in mind, Kärcher has come up with a range of cleaning machines and specially-designed disinfectants and cleaning agents. The Kärcher system: the complete one-stop solution.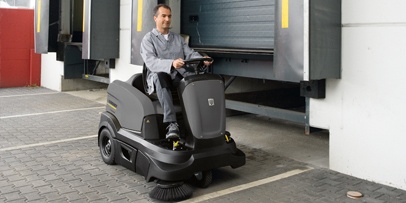 Constant performance without cutting corners
Kärcher's fully hydraulic ride-on sweepers are well-equipped and get into every corner. They feature various drive types which can be adjusted for the specific use: diesel, gas or battery.
The perfect outdoor cleaner.
The first impression is crucial. This is particularly true for the outside areas of companies which serve to both advertise and represent your business to the outside world. In addition, there is also the need to keep dirt levels near entrances to a minimum to prevent dirt being carried in, as well as to keep loading areas and pathways clean. This ranges from leaves and road dirt to coarse debris, such as a broken pallet.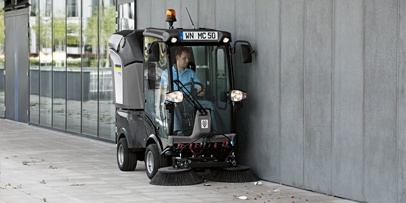 Clean large areas in no time
In order to clean large outside areas efficiently and in a short space of time, you will require powerful and extremely agile sweepers with low energy consumption, high container storage and a range of accessories.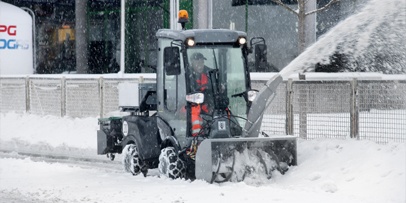 Clear. Eject. Scatter
The professional answer when winter calls: the snow thrower with a width of 100 cm, a hydraulically pivotable ejection chute and hydraulically adjustable throw distance. Great for use with a rear grit or salt spreader.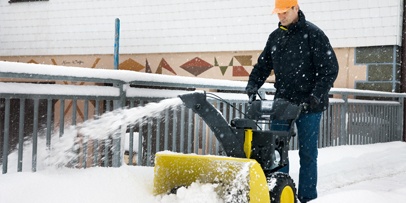 Strong, ergonomic and efficient
Kärcher's snow throwers quickly and efficiently remove snow from pavements and public areas. With either five or six forward driving speeds, two different reverse speeds and a two-stage auger, these machines can be adjusted to suit all space requirements.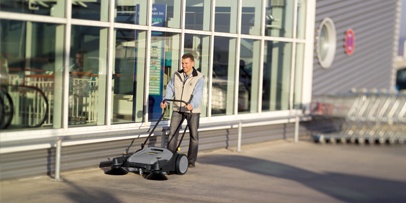 Proven performance both inside and out
The KM 70/20 C manual sweeper delivers an almost dust-free sweep and is 7 times faster than a conventional broom – both indoors and out.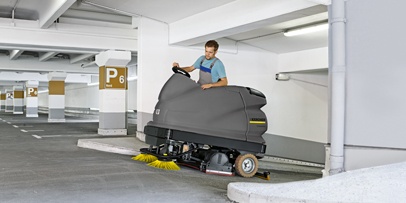 Tough on dirt – easy to operate
Do your cleaning needs extend to multistorey car parks? This is where extremely robust scrubber driers, such as the BR 100/250 R, show their true prowess.
An effective and efficient office clean.
Cleanliness and hygiene are all that matters when it comes to the food processing industry. Administration rooms located close to production, such as offices, computer rooms for line control or sanitary facilities, are particularly sensitive areas. Here the task is to minimise the transfer of dirt and dust from the production area into these rooms and vice versa.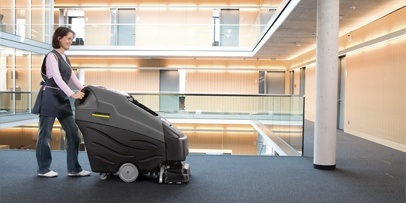 Top performance on large areas
The innovative BRC range combines the advantages of spray extraction with the mechanical cleaning power of a brush, making it perfect for cleaning large areas in a short space of time.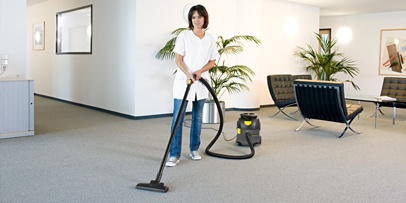 Professional-quality dry vacuum cleaners
The innovative T 10/1 Adv was developed together with contract cleaners and impresses with its high suction power combined with a 5-stage filter system which includes a 3-ply fleece filter bag, a permanent main filter and a motor protection filter. A HEPA filter cartridge can be retrofitted.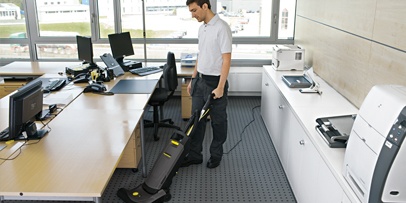 Removes dirt deep in the pile
Carpeted corridors and offices require regular deep cleaning, ideally with a Kärcher upright brush-type vacuum cleaner.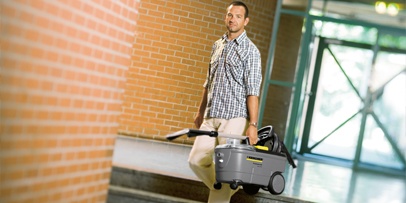 Mobile cleaners
Kärcher spray extraction cleaners are suitable for use on all types of textile surfaces: floor coverings, upholstered furniture, office chairs and vehicle seats. The handy, mobile Puzzi range of spray extraction cleaners, which are as powerful as they are robust, feature an extensive range of accessories and can be used for many applications.