Kärcher Service
Customer service
The power of innovation
The name Kärcher is synonymous worldwide with quality and innovation. We have been setting the standard in cleaning expertise for 75 years. As the inventor of the high-pressure cleaner, Kärcher is today a world market leader and one of the driving forces behind technological developments in the field of cleaning technology. Every day our employees in research, development, production and sales ensure that you find the right solution for your cleaning task.
You will be supported by our customer service over the entire service life of your Kärcher machine. Wherever you need us, we or one of our service partners will be there to assist you on-site.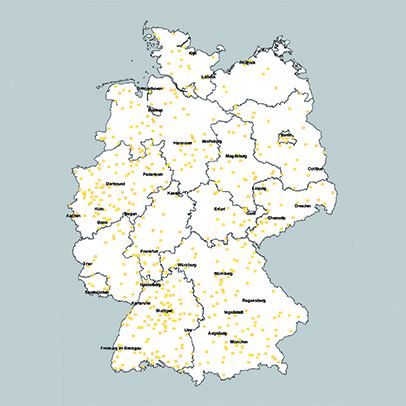 The Kärcher Service network
For us, customer closeness means that we are there for you when you need us – throughout Germany, wherever, whenever. For malfunctions or acute application problems, we will be there immediately; regular servicing tasks are arranged by appointment. Thanks to our service team's quick response times, we are able to keep machine downtimes to an absolute minimum. Our close-knit service network of almost 700 contact points – at least one of which is in your local area – makes this possible.
 
Kärcher service engineers: after-sales service
Over 100 of our own service engineers with fully equipped service vehicles
Germany-wide
Experts in cleaning technology
Qualified electricians for certain tasks
Regular training ensures expertise is up to date
Vehicles are supplied with spare parts overnight
Kärcher service partners: your top choice


Around 600 authorised service partners with over 1,000 trained service engineers so that you will always find one in your local area
Strict selection criteria using a certification system
Equipment and training are certified
Expertise kept up to date with regular prescribed training
Expert technical and sales contact partners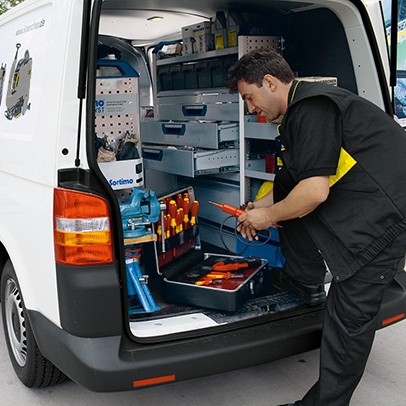 On-site repair
If you require a repair, we offer a fast, efficient, top-quality service. Our aim is to provide the fastest possible service to your utmost satisfaction. The service process described explains how efficient our service system is in the event of a machine fault. Customer service really can be that simple and inspired. 
Repairs process
Do you need a repair?
Does your Kärcher machine require a professional repair quickly?
No problem! Simply get in touch by phone, fax or email.


We will keep you up to date
Shortly after your request has been accepted, you will receive an order confirmation via email or fax. With Kärcher's customer service team, you are in capable hands.


Appointments arranged quickly
We will arrange an appointment together with you. Thanks to our efficient route planning system, we will be with you as quickly as possible. The appointment will be confirmed with you by email or fax.


Straightforward repair
A specially trained service engineer will come to you directly to carry out the repair. Using the description of the fault that you have provided, we can ensure that any spare parts that are likely to be needed can be brought to the appointment. For a Kärcher-quality repair.


Immediate service report
As soon as our service engineer has resolved your issue, you will be sent a service report via email or fax. This report will tell you what spare parts have been fitted and what has been repaired on your machine.


Simple process
Provided your repair is not covered by a Kärcher Service package or is not being carried out free of charge as part of the warranty, we will send you an invoice by post. Outstanding service for you.
Your direct contact to customer service/Kärcher operational planning:
T: 07195 903-39 99 (Professional)
T: 07195 903-3939 (Cleaning technology)
F: 07195 903-3940
Email: service@vertrieb.kaercher.com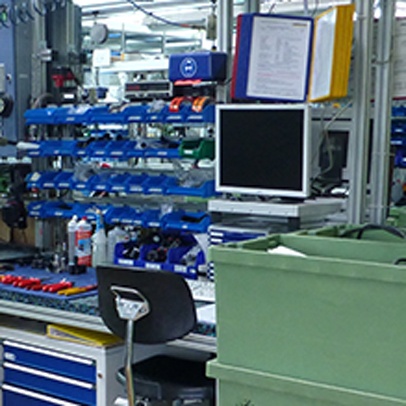 Repair of small machines
Clear Case - Repairs centre in Gissigheim
Small machines are repaired quickly and affordably at our repairs centre in Gissigheim. Service engineers who are specially trained in each product group guarantee a high-quality repair. Repair stations for each product group and a full stock of replacement parts on-site also ensure an extremely quick repair. Every machine undergoes a complete function test and safety inspection in accordance with BGV A3 following repair.
We offer this service for our Home & Garden devices as well as commercial vacuum cleaners and cold water high-pressure cleaners. Repairs are carried out at fixed prices, including dispatch and packaging.
The repair process is very straightforward: simply package the faulty machine, complete with all accessory parts, enclose a brief description of the fault and, if the machine is within its warranty period, a copy of the proof of purchase. Then notify our collection service and address the parcel to:
Alfred Kärcher GmbH & Co. KG
Service-Center
Im Gewerbegebiet 2
97953 Königheim-Gissigheim
Our logistics partner will collect the machine from you shortly afterwards. Your machine will normally be returned in less than one week. If the repair is calculable, you will of course receive a 12-month warranty on the repair.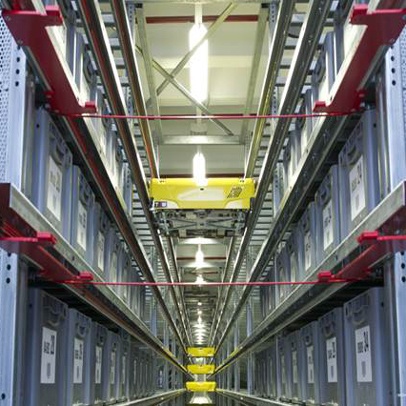 Seamless spare parts logistics
Maximum availability and fast delivery are the pillars of our spare parts logistics. Over 98% of the required spare parts are immediately obtainable. This is possible thanks to Kärcher's ultra-modern logistics centre, with over 70,000 items that can be supplied immediately and delivery of the necessary parts guaranteed within 24 hours. Our routes are continuously streamlined using innovative logistics and IT networking. If necessary, our service technicians receive the spare parts they need by 7am the following day supplied directly to their service vehicle.
Nothing is impossible.
In the rare event that a spare part is not available immediately, we will do everything we can do resolve the issue. Production of spare parts and machines is based primarily in Germany. This ensures not only the highest quality of materials but enables fast response times in obtaining the required materials.
Uncompromising in quality and safety.
Our service technicians use only Kärcher original spare parts. This ensures reliable operation and maximum safety for man and machine.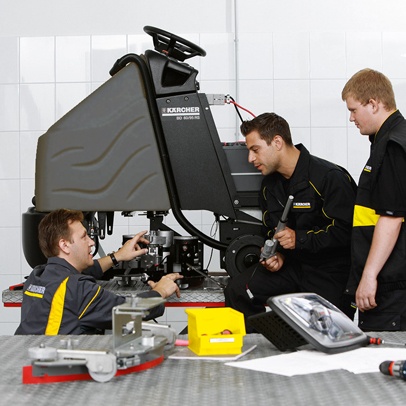 Service training
Always up to date
Kärcher service engineers know how to help in any situation. And that is no coincidence. We take training very seriously. We see this as the key to our success. Our service engineers, as well as those of our service partners, take part in ongoing training at our training centre, where we provide over 250 training days every year. This means that their expertise is always up to date. Ten internal and a large number of expert external training consultants are responsible for training our staff.
Training our own service engineers and service partners
Thanks to our comprehensive training system, our service engineers and those of our service partners are trained using the latest teaching methods. Specialist knowledge is acquired through technical as well as electrotechnical training. A wide range of practical exercises ensure that the service engineers are ideally prepared for working in the field.
What's more, our service technicians are trained to the level of "qualified electrician for specified tasks" ("Elektrofachkraft für festgelegte Tätigkeiten") and are therefore authorised to carry out all safety and technical tests on our machines in accordance with DGUV V3 (formerly BGV A3). With this qualification, our service engineers are legally required to produce test reports that attest to the electrical safety of their machines.
Supplementary application training ensures that your servicing jobs can be carried out to your utmost satisfaction.

Specialist training of our own service engineers
In addition to around 90 days of basic training, selected Kärcher service engineers also undertake a special training programme to ensure that they are ideally placed to meet your requirements. As the first manufacturer of cleaning machines, we train our young technicians to become IHK-certified (German Chamber of Commerce and Industry) service engineers. In order to guarantee the highest quality of service, social skills training also features in the programme, in addition to technical and application training. For instance, our service engineers receive special training in the areas of appearance and presentation, time management, conflict management and customer focus. This means that our service staff are ideally equipped for any task.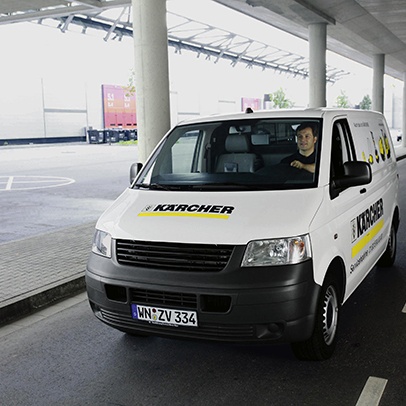 Ideally equipped – our vehicles and workshops
Our utmost aim is to get your machine working again as quickly as possible in the event of a breakdown. This is achieved with our fleet of over 100 fully equipped service vehicles, on standby throughout Germany. If a repair cannot be carried out on-site, machines can also be sent to one of our branches, which are equipped with top-quality workshops. Our service engineer will organise for the machine to be dispatched – for you there is no additional effort involved. If necessary, we will provide you with a replacement machine via the Kärcher rental service.
Our vehicles – a travelling workshop!
Kärcher vehicles have everything on board that service technicians need for inspections, services and repairs. In addition to all of the necessary measuring instruments, standard tools and Kärcher-specific tools, our vehicles are also equipped with the most important spare parts and wear parts, as well as accessories and cleaning agents. Not only do our service engineers have access to all of this equipment, they also have their own laptops through which the entire repair is processed. The laptops can also be used to access technical documents relating to any available Kärcher machine. We ensure that all of the essential requirements to carry out your repair – which are for us a given – can be met as quickly as possible.
Our workshops
Repairs on large machines and machine overhauls are carried out in our workshops. In addition to our central workshop in Winnenden, we also have other workshops in our branches throughout Germany, where all of the necessary measuring instruments, standard tools and special tools, as well as all of the most common spare parts and wear parts are of course available. What's more, any necessary spare parts can be retrieved directly from our central warehouse and are available within 24 hours. What could be better?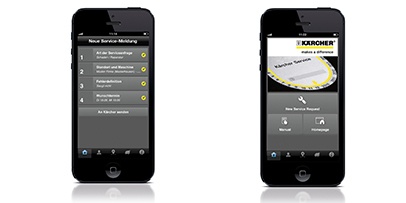 The Kärcher Service App.
The Kärcher Service App provides support quickly for commercial customers everywhere.