Submersible pumps
Kärcher submersible pumps are extremely robust and very long-lasting – even with demanding use in the private sector. This is made possible by a tried-and-trusted ceramic slide ring sealing used in professional applications, which is particularly hard-wearing. With our submersible pumps for dirty water, even contaminated, sludgy water can be conveyed easily from A to B at high pressure and a considerable delivery height. Flat-suction pumps can suck away clear or only slightly dirty water down to a level of just 1 mm. All that's left to do is wipe the surface dry. The new submersible flat-suction dirty water pump meets both challenges brilliantly.
Kärcher submersible pumps for demanding tasks
Submersible dirty water pumps
Robust through and through and particularly long-lasting, our submersible dirty water pumps do their job perfectly wherever they are needed. They are the first choice if quick action is required in a flood situation, but are also ideal for pumping out ornamental garden ponds before a restorative clean, for example. The dirty water can contain particles with a grain size of up to 30 mm.
Features and advantages of Kärcher submersible pumps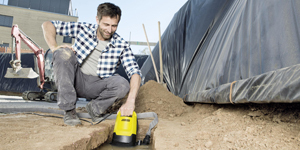 Extremely long-lasting
Protected by an oil chamber, the ceramic slide ring sealing increases the lifetime of the submersible pumps.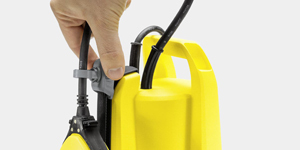 Flexible switching level adjustment
Setting the switching level is particularly easy thanks to the height-adjustable float switch.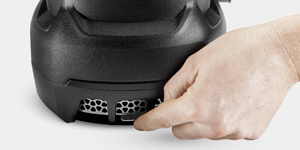 Perfect protection
The prefilter, available in integrated form or as an optional accessory, reliably protects the pump against blockages.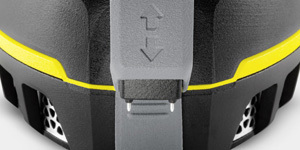 Automatic pump start
The level sensor reacts immediately – even at a low water level.
Accessories
As a reliable system provider, we offer our customers a comprehensive range of high-quality original accessory parts. There are many different fields of application around the home for our tried-and-trusted pump systems. With Kärcher original accessories, you are always well-equipped.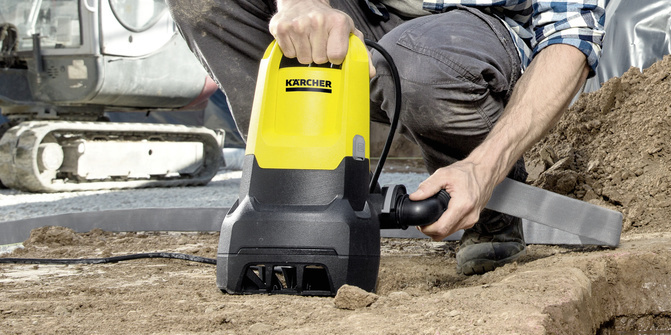 Practical fabric hose
The flexible fabric hose with stainless steel hose clamp and wing screw can be connected without any tools and stored in a space-saving manner.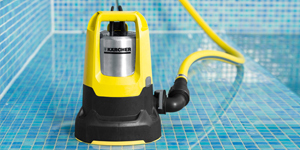 Reliable and compatible
Spiral and garden hoses are perfect for connecting to all Kärcher pumps.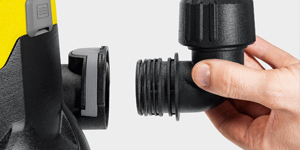 Easy connection
By using Kärcher adapters and connections, you can join hoses and pumps together safely and without problems.
Perfectly equipped
The removable prefilter increases the functional reliability of your submersible pump and protects the pump impeller against any blockages.
You can find the right accessories for your pump on the product page.