Air Purifier
AF 100
For optimum air quality in rooms up to 100 m²: The AF 100 mobile air purifier with a precise laser sensor, automatic mode and multiple filter types for different areas of application.
Dust, pollen, odours, chemical gases: The air quality in many workplaces is not always ideal. Our professional AF 100 air purifier provides easy relief. Its powerful motor only needs a few minutes to provide a room up to 100 m² in size with fresh, clean air. The unit is mobile and, thanks to its robust rollers, can be moved easily to position it in another room. Depending on the application, you can equip your air purifier with filter inlays. These include an all-round filter with an extremely wide range of efficiency to meet any application requirements. Or you can choose one of the four filters which have been specifically developed for the targeted elimination of bacteria, odours, allergens or volatile organic compounds. A precise laser sensor is integrated for the purpose of continually monitoring the air in the room and controlling the automatic mode. The air quality is displayed atall times in a clear colour-coded diagram; additionally, the current fine dust content in the air and the remaining filtering time can be read off a display at any time.
Features and benefits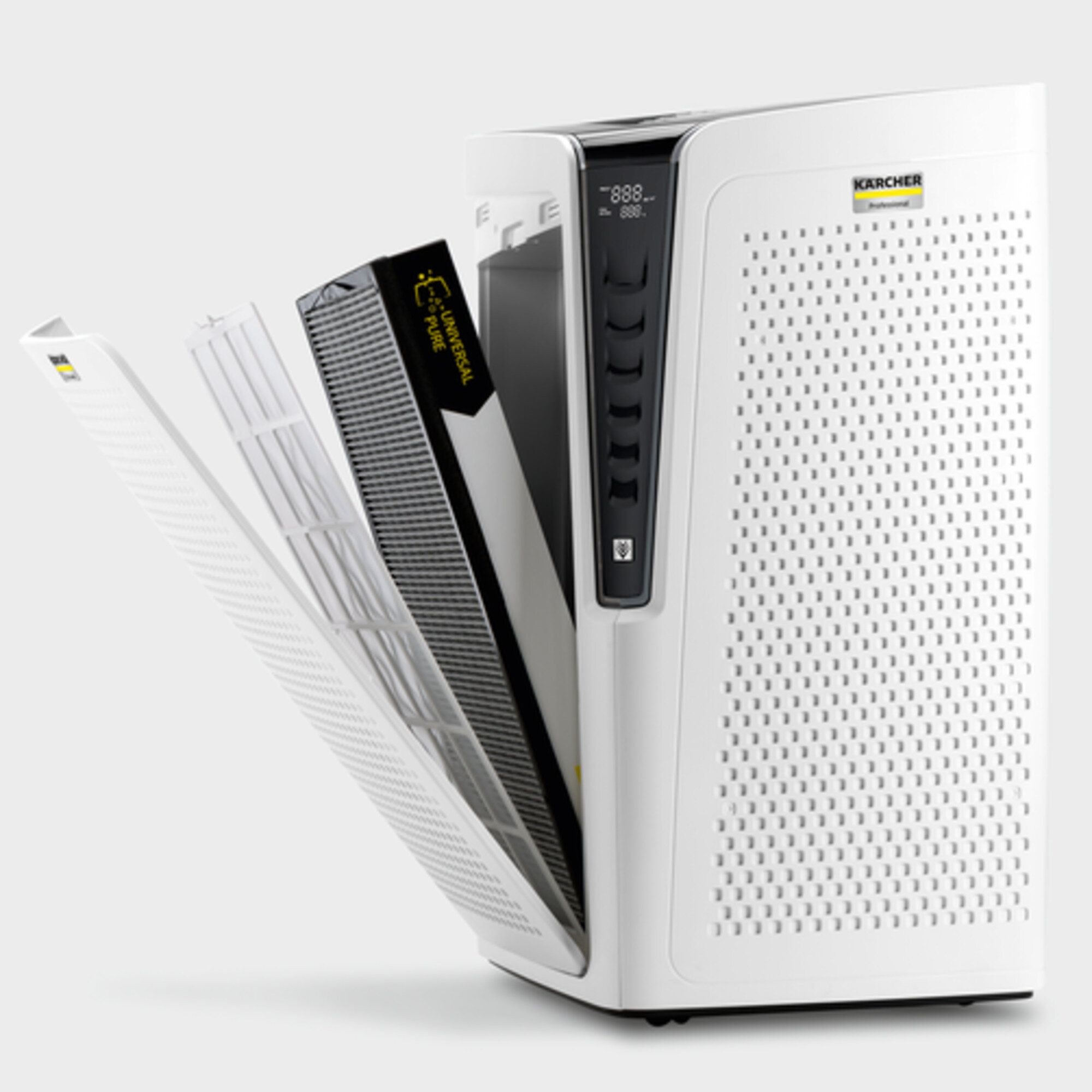 Five filter inlays for various applications
Special filters for eliminating bacteria, allergens, odours and volatile organic compounds.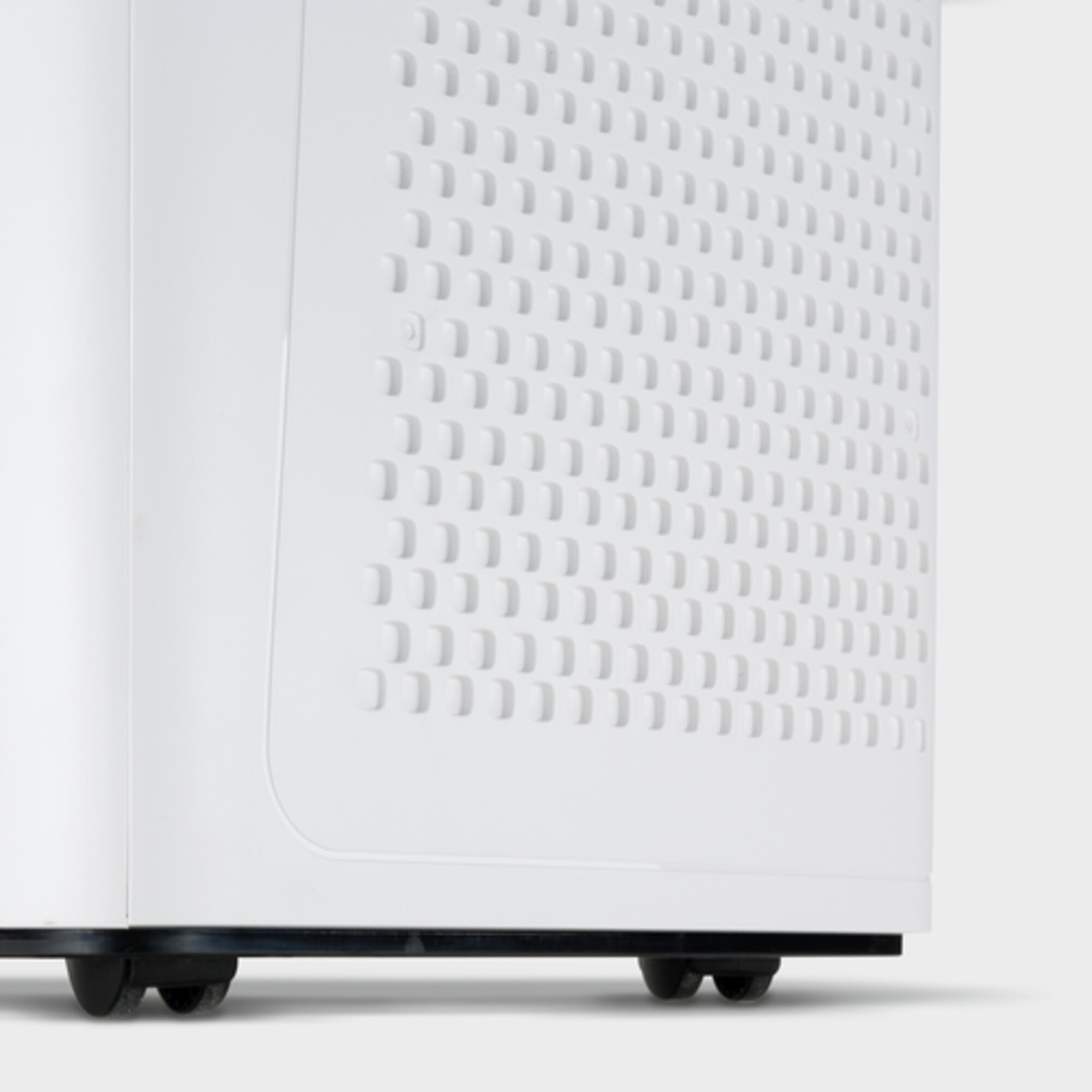 Compact design with high mobility
Easy to move between rooms thanks to the unit's robust rollers.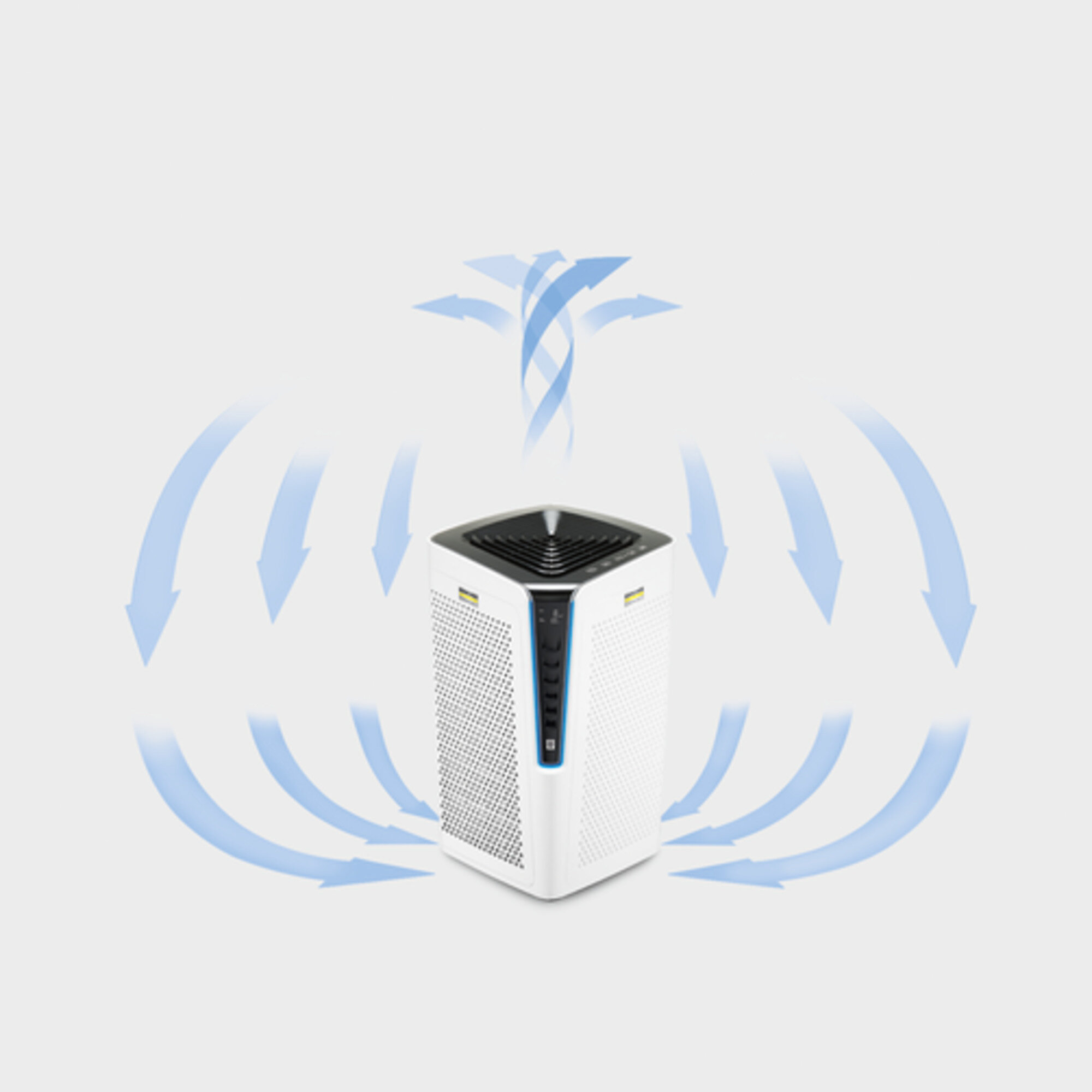 Powerful motor for rooms up to 100 m²
Fan with three speed settings.
Intuitive operation and simple maintenance
Filter service life can be read off the display. Customers can replace the filter easily themselves.
Precise measurements of the current air quality using a laser sensor
Air quality is displayed in a coloured diagram (blue = very good, green = average, red = poor).
Sensor data regarding the fine dust value (PM2.5) in the air in the room is shown on the integrated display.
Specifications
Technical data
Sound pressure level (dB(A))
min. 26 - max. 48
Suitable room size* (m²)
up to 100
Air throughput** (m³/h)
up to 750
Filter efficiency according to particle size
0,3 µm < 99,9 % / 0,1 µm < 99,9 %
Supply voltage (Ph/V/

Hz

)
1 / 220 - 240 / 50 - 60
Rated input power (W)
max. 80
Weight without accessories (kg)
11,3
Weight incl. packaging (kg)
17,2
Dimensions (L x W x H) (mm)
380 x 380 x 713
Equipment
Prefilter
Active carbon filter
Universal Solution
Dual filter system
Filter change indicator
Air quality display
Operation of the device with touch function
Automatic mode
Night mode
Rollers
Cable length, 2.25 m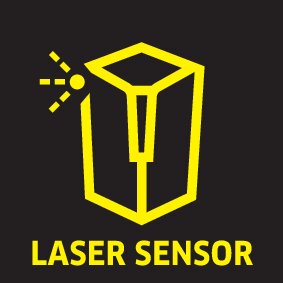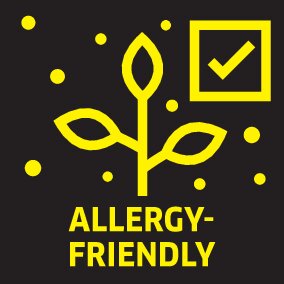 Application areas
Sterilising air purifier for offices, the hospitality sector, industrial use, doctors' offices, the retail sector and other locations
Find parts
Find parts & diagrams for your Kärcher cleaning equipment. Select "Find Parts" to begin your search or contact your authorized Kärcher dealer or retailer.