Dry vacuum cleaner
No chance for dust.
Our technically advanced Kärcher dry vacuum cleaners excel at hunting down loose and dry dirt, particularly in hotels, offices, retail, and building cleaning services. There, the quiet and compact devices impress with their continuous operation during daily maintenance cleaning.
These versatile whisper quiet dry vacuum cleaners with eco!efficiency save electricity, have a high area performance, are versatile and suitable for different floor coverings. Durable fleece filters ensure consistently high suction power.
Kärcher brush vacuum cleaners use powerful suction and the cleaning action of an electric brush. They effortlessly remove stubborn dirt particles from the fibres.
Cordless flexibility, powerful cleaning performance, increased productivity and also especially low-noise operation: The new battery powered dry vacuum cleaners from the Kärcher Battery Power+ platform with energy-saving eco!efficiency mode.
Dry vacuum cleaners: versatile and robust for daily use
Kärcher dry vacuum cleaners are in constant use in hotels, offices, retail, and professional building cleaning services, effectively dealing with all common dry dirt. This includes loose dust, dust bunnies, or hair. Our commercial canister vacuums economically support you in daily maintenance cleaning with sophisticated technology and high quality. Compact and quiet, they easily handle versatile cleaning tasks as the devices impress with high area performance and flexibility - even when battery-powered. This makes it easy to clean noise-sensitive areas, different surfaces and areas with low clearance, as well as heavily furnished areas, either spotlessly or extensively. The dry vacuums are also used for dusting lamps, furniture, or walls.

What makes Kärcher dry vacuums so special?
When developing our canister vacuums, we pay attention to high user comfort, maintenance-friendly design, and ergonomic accessories. Despite their high suction power and efficient blower, the devices are particularly quiet, lightweight, and track accurately. This includes robust and reliable filter technology - also available as HEPA filters.
The technology behind it
Kärcher's dry vacuum cleaners with through-flow blowers use the suction air simultaneously as cooling air. This contributes to them being very energy-efficient and cost-effective. In addition, they are particularly lightweight and compactly built and so quiet that their use does not disturb even in areas with public traffic.
The heart: the EC suction turbine
The EC motor, a robust direct current motor with an electric inverter, has crucial advantages over conventional commutator motors. The most significant advantage: its exceptionally long lifespan. The motor operates without carbon brushes and starts without an ignition spark. As a result, it is not only suitable for explosion-proof areas but also for multi-shift operations over long work intervals. The integrated controller allows for continuous speed regulation, making it possible to adjust the suction power accordingly.
Battery dry vacuum cleaner - faster, more flexible, safer
Wireless flexibility, powerful cleaning performance, increased productivity, and particularly quiet: the new battery-powered dry vacuum cleaners from the Kärcher Battery Power+ platform with energy-saving eco!efficiency mode.
Learn more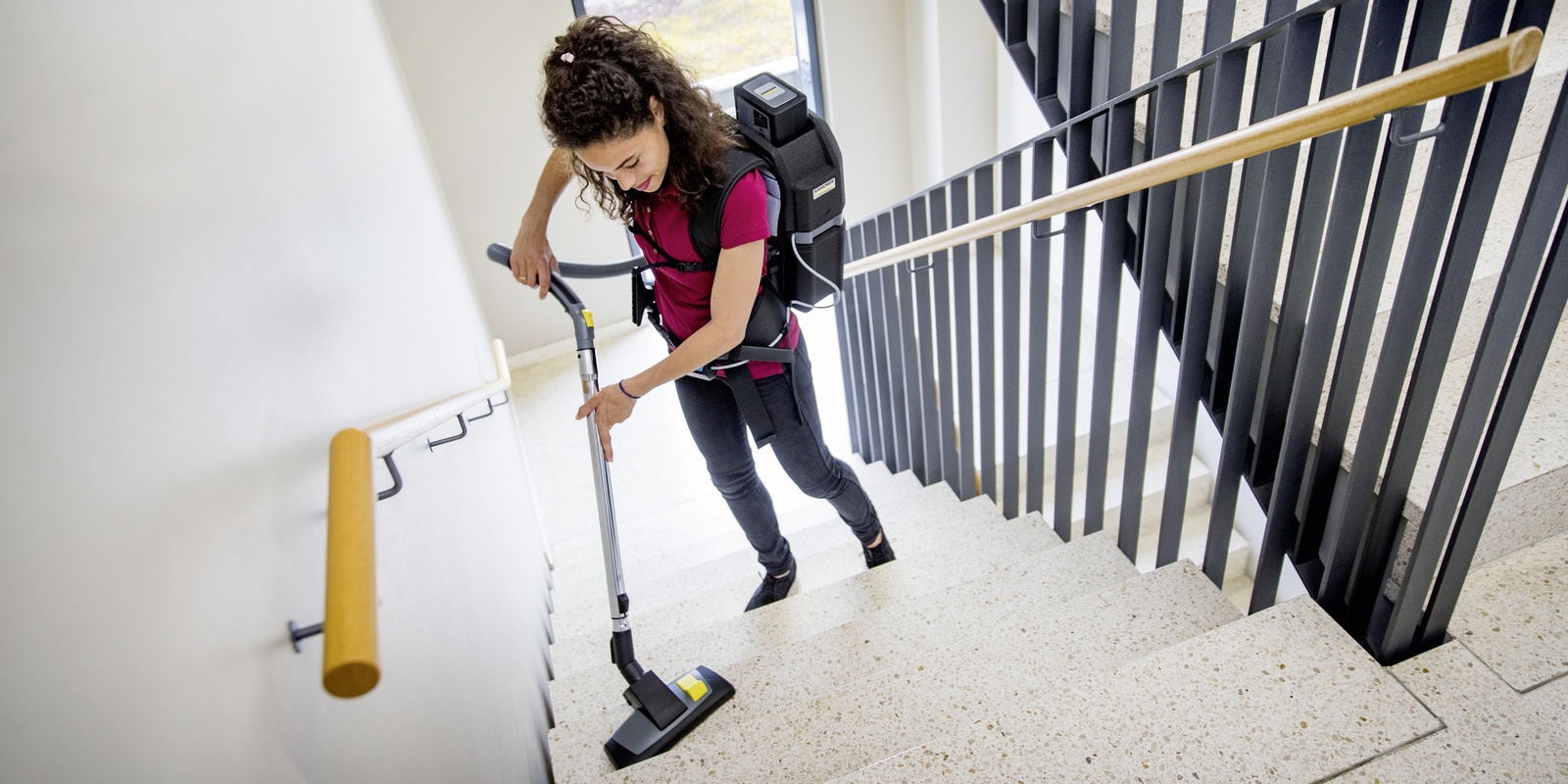 Staircases
Power outlets are usually in short supply here. And cordless vacuum cleaners don't need extension cords either. With one round through the entire staircase, everything is done.
Cordless vacuum cleaners can save up to 35% of time here.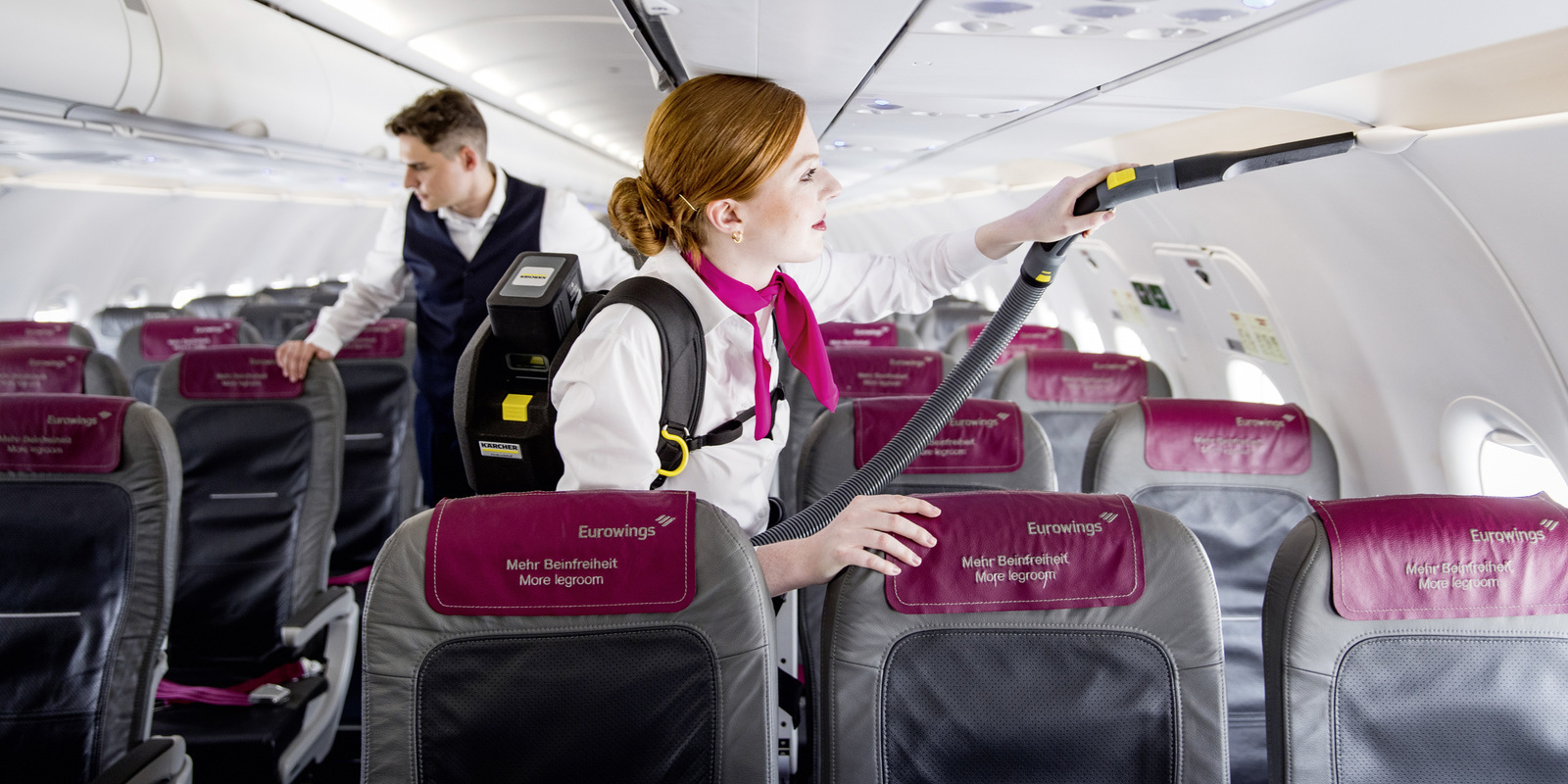 Aeroplane
There is not much time before the next passengers board. The intermediate cleaning is much faster than the cumbersome handling of corded devices.
Battery vacuum cleaners save up to 50% of time here.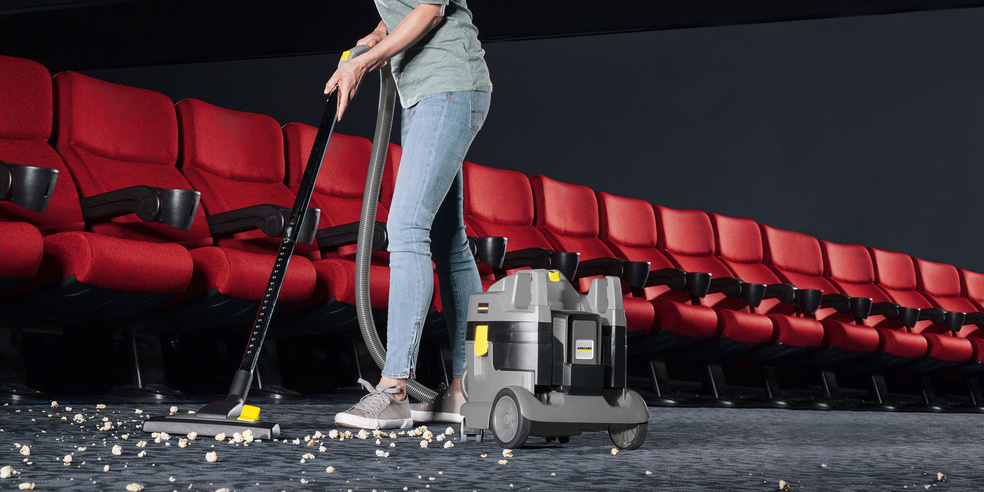 Theatre/Cinema
Without having to plug in cables and without many routes between the socket and the vacuum cleaner, the seated rows and stairs can be cleaned easily and quickly.
Battery vacuum cleaners save up to 40% of time here.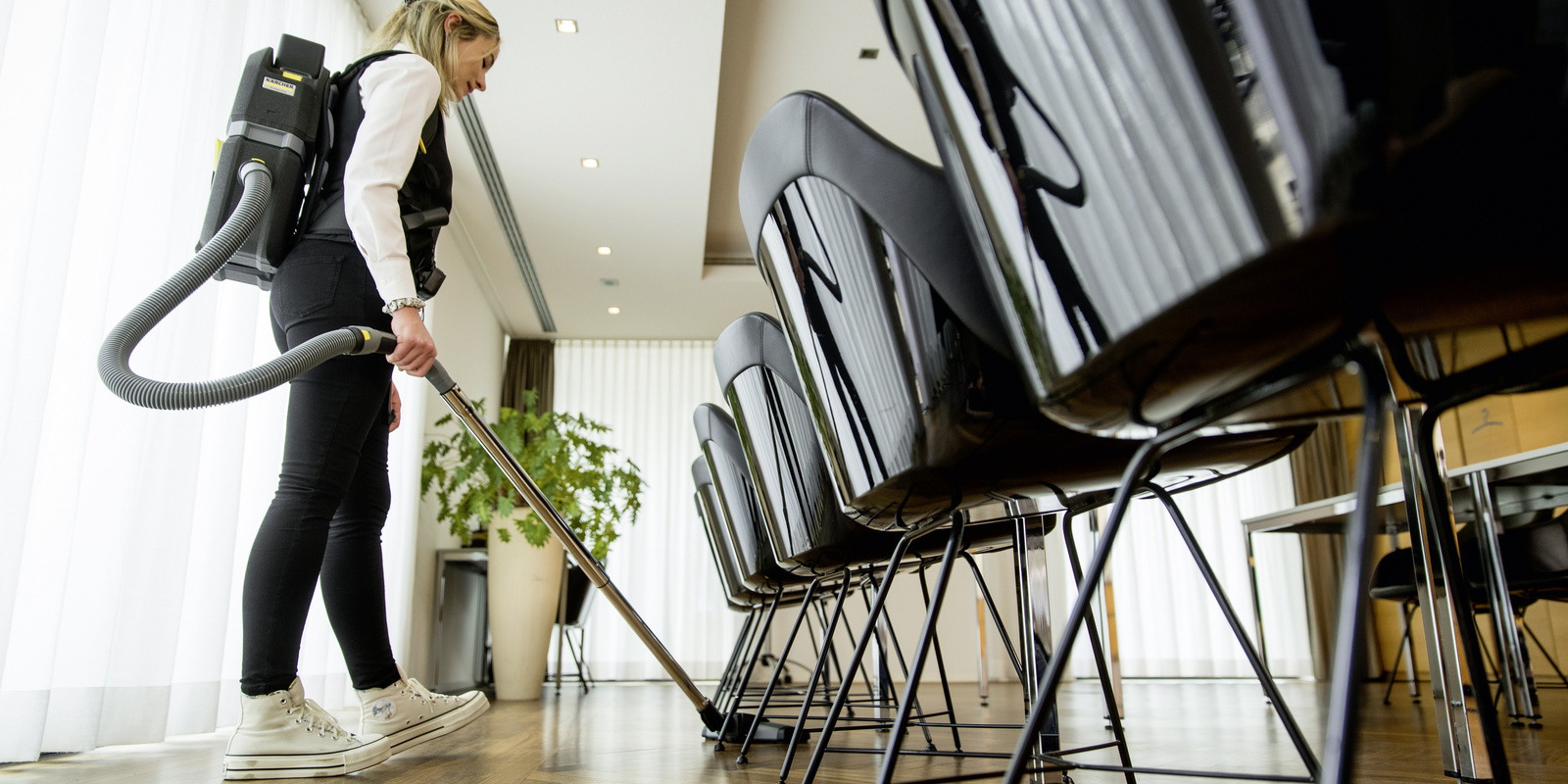 Seated function rooms
With a battery vacuum cleaner, you can vacuum continuously without the need to untangle or switch cables.
Battery vacuum cleaners save up to 30% of time here.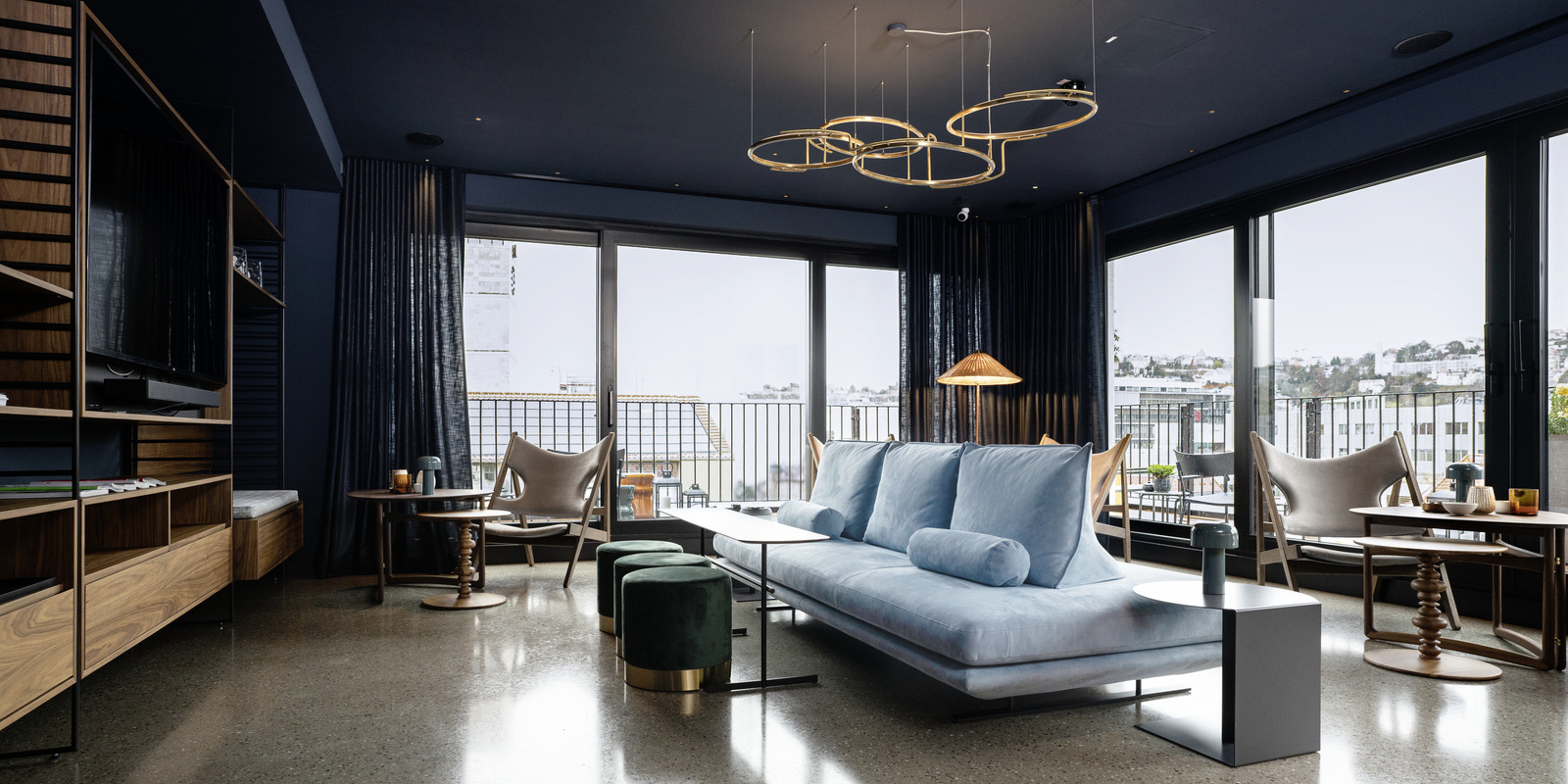 Entrance areas and hotel lobbies
High customer traffic, many pieces of furniture, but also a lot of dirt. In these large rooms, not only the need to change to the next outlet is eliminated. It also prevents cables from wrapping around furniture and becoming trip hazards for guests.
Battery-powered vacuum cleaners save up to 15% of time here.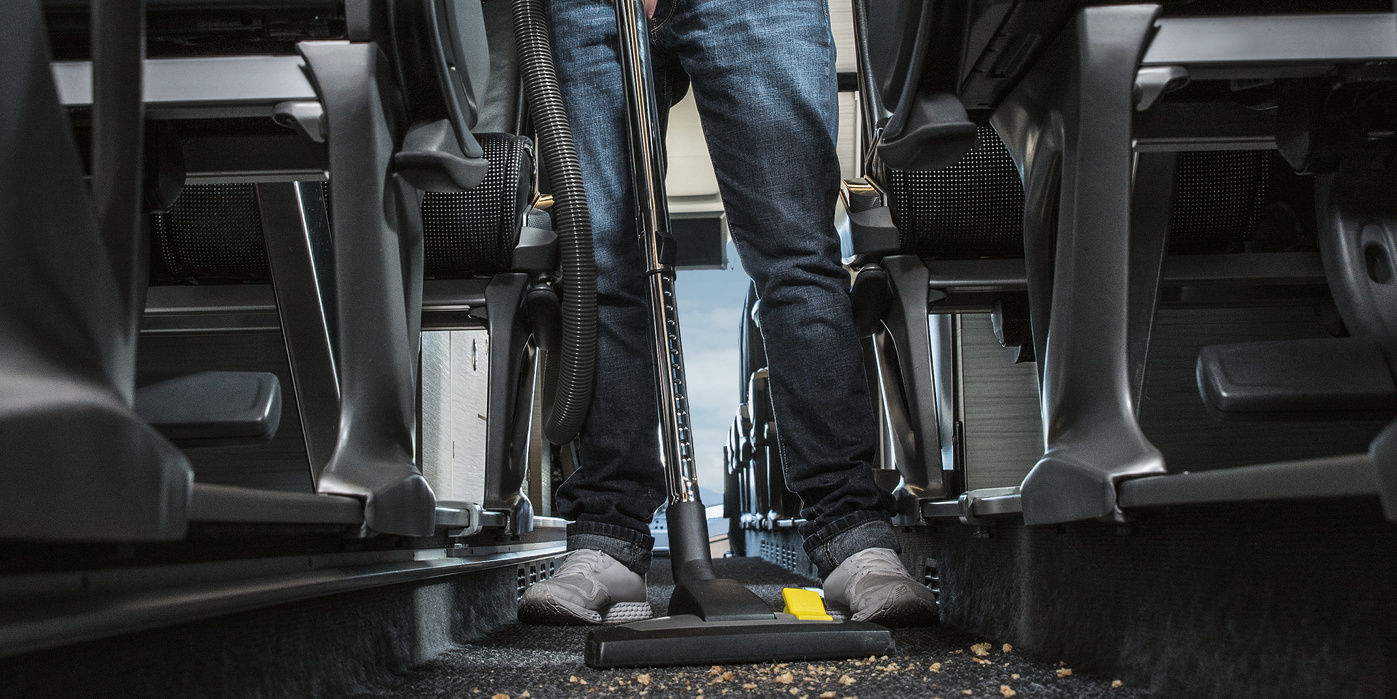 Public transport
In buses and trains, cleaning staff often rely on external power sources and extension cords. It is much simpler and more efficient to work in the limited space with battery-powered vacuum cleaners.
Battery vacuum cleaners save up to 25% of time here.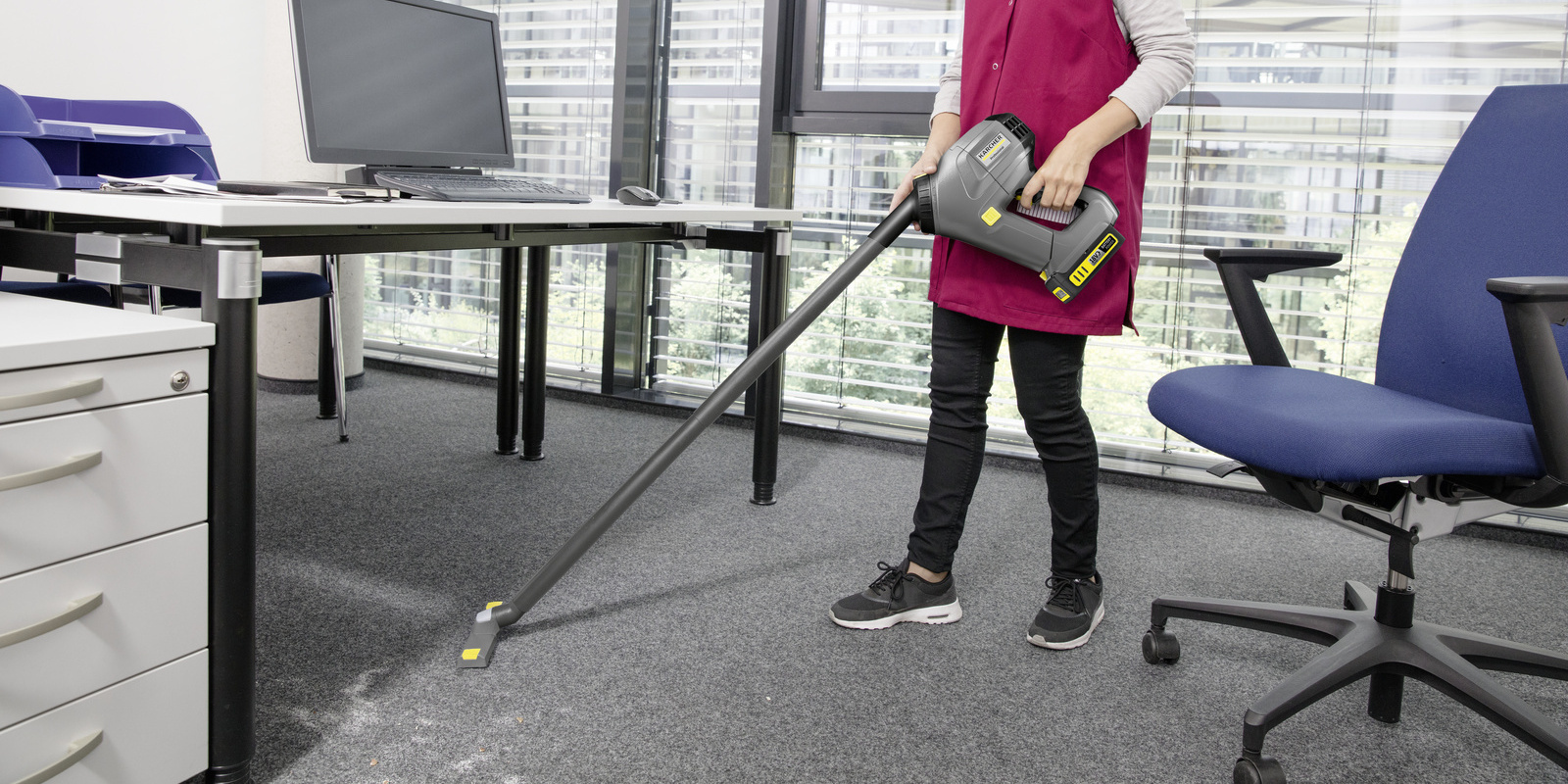 Office spaces
Especially in open-plan offices, vacuuming can become an obstacle course. Without cables getting caught on furniture, a lot of time can be saved.
Battery vacuum cleaners save up to 25% of time here.
Well vacuumed is well filtered.
Dust and dirt, microbes, fine particles, and allergens accompany us daily and also affect the indoor air quality in public buildings such as offices, hotels, hospitals, medical practices, or schools. Respiratory diseases are often the long-term consequence.
Therefore, Kärcher dry vacuum cleaners are equipped with sophisticated filtration technology. Different types of construction require different types of filters made from various materials. These include a permanent filter basket, fleece filter bag, exhaust filter, and HEPA filter. All professional Kärcher dry vacuum cleaners feature a motor protection filter that safeguards the blower from fine dust particles. An exhaust filter is used to clean the outgoing air and reduce noise levels. Many models also offer the option to use a HEPA exhaust filter.
HEPA-14 filters: the hygiene solution for clean indoor air
Kärcher HEPA-14 filters play a crucial role in effectively filtering even the finest aerosols from the air in enclosed spaces, thereby removing harmful particles. When installed in Kärcher dry vacuum cleaners, they efficiently and reliably clean the indoor air.
Learn more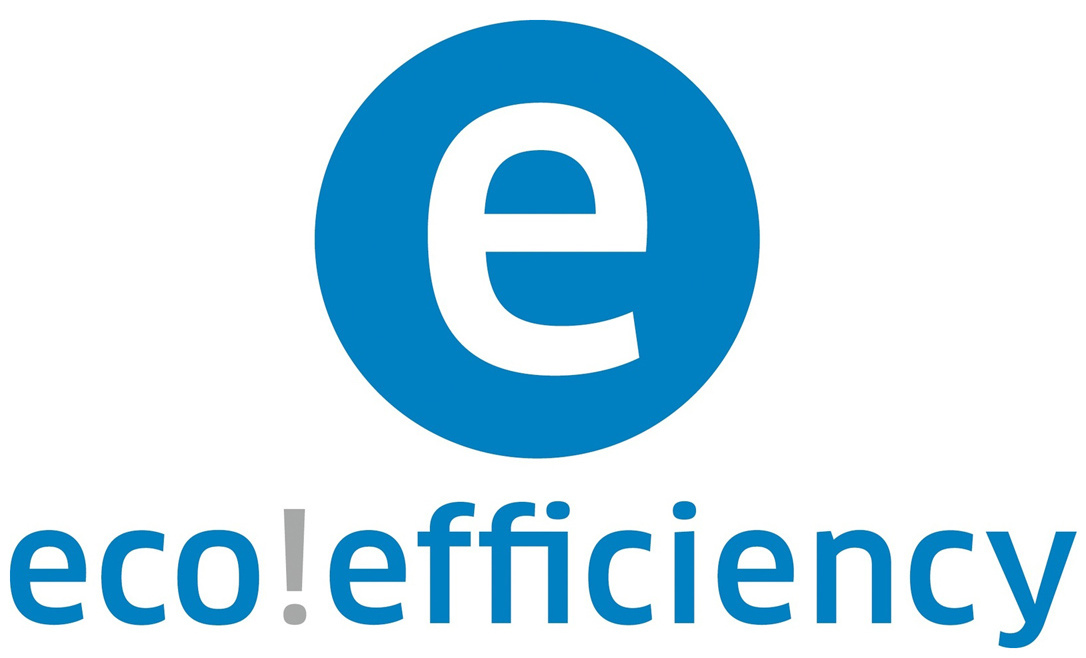 eco!efficiency

: Save up to 30% energy while maintaining maximum performance

To protect the environment and save costs, Kärcher offers an eco!efficiency mode or variant in many of its devices.

Our goal with eco!efficiency is to develop a device with reduced power consumption that matches the cleaning performance of a conventional vacuum cleaner. This is achieved through a specially designed 500-watt suction turbine and minimizing internal frictional resistance in the device and accessories.

Advantages:
Comparable cleaning performance to standard models
Increased durability due to low power consumption
Reduced power consumption (30% less than T 12/1 without

eco!efficiency

)
Reduced noise level
Detachable power cable