Drilling, sweeping, vacuuming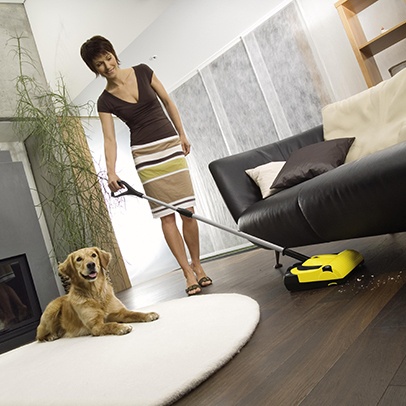 Sweep quickly and conveniently
For small amounts of dirt, a vacuum cleaner is not needed every time. The new K55 electric broom is fast, comfortable and cleans thoroughly. Cordless and battery-powered, it's always close to hand, and with it being so light, its convenient to use. The intelligent design allows sweeping right up to 1 mm from the edge. You can forget the dustpan and brush.
The brush can be removed for cleaning or replaced with a simple movement.
The battery can be removed and charged externally. With the extra battery (special accessory), you can clean uninterrupted.
The K55 Plus can sweep up to 1 mm from edges using its side brushes.
The large waste container can be quickly and conveniently removed and emptied.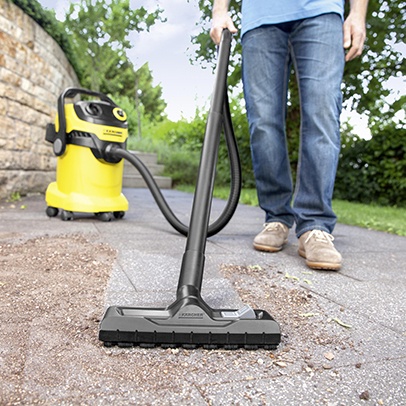 Multi-purpose vacs
The most powerful multi-purpose vacs ever.
Kärcher's versatile multi-purpose vacs offer outstanding suction power and exemplary energy efficiency, can be used anywhere and feature a new filter replacement technology and specially developed accessories.
Whether for dry, wet, coarse or fine dirt: Kärcher multi-purpose vacs ensure optimum dirt intake at all times, delivering perfect cleaning results all round. In short: Kärcher offers the right solution for every need and requirement – for both occasional and intensive use.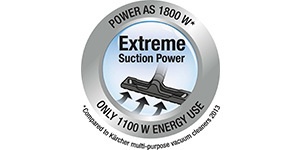 Thanks to special energy-efficient motors and the power-optimised construction of the devices and accessories, the new Kärcher multi-purpose vacs are not only significantly more powerful than their predecessors, but also the strongest Kärcher suction devices of all time for the consumer market.
Overview of benefits: optimum dirt intake, considerable time saving, versatility.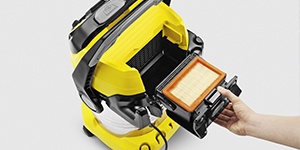 With the innovative filter replacement technology, available in the middle and top-class ranges, the filter can be removed in seconds. In addition, the flat pleated filter, made popular in our professional cleaner range, is contained in a filter box in the device head - which means extra-quick removal in two easy steps. Just open up the filter cartridge and remove the filter – done!
Overview of benefits: quicker and more convenient filter removal, no contact with dirt and no spreading of dust.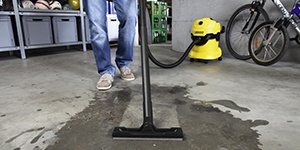 With their completely new range of accessories including floor nozzle, pipes, suction hose and handle, all of the new models guarantee perfect cleaning results and maximum ease of use. All types of dirt are removed quickly and residue-free.
Overview of benefits: perfect cleaning results, maximum convenience, minimum effort, maximum freedom of movement, no blockages, no interruptions.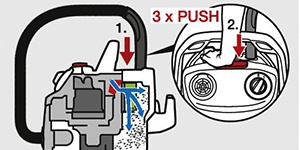 Thanks to the integrated filter cleaning function, dirty filters in all the top devices MV 5-6 can be quickly and efficiently cleaned simply by pushing the filter cleaning button. This means that the suction power can be restored, even during difficult home cleaning tasks. The benefits at a glance: no manual cleaning required, no contact with dirt, suction power is quickly restored.
Suitable devices and accessories