K4 Full Control Pressure Washer
The K4 Full Control is the perfect partner for tackling tough, medium sized cleaning tasks. This model comes with a dirt blaster and a vario power spray lance.
Kärcher
K 4 Full Control
13240020
https://www.kaercher.com/ie/home-garden/pressure-washers/k-4-full-control-13240020.html
The K 4 Full Control is the perfect partner for tackling tough, medium sized cleaning tasks. This model comes with a dirt blaster and a vario power spray lance.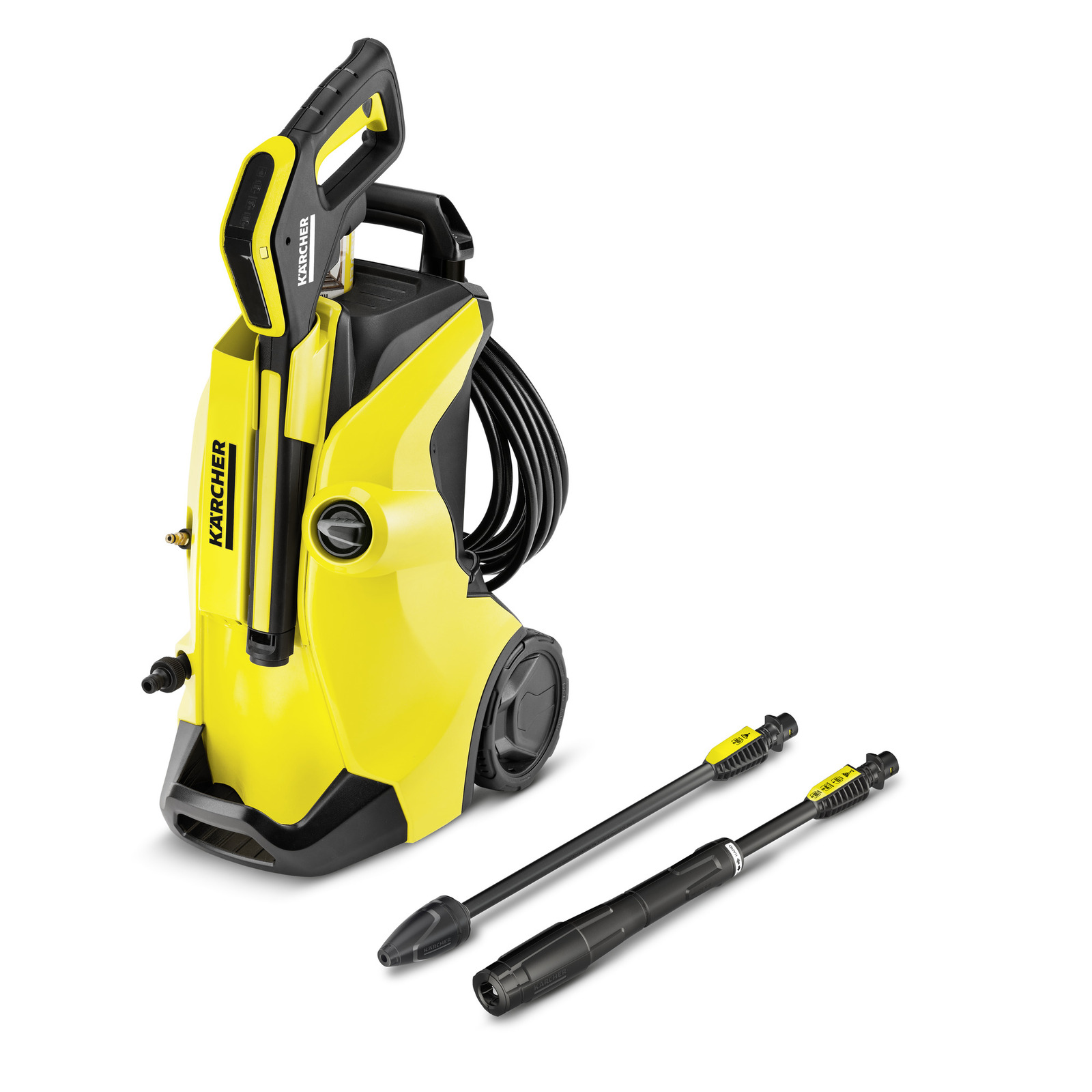 The Kärcher K 4 Full Control pressure washer is a great addition to your tools. This product will help you achieve amazing results. Whether you are looking to clean your patio, car, wheelie bin, garden furniture, fencing and many other applications, the new full control system can help you find the right pressure setting, ensuring an optimal clean. Simply choose the correct spray lance, based on the surface you wish to clean, using the surface symbols on the spray lances as guides. Once you have chosen the lance you wish to use, simple twist the vario lance to find the correct pressure setting, guided by the LED display on the trigger gun. This new system will help you achieve the best possible clean for your home. This K 4 model is perfect for tackling medium sized patios and cars and yet powerful enough to tackle tough dirt. With it's long-life water-cooled motor, this model comes with a 3 year warranty. This pressure washer comes with a dirt blaster spray lance and a vario power spray lance.
Features and benefits
Full Control trigger gun and spray lances
Gives you direct feedback as to the pressure setting you are on, ensuring you get the right pressure setting for the surface you are trying to clean. The pressure can be regulated by twisting the Vario Power spray lance until the desired level is shown. The LED display on the Full Control trigger gun allows you to easily check the pressure setting you are on.
Parking position for easy accessory storage at all times
The Full Control trigger gun and the connected spray lance can be stored on the pressure washer during cleaning. The Full Control trigger gun is easily accessible. After you have finished, the Full Control trigger gun and spray lances can be stored on the pressure washer to save space.
Plug and Clean
Quick and easy application of detergents through the pressure washer, when in detergent mode. The Plug and Clean detergent can be replaced quickly and easily with one simple movement. Kärcher detergents increase efficiency while cleaning, help prevent dirt from returning and help to protect and care for your surface.
Telescopic handle

For a convenient pulling height.
Completely retractable for a compact storage solution.
Specifications
Technical data
| | |
| --- | --- |
| Pressure (bar/MPa) | 20 - up to 130 / 2 - up to 13 |
| Flow rate (l/h) | max. 420 |
| Max. water feed temperature (°C) | max. 40 |
| Power rating (kW) | 1.8 |
| Area performance (m²/h) | 30 |
| Weight without accessories (kg) | 11.4 |
| Dimensions (L x W x H) (mm) | 397 x 305 x 584 |
Equipment
High-pressure gun, G 145 Q Full Control
Vario Power spray lance
Dirt Blaster spray lance
High-pressure hose, 6 m

Quick Connect

on machine
Detergent application via, Plug and Clean system
Telescopic handle
Water-cooled motor
Soft bag
Integrated water filter
Adapter garden hose A3/4"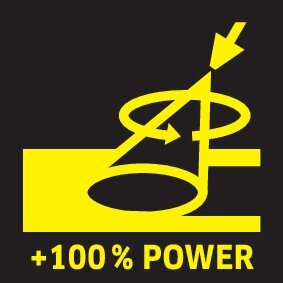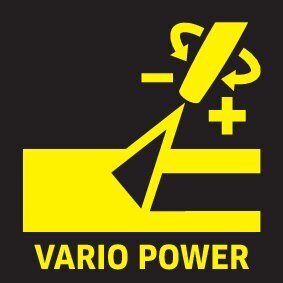 K 4 Full Control
is rated out of
5
by
72
.
Rated

4

out of

5
by
bigally
from
great features
great features,prompt delivery could do with a better instruction booklet.
Date published: 2018-04-24
Rated

5

out of

5
by
Slickusrickus
from
Better
I replaced my very old K4.99 after it gave out. So glad I got this model. The improvements are noticeable. Did a sterling job on my patio. It's very enjoyable when everything goes well and this coped brilliantly.
Date published: 2018-04-21
Rated

5

out of

5
by
Paultomo2005
from
K4 karcher full control
Very good product great value for money would recommend this product.
Date published: 2018-04-18
Rated

2

out of

5
by
Ross
from
Wheel retaining bolt missing from box
I purchased direct from Karcher on the understanding I would have no problems with the package. The item arrived with a retaining bolt and cap missing for a wheel. This put me out of my way with my busy schedules. After this was rectified, the pressure washer works great, very thirsty on car shampoo and wax though.
Date published: 2018-04-17
Rated

4

out of

5
by
Mr Vudu
from
Versatile, efficient & fun way to spend a Sunday!
I bought the K4 to replace an older Karcher model while it was on offer. I read up on the various models and, even though some reviews weren't wonderful, I am extremely pleased with it. I have found it to be a lot more powerful than my old Karcher and therefore quicker to get the job done. The hose stays connected as well, something the old model struggled with. Assembly was straightforward, if a little confusing in places. It is easy to transport and quick and requires little effort to clean after use. Much better overall than the old model, although some things don't change and two hours after starting The Big Clean my shoes and jeans were soaking wet and caked in dirt as usual. A very satisfying couple of hours though and with excellent results. I have cleaned the car, drive, garden path, shed roof - anything that stays still long enough. There seems to be a great range of accessories as well, so I intend dropping a few hints (subtle or otherwise) to the family around Christmas time. I would recommend for most domestic cleaning tasks outside the home.
Date published: 2018-04-17
Rated

1

out of

5
by
broken k4
from
great item but turned up damaged
opened the box to find that the base of the unit was smashed (leaving a hole) it does not effect the performance but you would like to think for the money i paid this wouldn't not leave the factory damaged. the box itself is in very good condition and the smashed bits are no where to be seen. this makes me believe it happened in the factory and it still got approved to be sent out. i have emailed customer service, no reply.
Date published: 2018-04-16
Rated

4

out of

5
by
kenkoi
from
great alteratives pressure wise
this product is great i am a bit dissapointed that no soap container came with the machine how can you test it. also the ad showed an ally handle mine is plastic.
Date published: 2018-04-15
Rated

4

out of

5
by
Curlyshavings
from
Out with the old, in with the new!
I bought my first Karcher pressure washer (a K580) back in the mid-1980s, when it was used around my small farm to clean the buildings, yard and vehicles. The power was awesome and left every surface on which it was used absolutely spotless (and, until I sussed the pressure control - took off a fair bit of paint here and there, too!). Earlier this year, the splashproof switch broke, and unfortunately, Karcher were unable to provide that particular replacement - despite the efforts of several members of their staff to locate one for me. I'm now retired and bought the K4 Full Control as being the most appropriate model for my less challenging cleaning needs around the garden, cars, etc. My initial assessment is that it was very easy to do the final assembly on delivery, I was delighted to find that the range of attachments I bought for the very old K5.80 are all usable with the new machine, and the portability was very well thought out. Having said that, I have a couple of minor grumbles:1) the pressure hose on the new machine is less flexible and poorer quality than that on the old machine, 2) During use, this machine cuts out after about a couple of minutes of full pressure delivery and will not resume until it has had about a minute or so of "rest". The first grumble may well be negated in time as the hose hopefully will become more flexible with use, and the second grumble may be due to the fact that I have either misread the instructions or the mains water pressure may be erratic (though I have never noticed it to be so). Am I happy with my purchase? Undoubtedly yes - because there is nothing out there with as good a pedigree at as competitive a price - and with excellent after-sales back up.
Date published: 2018-04-15