Pressure Washers
With the right setting for every task. Kärcher pressure washers give you the power and control for the most effective outdoor clean. From patios, decking and cars to wheelie bins and garden furniture, whatever your cleaning needs, we have the right pressure washer for you.
A range for everyone
When it comes to cleaning and maintenance, our pressure washers can always be relied upon. Each range has its own strengths, designed and engineered for you.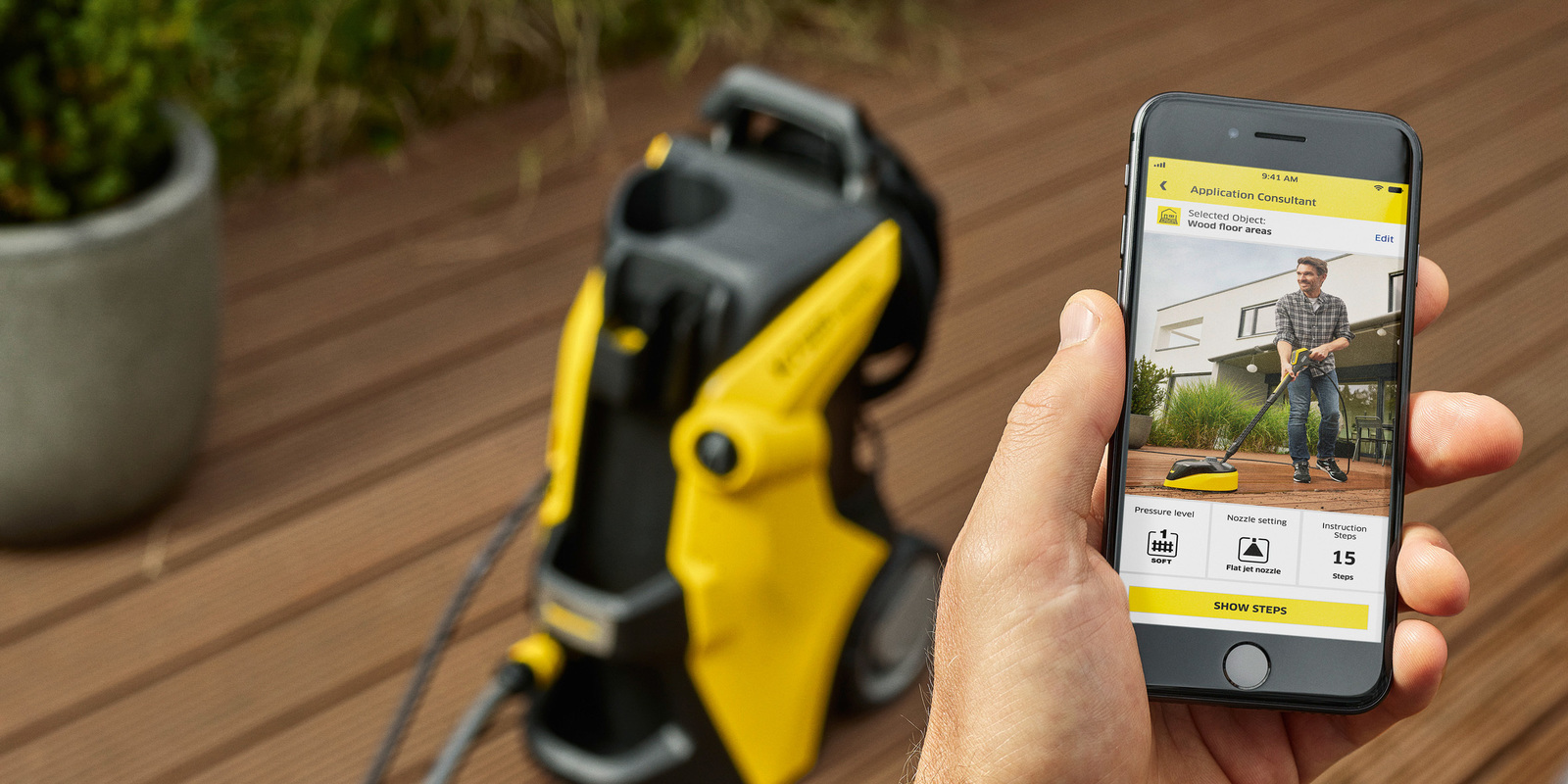 Smart Control
These high-tech pressure washers can tackle anything. With the integrated Home & Garden app, Bluetooth and clever equipment details, such as the Smart Control trigger gun and the 3-in-1 multi-jet spray lance.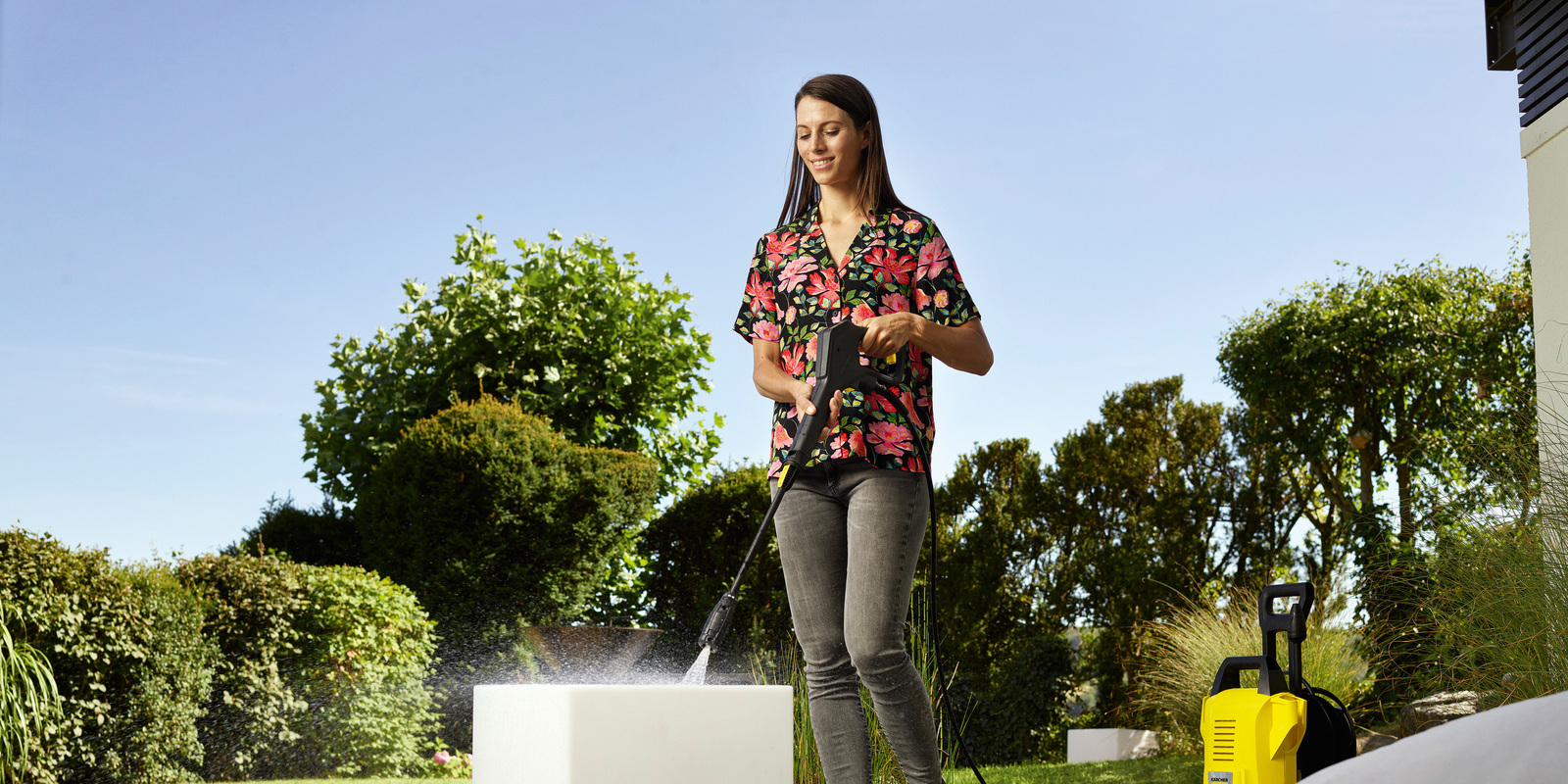 Power Control
Gentle and effective cleaning has never been easier, thanks to a good Dose of power, the support given by the Home & Garden app and powerful devices, such as the Power Control trigger gun with display or the Vario Power spray lance.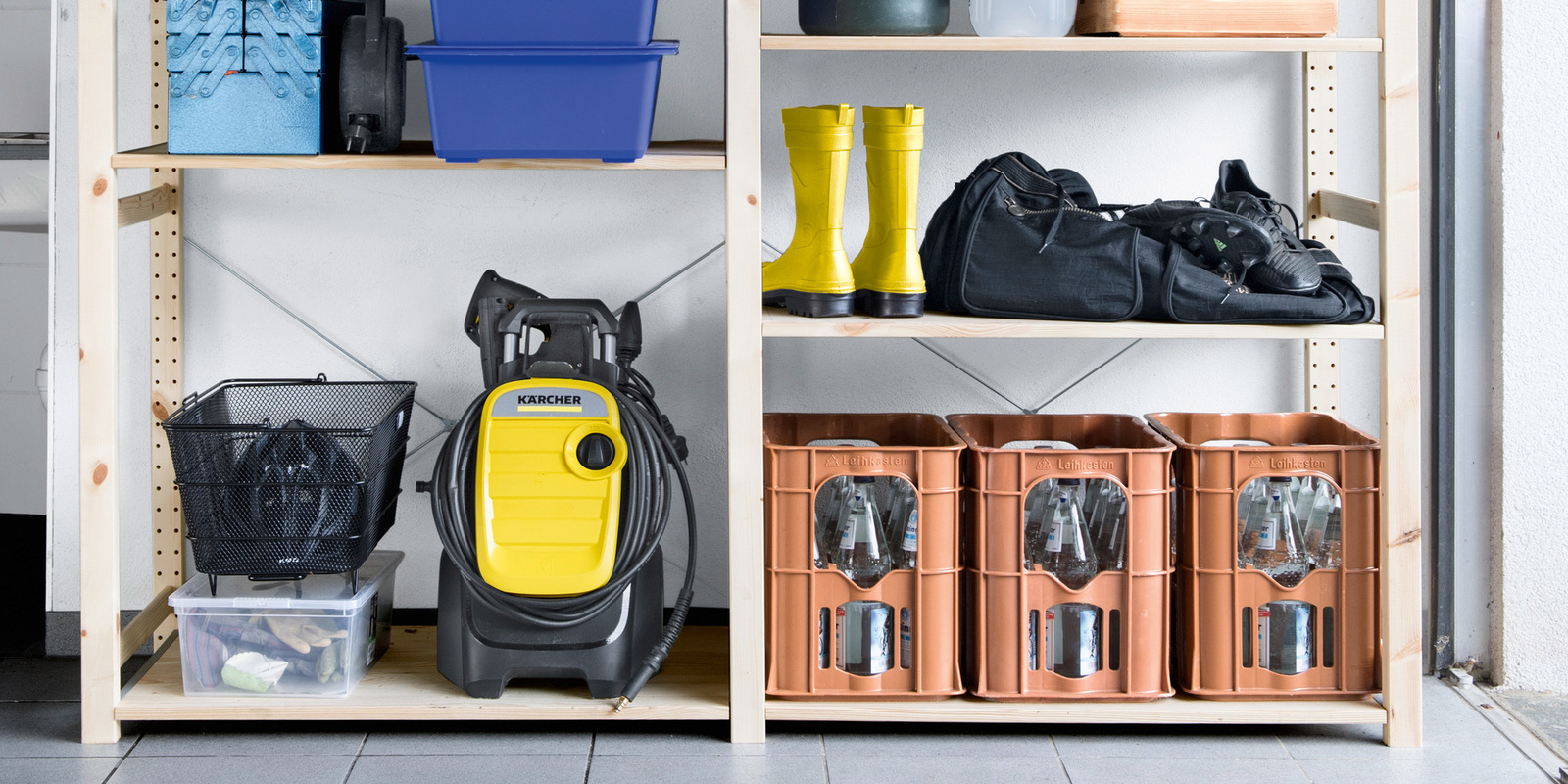 Compact
Those looking for portability and a compact design will find the perfect helper here. Minimal space requirements, easy to store and always quick to get to work. With clever, integrated hose storage.
Which Pressure Washer is right for me?
The right pressure washer makes cleaning that much easier.
The cleaning performance of a pressure washer is determined by how the water pressure and water volume are used in combination. The more optimal these two are aligned, the easier it is to remove stubborn dirt and you can clean areas faster.
Here at Kärcher, we assign our pressure washers to different performance classes, the larger the areas you have to clean or the larger number of jobs, the higher the recommended performance class. This ensures you get the most effective clean. For example, if you have a large patio area, a K7 model would suit you best, not only due to the better cleaning performance, but you will also get a longer hose length, to increase your cleaning radius without having to move your machine.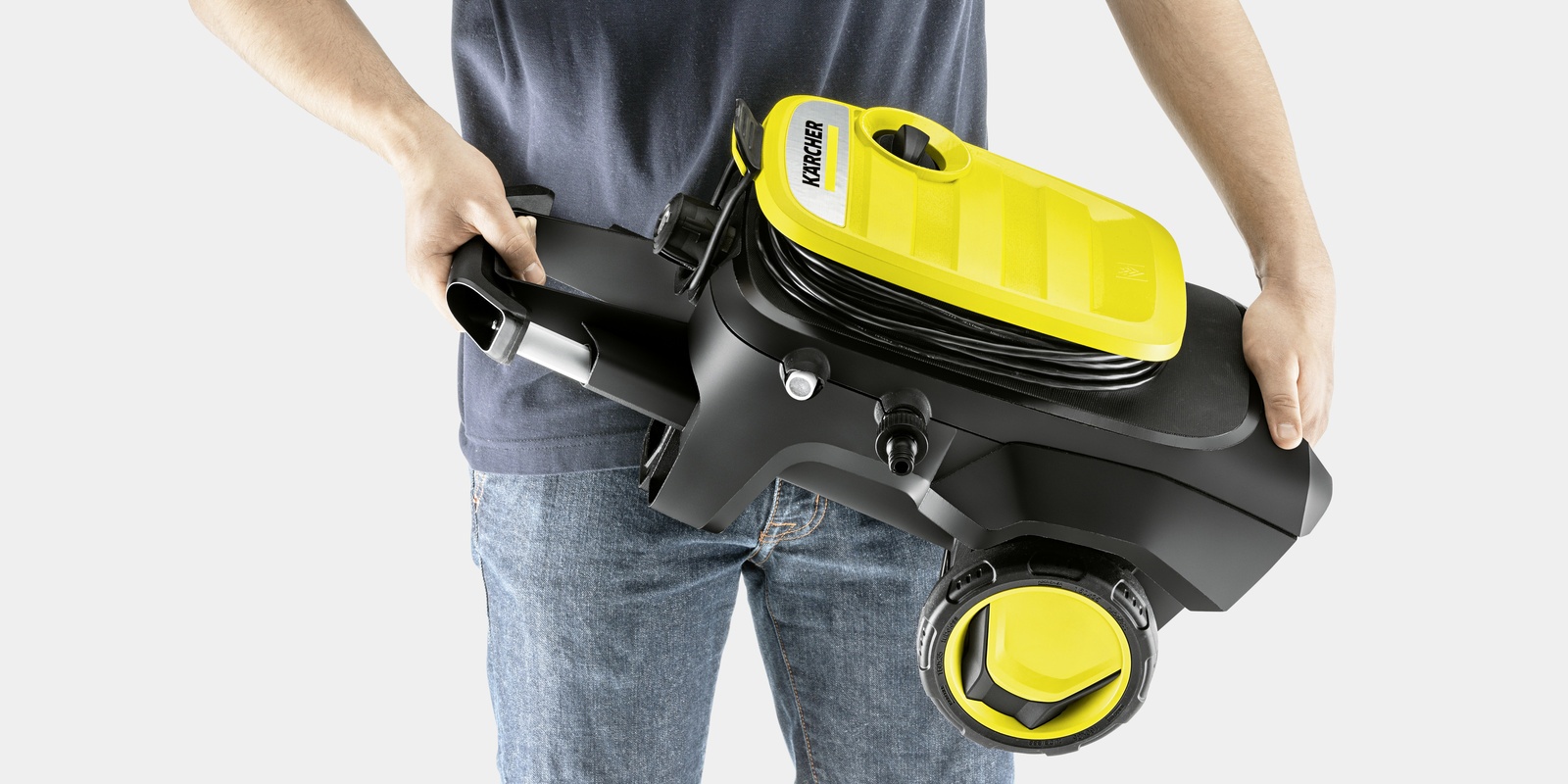 Simple to transport
The second carrying handle on the underside of the Compact devices enables them to be stored simply on a shelf or in the boot of a car.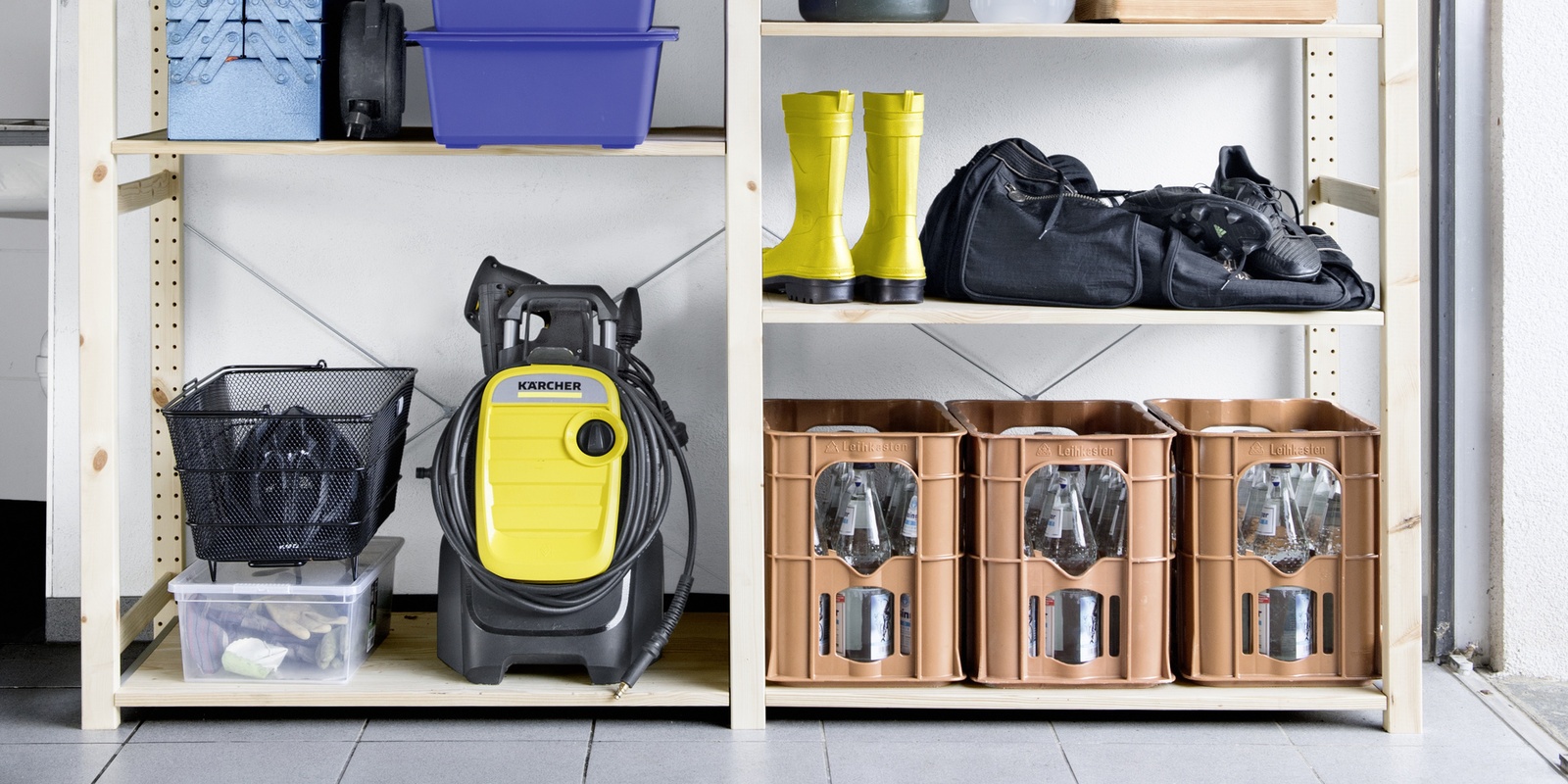 Easy to store
The K 4 to K 7 models have high-quality aluminium telescopic handles which can be conveniently extended and pushed together again – ideal for storage.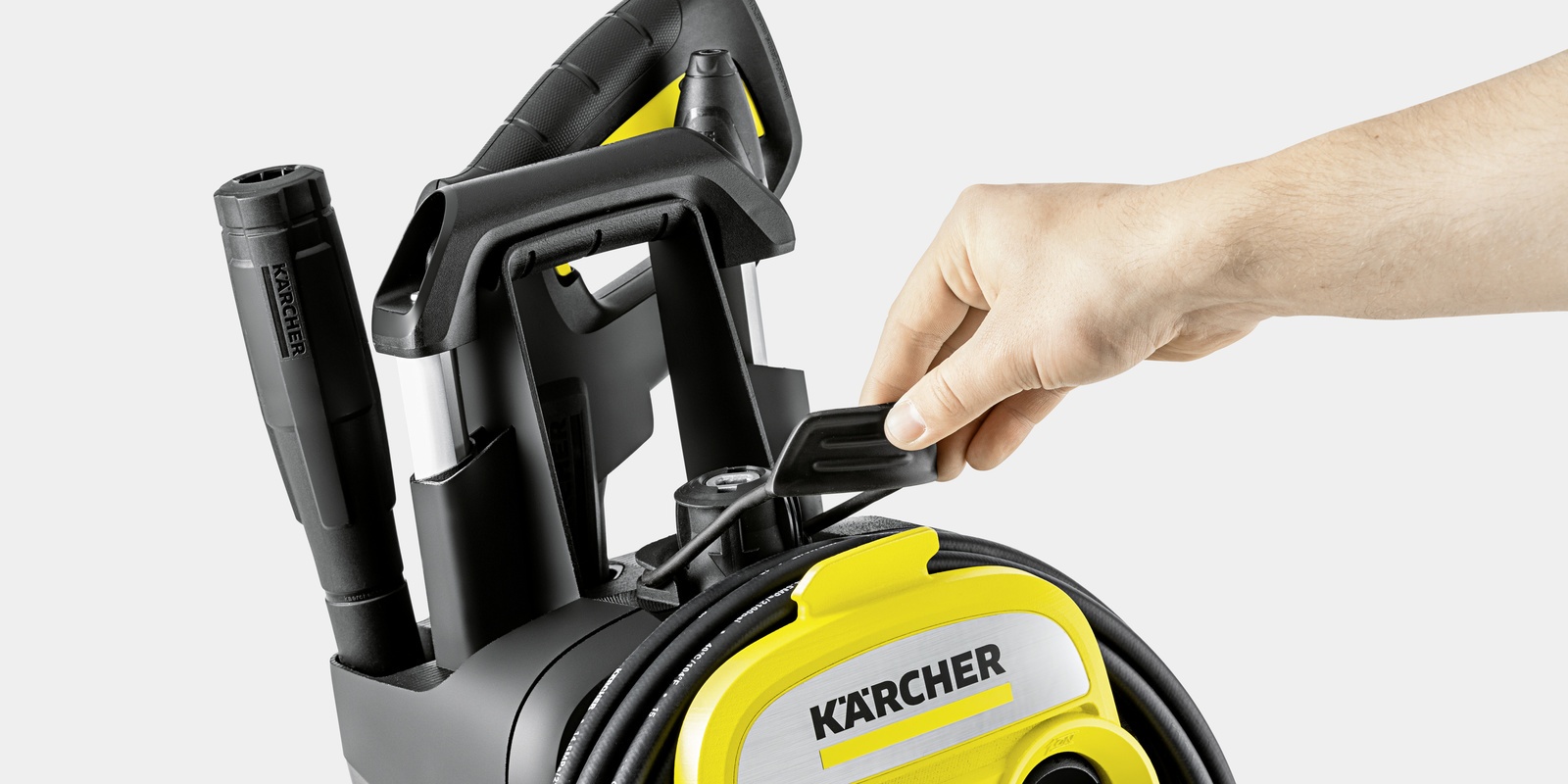 Innovative hose storage concept
The clever way to store your hose: the high-pressure hose of the K 5 and K 7 models can be conveniently wound up and secured with the elastic strap for transport or to store it after use.
Discover the different uses of pressure washers
Pressure washing is the most effective way to clean outdoors and is extremely easy: connect your device to the water supply and power outlet, turn on the tap, switch on the pressure washer, and let the cleaning fun begin! With matching special accessories, the devices are transformed into real all-rounders: whether for patio or decking, car cleaning, clearing the guttering or even cleaning the bins, the application possibilities are virtually endless. The pressure is always greatest the closer you are to the nozzle, therefore the distance of the nozzle to the surface you are cleaning should be adjusted accordingly to get the perfect cleaning result. The new Full Control trigger guns help to ensure you can easily find the right pressure setting for the surface you want to clean.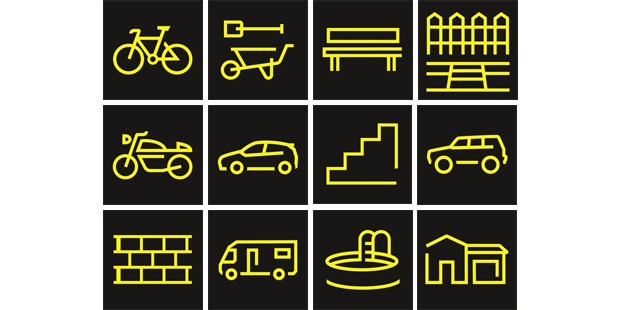 Pressure washers offer the right solution for every cleaning task!
Our research shows that some of the more common outdoor cleaning projects include:
bicycles
lawn and garden tools/machines
patio furniture
fences and walkways
motorcycles and scooters
small cars
steps and entrances
mid-size cars, trucks and SUV's
brick and stone walls
RV's and off-road vehicles
swimming pools and large patio areas
home exteriors and driveways
Kärcher Makes a Difference
For over 60 years, Kärcher has been perfecting the art of pressure washing, with more than 1,300 patents as evidence of the company's inventive spirit which make Kärcher the world's leader. Our focus is always on the needs of our customers.
This means that in comparison to competitors Kärcher Jet Washers are characterized by the faster removal of dirt and therefore better cleaning efficiency. This means cleaning is quicker for you, by up to 50%, this means you also save up to 50% on water and electricity. The patented Kärcher nozzle technology suited to each individual model makes this possible. These advantages have been scientifically tested by the renowned and independent Fraunhofer Institute.
Every Kärcher pressure washer is quality tested before leaving the production plant. They are also manufactured exclusively in our own manufacturing facilities.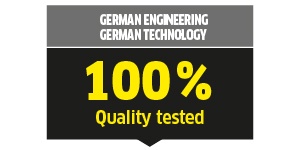 100% of our pressure washers are quality tested before they leave the factory.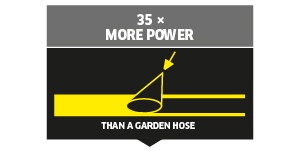 Water is usually supplied at 4 bar out of a garden tap, Kärcher power washers can provide up to 160 bar pressure.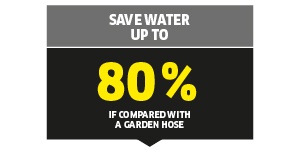 Water is ejected through a small high-pressure nozzle as a concentrated jet with a high cleaning effect, therefore you use less water.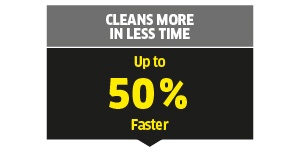 The patented Kärcher nozzle technology suited to each individual model makes it possible to save up to 50% cleaning time when compared to the competition.
Better for the environment
All Kärcher pressure washers can be used from an alternative water source. This means that our machines can be used during a hose pipe ban and makes them environmentally friendly.
Being able to use them from an alternative water source also gives you greater flexibility when working, as you will not be tied to remaining near your water mains source.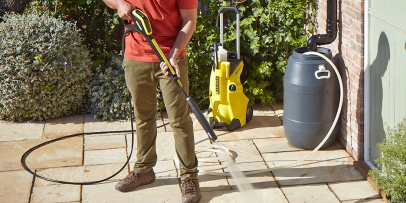 GET THE MOST OUT OF YOUR PRESSURE WASHER