Push Sweepers
Our push sweepers provide the answer to proud gardeners who are keen to see outstanding results on all hard surfaces, from paths and driveways to patios and decking.
Overview
Unlike conventional brooms, Kärcher push sweepers are able to cover vast amounts of ground in just a small amount of time. Not only do our sweepers promise unrivalled results – they are also hard-wearing, lasting for years to come.
Our lightweight sweepers allow you to clean your outdoor areas with ease. At 11kg they make light work of difficult jobs and the 16 litre waste container means you can get on with sweeping instead of wasting time moving waste from place to place. The lightweight shell doesn't necessitate compromise either and boasts the same high quality as any other Kärcher product.
The sweeper is not only lightweight and durable, it is also intelligently designed to provide easy storage even in the smallest of spaces. Those looking to make light work of their outdoor cleaning need look no further than this essential piece of gardening equipment.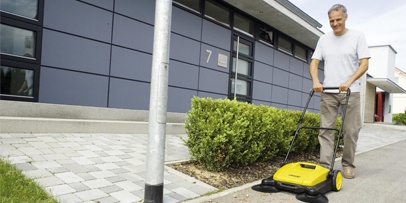 Easy to operate
Easy sweeping without any effort.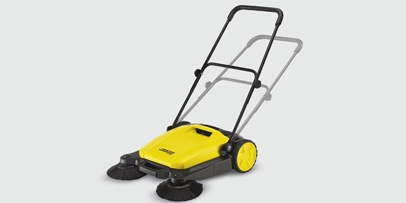 Flexible and comfortable
The push handle on the sweepers is height-adjustable and can be folded down great for storage.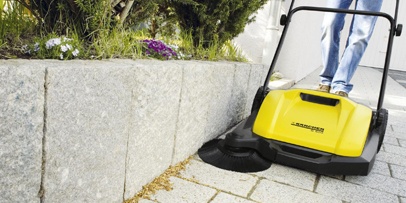 Cleanliness in every detail
The long bristles on the side brushes ensure thorough cleaning.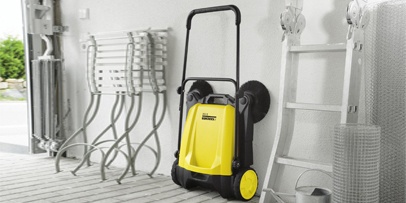 Uncomplicated and compact
All of our sweepers can be stored in a few simple steps: simply fold down the push handle and position the sweeper vertically. Done!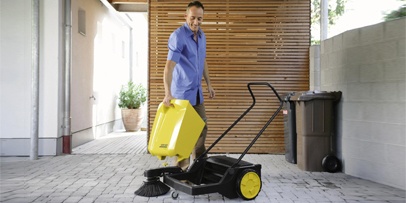 Easy disposal
The waste containers in Kärcher sweepers can be very easily emptied – grab, lift, done! No contact with the dirt.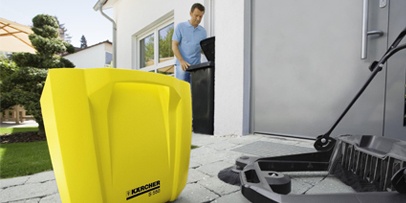 Stand-alone
The waste containers can be easily removed.