FROM ULTRA-HIGH PRESSURE TO DRY ICE
When it comes to cleaning, there are a vast array of challenges in all industries. The cleaning methods and devices each industry uses vary accordingly. An overview.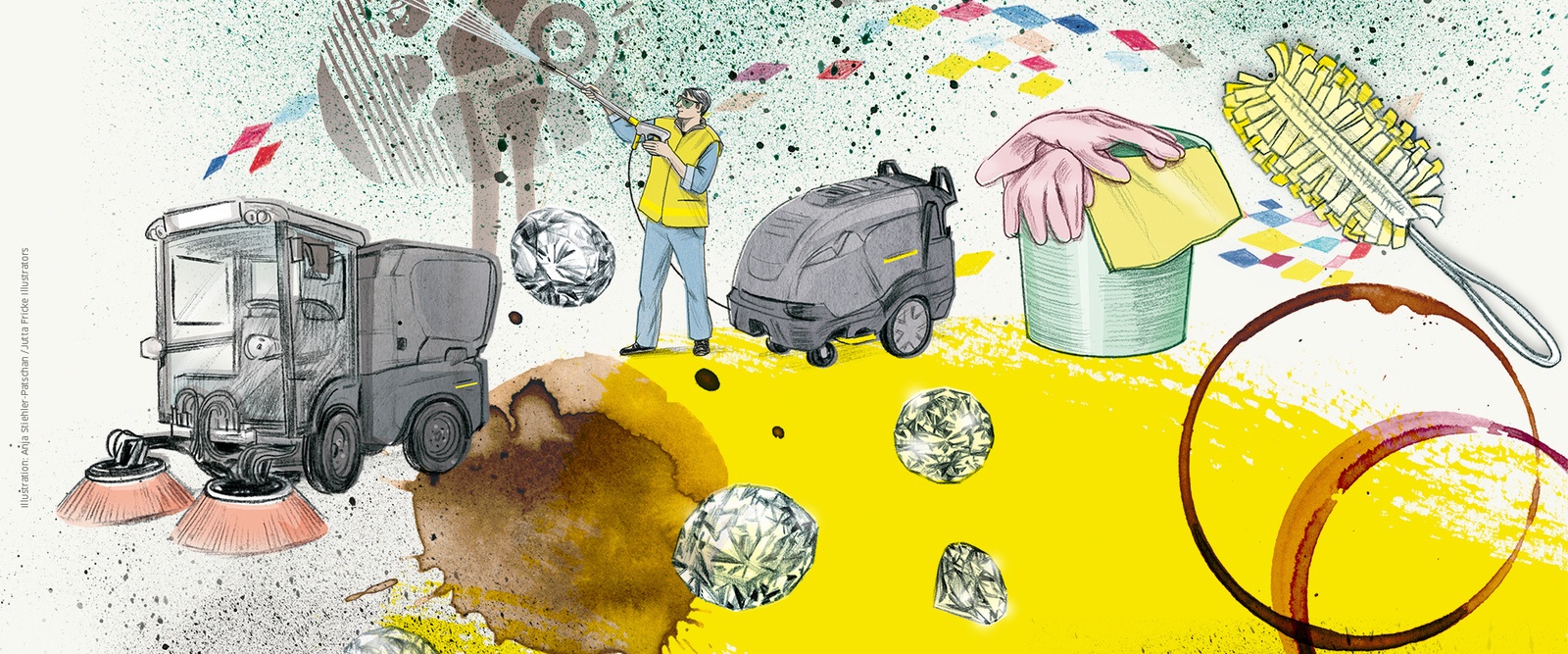 What is dirt anyway?
At the heart of the question regarding which cleaning devices are required lies the key question of what is considered to be dirt and what needs to be removed. When considering this deeper question, it is almost inevitable that you will come across the anthropologist and cultural theorist Mary Douglas. In her book "Purity and Danger" published in 1966, she argues that what is considered dirt is something that is in the wrong place. Thus most people would consider sand on a desk to be out of place, while sand on a beach would be something wonderful. This example shows that the perception of dirt has a lot to do with a person's own sense of order. The scientific understanding of dirt has developed further over the decades because categorising dirt as being something that is out of place does not always work: a diamond in a rubbish bin would hardly be considered dirt. Thus other factors such as aesthetic or material value also play a part.

Modern cleaning technology is an essential part of the way we handle dirt. When you think about household applications, the requirements are clearly defined: the point is the necessary removal of dirt – each according to their cleanliness needs – with the most ergonomic and efficient devices, from vacuum cleaners to high-pressure cleaners. Effective technology makes work in the home and garden easier and therefore contributes a certain amount to your comfort and well-being. In the industrial sector, technology takes on significantly more tasks. Consistently keeping machines clean in production processes is an important aspect of maintenance and the conservation of value. In the medicine, cleaning technology is an indispensable hygiene factor, decreasing the amount of noticeable dirt right down to cleanroom conditions. The cleanest cleanroom in the world has a surface area of 250 m2 and is maintained by the Fraunhofer Institute for Manufacturing Engineering and Automation in Stuttgart, Germany. One cubic metre of air in this room contains only a single 0.1 micrometre-sized particle – a truly clean environment.
Chemical industry
Cleaning is not only a core activity in the chemical industry. It is also essential to smooth and efficient procedures. By cleaning production systems in the correct way, product quality remains consistently high – the definitive factor for success on the market. It is also important to meet internal operating specifications and comply with general standards.

The many options include cleaning-in-process systems (CIP), which clean machines during operation, on-site mobile systems and disassembling the machines and cleaning the parts at external washing stations. There are also many options when considering which cleaning technology to choose, although ultra-high pressure technology tends to be the most efficient method in many cases.ases.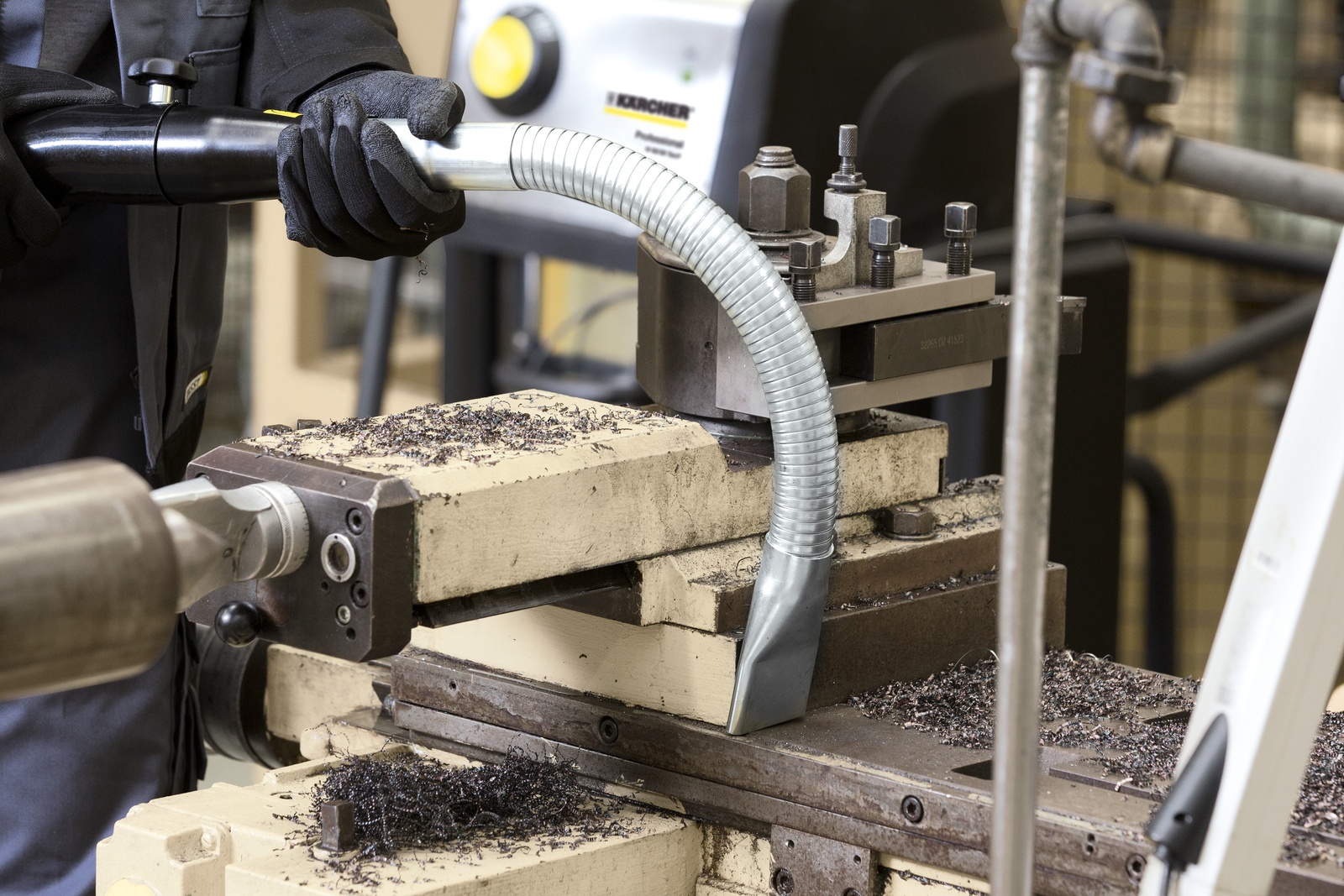 Metal processing
Milling, drilling, turning, sawing, grinding, deburring or brushing: there are many work processes in the metal processing industry which involve chips, fine dust and, depending on the machining process, liquids such as cooling lubricants. In order to guarantee maximum product quality and occupational safety, it is important to choose the right extraction solution.

Solutions which operate fully automatically along the entire chip process chain are growing in popularity. These processes cover the entire sequence of chip accumulation, i.e. chip-producing machining, all the way to recycling. Higher investments in technology pay off quickly because they result in improved productivity and process reliability as well as reduced personnel costs.
Construction machines
Cleaning construction machines helps to preserve their value in the long term and also ensures that their appearance remains presentable. Cleaning is a part of every maintenance process, ensures faultless operation and significantly increases the machines' lifetime.
In this way, damage to machines, along with the disruption this causes to work and any servicing costs, can be avoided. Thanks to its versatility, high-pressure cleaning has been proven to be the cleaning method of choice. It can be used for underbody, outside and engine washing as well as for cleaning the machine components.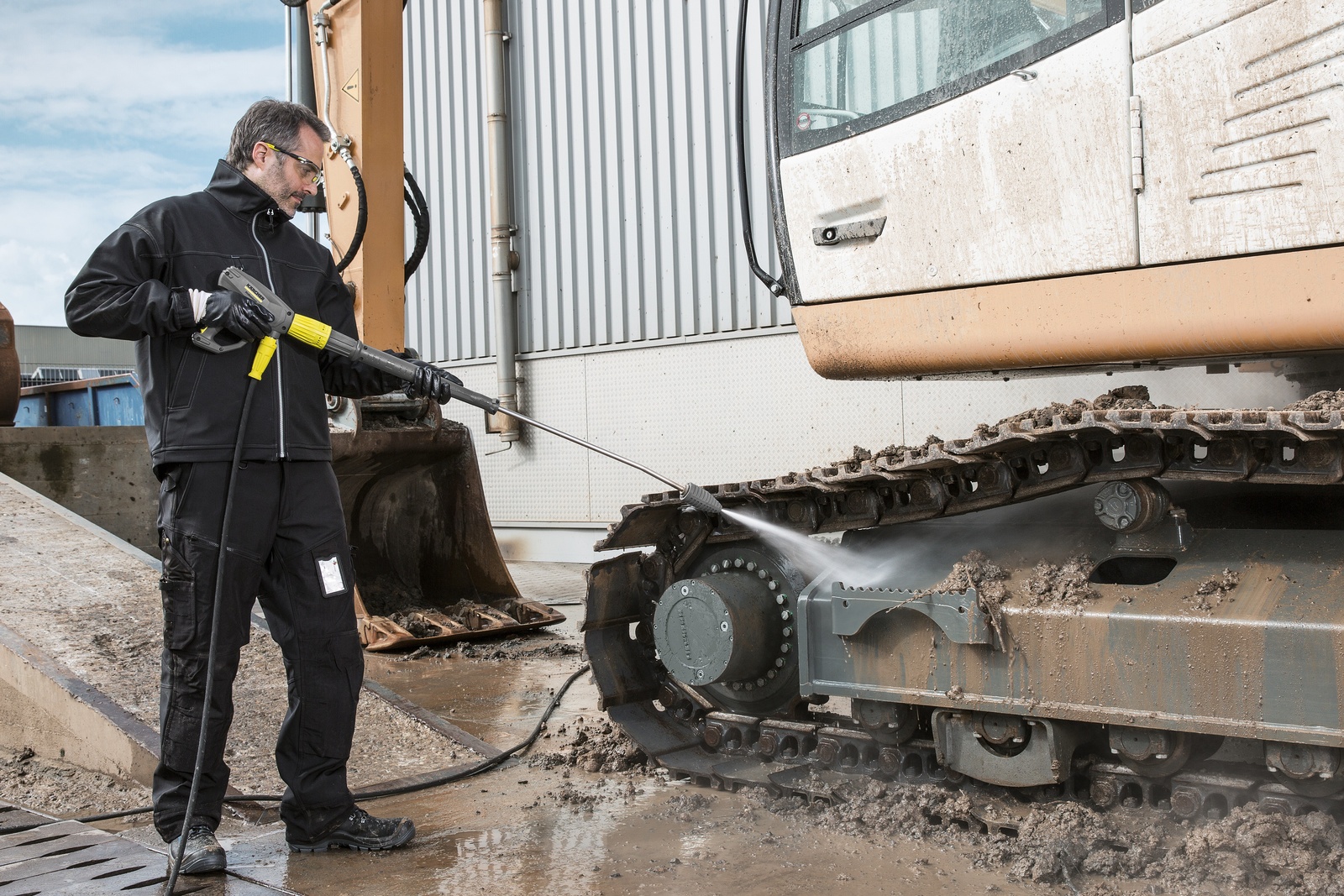 The production, storage and transport of food are subject to highly strict regulations and standards. In order for companies to be able to fulfil these requirements, they need reliable cleaning concepts. Solutions in use here include wet and dry vacuum cleaners, industrial vacuums, scrubber driers and sweepers, extraction systems, superheated steam and ultra high-pressure technology and dry ice cleaning. Besides meeting hygiene and occupational safety standards, key success factors also include efficiency and smooth integration into production processes.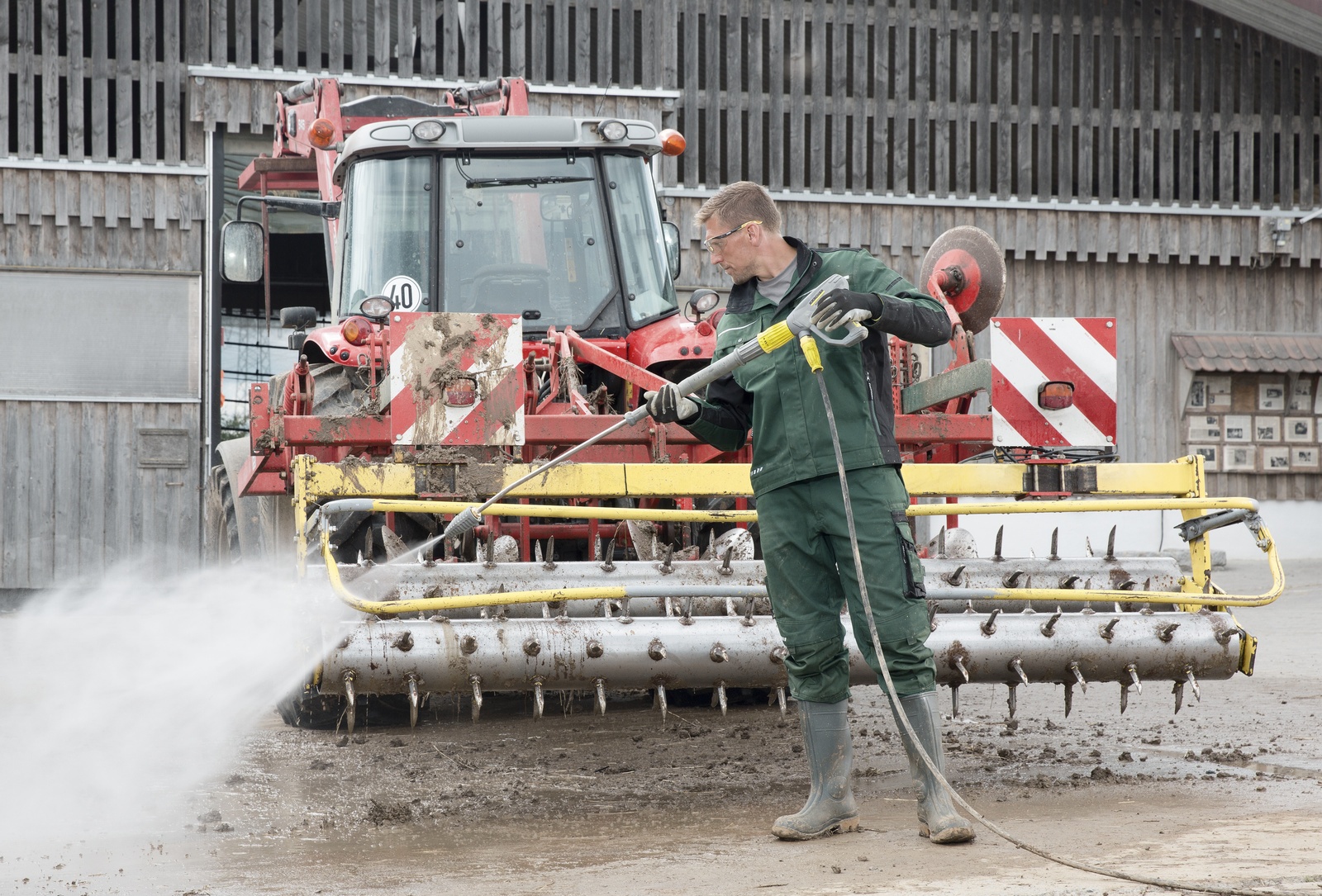 Agriculture
Agricultural requirements are very diverse. An indispensable part of professional animal husbandry is guaranteed quality thanks to the highest hygiene standards. The regular thorough cleaning of stables and sheds using high-pressure technology and foam disinfection is therefore a necessity to protect the animals from pathogens and pests. Breeding tanks, vehicles and containers, in fish farming can be protected from micro-organisms in an effective and environmentally friendly way with a combined high-pressure foam procedure.

In arable farming or viniculture, high-grade machines are in use which need to remain reliable over many years. It is therefore essential to continuously preserve their functionality by regularly maintaining and cleaning them with cold and hot water high-pressure devices. Special barrel cleaners practically and quickly remove deposits from fermentation processes, maturation or years of storage in barrique barrels, dispensing with the time-consuming process of moving each barrel.
Healthcare
The successful operation of a clinic or hospital is inseparably linked to modern hygiene measures and task-oriented economic efficiency. Core hygiene tasks, especially avoiding infections and the dissemination of germs, therefore need to be coordinated with care and maintenance tasks in the best possible way.
All the different areas within a hospital each require different solutions, from small to large surface areas, from the kitchen to the operating theatre. In addition, continuous operation requires particularly efficient maintenance cleaning since opportunities for a time-consuming deep clean are extremely rare. Increasingly demanding hygiene standards, rising cost pressure and increasing competition also make things difficult. Professional, efficient cleaning systems that are tailored to the relevant requirements are therefore essential.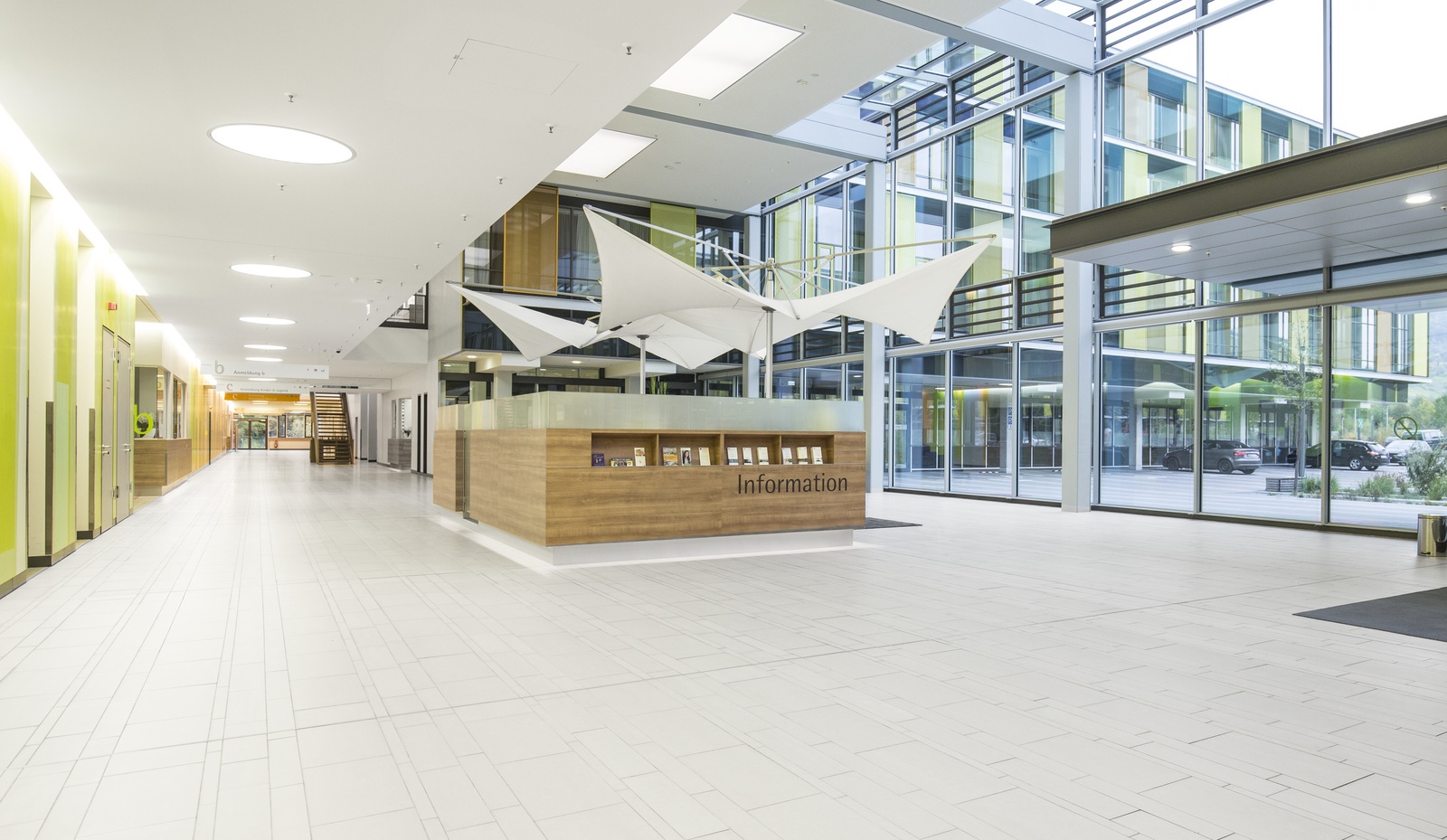 Municipal cleaning
Towns and municipalities are often responsible for keeping a rambling network of streets and footpaths clean – as cost-effectively as possible. Besides sweeping, this also includes wet cleaning – municipal machines must therefore be as versatile as possible. In addition, implement carriers should allow the machines to be used all year round and suitable accessories need to enable weeding and green space maintenance. To use the machine in winter, it needs to have all-wheel drive and traction control. Scrubber driers are true all-rounders; with the right accessories, they can master any task including daily maintenance cleaning, tackling every level of contamination from removing light dirt to deep cleaning highly uneven ground or polishing delicate surfaces.