Drainage Pumps
Kärcher has powerful, easy-to-use water pumps for every requirement and a wide variety of situations. Do you want to use reclaimed water from alternative sources in your home and garden to save precious drinking water? Kärcher's booster centrifugal pumps reliably convey rainwater and groundwater from barrels, cisterns or wells to wherever it is needed. You can buy booster pumps from Kärcher for both watering your garden and for household use, for example as home pumps. If you want to empty your pool or garden pond before a spring clean, a submersible pump from Kärcher is the perfect solution. You can choose between models for clear water and models for dirty water. As a manufacturer, Kärcher has extensive experience in pump development and production – including for professional use. You can now benefit from this industrial expertise.
Kärcher submersible pumps for demanding tasks
Submersible dirty water pumps
Robust through and through and particularly long-lasting, our submersible dirty water pumps do their job perfectly wherever they are needed. They are the first choice if quick action is required in a flood situation, but are also ideal for pumping out ornamental garden ponds before a restorative clean, for example. The dirty water can contain particles with a grain size of up to 30 mm.
Flat-suction submersible pump
Our flat-suction submersible pumps can transport clear or slightly dirty water with particles of up to 5 mm. Flat suction means that, thanks to the folding stand, water can be pumped out right down to a level of 1 mm for mop-dry results. Perfect for when a garden pool needs to be emptied or water needs to be cleared from the cellar.
Features and advantages of Kärcher submersible pumps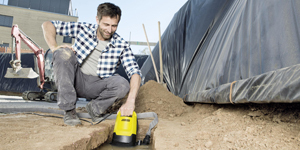 Extremely long-lasting
Protected by an oil chamber, the ceramic slide ring sealing increases the lifetime of the submersible pumps.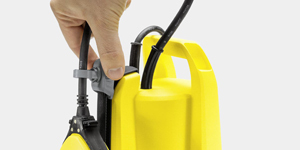 Flexible switching level adjustment
Setting the switching level is particularly easy thanks to the height-adjustable float switch.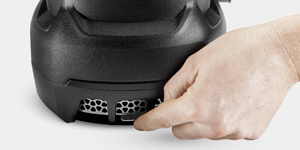 Perfect protection
The prefilter, available in integrated form or as an optional accessory, reliably protects the pump against blockages.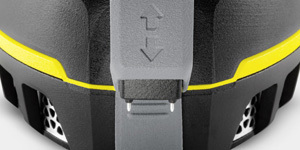 Automatic pump start
The level sensor reacts immediately – even at a low water level.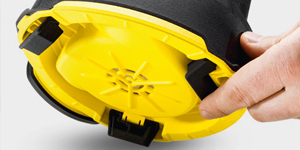 Mop-dry pumping results
Once the stand has been folded away, the flat-suction submersible pumps can remove water to a depth of 1 mm for mop-dry results.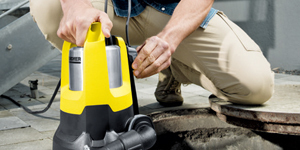 Individual switching level
The switching level can be infinitely adjusted – simply by moving the level sensor.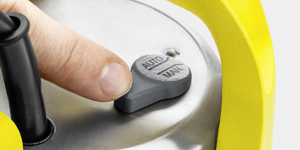 Manual or automatic
Easy switching from manual on and off to automatic mode.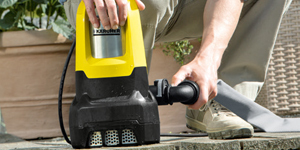 Practical, quick connection
Fast and convenient hose operation thanks to Quick Connect.
Product Function
SP3 Dirt
Drarining dirty water
SP5 Dual
2-in-1: Draining Dirty & Clean Water
SP7 Dirt
Draining Dirty Water
---
Water Level Detector
SP3 Dirt
Float Switch
SP5 Dual
Height Adjustable Float Switch
SP7 Dirt
Level Sensor
---
Flat Pick Up
SP3 Dirt
No
SP5 Dual
Yes
SP7 Dirt
No
---
Ceramic Ring Seal
SP3 Dirt
Yes
SP5 Dual
Yes
SP7 Dirt
Yes
---
Max Dirt Grain Size (mm)
SP3 Dirt
20
SP5 Dual
30
SP7 Dirt
30
---
Max Flow Rate (l/hr)
SP3 Dirt
7,000
SP5 Dual
9,500
SP7 Dirt
15,500
---
Pressure (bar)
SP3 Dirt
0.6
SP5 Dual
0.7
SP7 Dirt
0.8
---
Weight (kg)
SP3 Dirt
4.2
SP5 Dual
4.9
SP7 Dirt
6.7
---
Max. Depth of Immersion (m)
SP3 Dirt
7
SP5 Dual
7
SP7 Dirt
7
---
Min. residual water, manual (mm)
SP3 Dirt
25
SP5 Dual
1
SP7 Dirt
35
---