Kärcher steam cleaners against the coronavirus
Hygienic cleanliness with steam: 99.999% of enveloped viruses are eliminated*
Kills up to 99.999% of coronavirus.* And bacteria.**
Kärcher arranged to have the effectiveness of its steam cleaners in fighting viruses tested in an independent laboratory. The result: if used properly, the machines remove up to 99.999% of enveloped viruses*, such as the coronavirus or influenza, and 99.99% of common household bacteria** from hard surfaces. As at the present time disinfectants are to be reserved primarily for outpatient and inpatient care, steam cleaners can make a valuable contribution to general hygiene – both in private households and in commercial and industrial use.
Enveloped viruses such as the coronavirus SARS-CoV-2 can be neutralised with high temperatures. As viruses are not germs or living organisms, experts also talk about virus inactivation. In the laboratory a certified test virus (Modified-Vaccinia-Ankara-Virus), which is representative for enveloped viruses, was distributed on a hard surface. This area was then cleaned with the hand nozzle of a steam cleaner and the appropriate microfibre pad. It was demonstrated that a significant reduction of up to 99.999% of the viruses could be achieved at maximum steam pressure and with a cleaning duration of 30 seconds on one area.

*Tests have shown that with spot cleaning of 30 secs at max. steam level and direct contact to the cleaning surface with the Kärcher steam cleaner 99.999% of enveloped viruses such as coronavirus or influenza (excluding the Hepatitis-B virus) can be removed on common smooth household hard surfaces (test-germ: Modified-Vaccinia-Ankara-Virus).
**When thoroughly cleaning with the Kärcher steam cleaner 99.99% of all common household bacteria will be killed on common smooth household hard surfaces, provided the cleaning speed of 30 cm/s at max. steam level and direct contact to the cleaning surface (test-germ: Enterococcus hirae).
Hygienic and pore-deep cleanliness in all rooms
Kitchen cleaning
Whether fittings, wall tiles, glass and synthetic surfaces, extractor hoods, hobs, stoves or sinks, the steam cleaners makes the kitchen hygienically clean – and all this without chemicals.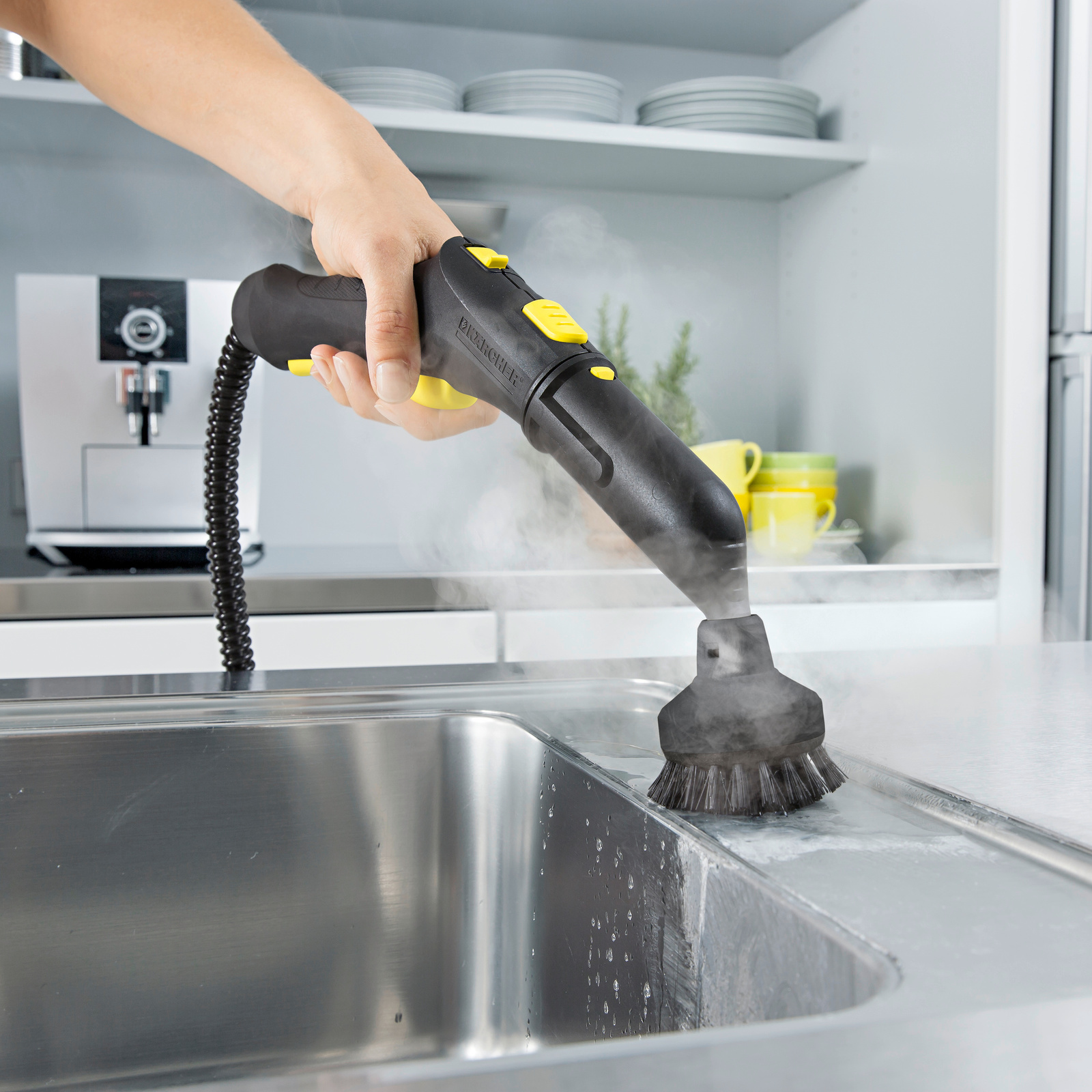 Bathroom cleaning
The steam cleaners do the job perfectly and ensures absolute hygienic cleanliness, even when cleaning wall tiles, glass and mirror surfaces, windows, fittings, shower cabins, cracks and crevices.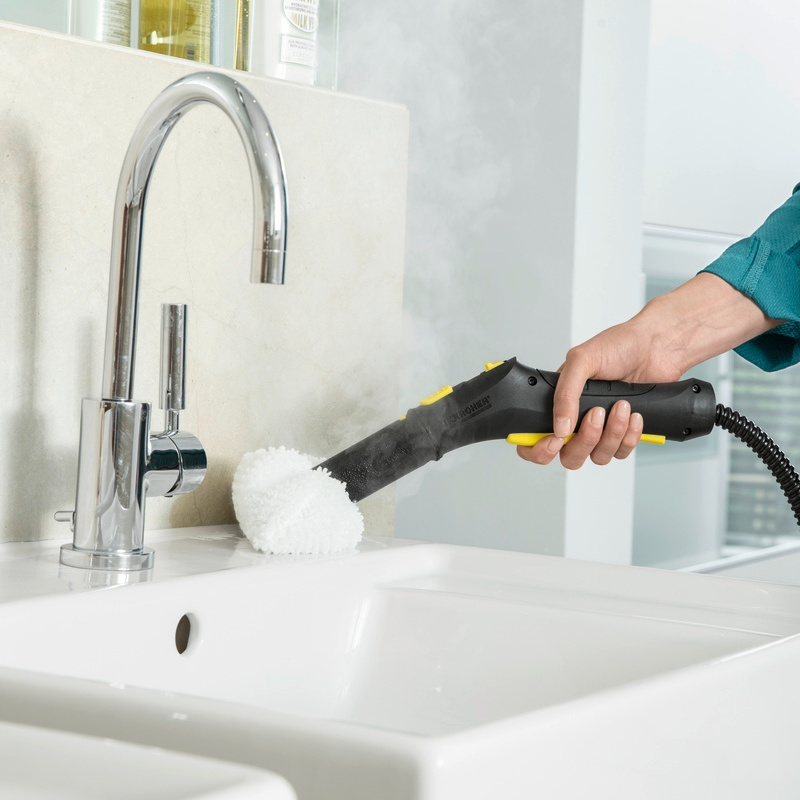 Floor cleaning
The steam cleaners ensure maximum cleanliness and hygiene when cleaning stone tiles, PVC, laminate or varnished parquet flooring – and all without chemical residues.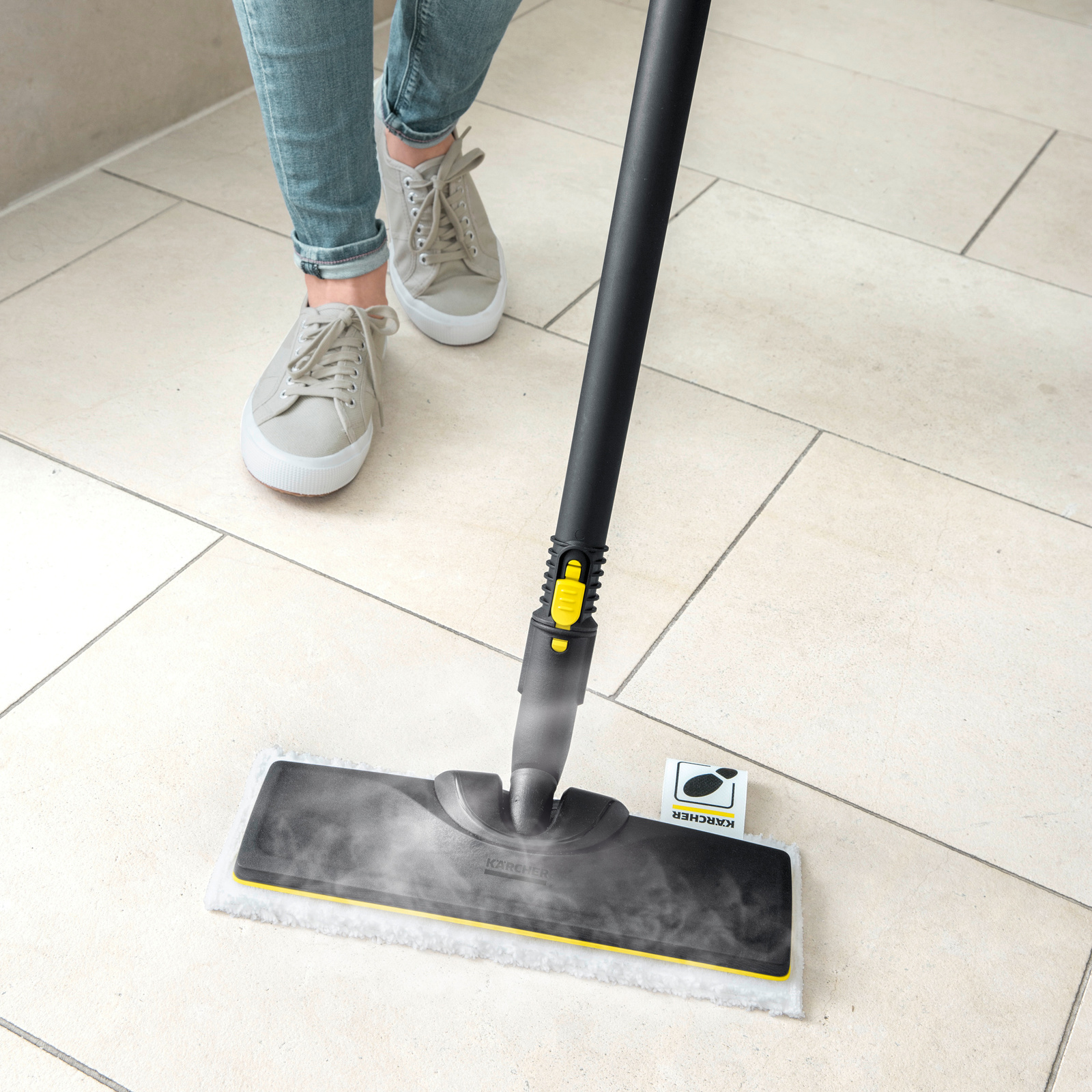 Only one tool required thanks to an extensive range of accessories
The extensive accessory line for Kärcher's steam cleaners opens up a multitude of application possibilities in and around the house.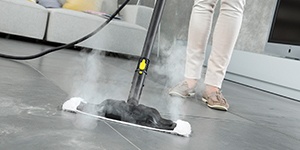 Nozzles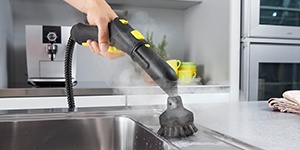 Brush attachments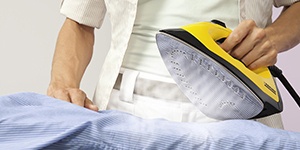 Pressurised steam iron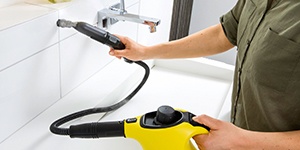 Steam hoses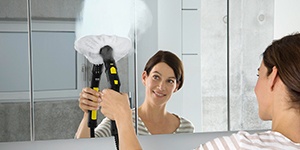 Cloth kits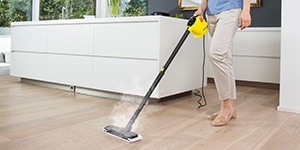 Accessory kits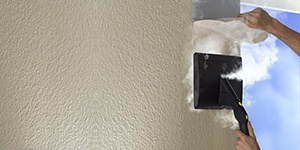 Other
You can find the right accessories for your machine with our accessory finder.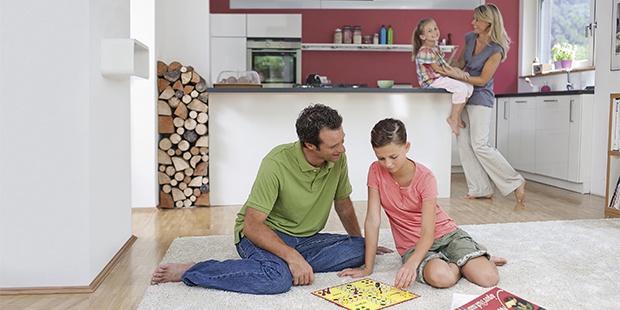 The most environmentally friendly way to clean
Steam cleaning saves up to 80% water compared with conventional cleaning methods and does not pollute waste water with chemicals. One litre of water is enough to create 1,700 litres of steam – enough to clean a 60 m² apartment thoroughly.

In addition, Kärcher steam cleaners allow energy savings of up to 25% compared with other manufacturers. Thanks to the innovative floor nozzle with slat technology, cleaning results are 25% better, saving both cleaning time and energy. Like all other Kärcher devices, our steam cleaners are over 90% recyclable once they reach the end of their service lives.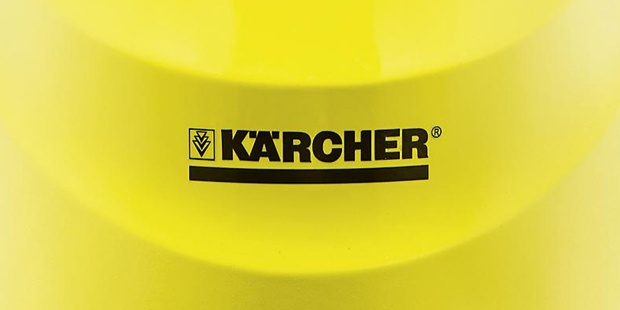 Typical Kärcher quality
Steam cleaners made by Kärcher: this means outstanding expertise and over 20 years' experience with our own development and production. Our devices impress with their constantly high steam quality and steam power, and high-quality, robust and durable materials, as well as the highest safety requirements which meet Kärcher's own standards. At the Kärcher research centre in Winnenden, new innovations are born, like VapoHydro or our intelligent slat technology, for devices which improve with every generation.