Vacuum cleaners
Vacuum cleaners from Kärcher combine high suction power with manoeuvrability and flexibility. For allergy sufferers, single people, families and pet owners alike, Kärcher has the right vacuum cleaner for every situation.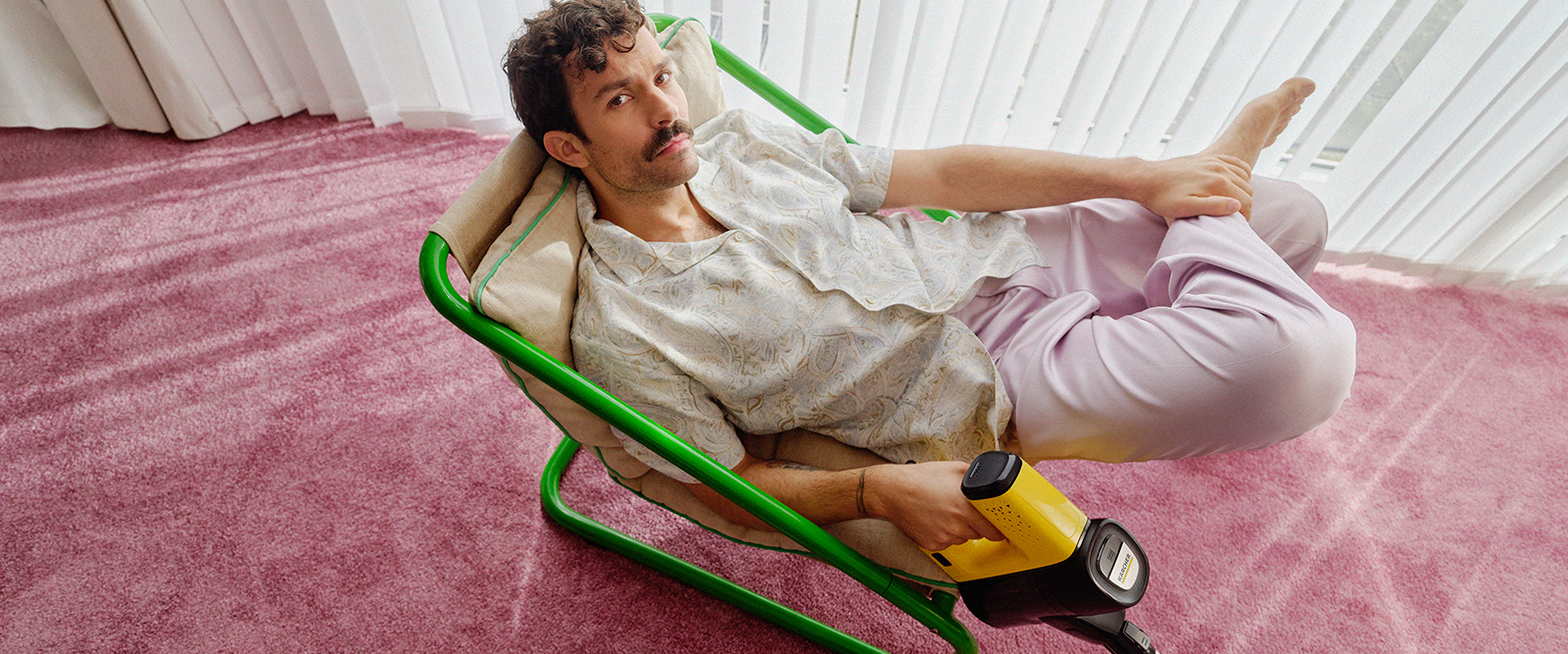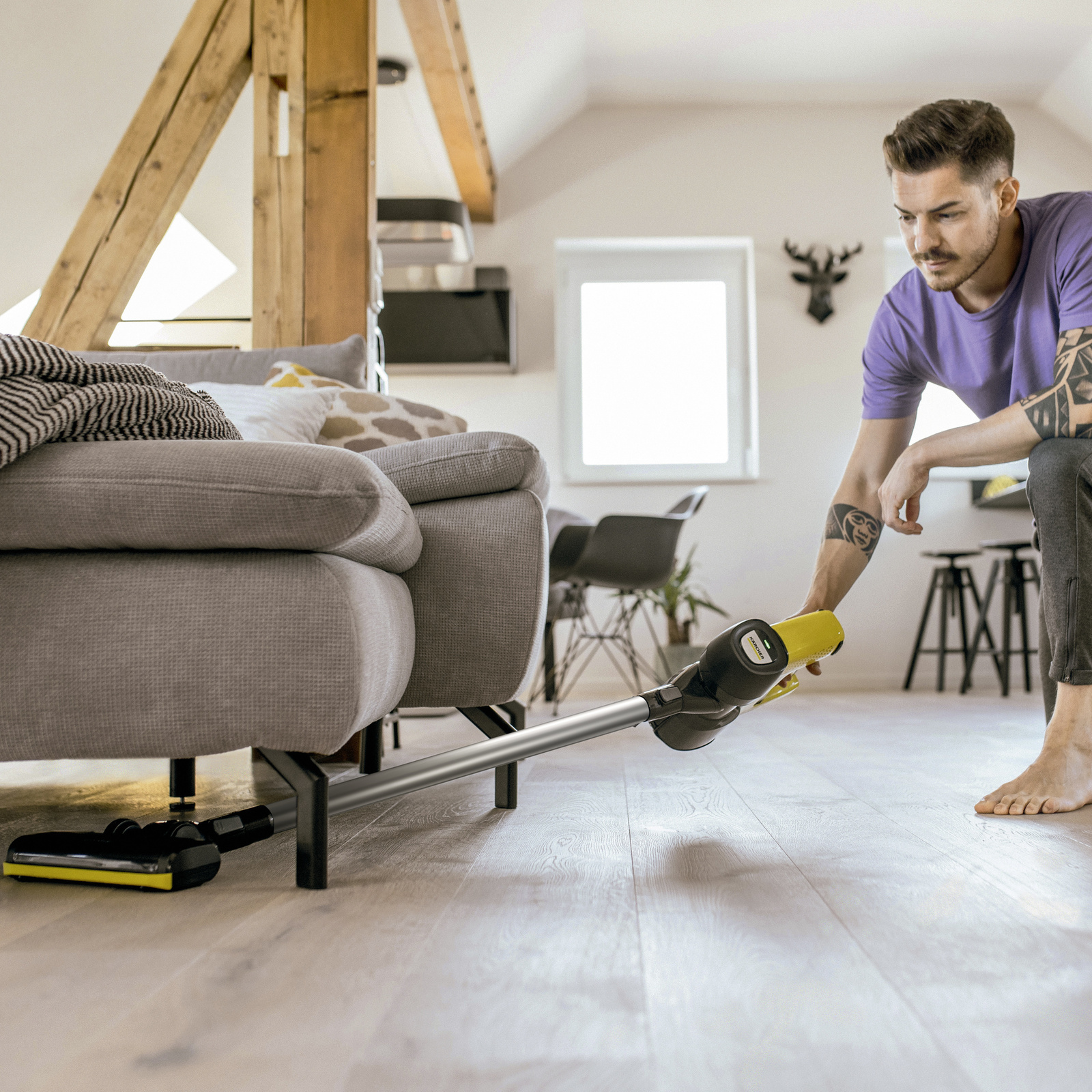 Cordless freedom with the lithium-ion battery
Our VC cordless vacuum cleaner range boasts effortless manoeuvrability thanks to its powerful lithium-ion battery. With our VC range, you'll never be constrained by a power cable, you can get to all those hard to reach areas while vacuuming around your home, with a battery life of up to 50 minutes* available from a single charge.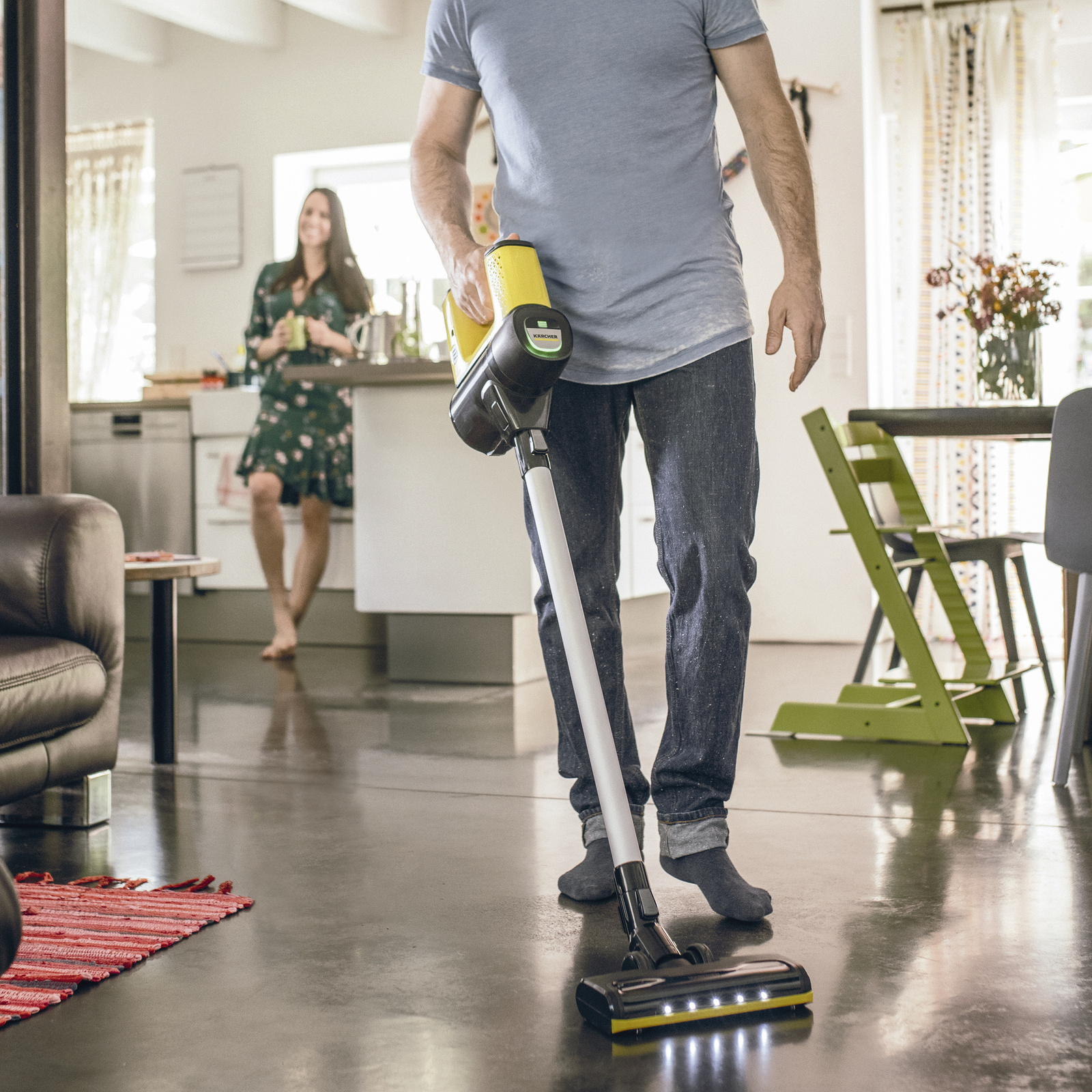 Easy to use
Designed to be uncomplicated and practical, our VC range is more than easy to use. An on-off switch, an accompanying switch lock that allows for continuous cleaning and Boost Mode button are integrated onto the handle. Our vacuum cleaners boast painless simplicity meaning you can get the job in hand done, without unnecessary stress.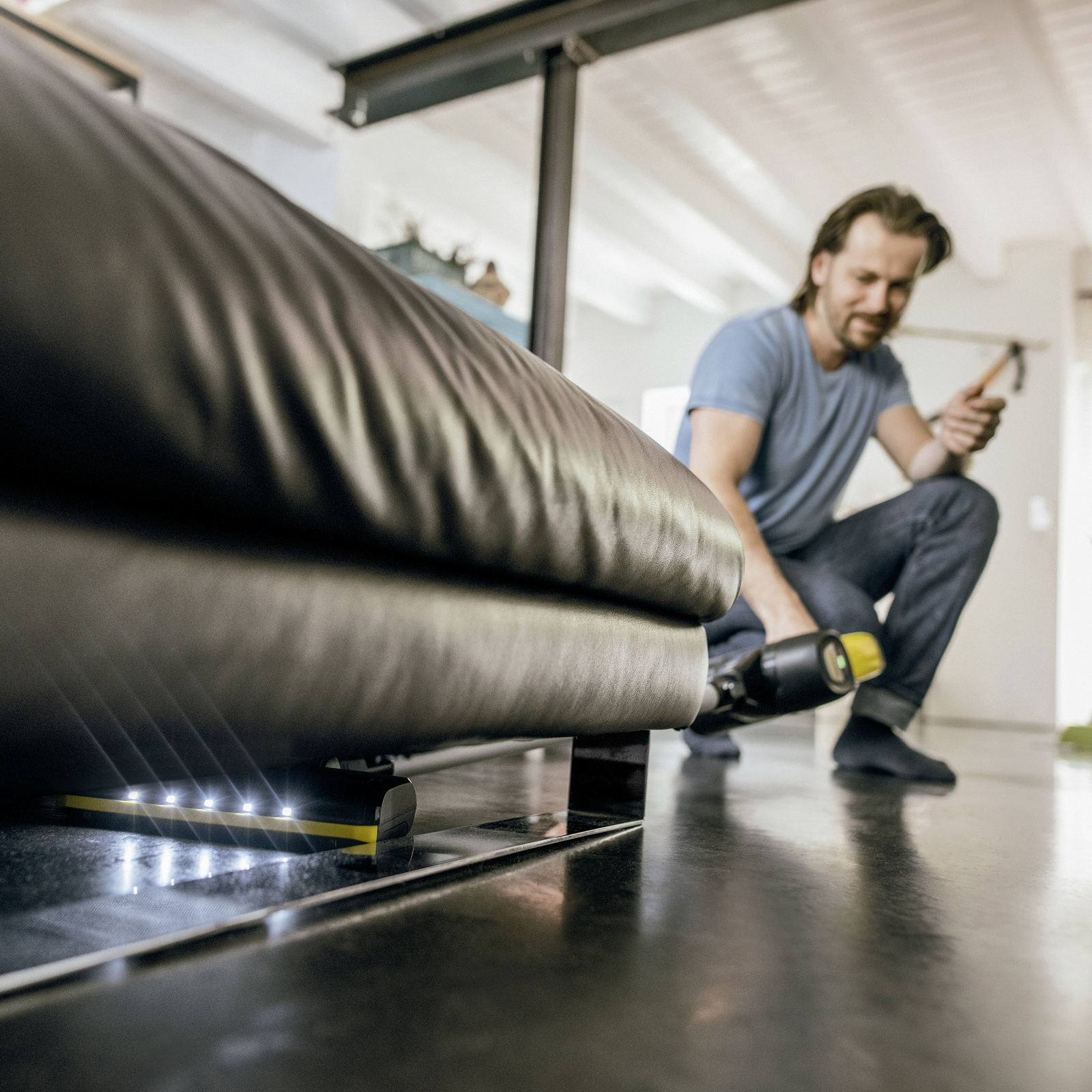 Active Floor Nozzle
The floor nozzle's integrated motorised roller brushes help to dismantle any dirt & debris that has become embedded into carpets or other soft floor types. The active floor nozzle allows you to pick up dirt & debris from both hard floors & carpets – switching between them seamlessly, whilst also smoothly gliding across your home thanks to its clever design. With the VC range, you can easily clean under household furniture thanks to the flexible, twisting joint at the floor nozzle and the VC 6 also includes additional LED lighting allowing you to make hard-to-see dirt visible.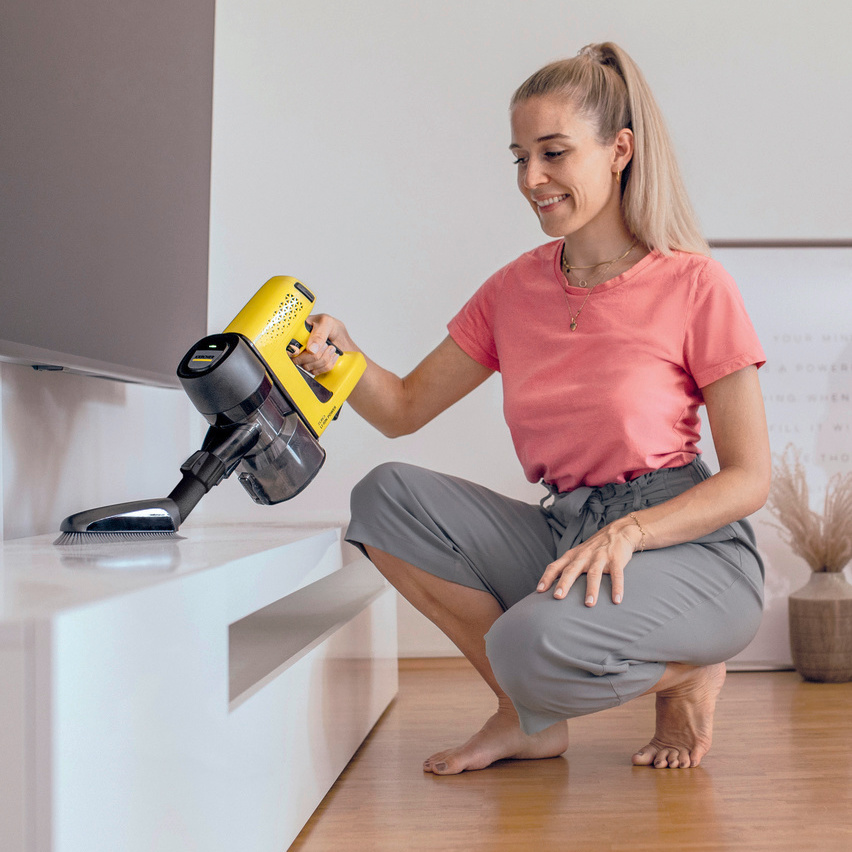 A wide range of application options
Clever mounting options for a range of accessories, making the cordless vacuum cleaners even more versatile.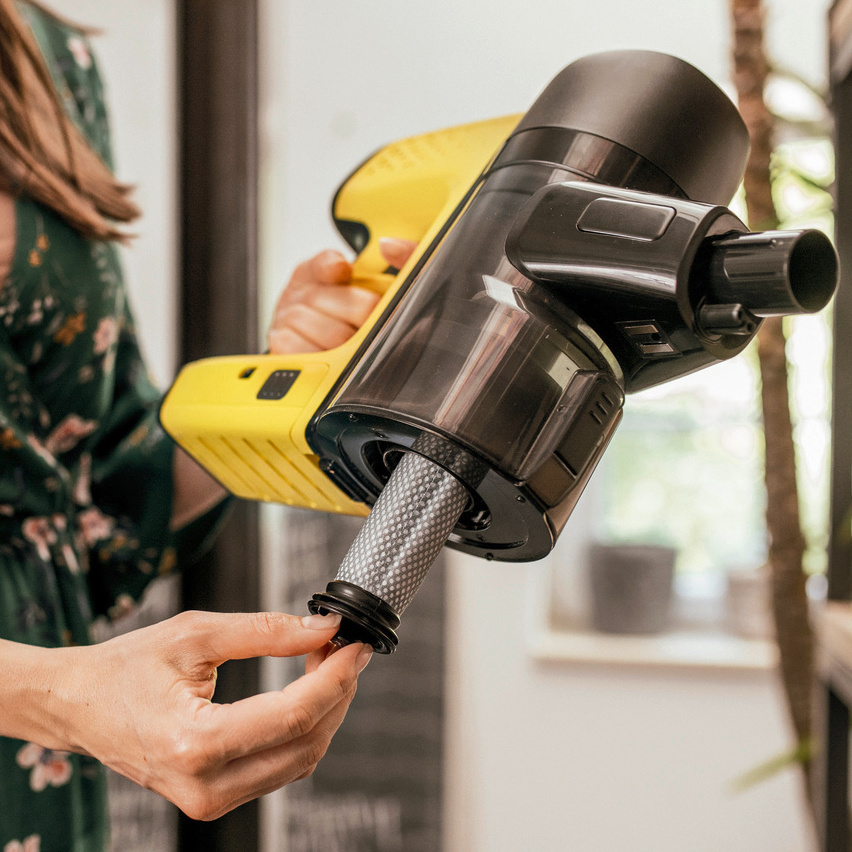 Practically designed filter system
The three-stage filter system, comprising cyclone, air inlet and HEPA hygiene filter* (VC 7 Cordless and VC 6 Cordless) ensure extra-clean exhaust air.
The filters are easy to clean and replace, extending the lifetime of the vacuum cleaner.
*EN 1822:1998.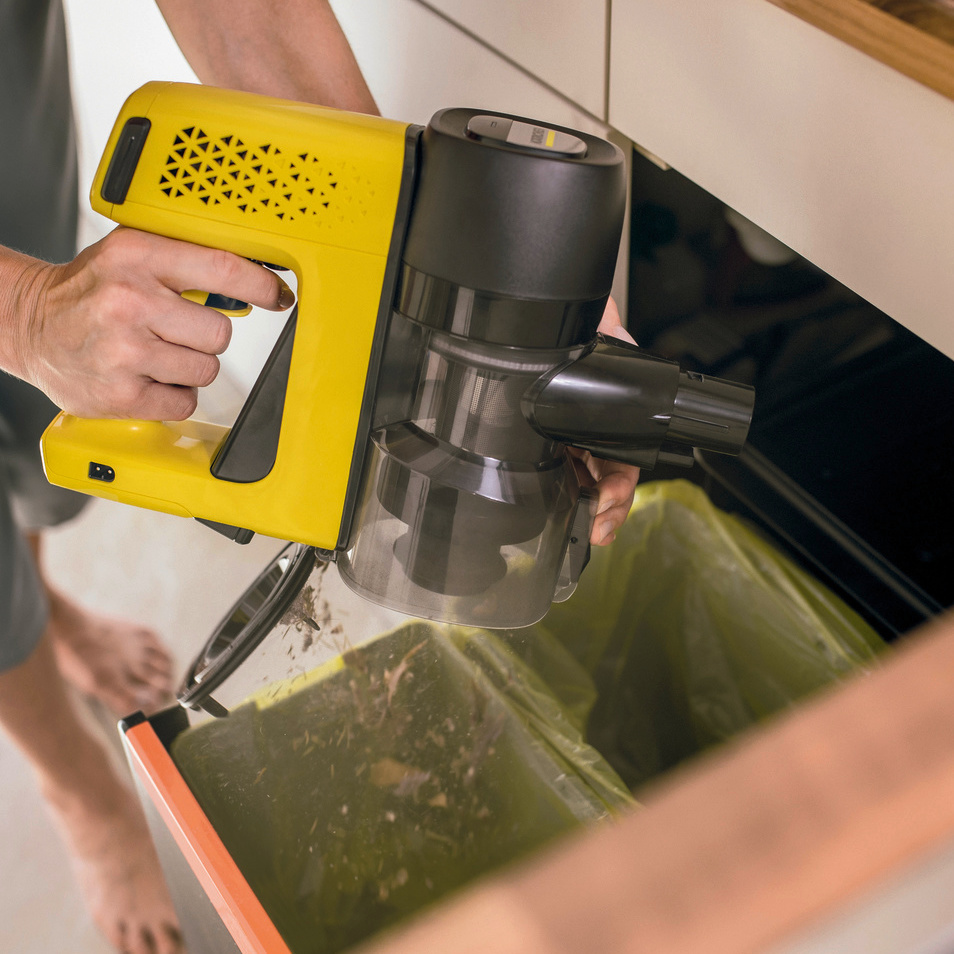 Single-click dust container emptying
Dirt is emptied easily and hygienically at the push of a button, so you don't have to touch it.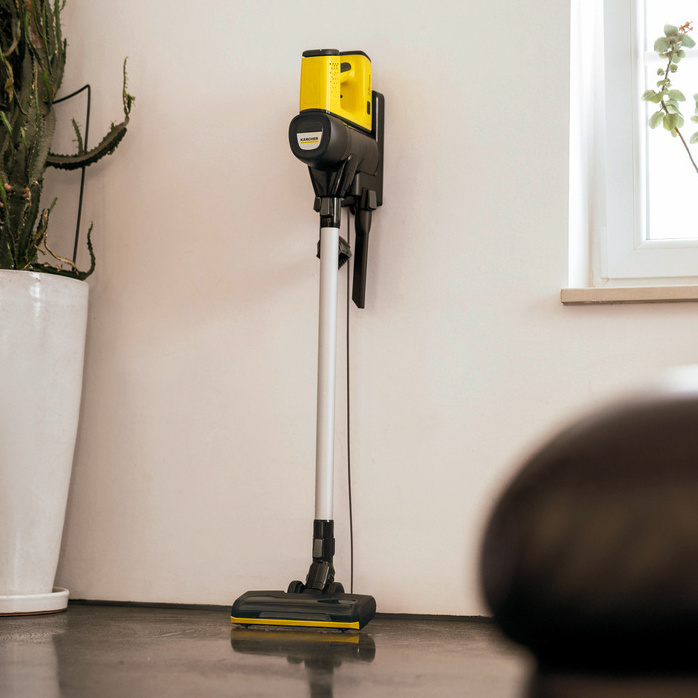 Practical wall bracket
Using the wall bracket, the device can be stowed away quickly and easily and is ready for use whenever it's needed. The wall bracket of the VC 7 Cordless yourMax and VC 6 Cordless ourFamily also acts as a convenient charger at the same time.
Run Time
VC 4 Cordless myHome
30 mins
VC 4 Cordless Premium myHome
30 mins
VC 6 Cordless ourFamily
50 mins
VC 6 Cordless Premium ourFamily
50 mins
VC7 Cordless yourMax
60 mins
---
Charge Time
VC 4 Cordless myHome
390 mins
VC 4 Cordless Premium myHome
390 mins
VC 6 Cordless ourFamily
270 mins
VC 6 Cordless Premium ourFamily
270 mins
VC7 Cordless yourMax
270 mins
---
Weight
VC 4 Cordless myHome
2.35 Kg
VC 4 Cordless Premium myHome
2.35 Kg
VC 6 Cordless ourFamily
2.55 Kg
VC 6 Cordless Premium ourFamily
2.55 Kg
VC7 Cordless yourMax
2.3 Kg
---
Battery Status Indicator
VC 4 Cordless myHome
x
VC 4 Cordless Premium myHome
x
VC 6 Cordless ourFamily
✓
VC 6 Cordless Premium ourFamily
✓
VC7 Cordless yourMax
✓
---
Tube Material
VC 4 Cordless myHome
Plastic
VC 4 Cordless Premium myHome
Plastic
VC 6 Cordless ourFamily
Aluminium
VC 6 Cordless Premium ourFamily
Aluminium
VC7 Cordless yourMax
Aluminium
---
2nd Battery
VC 4 Cordless myHome
x
VC 4 Cordless Premium myHome
x
VC 6 Cordless ourFamily
x
VC 6 Cordless Premium ourFamily
✓
VC7 Cordless yourMax
x
---
Wall Mount Charging Function
VC 4 Cordless myHome
x
VC 4 Cordless Premium myHome
x
VC 6 Cordless ourFamily
✓
VC 6 Cordless Premium ourFamily
✓
VC7 Cordless yourMax
✓
---
2nd Air Inlet Filter
VC 4 Cordless myHome
x
VC 4 Cordless Premium myHome
✓
VC 6 Cordless ourFamily
x
VC 6 Cordless Premium ourFamily
✓
VC7 Cordless yourMax
✓
---
Filter Cleaning Tool
VC 4 Cordless myHome
x
VC 4 Cordless Premium myHome
✓
VC 6 Cordless ourFamily
x
VC 6 Cordless Premium ourFamily
✓
VC7 Cordless yourMax
✓
---
Dust Sensor
VC 4 Cordless myHome
x
VC 4 Cordless Premium myHome
x
VC 6 Cordless ourFamily
x
VC 6 Cordless Premium ourFamily
x
VC7 Cordless yourMax
✓
---