Kärcher Car cleaning
Car cleaning has never been easier with Kärcher. Pressure washers can cut through even the most stubborn dirt on the outside, while multi-purpose vacs are perfect for interiors.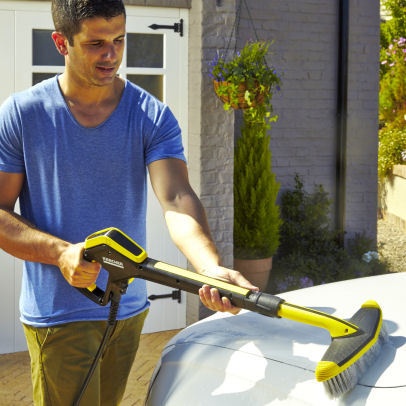 Car exterior cleaning
Pressure washers make cleaning easy
Cleaning your car is no longer a chore with a Kärcher pressure washer. Not only do these tools make cleaning tasks quicker, they also promise results. The pressurised water lance gets rid of mud, grit, salt and other debris that may scratch the paintwork when using a traditional bucket and sponge. Your Full Control trigger gun will guide you to the correct pressure setting when using your Vario spray lance, to ensure the best possible clean. The Dirtblaster spray lance should not be used on cars.
Vehicle cleaning made easy
The WB60 wash brush can be used to get rid of any dirt that remains and is gentle enough for even delicate paintwork. Kärcher car cleaning shampoo can help you achieve the perfect gleaming, streak-free finish. The active dirt remover cuts through stubborn oily and greasy dirt effortlessly, while the quick-dry formula aids polishing and the ultra-gloss formulation provides the perfect shine.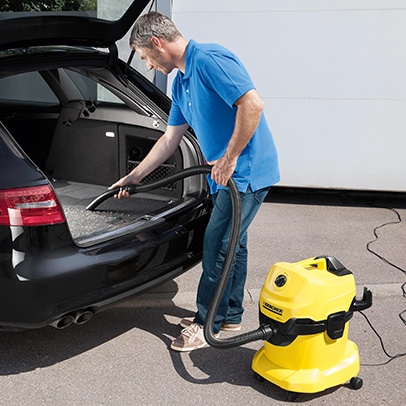 Car interior cleaning
When it comes to the interior, the Kärcher multi-purpose vac with car cleaning kit can help you get that fresh-from-the-showroom feel. The car cleaning kit includes microfibre cloths for the windows and smooth surfaces, while brushes and vacuum attachments allow you to clean upholstery and get to those hard to reach areas. Keeping your car in pristine condition becomes a pleasure with the right equipment.
Suitable devices and accessories