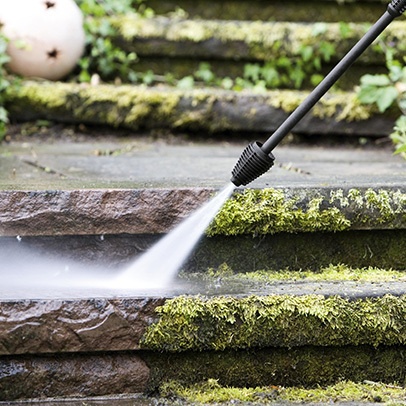 Cleaning mossy paving
Our practical examples give a clear overview of how to use your pressure washer correctly and what you should look out for.
Bear in mind when you are cleaning that the water pressure is greatest immediately in front of the nozzle: this means that stubborn dirt should be cleaned off at close range, while light dirt or sensitive surfaces should be cleaned from a greater distance.
Since moss not only forms a thick layer on paved surfaces, but remains in the pores of the paving stones, the dirt blaster should be used to remove moss. If you wish to use the vario lance, the full control trigger gun can be used to guide you to the correct pressure setting, ensuring an optimal clean.
The dirt blaster produces a rotating jet, which combines the cleaning power of a concentrated point jet with the area performance of a flat stream.
Hold the high-pressure jet vertically to the paved surface and slowly clean from one edge of the moss-covered area to the other at a distance of around 20 to 30 cm.
The splash guard for the dirt blaster (special accessory) protects you from water splashing back.
Suitable devices and accessories
Dirt Blaster
Dirt blaster lance for up to 50% more cleaning power