Responsibility for the environment
Environmental protection is an important priority at Kärcher. As an operating company, Kärcher is aware of its great responsibility towards the environment. Our aim, therefore, is to to keep all environmental impacts of our activities to a minimum. Environmental aspects thus play an important role in the development of new products, in the selection of production technologies, in our cooperation with our suppliers and in the daily work of all employees. In particular, we want to further reduce our ecological footprint and ensure that the resources we use are utilised as efficiently as possible.

A tradition of environmental protection.
Environment management serves the continuous, systematic improvement of our company's environmental performance. As a globally active company, we are conscious of our global responsibility for the preservation of basic natural resources and an intact environment. Kärcher recognised at a very early stage that environmental protection is indispensable as a third pillar of sustainable, future-oriented company development: the linking of innovation, production, work safety and environmental protection is anchored in our corporate philosophy – the observance of environmental standards is strictly ensured at all our production sites.
As early as 1996, the environmental management system of our site in Winnenden was the first in the industry to be certified to the globally valid standard ISO 14001. Wherever in the world we are working, we want to meet environmental requirements.
The site-based environmental protection at Kärcher has many facets that need to be considered: with the aid of environmental officers at site level we ensure, for example, the implementation of necessary environmental measures and the observance of environmental aspects in our day-to-day operations (waste separation, economical use of resources). We also promote the introduction of environmentally-friendly technologies in Kärcher facilities worldwide.
ISO 14001
ISO 14001 is a globally recognised environmental management standard. Through compliance with the standard, defined goals in relation to the company's environmental performance should be achieved, with processes being continuously improved.
ISO 14001 certification at Kärcher
[1] USA
 [2] Mexico
[3] Brasil
[4] Germany
Winnenden
Schwaikheim
Illingen
Gissigheim
Obersontheim
LZ Obersontheim
Bühlertal
Duisburg
[5] Italy
Quistello
Montereale Valcellina
Volpiano
Reggio Emilia

[6] China
Central control and monitoring
In order to ensure an improvement, the environmental measures of all locations must be centrally managed and evaluated. Kärcher has also introduced a software-based system for the central control of environmental management. This allows us to legally and fully evaluate environmental aspects, to record resource consumption and waste and to monitor legal regulations. In this way, we always have an overview of our environmental performance.
Our achievements so far
Through a variety of environmental protection measures at our sites, both CO2 and costs can be avoided and resources saved. This has allowed us to keep CO2 emissions, water consumption and waste volumes constant at our German sites as the number of units produced increases. Below you will find a few examples of successful measures.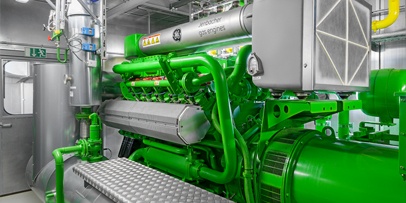 Combined heat and power unit at the head office in Winnenden
At our site in Winnenden, a combined heat and power unit provides the heating required. A 4-stroke gasoline engine operated with natural gas generates electricity by means of a connected generator. The heat generated by operation of the motor is fed into a water circuit and used to heat the premises. Thanks to the coupling of power and water generation, the efficiency of the power plant is very high at 87%.
Savings:
700 tonnes of CO2 annually
Reduction in CO2 of 56% compared with gas heating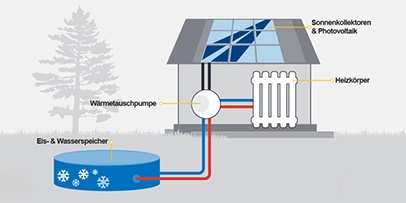 Ice storage heating in the Service Centre in Winnenden
There is also innovative heating technology in our new building for the Service Centre in Winnenden – ice storage heating. Although at first glance the terms ice storage and heat might seem to contradict one another, the system is logical: an underground concrete tank stores 250,000 litres of water mixed with glycol. During the heating period, the heat is withdrawn from the water via the carrier medium glycol, a freezing process is initiated and ice is created. In the warm season, the ice storage tank can be used to cool the building. Heat is then withdrawn from the rooms and used to thaw the ice in the storage tank. This cools the building.
Savings:
12,500 litres of heating oil annually
40 tonnes of CO2 annually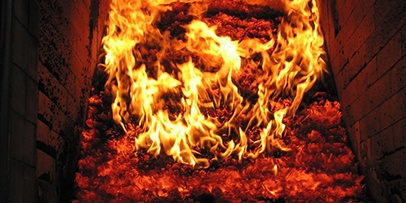 Wood chip heating plant in Obersontheim
In Obersontheim, a wood chip heating plant is used as an equally environmentally-friendly type of heating. In this heating plant, natural waste wood from regional forestry is heated; during combustion, it is CO2-neutral. With the generated heat, water from the heating circuit in the wood chip heating system's boiler is heated. The warm water is stored in a low-loss warm water storage tank until it is consumed. Compared to conventional oil heating, a wood chip heating system can save a lot of CO2. The CO2 emissions of the wood chip heating system are 35 g per kilowatt hour, whereas the value for heating oil is 303 g.
Savings:
340,000 litres of heating oil annually
1,000 tonnes of CO2 annually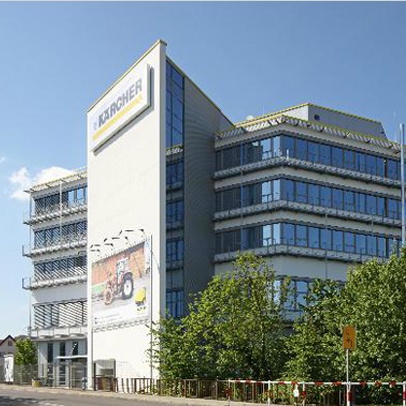 Intelligent building technology at the Winnenden site
In 2010, building 35 at our Winnenden site was modernised. As part of the renovation work, numerous room automation functions were installed. These functions included presence recognition, constant light regulation, sun tracking control, shading correction, a thermo-controller and temperature regulation. Room operation is web-based. This allows the building to achieve the maximum efficiency class for a building automation system in accordance with DIN EN 15232. The intelligent functions contribute to a reduction of the primary energy requirement of the building by 40%.
Savings:
Heating:
6,300 litres of heating oil annually
16 tonnes of CO2 annually
Cooling:
4,500 kilowatt hours annually
2.8 tonnes of CO2 annually
Lighting:
50% energy
45,000 kilowatt hours annually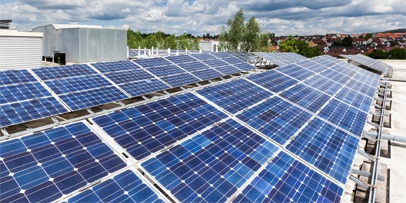 Solar plant in Winnenden
Thanks to the solar plant in Winnenden, around 28,000 kilowatt hours of electricity are generated annually. This is the equivalent of the annual power needs of six single-family homes. The operator of this photovoltaic power plant is S.A.G. Solarstrom AG in Freiburg. Kärcher is providing the roof area free of charge for 20 years and sharing the costs of the system.
Savings:
17.6 tonnes of CO2 annually
Environmentally-friendly mobility
The Kärcher mobility management programme was introduced in 1994 under the motto "Environmentally-friendly to work". The stated goal was and is to make our employees aware of environmentally-friendly modes of transport for commuting and to encourage use of these, demonstrating that environmental protection at Kärcher does not stop at the factory gate. By using environmentally friendly means of transport, such as buses, trains or bicycles, our daily CO2 mobility emissions can be greatly reduced. But even when driving, the ecological footprint can be reduced by observing a few aspects.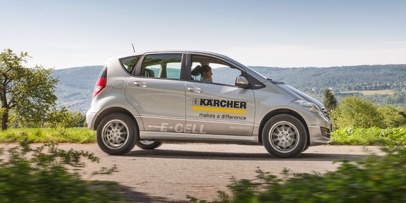 Journeys by car
Journeys by car are sometimes unavoidable. However, there are a wide range of ways of also making this transport mode more environmentally friendly.
Carpooling
Not only has driving to work become more expensive in recent years, but the cost to the environment due to pollution from heavy traffic has also risen. The formation of carpools is one of many ways to address this problem. In addition, fuel consumption is reduced as a result of fewer individual journeys, the parking situation is eased and carpooling is always more sociable.

Petrol saving courses and competitions
In addition to the formation of carpools, it is also worthwhile to take a petrol-saving course – for the environment, for Kärcher and for our employees' wallets. This is why Kärcher regularly offers such courses.

Environmentally-friendly vehicles
The Kärcher fleet is equipped as far as possible with environmentally-friendly vehicles: for journeys on short routes, Kärcher is currently testing electric cars. Attention is paid to fuel consumption when selecting other cars.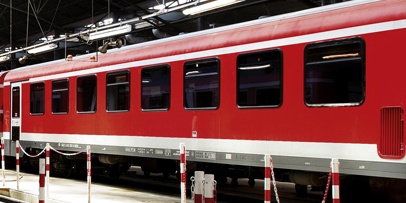 Use of public transport
Employees who travel to work by bus or rail protect the environment. This is why Kärcher occasionally organises information events on this topic. Here employees can learn more about the advantages of public transport.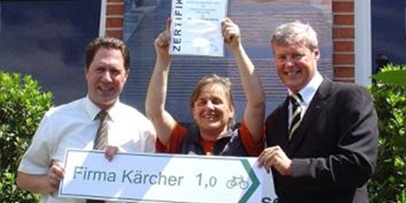 Journeys by bicycle
Bicycles are the most environmentally friendly mode of transport. This is why Kärcher is so concerned about motivating employees to cycle and providing them with the necessary infrastructure.