Steam cleaners
Kärcher's steam cleaners ensure clean pleasure throughout the household, and your whole family can be sure that everything is very deeply clean - without any chemicals. Thanks to its top cleaning performance, the steam removes up to 99.999%* of viruses and 99.99%** of all common household bacteria, ensuring a hygienic and healthy living environment. No matter whether in the kitchen, bathroom, on floors or even when ironing, Kärcher really makes it steam and delivers top results. Discover the wide range of possible applications now!
The choice is yours: the new, expanded SC range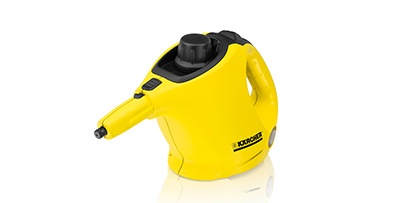 New: SC 1 – the compact device
Within easy reach and ideal for intermediate cleaning. The SC 1 may be small, but in practice it is just as powerful as a large steam cleaner.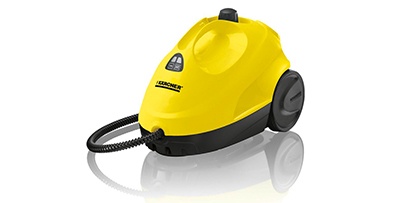 SC 2 – the entry level device
The ideal place to start for those who are new to steam cleaning – with all of the essential functions and convenience, as well as a steam time that is four times longer than the SC 1.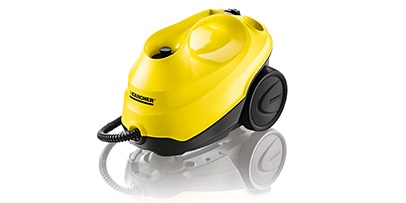 SC 3 – the anytime device
With a heat-up time of just 30 seconds, the SC 3 can be used immediately and continuously refilled. The innovative descaling system offers additional convenience.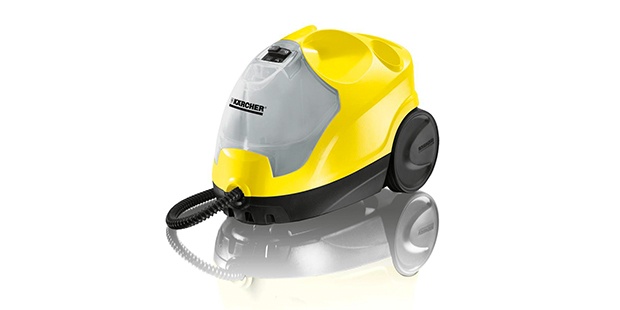 SC 4 – the most convenient device
With a removable tank for easy refilling, Comfort Plus floor nozzle with slat function for maximum cleaning performance, and easy, contactless cloth changing for added convenience.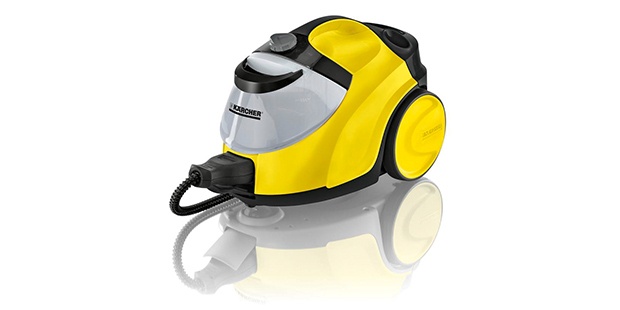 SC 5 – the most powerful device
Removes even the most stubborn dirt thanks to the innovative VapoHydro function, while the Comfort Plus floor nozzle offers maximum power and convenience.
Advantages of cleaning with steam
Thorough cleaning without chemicals
The secret of steam cleaning lies in the powerful combination of pressure, speed and temperature. Microscopic steam particles force their way into even the hardest to reach crevices and tiniest recesses to thoroughly loosen dirt particles. As steam cleaning does not use any chemical cleaning agents, it prevents allergen residues from forming on the cleaned surfaces. This provides a safe environment for small children in particular, who like to put things in their mouths, and allergy sufferers can also breathe a sigh of relief.
Steam kills 99.99% of all bacteria*
Sometimes the best way of getting rid of bacteria is also the simplest: hot steam. The powerful ejection of steam along with its high temperature, powerful nozzles and heated cleaning cloths ensure that Kärcher steam cleaners kill 99.99%* of all common household bacteria on hard surfaces, fittings, tiles, mirrors and more. This has been confirmed by scientific studies, and with results like these, common household bacteria do not stand a chance.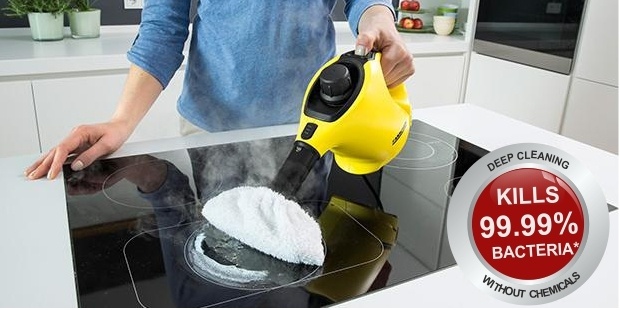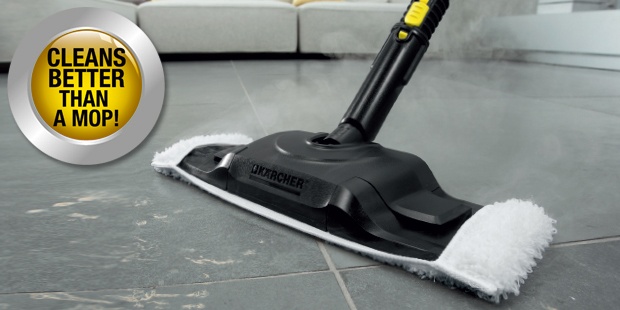 Better than a mop.**
Kärcher steam cleaners ensure maximum cleanliness and hygiene on hard surfaces like stone, tiles, PVC, laminate or varnished parquet flooring. The Kärcher floor nozzle is fitted with slats which ensure that the steam remains concentrated on the floor for a long time and used to maximum effect. Thanks to their high cleaning performance and intensive cleaning action, Kärcher steam cleaners kill 99.99%* of common household bacteria on all hard surfaces and are therefore considerably more hygienic than a conventional mop.
* Thorough cleaning with the Kärcher steam cleaner kills 99.99% of all common household bacteria on hard surfaces around the home.
** Thorough cleaning with the Kärcher steam cleaner achieves a higher cleaning performance than manual cleaning with a mop and cleaning agent. Tested in accordance with international performance standards.
Many different home cleaning tasks – one solution.
With the SC steam cleaners, it's full steam ahead against dirt. A steam cleaner allows you to clean almost all of your household surfaces in a way that is thorough, hygienic and eco-friendly – right down to the smallest crevices. Kärcher steam cleaners offer effortless cleanliness and, thanks to an extensive range of accessories, replace multiple conventional cleaning products – from clothes brushes to steam irons.
Floor cleaning
The SC steam cleaner ensures maximum cleanliness and hygiene when cleaning stone, PVC, laminate or varnished parquet flooring – and all without chemical residues.
"When it comes to hygiene, I've never trusted mopping 100%. But with the steam cleaner, I don't have to worry."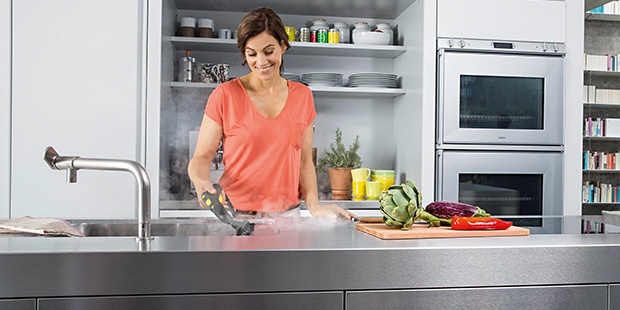 Kitchen cleaning
Whether fittings, wall tiles, glass and synthetic surfaces, extractor hoods, hobs, stoves or sinks, the SC steam cleaner makes the kitchen hygienically clean – and all this without stress.
"No matter how chaotic your kitchen – with the steam cleaner, everything can be effortlessly cleaned again in no time."
Bathroom cleaning
The SC steam cleaner does the job perfectly and ensures absolute hygienic cleanliness, even when cleaning wall tiles, glass and mirror surfaces, windows, fittings, shower cabins, cracks and crevices.
"When it comes to bathrooms, our motto is: chemicals are good – but steam cleaners are better. With a steam cleaner, your bathroom will be spotlessly clean in no time."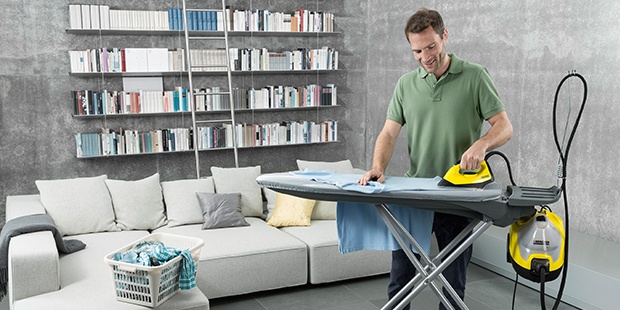 Steam ironing
The Kärcher SC steam pressure ironing system with high-end steam iron, anti-stick soleplate and ironing board saves up to 50% ironing time and still delivers perfect ironing results and instantly dry laundry.
"For me, ironing used to be the ultimate chore. But since getting the steam pressure ironing system, even I can achieve perfect ironing results in record time."
Only one tool required thanks to an extensive range of accessories
The extensive accessory line for Kärcher's steam cleaners opens up a multitude of application possibilities in and around the house.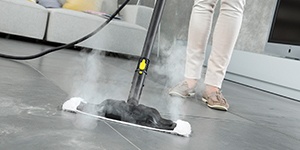 Nozzles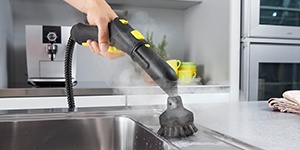 Brush attachments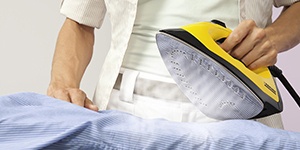 Pressurised steam iron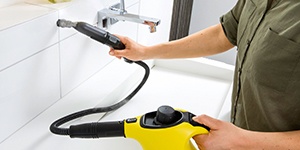 Steam hoses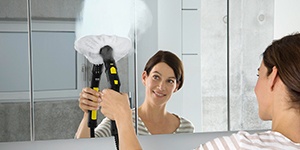 Cloth kits
You can find the right accessories for your machine with our accessory finder.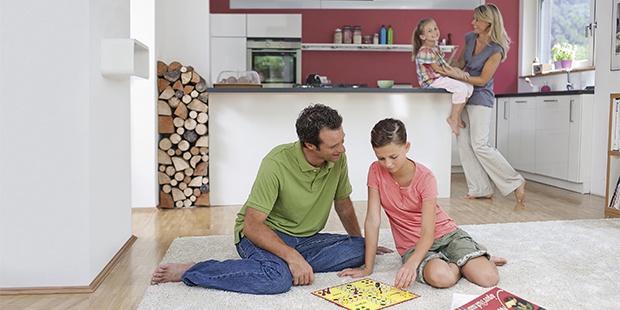 The most environmentally friendly way to clean
Steam cleaning saves up to 80% water compared with conventional cleaning methods and does not pollute waste water with chemicals. One litre of water is enough to create 1,700 litres of steam – enough to clean a 60 m² apartment thoroughly.

In addition, Kärcher steam cleaners allow energy savings of up to 25% compared with other manufacturers. Thanks to the innovative floor nozzle with slat technology, cleaning results are 25% better, saving both cleaning time and energy. Like all other Kärcher devices, our steam cleaners are over 90% recyclable once they reach the end of their service lives.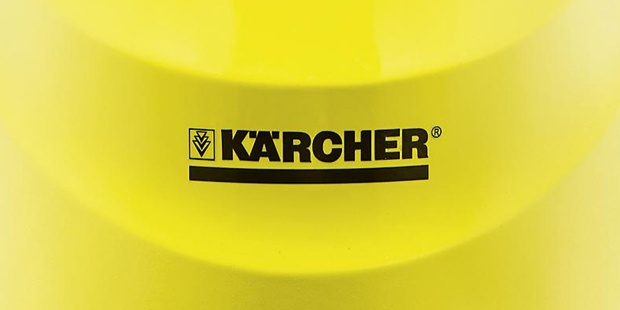 Typical Kärcher quality
Steam cleaners made by Kärcher: this means outstanding expertise and over 20 years' experience with our own development and production. Our devices impress with their constantly high steam quality and steam power, and high-quality, robust and durable materials, as well as the highest safety requirements which meet Kärcher's own standards. At the Kärcher research centre in Winnenden, new innovations are born, like VapoHydro or our intelligent slat technology, for devices which improve with every generation.