RESPONSIBILITY FOR EMPLOYEES
Even company founder Alfred Kärcher took up the cause of sustainable, people-oriented corporate management. His attitude is still the guiding principle and basis of a corporate policy in which the reconciliation of career and family, the health of employees and their professional development and training play a central role. We treat our employees in an appreciative and caring way. Thanks to its strong commitment, Kärcher has been able to become the global market and technological leader in cleaning technology.

An Excellent Employer
Kärcher is a sought-after employer, and the company continues to grow. Therefore, we were able to create 1,660 new jobs between the end of 2012 and the end of 2015. At the end of 2015, the company had 11,333 employees working at its locations around the world. Since its foundation in 1935, Kärcher has always been a family business that cares about providing the best possible working environment. Kärcher has received awards for this commitment several times.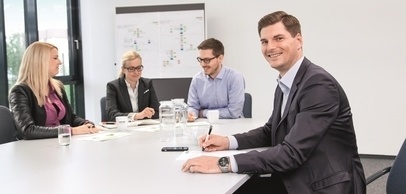 All round good working conditions
Making socially sustainable decisions and being successful in the market at the same time is an art which few companies have mastered as well as Kärcher. Regional Bishop Dr. h.c. Frank Otfried expressed this sentiment in July 2013, when Kärcher was awarded the ARBEIT-PLUS seal of the Evangelical Church in Germany. An independent institute evaluated the flexible working time models, continuing education and training opportunities and health management as exemplary.
Combining work and study
Employees seeking extra-occupational higher qualifications, such as engineering, master craftsman or academic degrees, can be supported along the way to their bachelor's or master's degree with a Kärcher scholarship. This measure on the part of the Human Resources Development Manager placed second in the 2014 Human Resources Excellence Awards, which are awarded by the Human Resources Manager trade journal.
Prioritising family support
"We are on the right track." Executive Vice President Corporate Human Resources Rüdiger Bechstein felt validated when the company received the "audit berufundfamilie" certificate in 2014. This certificate is awarded to companies that place a great emphasis on continuing education and family-friendly measures in the workplace. In addition to programmes such as part-time employment models and flexible working hours, Kärcher Germany has subsidised childcare and organised holiday programmes for the children of employees. New formats such as working from a home office and the opportunity to chart a career as a part-time employee have been greatly expanded in recent years.
After a prolonged illness: welcome back!
Even in times of crisis, Kärcher stands by its employees. We offer comprehensive support for employees returning to work after prolonged sick leave; representatives for occupational integration management have been on duty at Kärcher since 2013. A jury also found this commitment praiseworthy: Kärcher received an award which is intended for health-promoting preventative measures from the Baden-Württemberg Municipal Association for Youth and Social Affairs.
360° Health Management
Alfred Kärcher described his special relationship with his employees in the following words: "The people in our company are, first and foremost, what makes our success possible." This guiding principle still determines our actions because only healthy, happy employees are engaged and motivated at work. Occupational health management is therefore a challenge to which we will vigorously respond.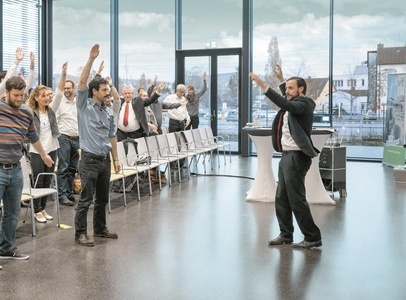 We keep moving
At first glance it seems unusual: our employees at the Obersontheim, Bühlertal and Winnenden plants simultaneously leave their workspaces, form a circle, bend and stretch and stand on tiptoe. They are led by a physiotherapist who shows them exercises for five minutes that can reduce work-related physical complaints.
Many employees spend most of their time at a desk and in front of the computer, particularly at our headquarters in Winnenden. If we use only our minds most of the time, the body will suffer in the long term. And often, the best ideas crop up when the head occasionally takes a little break. With the "Midday Fitness" programme, therefore, we give our employees in Winnenden the opportunity to spend their lunch breaks in a way that supports their health: a circuit training session aimed at stretching, strengthening, mobilisation and relaxation takes place once a week under the guidance of a sports instructor. After that, their heads are once again free to deliver outstanding mental performance.

Everything for health
Health campaigns specifically tailored to the employees take place at all Kärcher locations. For example, free flu vaccinations were given and other health programmes offered in Camas, USA. At the Quistello site in Italy, a programme motivates employees to commute to work by bicycle or on foot rather than by car. On the intranet, groups come together for the company sports programmes, for example, volleyball, to let off steam or to train with the running club. We set no limits on physical activity but rather widen the playing field.
Investment in health with long-term effect
As a company with a strong culture of values, we consider it our responsibility to provide attractive working conditions for our employees and not to be satisfied with the minimum requirements. This is because healthy growth and sustainable success for the company can only come about if our employees enjoy working and pay attention to their physical and mental well-being. We provide a healthy and intact work environment at eye level and through interactions carried out in partnership; our self-image as a family business is rooted in this.
You would like to find out more about a career at Kärcher? Click here! [INSERT LINK TO CAREER PAGE]