High-pressure cleaners
Unbeatable versatility – high-pressure cleaning with Kärcher Kärcher invented the high-pressure cleaner in 1950 and has been refining the principle of high-pressure cleaning ever since. Greater cleaning performance with less consumption. Longer service life with shorter cleaning times. As a world market leader, Kärcher offers a range of products that leaves nothing to be desired in terms of technical refinement and versatility – operating with heated or unheated water, powered by electric motors or internal combustion engines, mobile or stationary. Find out about the different areas of use here.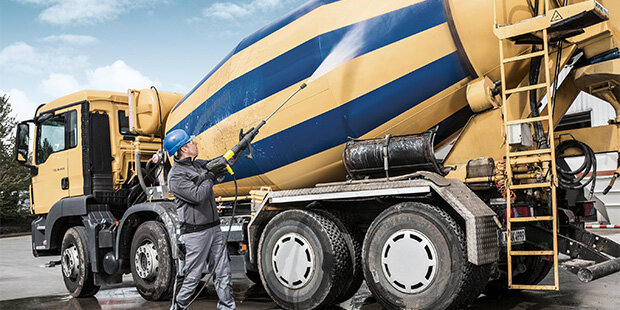 Clean machines, vehicles and buildings daily: with pressure and a high flow rate, cold water high-pressure cleaners can also remove stubborn dirt. Ideal for large surface areas.
With hot water, high-pressure cleaners clean even better with the same amount of pressure, Kärcher machines impress with the highest level of usage comfort and the most up-to-date technology.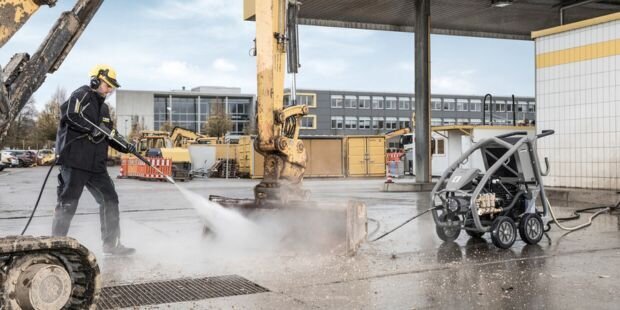 When the cleaning performance of conventional high-pressure cleaners is no longer enough, our ultra high-pressure cleaners come into their own. Thanks to the ultra high pressure (UHP), even the most stubborn dirt and coatings can be reliably removed.
Cleaning agents for high-pressure cleaning
Kärcher's detergents and care agents for high-pressure cleaners are designed to achieve maximum cleaning results with the minimum of energy and time. At the same time, they reduce the level of waste water pollution caused by mineral oil residues thanks to their special formulas that are easy to filter and separate.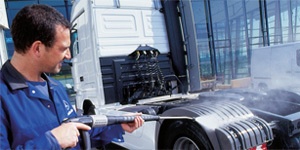 Cleaning and protecting commercial vehicles
High-performance cleaning agents for powerful cleaning of stubborn dirt on roads and building sites - can be used with cold and hot water high-pressure cleaners.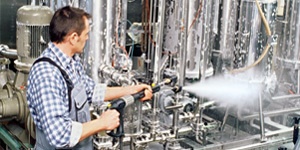 Versatility for industrial applications
Fast-acting, gentle cleaning agents which also remove stubborn dirt such as oils, grease and rust.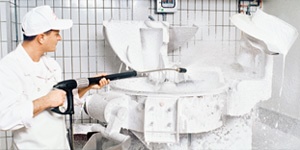 Cleanliness and hygiene in the food industry
Effective cleaning agents and disinfectants with approval for use with foodstuffs in accordance with the DGHM (German Society for Hygiene and Microbiology) and DVG (German Association of Gas and Water) disinfectant lists.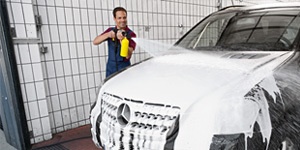 Polished surfaces for the entrance to your car dealership
Showroom sheen and value retention on any car, even under the hood, thanks to gentle cleaners for all kinds of surfaces and materials.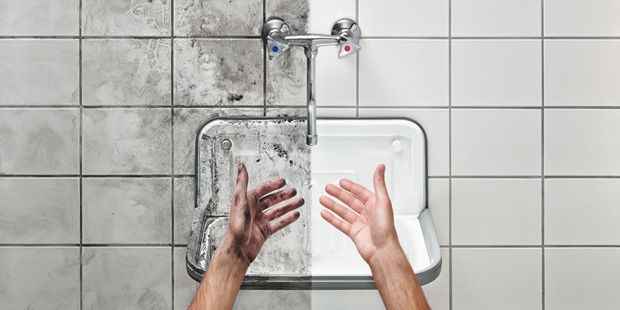 Benefits of hot water high-pressure cleaners
High water temperatures produced by hot water high-pressure cleaners allow a reduction in working pressure, cleaning time and the amount of cleaning agent required. Benefits of hot water high-pressure cleaners compared to cold water high-pressure cleaners:
Reduced cleaning agent consumption
Using hot water offers a significant time saving of up to 35% with improved cleaning results.
Kärcher
iSolar

. The system solution for solar module cleaning.

Our recommendation:

The HDS 10/20-4 M hot water high-pressure cleaner or HD 10/23-4 S cold water high-pressure cleaner for optimum cleaning results.
Very high cleaning and area performance
Contra-rotating disc brushes
Telescopic lance made from carbon/glass fibre composite
Reach of 1.8 - 14 metres (depending on the telescopic lance)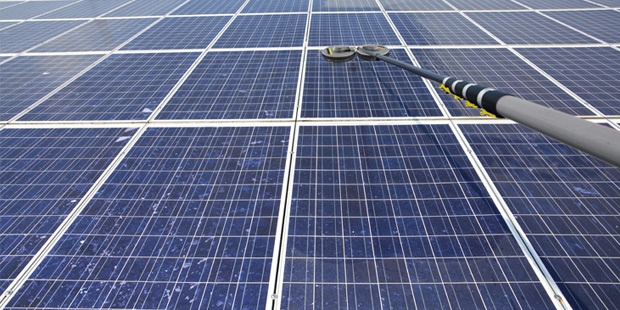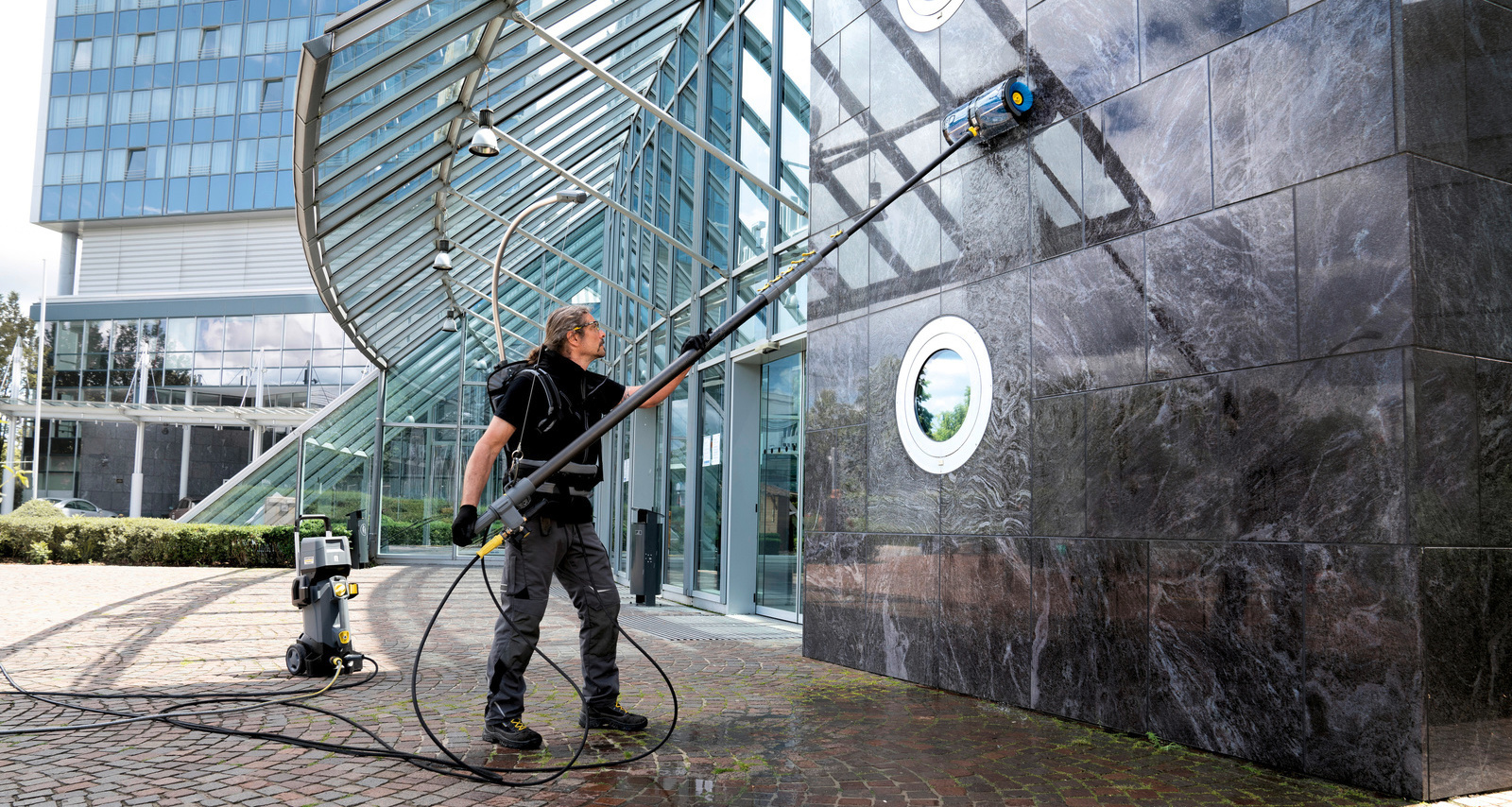 The new system solution for facade, glass, solar system and floor cleaning.
Our new system solution comprising brushes, telescopic lances, attachments and adapters now allows flexible use of various cleaning types for different cleaning tasks. Whether it is with low, medium or high pressure or also for vacuuming: never before was the cleaning of facades, glass surfaces, solar panels and floors more flexible and also more comfortable and thorough at places that are difficult to access.
Adaptor finder
EASY!Lock

– How to find the right adapter quickly.

What perfect connections look like. In order to cover the various interfaces, from the highpressure cleaner to the nozzle, as well as forward and backward compatibility, a total of 8 different adaptors are available. This ensures that all existing machines and accessories can continue to be used together with the new machines and accessories with EASY!Lock connections. In our adaptor finder there are all adaptors listed with their respective application. For example, any high-pressure cleaner with M 22 × 1.5 connection can quickly be converted to the new EASY!Lock system with adaptor 2.
The
EASY!Force

trigger gun.

You have the power! Only one thing can come between you and your task: our EASY!Force HD trigger gun. It gives you the power to use high pressure with ease. The revolutionary operating concept of the EASY!Force trigger gun uses the recoil force of the high-pressure jet and reduces the holding force for the trigger to zero. Absolutely zero. Designed for more effortless, ergonomic and stress-free use. Try our EASY!Force trigger gun – you will not want to put it down.