Mobile cleaning
Whether you are hiking, cycling or walking your dog: Being outside and on the go is just plain fun. And sometimes, really dirty. With the Mobile Outdoor Cleaner OC 3, you will not be overtaken by dirt, even while you are on the road, and nature stays outside where it belongs.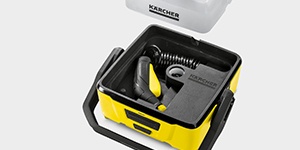 Sophisticated storage concept
Hose and spray gun can be conveniently stowed away under the water tank. So the device remains compact and easy to transport.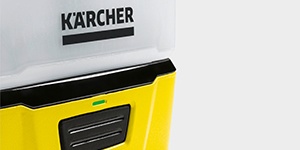 Flexible battery operation
The integrated lithium-ion battery enables mobile cleaning with no need for a power source.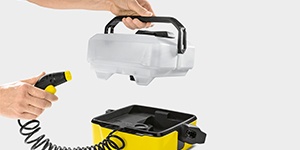 Water tank and filling level indicator
The 4-litre water tank is sufficient for up to 2 bicycles or several small objects.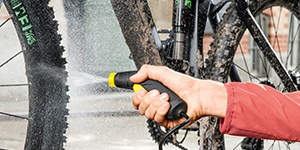 Effective low pressure
The flat stream with low pressure cleans sensitive components thoroughly and gently.

Mobile Outdoor Cleaner
Adventure Box
Mobile Outdoor Cleaner
Adventure Box
Adventure Box
Walks in the wilds may bring great fun, but they sometimes leave an even bigger mess. The Mobile Outdoor Cleaner with Adventure Box from Kärcher has the perfect solution. With its lithium ion battery, detachable 4-litre water tank and dedicated accessories, it washes the mud, dirt and sand from boots and buggies – before they can soil your car and home. Making it the ideal companion for any family outing.

Mobile Outdoor Cleaner
Bike Box
Mobile Outdoor Cleaner
Bike Box
Bike Box
Cleaning a bike can feel like scaling a mountain, but with the Mobile Outdoor Cleaner with Bike Box it's downhill all the way. The spray gun safely washes dirt from sensitive parts, while a multipurpose brush attachment removes tougher grime – leaving your spokes, frame and treads looking great. The box comes complete with an integrated lithium ion battery, detachable 4-litre water tank, detergent and microfibre cloth.

Mobile Outdoor Cleaner
Pet Box
Mobile Outdoor Cleaner
Pet Box
Pet Box
It's a dog's life. Every outing ends with you cleaning your fourlegged friends – or your car and carpets. With its animal-friendly, low-pressure showerhead, the Mobile Outdoor Cleaner with Pet Box gently removes dirt and mud on the spot. And thanks to its integrated lithium ion battery and detachable water tank, can clean the puppies too. Give your dog a good name with the Mobile Outdoor Cleaner.
Accessories
The Mobile Outdoor Cleaner can be optimally augmented with a variety of special accessories and accessory kits. The adventure, bike and pet accessory box provide the right equipment to improce your mobile cleaning results.
Mobile outdoor cleaner product test campaign
Is there anything that an innovative mobile cleaner can't clean? We wanted to get to the bottom of this question, together with an international community of product testers. Over 7000 people applied to be product testers for the launch of the mobile outdoor cleaner. In the end, we sent 350 test devices to product testers from 8 countries and came together to discuss their experiences, the uses they found for it, their ideas for accessories and suggestions for improvement on the KärcherToGo platform. Here is a selection of the contributions from the product tests.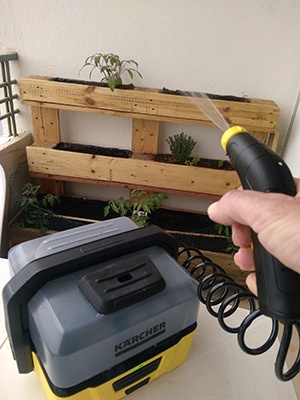 Watering plants on a balcony and more
Daniel / France - 24.03.2017 09:10
My initial feedback and user recommendations:
STRENGTHS
• Quality and performance of the two available water streams
• Efficiency of the water streams
• Noise of the device was not at all annoying and was practically silent after being switched on
• Device is relatively light which makes it practical for carrying
• Very simple initial startup and use
• Will have to wait and see how it performs over time, but the high-quality design and the materials used give an impression of reliability
• I think its design is attractive and cool – always an additional benefit
• Depending on the use, the 4 l water tank is enough – its capacity could be increased for an XL model for longer use, or alternatively, according to the instructions, the system can be used with a larger separate tank
• In terms of its size, the device is easy to store, which I think is an advantage for mobile outdoor use – I'll come back to this in another point
MY RECOMMENDATIONS
• As some have already said, a 12 V connection would be good
• The charging time is 3 hours for 15 minutes of use – could that not be improved?
• The transport handle could be more practical to fix and use – but this is only a minor detail
• The filling plug does not seal properly and is sometimes difficult to fit
Those are my key observations so far – up to now I have been really satisfied with the OC3 and will be even happier when I can use its incredibly practical features next weekend for more outdoor activities!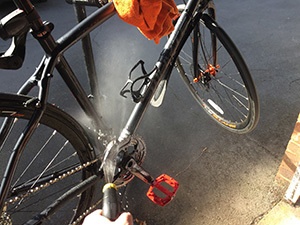 First Ride of Spring and Removing the Winter Grime from my Urban Bike
Andy / United Kingdom - 26.03.2017 21:30
Amazing Day in the UK today, and my first day back on a bike after a Mountain Bike Crash. I took my Urban Bike out for a ride around the local cycle paths. It was warm and on gravel dusty in places. Normally this would be an issue, or a call out to one of my friends, to borrow their hose pipe, as I live in an apartment with a garage with no electricity and water.
Not Today! Pre-filled up my Kaercher to Go, and it was ready for when I returned from the ride. So easy and simple to use, I started with applying cleaner to the bike, and then once it had chance to do its job, I used the Kaercher to Go, to wash down the bike. It was so easy and so quick.
I not only want this device, I need this device, with Mountain Bike/Urban Bike and Road Bike, never again will I need to borrow someone else hose, and the best part of it, being a low powered washer, I can be assured that no damage has been done.
I just couldn't resist cleaning the bike stand, that had been in the garage all winter, and still had enough water and power left to rinse of my Cobb BBQ. Nothing was safe at this stage from getting sprayed.. Unfortunately the battery and water ran out before one of the kids popped down.
Way to go Kaercher, if I have only one suggestion its a variable nozzle on the spray head, so you can choose between a more intense single stream, to a wider pattern.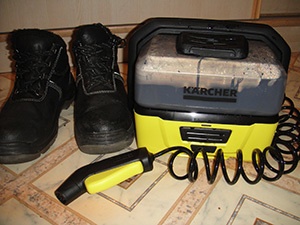 Goodbye winter – hello spring!
Alexej / Russia - 20.03.2017 19:27
For my first test, I thought I'd try using the device to dust off my bike in time for spring. However, it snowed the day before so I couldn't get started outside. For this reason, I tested the device on my balcony. As you can see in the video, the device did a fantastic job of getting rid of the dirt – my bike looks as good as new. There was more than enough water available so I decided to clean my winter shoes to prepare them for being stored over the summer. The water stream made light work of minor dirt. In places with more stubborn dirt, it was more a question of keeping the gentle water stream on it for a while. The water ran out, but the battery didn't. After refilling the tank with warm water, I thought I'd carry on with my test and clean the tiles on the balcony – though I could only do this on part of the balcony, as the sub-zero temperatures outside meant that the fine spray that was produced while cleaning my bike had frozen. I used the spray gun without any attachments and it worked brilliantly. After using it for the first time, I removed the water tank, poured the water away and left the container to dry.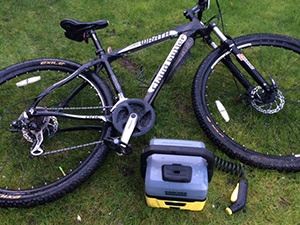 My Daughters Garden "Wendy House" & Pram Wheels
Iain / United Kingdom - 25.03.2017 15:00
It's tiny, YES TINY! I had seen it in the flesh before, but perhaps had forgotten how compact the product is. Designed to be portable it will be easily store in the boot of the car/truck/van.
1ST USE:
Any excuse to get out for a ride! After an hour of riding in the nearby muddy woods we quickly put the tester to good use. The 4L tank lasted the wash, but only just! You definitely have to get right in and up close to get the dirt & mud off, but it does work! I would have preferred another litre in the tank to get the job done.
2ND USE:
The sun is shining and spring is upon us, so I wanted to clean up my daughters garden house which has gathered some dirt and cobwebs over the winter. I think that if I was using a normal pressure washer I would risk taking the protective paint off, so this little portable system is perfect for the job! It got rid of the cobwebs and some of the dirt without too much effort, and beat having to get a rush and/or cloth out to do the job. In under two minutes I managed to clear all the cobwebs from the areas I wanted to and its left the house looking a bit nicer for the summer!
Next was my daughters toy pram wheels which we're clean in seconds.
Now to find something else to clean!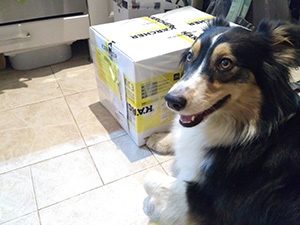 On with the day!
Sergei / Russia - 28.03.2017 12:09
My dog was terrified of the sound of the cleaner as soon as I tried using it to wash his paws. With some praise – and a few treats – I managed to convince my dog that there was no reason to be scared; by our third walk, washing him using the cleaner was a lot easier. As well as my dog, I have another passion – cycling. The majority of my training, road races and mountain biking takes place in pretty wet weather, so I'm constantly needing to clean my bikes. Using a high-pressure cleaner, the water gets into most of the bearings, which turns the task from cleaning the bike to completely reconditioning it. The alternative – a bucket of water and a scrubbing brush – takes forever and leaves a lot of dirt behind in hard-to-reach areas. This is why I had a lot of hope for the Kärcher To Go. And it didn't let me down! I sprayed the bike down with water, brushed it a little and rinsed it off – it was as easy as that! Cleaning a bike and its tyres took less than two tanks of water (a maximum of eight litres), which is great! You could clean at least four bikes without having to recharge the battery. Although that doesn't seem to be the limit – even after using more than 30 litres of water, the cleaner's battery still wasn't empty. I would like to note that you can fill it with warm water, which is nicer and more convenient in cold weather. I'm very happy – I've used the cleaner every day for the last three days. It's clear to me that the developers really thought through the design. It would be difficult for me to think of anything to add in further development and to find a good reason for it. My main request for further development would be to expand the range of accessories.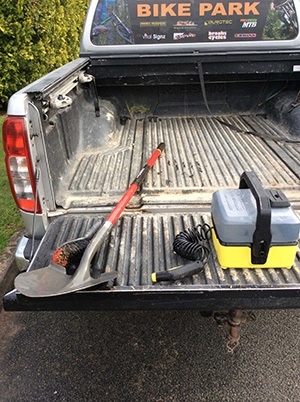 First impressions
Malcolm / United Kingdom- 23.03.2017 00:03
First impressions
The unpacking was straight forward and the OC3 was easy to set up and ready to use . Compact in size, worth mentioning that I love the square shape as it's easy to stow and not at all easy to tip over when in transport. Once the spray nozzle has been removed from under the tank and the tank filled it was time to test. I thought it was a bit lacking in power to start with but the fan nozzle can concentrate the blast to remove some fairly stubborn muck.
Ok onto the testing , which was a bit hurried due to only being received 2 days ago, I took it out to work where I used it to clean the shovels from the weekends dig day and also to clean the cement mixer , both it managed with ease. The spay gun is great to use and being small and agile it gets into the mixer and is able to clean all around the blades.
We tested it head to head against a Mobi 12v pressure washer.
Mobis pros: slightly more powerful and a larger tank . Con: got tobe plugged into car, restricted range to power cord length
Kaercher pro: ready to use straight away , not restricted where to use , Cons . Small tank, needed to fill 3 times against the mobi. .
Both machines cleaned the bikes after a while which is better than using a mains powered pressure washer as these can cause damage to the suspension seals and the sealed bearings.
The testing continues but as a whole the OC3 is a neat machine so we're. Taking it. With us to Portugal where we're racing in Lousa to see how it copes washing the 9 bikes we have out there !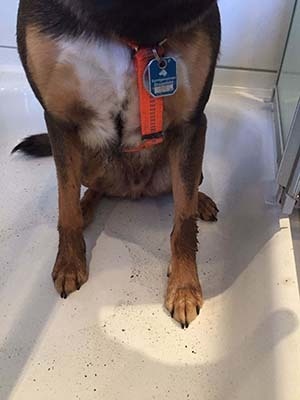 The first tests
Simon / Deutschland - 22.03.2017 09:30
The first tests

The first test on a bike. I must admit, I've not cleaned my bike in at least a year – I think that's probably clear from my photos. The mud and dirt on my bike were therefore dried and stuck to it. I had quite low expectations when I started to clean my bike, but I was surprised by how much power the small Kärcher provided. It got rid of all the dirt, defying my expectations. I didn't even need a brush. You can really see the results. I'm really pleased with what this small device can do. Especially if you're out and about with your bike, for a race or something similar, for example, it would be really practical to be able to clean the tyres straight away before heading home. Of course, the dirt comes off even more easily when it's fresh. I'd say it's an absolute must-have for any cyclist. While cleaning my bikes I also noticed that the four-litre water tank was more than enough for one bike. If you want to clean two bikes, though, a replacement tank or a six-litre tank would be practical. Which leads me to my suggestion – increasing the capacity to six litres. This would improve the cleaning performance but the device would still remain a portable size. A shoulder strap would also be handy. The hose isn't long enough to clean larger objects. If you could hang the Kärcher over your shoulders, you'd always have both hands free for working. ...
After that, it was time for our dog to meet the Kärcher. He doesn't like getting wet outdoors though, so we used the device indoors, in the shower. As my photos show, it worked well indoors, too. I noticed here that a pressure regulation option with two pressure settings would have been convenient and made things a bit easier. It would make it possible to use the pressure in a more targeted manner. A level switch on the trigger would be a possible solution. If you pressed the handle halfway down, you'd get a lower pressure than if you pressed it all the way down. I found the standard nozzle impractical for washing pets. Most of the water stream missed the dog's paws completely. The cone spray nozzle from the accessories set was a real help for this task....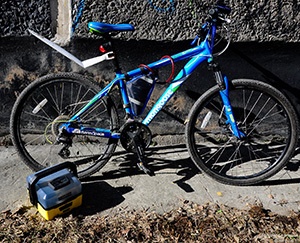 The portable Kärcher cleaner is a dream for cyclists in a large city
Evgenija, Russia – 19.03.2017 19:03
Today I successfully tested the device on my bike. My poor bike was covered in residual dirt – some even from last year's cycling season – and all the new dirt it had collected during use on the streets which have been thawing in springtime. Soil in the tyre treads, dried dirt on the frame and pinion – you'd have your hands full trying to clean it all yourself.
First and foremost, I want to say that this cleaner is perfect for people living in multi-family houses in large cities! Until recently, I could only dream of being able to clean my bike: My bathtub isn't big enough, running a hose all the way from the ninth floor to the street is impossible, and as for trying to clean all the parts by pouring water out of a bottle and wiping them using a wet cloth – the results wouldn't be worth the hassle.

Other impressions.
BENEFITS:
Battery life. I fully expected to be complaining about the advertised 15-minute battery life. To my surprise, the battery – which wasn't even fully charged – lasted long enough for the entire cleaning process, without running out.
Water tank volume. Another pleasant surprise for me – the four-litre tank was enough to carefully clean my faithful friend, even including time spent taking a few videos.
Flat jet nozzle for cleaning bikes. This attachment definitely ensures that the cleaner covers a wide area and means that you save a lot of water. This is probably why the four-litre tank was enough for me.
Hose length. The hose is extendable, which means that it's easily long enough to move around and clean a bike from all angles, without having to move the cleaner around as well.
Size of the cleaner for bikes. The size and shape of the cleaner mean that it can be transported on the rack of your bike. Sadly, I don't have a rack on my bike. But if I had one, it would be an excellent solution for bringing the cleaner along on longer trips.
DRAWBACKS:
The cleaner wasn't quite able to get rid of dirt and oil residue in hard-to-reach places – the pressure and the accuracy of the water stream direction weren't good enough.
Dirty floors. Placing the cleaner down on soil or asphalt isn't ideal. On the other hand, hoisting the strap over your shoulders, as multiple participants have suggested here, is uncomfortable as the cleaner's weight means that it would constantly slip off. One option would be to design the strap like the straps on a rucksack or to provide a removable base for the cleaner which you could take off and clean.
CHANGES:
In order to be able to clean all the parts of a bike, it definitely needs more suitable attachments which you can use to control the pressure and direction of the water stream. There are already specific ideas for developing these accessories, but I'll go into more detail on those in my next points.
Strap or base – see above under "Drawbacks".
A compartment for detergent. It would be ideal to have a compartment for detergent and a switching button. The button could be pressed to switch between one position which provides normal water and another position in which the water flows through the compartment containing detergent and therefore comes out of the hose as a cleaning solution.
IN SUMMARY:
The cleaner is ideal for quickly cleaning bikes with an average level of dirt. I worry that it would not be possible to completely clean a dirty bike after cycling in bad weather without using any special attachments.
BONUS:
I used the rest of the water to clean my hiking boots. The cleaner managed this task in just a few seconds – it was easy and gentle and I discovered a new way to use the cleaner.