Dry ice blaster
IB 7/40 Classic
Thanks to airflow optimisations, our Ice Blaster IB 7/40 impresses with excellent results during dry ice cleaning, even when working with low air pressures. Compact device.
The Ice Blaster IB 7/40 Classic is a high-performance dry ice blaster that impresses in hard daily use with secure and convenient handling, easy manoeuvrability and reliable operation. All components and technologies of course comply with the highest quality standards. For example, well-thought-out dosing technology prevents the machine from icing up during blasting, while the optimised airflow also ensures excellent cleaning results at comparatively low pressures and air consumption and, at the same time, relatively low operating noise. The jet pressure and ice delivery volume are steplessly adjustable via the button, a function which can also be disabled using the key switch. An integrated oil and water separator, as well as a residual ice removal system for removing the dry ice left over after use at the touch of a button also come as standard. All relevant working parameters, as wellas statistical values such as operating time, average ice consumption per hour or total ice consumption can easily be read off a display
Features and benefits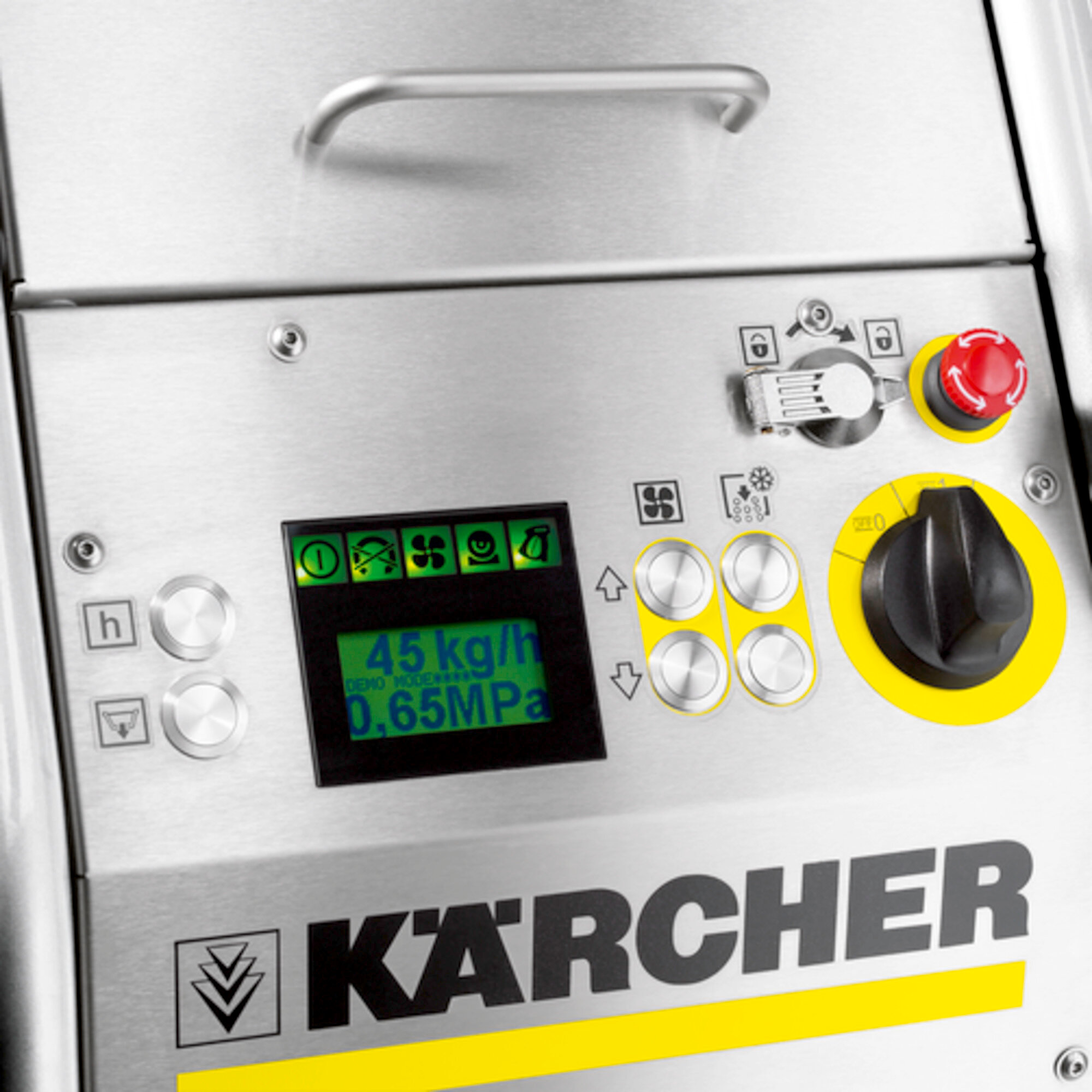 Clear display
Easy to read off the values set; ease of operation thanks to large buttons and electronic control system.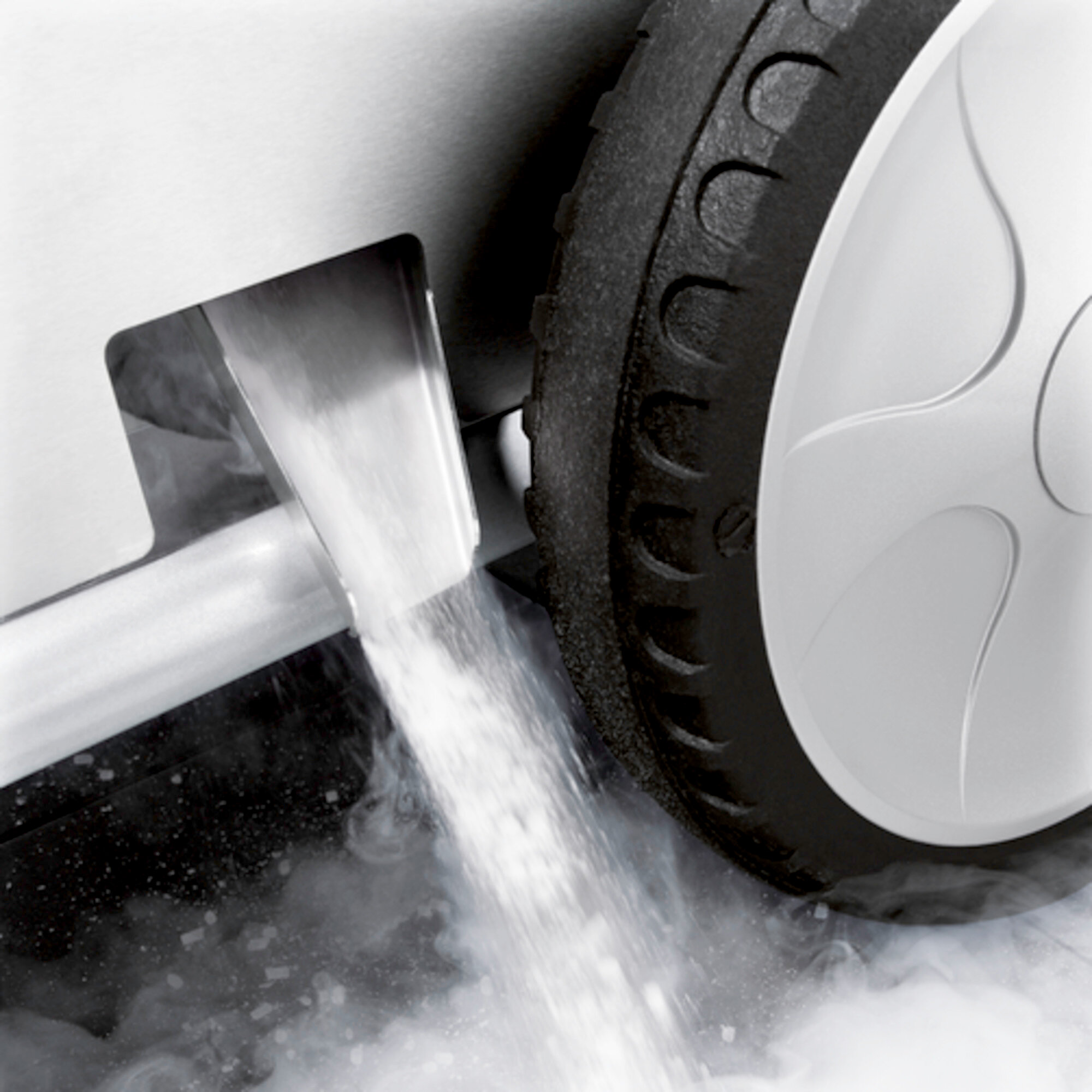 Automatic residual ice discharge
The ability to empty the residual ice tank at the touch of a button prevents the device from icing up once work is complete.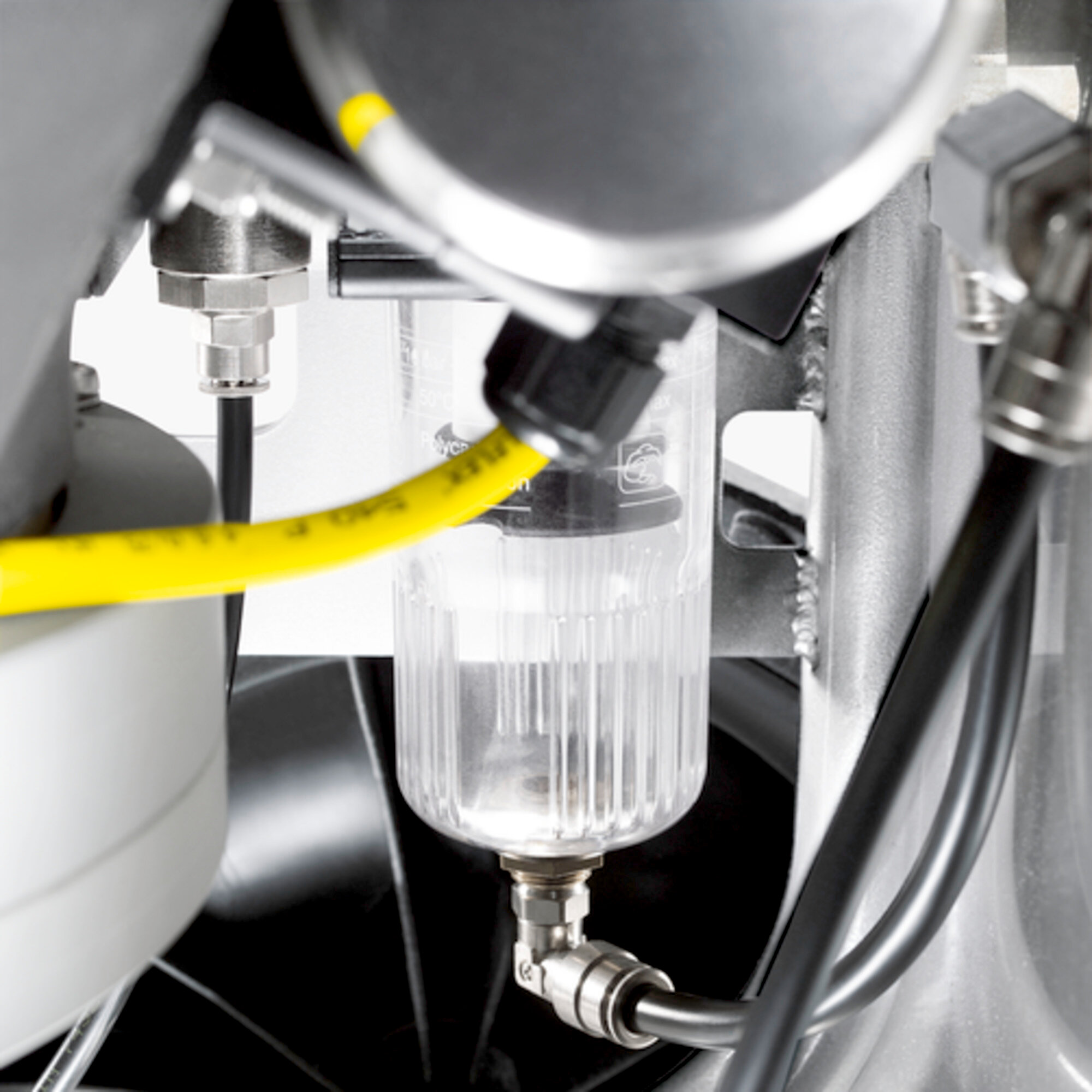 Integrated oil and water separator
No icing up of the device.
Refined trigger gun holder
The trigger gun is always perfectly stored.
Ideal position (e.g. for replacing the nozzle).
Outstanding mobility
Optimum balancing of the device for convenient manoeuvring on uneven terrain.
Efficient airflow in the device
The dry ice is transported from the device to the nozzle without any damage.
Ultimate cleaning performance at the nozzle.
Integrated storage compartment for nozzles and tools
Everything always to hand – directly on the device.
Specifications
Technical data
Connection load (kW)
0.6
Compressed air connection
Claw coupling (DIN 3238)
Casing / frame
Stainless steel (1.4301)
Air pressure (bar/MPa)
2 - 10 / 0.2 - 1
Air quality
Dry & oil-free
Air flow (m³/min)
0.5 - 3.5
Sound pressure level (dB(A))
99
Dry ice capacity (kg)
15
Dry ice pellets (diameter) (mm)
3
Dry ice consumption (kg/h)
15 - 50
Number of current phases (Ph)
1
Frequency (

Hz

)
50 - 60
Voltage (V)
220 - 240
Weight without accessories (kg)
93
Weight (with accessories) (kg)
75
Dimensions (L x W x H) (mm)
768 x 510 x 1096
Equipment
Grease for nozzle threads
Flat jet nozzle
Open-end wrench (for changing nozzles), 2 piece(s)
Spray hose with electrical control cable and quick coupling
Jet gun (ergonomic and safe)
Electronic control system
Oil and water separator
Tool bag
Application areas
Cleaning of moulds and casting tools
Deburring plastic parts
Cleaning forging tools
Cleaning filling and mixing systems
Cleaning conveyor, transport and handling systems
Cleaning ovens
Cleaning printing presses and their peripherals
Cleaning woodworking machines
Cleaning generators, turbines, control cabinets and heat exchangers