Leaf blower
LB 850 Bp
Powerful and long-lasting: the quiet battery powered LB 850 Bp leaf blower with 50-volt technology makes light work of leaf removal in hard-to-reach places and in noise-sensitive areas.
The LB 850 Bp battery powered leaf blower combines performance, cost-effectiveness and environmental friendliness in one machine and is therefore the ideal addition to Kärcher municipal vehicles in daily use. The power pack is perfect for removing leaves, small items of rubbish and other dirt in areas that are hard to reach such as under park benches or in corners. Thanks to its 50-volt technology, its battery charges up to 50 per cent faster than on comparable machines. And unlike its petrol-operated counterparts, the battery powered leaf blower can also be used in noise-sensitive areas such as in residential areas, near schools, nursery schools and hospitals, as well as for night-time working. It does not emit any substances that are harmful or damaging to the environment. Furthermore, the user benefits from around 80 per cent lower vibration values and an up to 90 per cent reduction in the costs of maintenance and consumables over the lifetime of the LB 850 Bp. Batteries to fit the leaf blower and the battery chargers designed for these can be purchased separately.
Features and benefits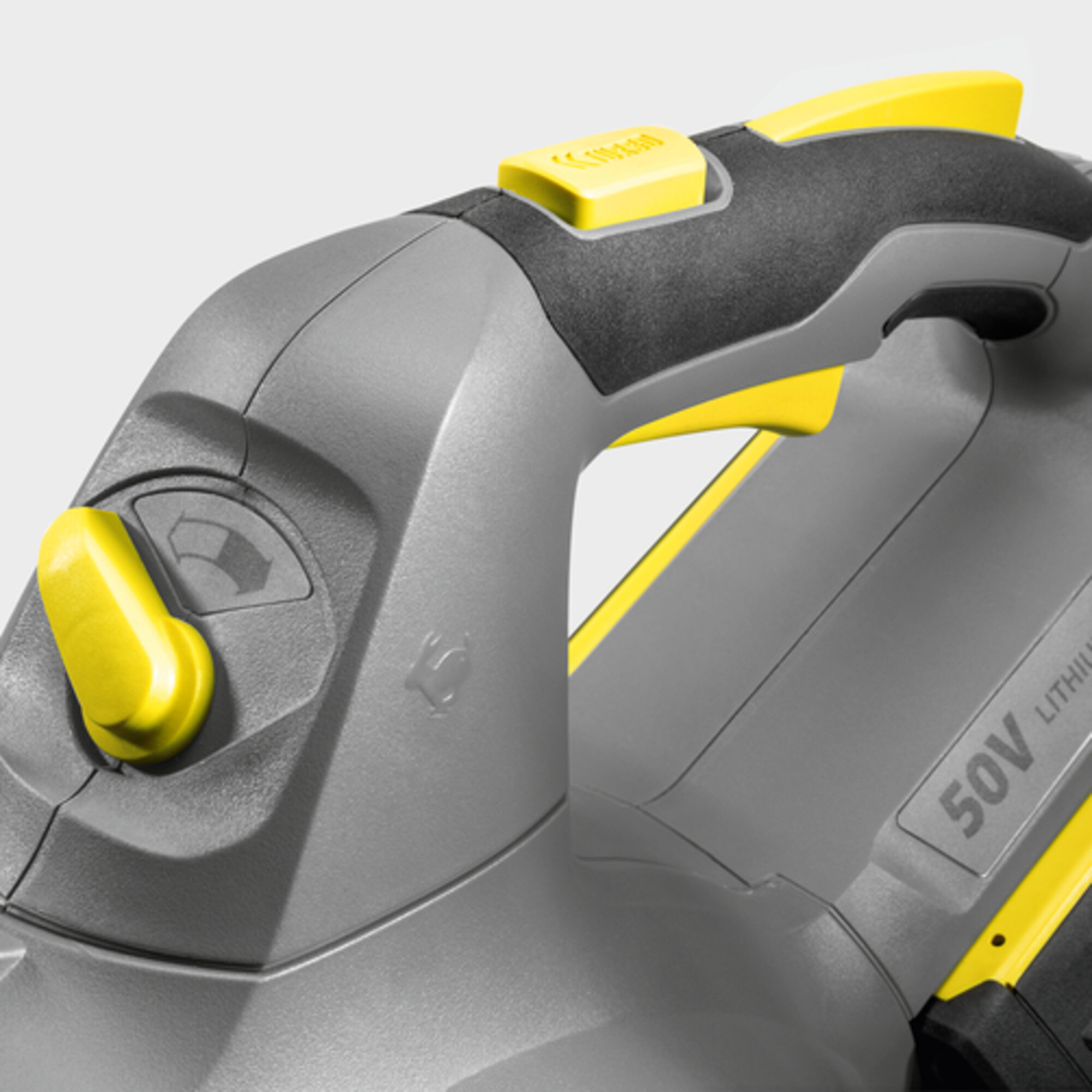 Infinitely adjustable speed
For convenient and needs-based adjustment of the blower speed.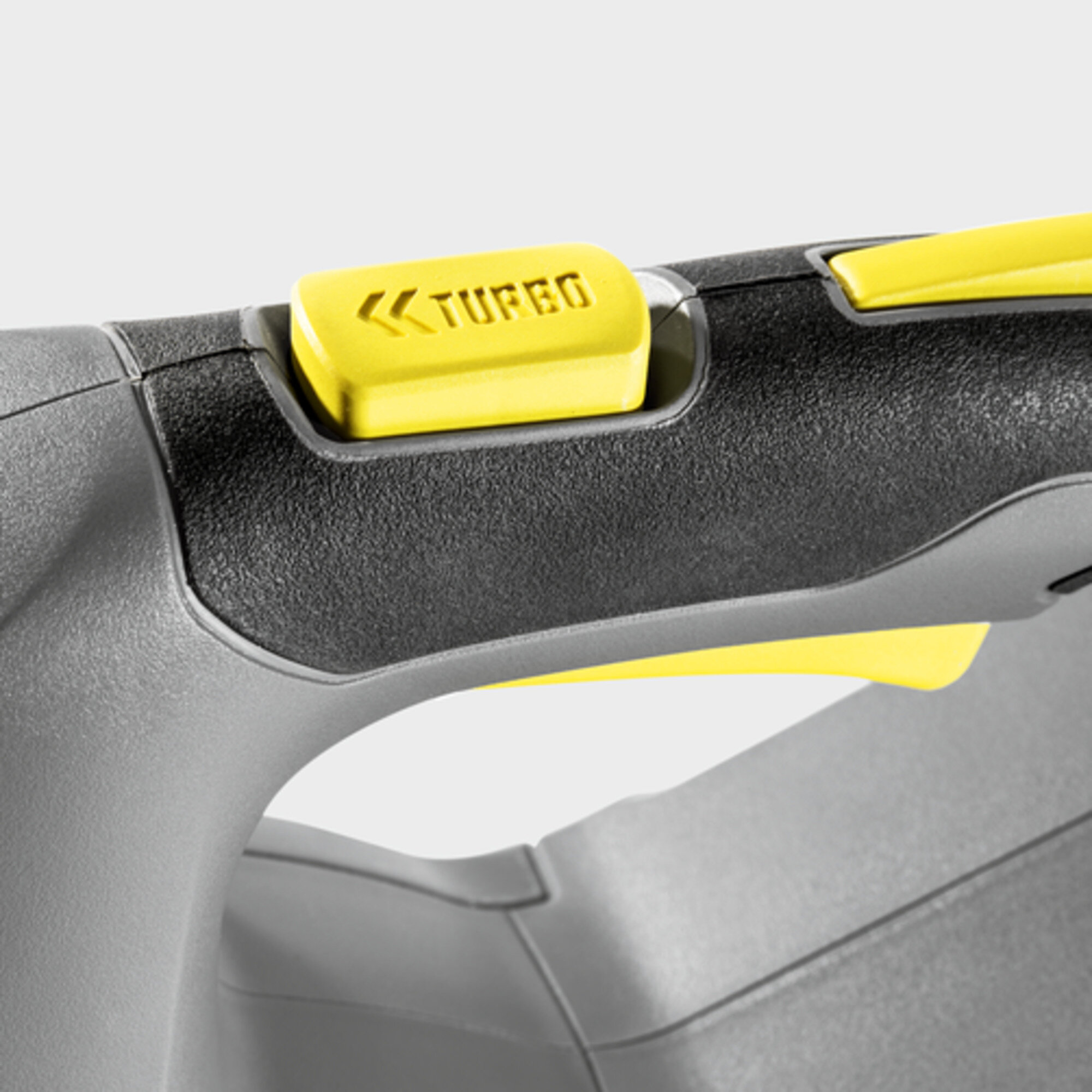 Turbo button for short-term performance increase
Maximum blower speed for the removal of especially sticky leaves and stubborn dirt residues.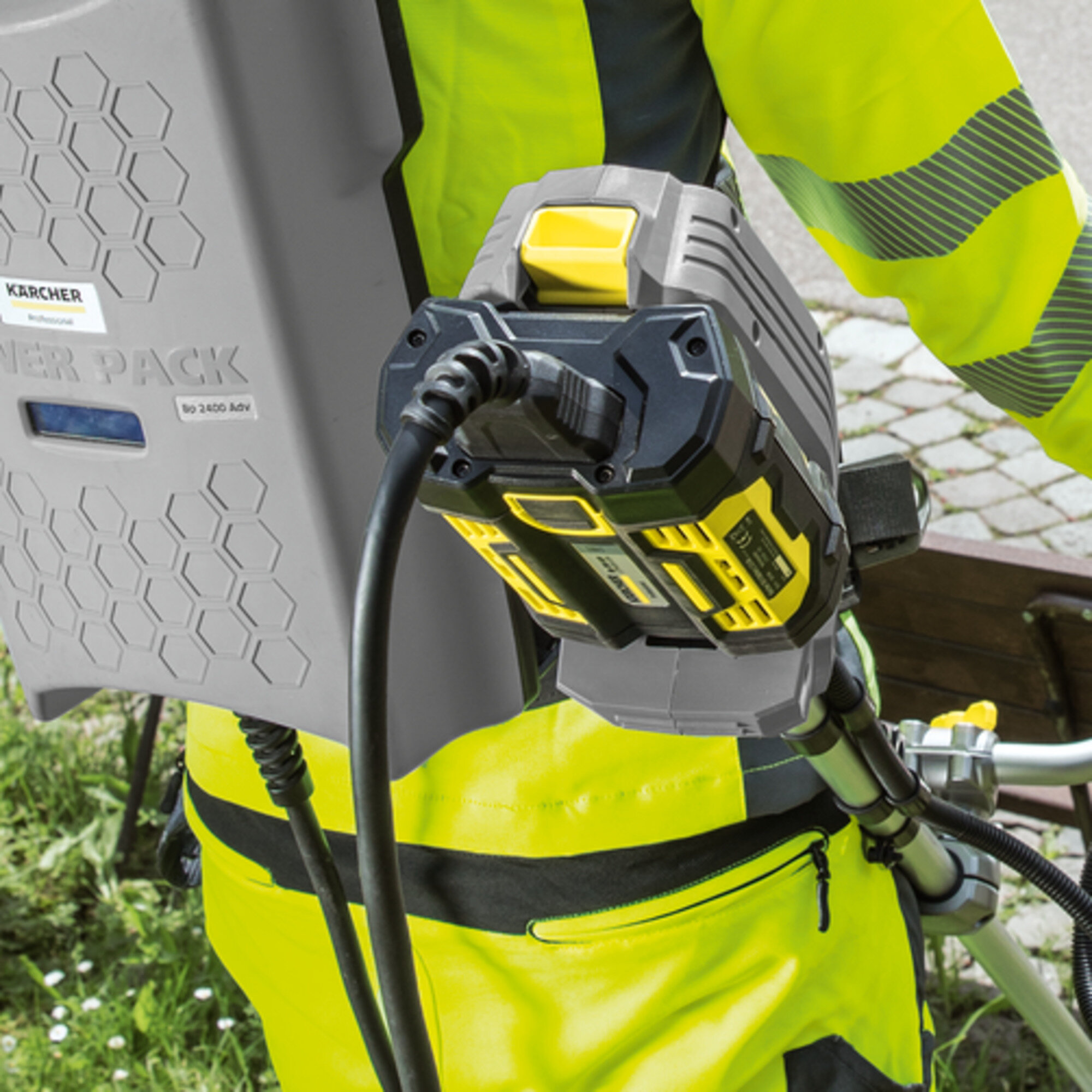 Battery fully compatible with all machines in the Kärcher Park & City Solutions range
Maximum flexibility. The compatible battery can be quickly switched to other machines.
No emission of harmful substances and CO₂
Environmentally compatible and user-friendly. No petrol fumes when working.
Up to 50% quieter than petrol-powered machines
Can be used in noise-sensitive areas, e.g. residential areas, near schools and at night.
Up to 80% lower vibration compared to petrol-powered machines
Designed for long periods of fatigue-free use.
Up to 90% lower overall costs compared to petrol-powered machines
Highly economical as there are no petrol costs and maintenance costs are low.
Up to 50% faster charging times compared with standard machines thanks to 50-volt technology
Greater efficiency due to less idle times.
Specifications
Technical data
| | |
| --- | --- |
| Air throughput (m³/h) | 816 |
| Air speed (m/s) | 40 |
| Sound power level (dB(A)) | 95 |
| Sound pressure level (dB(A)) | 82 |
| Vibration values (K=1.5 m/s²) (m/s²) | 1.07 |
| Battery type | Lithium-ion battery |
| Voltage (V) | 50 |
| Weight without accessories (kg) | 2 |
| Weight incl. packaging (kg) | 4 |
| Dimensions (L x W x H) (mm) | 905 x 165 x 270 |
Application areas
Removal of leaves, dirt and litter on pavements, roads and in public spaces
Assisting Kärcher vacuum sweepers in hard-to-reach places such as corners and under park benches
Aiding the Kärcher MCs and IMCs in the removal of fresh cuttings when mowing
Work in noise-sensitive areas such as schools, hospitals, residential areas and in parks
Can be used at night, such as for necessary cleaning work after town fairs or traditional fairs