Cordless window vacs
A pure pleasure. Simply clean with no drips The latest generation of battery powered Window Vac from Kärcher not only ensures streak-free clean windows, but also saves a lot of time and effort. The handy devices simply and reliably suck the water from the pane, after cleaning – with no dripping dirty water and no streaks.
The battery-powered window vac at a glance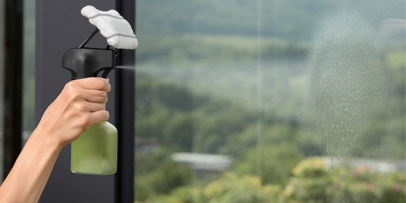 Spraying
First of all, moisten the window with detergent, ideally with the spray bottle from the WV 2 Plus/WV 2 Premium battery-powered window vac kit.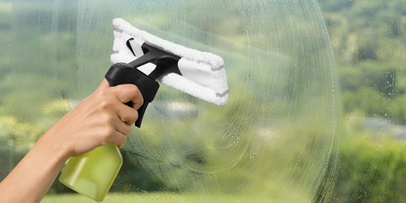 Cleaning
Then remove the dirt (on the window) with the microfibre wiper or a cloth.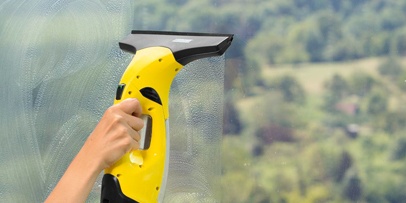 Vacuuming
Finish by vacuuming up the dirty water with the battery-powered window vac – done! And the surrounding area? Perfectly clean and not a single drop of water.
The new generation of battery-powered window vacs and their advantages
More compact, handier and lighter.
The new WV is 10% smaller than its predecessor, ensuring that lower window edges are more easily reached. You can therefore clean down to the lower edge of the window without changing the handle you are using.
Ergonomic and compact construction style allows you to attain an optimal cleaning result even more easily than before.
Cleaning is noticeably easier and 3 times quicker compared with conventional cleaning methods. What's more, the high-grade lips and the suction function are guaranteed to leave your windows sparkling. The convenient battery operation and more compact design of the new generation guarantees maximum flexibility when cleaning all smooth household surfaces. Try it out and see for yourself!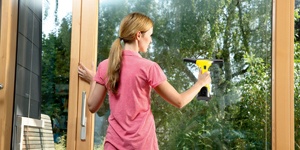 25% longer battery run time
In terms of area, the WV 2 is capable of cleaning around 15 m2 more than its predecessor on one battery charge.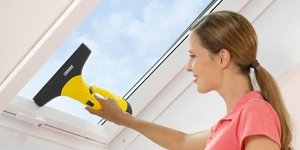 Even lighter
As the device is now 100 g lighter, it is even easier to clean windows.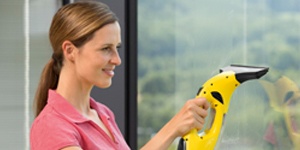 Nice and quiet
Now that the noise level has been reduced by 10%, cleaning is even more comfortable.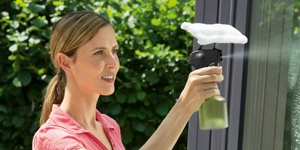 Better ergonomics
With its new larger handle area, the new spray bottle sits very comfortably in your hand.
The battery-powered window vac can do much more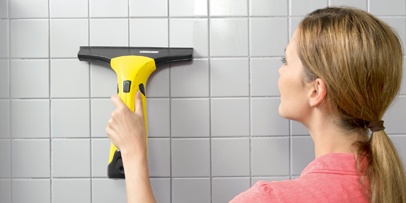 Clean in no time
Clean shower and bathroom tiles quickly with minimum effort.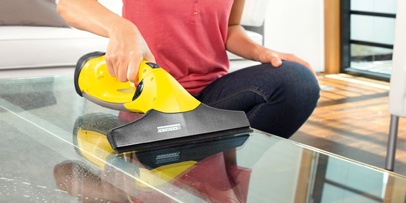 Anything made of glass
The device can accomplish a lot elsewhere around the home.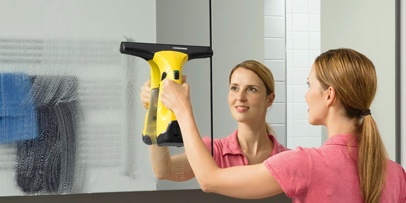 It's simple
Mirrors can be cleaned to a shine and dried effortlessly.
The complete range of Window Vacs from Kärcher
Higher WV classes are recommended for cleaning larger window surfaces. Alongside improved performance data, higher range classes also offer practical additional functions like a handy interchangeable battery system, a handle with a soft component which makes the device particularly comfortable to use, or an interchangeable suction nozzle which allows you to clean even narrow windows with ease.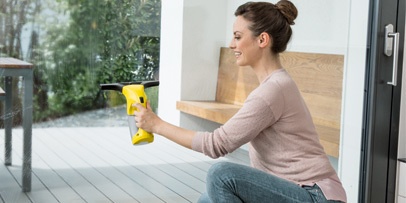 Lithium-ion battery
The built-in lithium-ion-battery enables you to clean a window area of up to 55 m² with just one battery charge.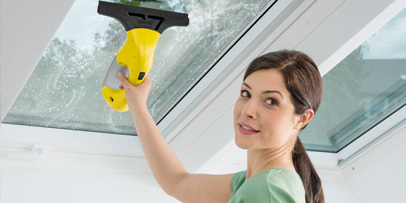 Low weight
The WV 1 is impressive thanks to its incredibly low weight and small size.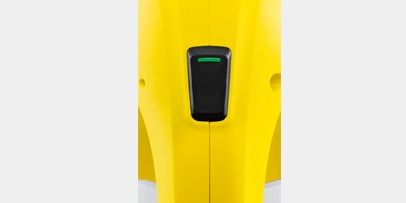 LED display in the field of view
The LED integrated in the on/off switch lets you know as soon as the battery needs to be charged.
The WV Spray Bottles
Using the spray bottles included in the scope of supply, you can spray and wipe your windows in no time. The new spray bottles enable you to change the pad quickly and simply thanks to the hook-and-loop fastening system. The spray bottle Extra also has a wiper which you can adjust to the size you need, allowing you to wipe down large standard windows just as easily as smaller lattice windows.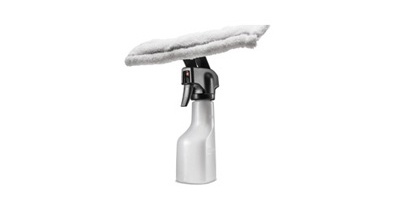 Spray bottle WV 1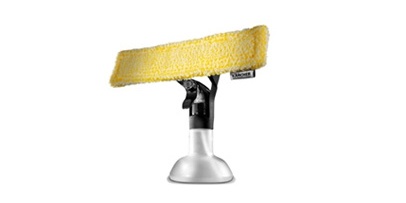 New spray bottle WV 2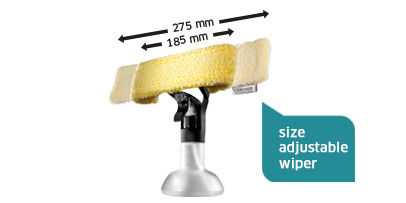 New spray bottle WV 5 extra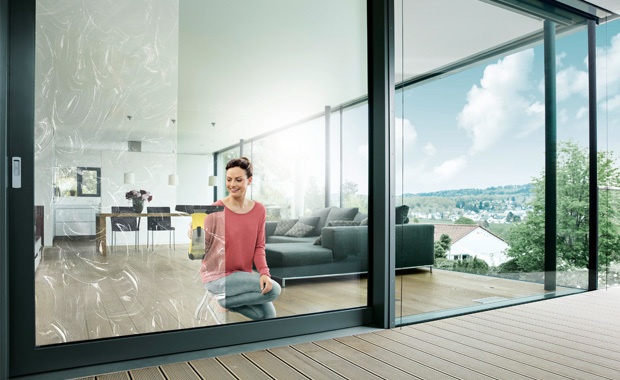 Equipment
The WV 1 Plus Window Vac set includes a great complete package, consisting of the Window Vac, a spray bottle with microfibre wiping cloth and a powerful window cleaner concentrate. So you can start cleaning right away!
And anyone who chooses the kit WV 2 Premium / WV 5 Premium can even clean lattice windows and narrows areas, thanks to the additional narrow suction nozzle.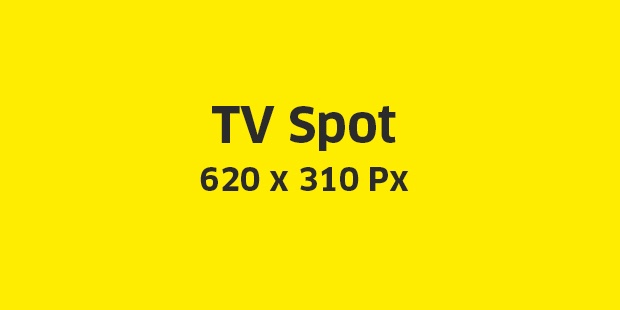 WV TV Spot